For a more traditional experience in Japan, many travelers prefer to stay at a ryokan or minshuku. Anyone who has stayed in one of these charming accommodations can confirm that they offer one of the best ways to experience the culture and traditions of real Japan. After all, Japan is known around the world for its unmatched hospitality. Though both ryokan and minshuku provide comfortable and traditional places to stay in Japan, what is the difference between them? Furthermore, which is the best for you when traveling through Japan? You may even ask yourself, "should I stay at a ryokan or a minshuku?" Here is what we've found out about ryokan vs. minshuku to help you decide.
What is a Japanese Ryokan?
First, let's check in with a Japanese ryokan. These are traditional Japanese-style inns. They come in many sizes and styles. Especially since ryokan popularity has increased over the years, some larger, more modern Japanese ryokan have appeared. Take a look at the history, style, and services and see if ryokans are for you!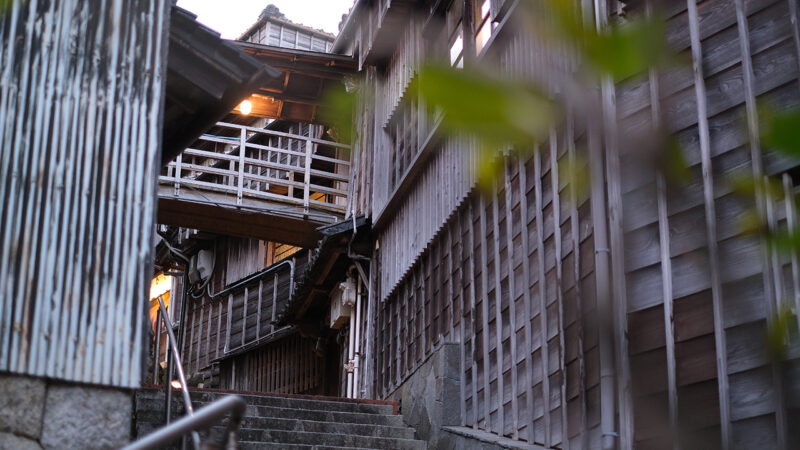 The History of Japanese Ryokan
Japanese ryokan, or traditional inns, have a history going back to the Nara period (710-784). At that time, ryokans were called "fuseya," which means "free rest house." Before speedy bullet trains or soaring airplanes, visiting other villages in Japan could be a long journey. Of course, travelers needed a place to stay overnight. It was actually Buddhist monks who started fuseya to protect people from tragically dying by the road.
Later, these old-fashioned ryokans turned into "shukubo." The Japanese word "shukubo" means "temple lodgings." This kind of accommodation arose as more Japanese people went on pilgrimages to religious sites.
Later, traveling to hot springs for healing and therapy became popular among Japanese people. These early tourist hot spots needed lodgings to take care of visitors. Eventually, hot springs and Japanese inns would become inseparable in the public's mind.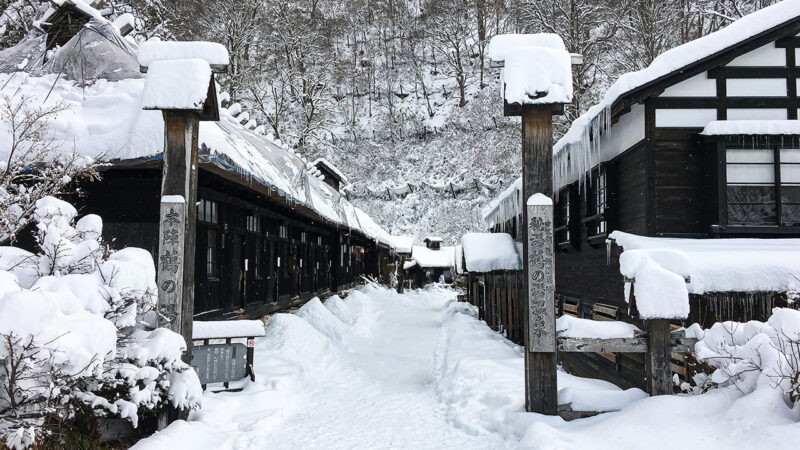 Over time, traditional Japanese inns would develop into "hatako" as travel became even more widespread. The benefit of these Japanese roadside lodgings was that they also offer meals to guests. It is similar to ryokan in Japan today.
However, these were mainly for regular people and were not so glamorous. Powerful leaders and people of a certain class also wanted a place to stay as they traveled from region to region. As a result, a kind of deluxe lodging for daimyo or feudal lords.
As Japan progressed from the Edo period into the modern post-war age, traveling for pleasure became popular. At that time, the various kinds of lodging became what we know as traditional Japanese ryokan today.  
The Style and Atmosphere of Japanese Ryokan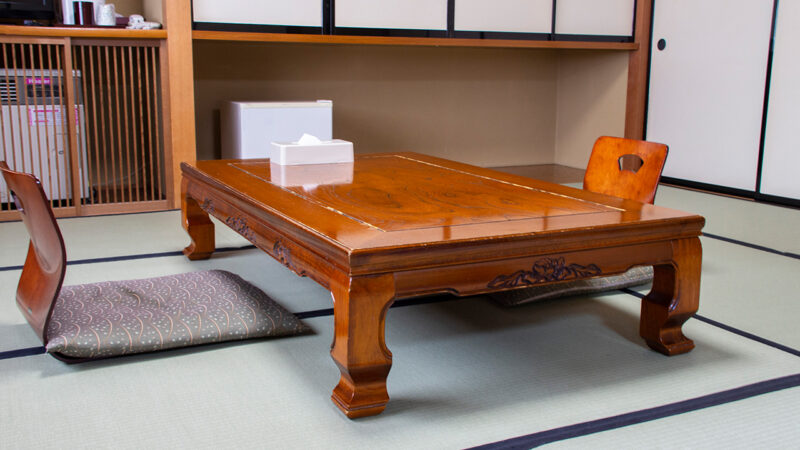 Ryokans usually maintain a traditional Japanese architecture style, even if they are modern. The old-fashioned wooden building creates a charming atmosphere that represents the aesthetic of Japan.
Rooms are spacious with tatami mats, sliding doors, simple decorations, and a low table. 
Don't be surprised when you first enter to find no bed. Futon mats will be set up for you before bedtime while you are out of your room.
What Kind of Food Is Served at Japanese Ryokan
Meals are often served inside your room by the hosts who are experts in Japanese hospitality. In some larger ryokan, there may be a Japanese-style dining room. However, mealtimes are scheduled, so it is never too crowded or noisy. Also, food is always served fresh, at the optimal time for the diners.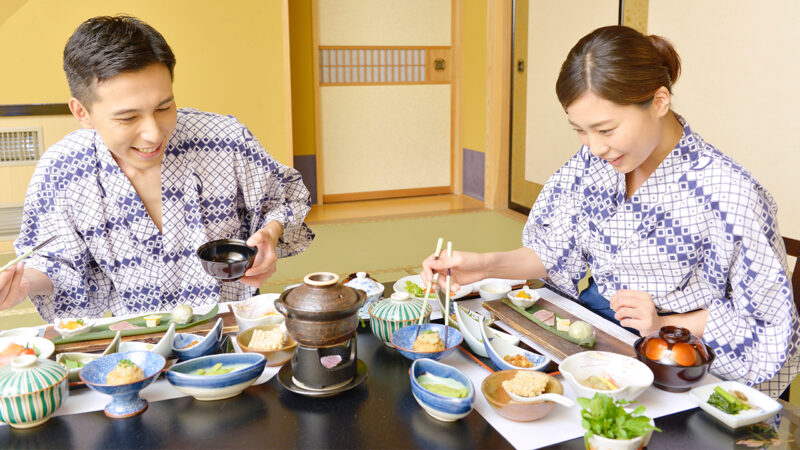 Of course, traditional Japanese food is served for all meals at ryokans. The Japanese cuisine is known as kaiseki. Japanese kaiseki is an art form that aims to balance flavor, color, texture, and visual appeal. In addition, fresh ingredients from each season and region are used, enhancing each unique dining experience. The presentation also plays a key role in traditional Japanese meals, from appetizers to dessert.
One of the most significant differences between meals at traditional Japanese inns and western hotels is the breakfast. Rather than pancakes, cereal, scrambled eggs, and buffets, traditional Japanese breakfasts use plenty of seafood, pickled vegetables, fermented beans, and rice. Of course, a bowl of miso soup also sits on the side.
Here are some of the ryokan dishes you can expect and their meaning.
Japanese Kaiseki Set Items
Sakizuke
Sakizuke is an appetizer that is usually served for kaiseki meals at ryokan. Especially in winter, the sakizuke ryokan meal appetizer may be kinpira gobo. This is shredded carrots and gobo that contains plenty of vitamins and minerals like calcium.
Hassun and Mukozuke
Hassun is the second course that offers a seasonal fish. Mokozuke is also seasonal fish, sliced and served as sashimi, or raw fish.
Takiawase
Takiawase can be meat, fish, or tofu. It is served with fresh seasonal vegetables which are simmered separately.
Futamono
Futamono is a dish that is covered with a lid. Usually, the futamono is a kind of soup that goes with the Japanese kaiseki set.
Yakimono
Yakimono means food that is grilled over a flame.
Shiizakana
Shiizakana is one of the main dishes, such as a nabe, or a Japanese hot pot. Depending on the season, the ingredients change.
Ko no mono
Picked seasonal vegetables are known as ko no mono in Japanese kaiseki sets.
Mizumono
Mizumono is the dessert that comes with the Japanese kaiseki set. Depending on the season, it may be fruit, traditional Japanese sweets, or even ice cream.
Facilities at Japanese Ryokan
Japanese ryokans offer plenty of facilities to ensure that guests have a fun and relaxing stay. Some rural ryokans may be more basic, while larger inns provide spaces to enjoy games and singing in addition to a bath and place to sleep.
Ryokan Ofuro Bath
Most Japanese ryokans have a bath, or ofuro. Usually, these inns are near the onsen or hot springs, so they often use water that is enriched by natural elements. Though the majority of ryokan only offer common baths, some have private baths too. If you're nervous about using the common bath, check out our guide on Japanese bathing for beginners to prepare!
Ryokan will provide shampoo and body soap along with other items inside the bath area. In addition, you will find yukata in your room to wear to and from the bath. Also, there should be a bag in your room with items for the bath, like a modesty towel and more.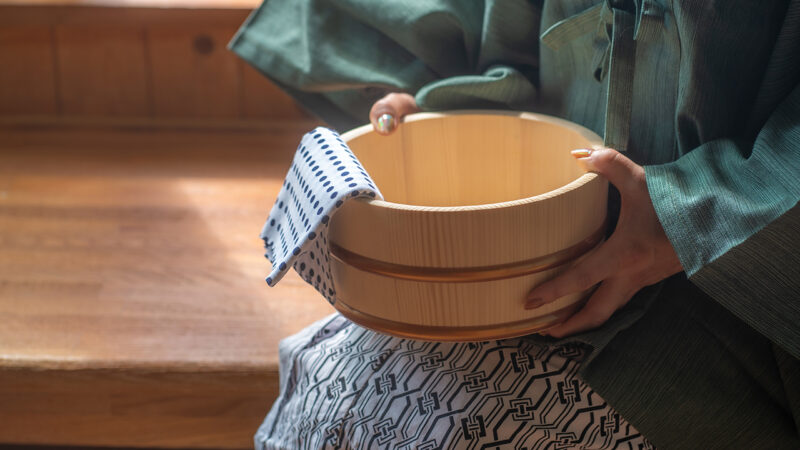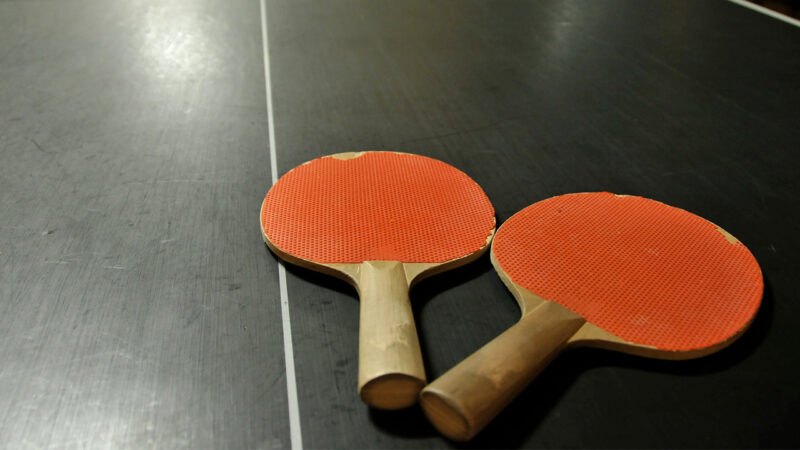 Common Space and Entertainment
Guests may also wear the comfortable yukata in the common space. This area may have a TV, sofas, or even a massage chair for maximum relaxation. Interestingly, ryokans are also known for providing a ping pong table for guests. Families and couples and may play table tennis at their leisure, so don't be shy! Large enough ryokans may even have a karaoke room where guests can sing their heart out while sipping drinks after a soothing bath.
What are the Best areas to stay in a Japanese Ryokan?
Of course, there are many places to enjoy a ryokan stay in Japan. Depending on your interests, some places may be more suitable than others. However, the best reason to visit a Japanese ryokan is to relax, see spectacular nature and rural culture, experience Japanese traditions, and stay close to other attractions. With that in mind, here are some of the best places to stay at a Japanese ryokan.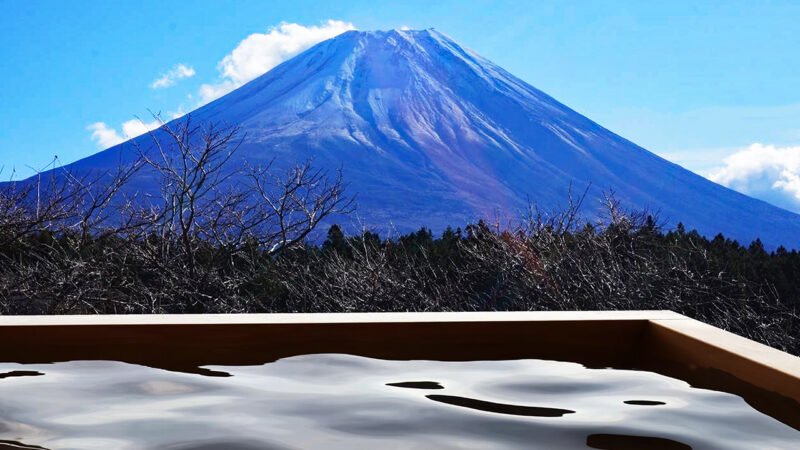 Lake Kawaguchiko is one of the Fuji Five Lakes in the area surrounding Japan's Mt. Fuji. As you can imagine, the view in Kawaguchiko is spectacular. There are also many activities and sites around the Fuji Five Lakes  Thermal activity around Mt. Fuji provides the region with plenty of natural hot springs.
Of course, many ryokans take advantage of the bubbling, rich onsen water along with the amazing view of Mt. Fuji. Imagine relaxing in a soothing bath while gazing at one of the most beautiful mountains in the world. For that reason, Kawaguchiko is one of the best places in Japan to stay at a ryokan.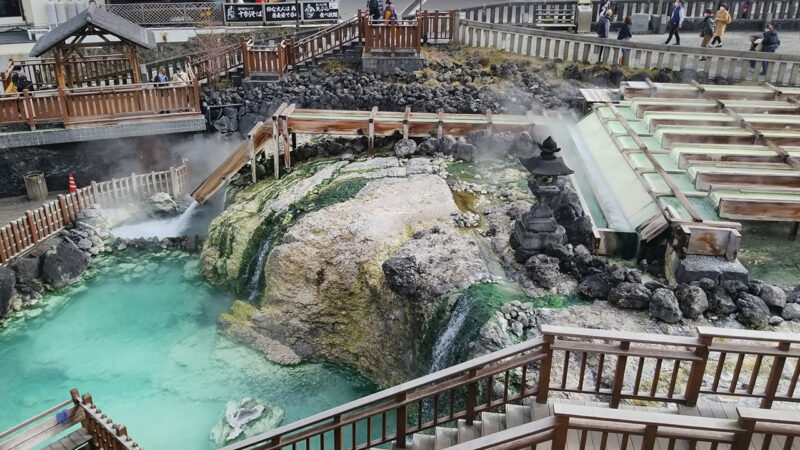 Gunma is a well-known destination for onsen-lovers. In fact, its most famous resort, Kusatsu Onsen, is consistently voted as the No. 1 onsen town in Japan. Besides Kusatsu, there are plenty more hot spring towns in the area, like Ikaho, which has a more rustic, traditional atmosphere.
In addition to the wonderful view and atmosphere, Ikaho has baths fed by "golden water." These baths are high in iron, making the water a reddish color. With magnificent mountain views and healing water, Gunma is clearly a good choice for a stay at a traditional ryokan.
There is no shortage of ryokan around Biwako in Shiga Prefecture. This beautiful region came to fame thanks to Lake Biwako, the largest freshwater lake in Japan.
The large region is filled with plenty of places to enjoy outdoor activities over a couple of days as you stay at a traditional Japanese ryokan. In addition, it is near Kyoto, so it's easy to add a trip to Biwako to your itinerary.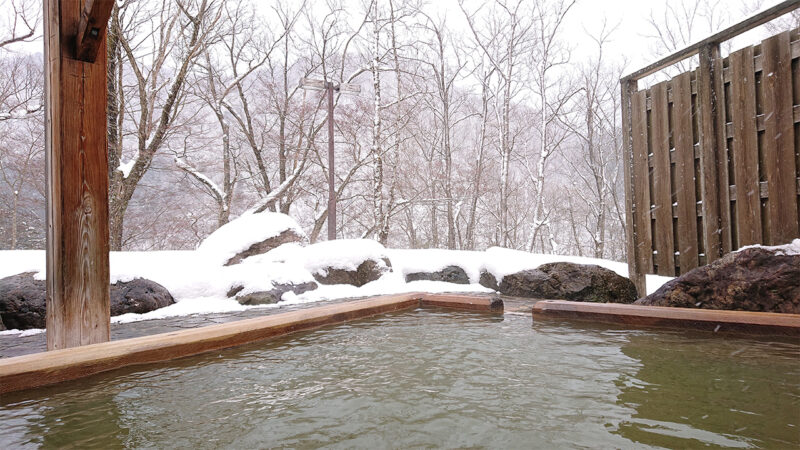 Hokkaido is practically overflowing with rich hot springs like Lake Toya Onsen. Being the northernmost of Japan's main islands, the temperature in spring and summer is much cooler, so you can still relax in an outdoor bath, or rotenburo, comfortably. Of course, like all of Japan, each season has its unique charm.
You can also enjoy yukimi in the winter. Like spring's hanami which is viewing flowers, yukimi means gazing at the falling snow from the comfort of an outdoor bath in Japan. There are many rural areas in Hokkaido, which gives the region a different feel from the hot spring resorts closer to major cities like Tokyo.
What is a Japanese Minshuku Stay?
While similar to ryokan, minshuku are much more affordable. Minshuku are more like a bed and breakfast, usually only found in small villages and rural areas where hotels and ryokan are not needed. Often, minshuku feel more like a spare bedroom in a family home. However, they do have some hospitality services and are charming in their own way.
By staying at a minshuku, you can get a real feel of what it is like to live in rural Japan. Of course, the experience is much more personal, and you can get to know your gracious hosts very well and learn about their way of life. On the other hand, ryokan are closer to proper hotels or inns.
The Style and Atmosphere of Japanese Minshuku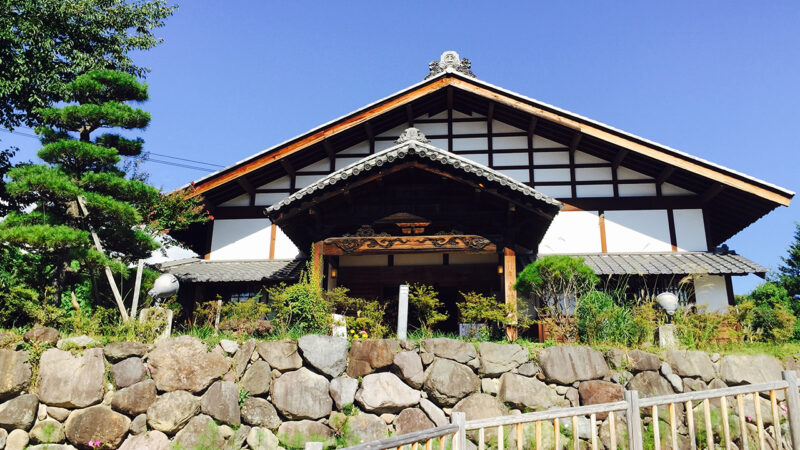 Though minshukus are not as glamorous as high-class ryokan that have been appearing over the years, they do have a rustic appeal. Many minshuku are old, traditional Japanese houses and buildings, so they have a very authentic local feel. Similar to ryokan, the rooms will have tatami mats with a cozy futon on the floor.
However, you may have to get your futon from the closet and lay it out yourself. Of course, the homes are wooden and use Japanese architecture, and they tend to be smaller with limited guest rooms.
What Kind of Food is Served at Japanese Minshuku
The Japanese food served at minshuku are unique because the accommodations are often in very rural areas. For that reason, the food you eat is often grown nearby, possibly by the owners of the minshuku themselves! Maybe you can even see them at work. In that sense, minshuku is almost like a farm stay in Japan.
For people with a strong interest in local Japanese food and agriculture, staying at a minshuku is a great choice. That being said, some minshuku may only serve breakfast or even no meals at all.
Facilities Available At Japanese Minshuku
Minshuku also have baths. However, they are almost always common baths and may or may not use natural onsen water. Inside the rooms, you may be given some basic items like a small TV, a short table, and a teapot with cups.
Where are the best places to stay at a Japanese Minshuku
Because minshuku are usually in rural areas, the best place to find them is out in the countryside. As a result, it usually takes quite a bit of traveling to reach them.
However, some would say that it is well worth the effort to have an authentic Japanese experience. Be prepared for a long journey away from modern conveniences.
Shirakawa-go Minshuku Stay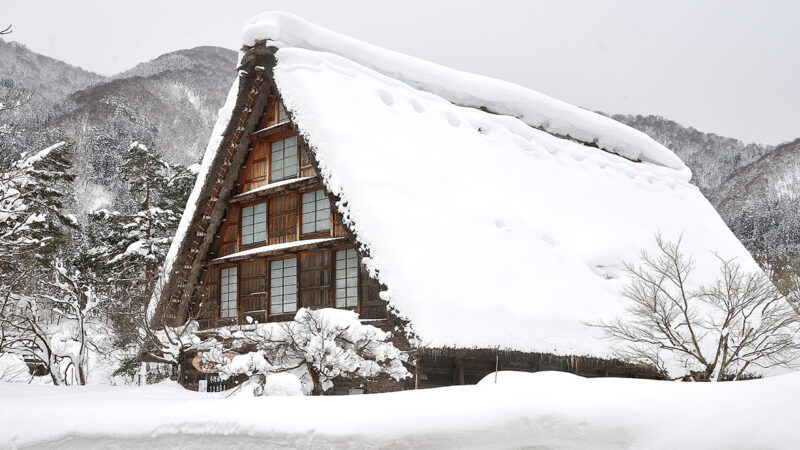 Some of the most popular places for minshuku are the famous Shirakawa-go and Gokayama.  Here you can stay in historic traditional Japanese farmhouses. The old-fashioned buildings are relics from over 250 years ago. They were constructed in the remote mountains of Gifu Prefecture and Toyama Prefecture which receives plenty of snow in the winter.
Nagano Prefecture Minshuku Stay
Nagano is another mountainous region that is great for minshuku. While traveling through Nagano, you can marvel at the majestic Japanese Alps. The view is spectacular, and the fresh mountain air of the countryside revitalizes the body and mind. In addition, the region is full of natural hot springs where you can relax after all of your outdoor adventuring.
Yamagata Prefecture Minshuku Stay
Yamagata Prefecture is a mountainous rural area in the Tohoku Region  In the winter, it is one of the snowiest regions in Japan, making for some spectacular seasonal scenery. In addition to the view, there are plenty of winter activities to try during your minshuku stay in Yamagata. 
As you learn about Japanese culture at a minshuku homestay, you can learn more about Japanese mountain culture. Three holy sites known as the Dewa Sanzan lie in the region, and throughout history, many Japanese people have made the pilgrimage up to the holy mountains.