Mt. Fuji is closer to Tokyo than you think, and on a sunny and clear day you can even see its top from certain viewpoints in the capital. Take a bus from Shinjuku and you will see Mt. Fuji in about two hours. But what do you do around Mt. Fuji besides admiring its beautiful blue color? WAttention gives you Five things to do at Fuji Five Lakes!
1) Seasonal Flower Viewing at Fuji Five Lakes
Spring is the perfect season to visit Mt Fuji. You can't climb the mountain during this period but you can visit the many flower festivals that generally run from mid-April until the end of May. The three best flower viewing spots are:
The Fuji Shibazakura Festival (mid-April to June)
Grinpa Tulips Festival (mid-April to June)
Oshino Ninja Village (late-April to early-May)
Besides flower viewing you can enjoy delicious Mt. Fuji-exclusive food or a relaxing foot bath.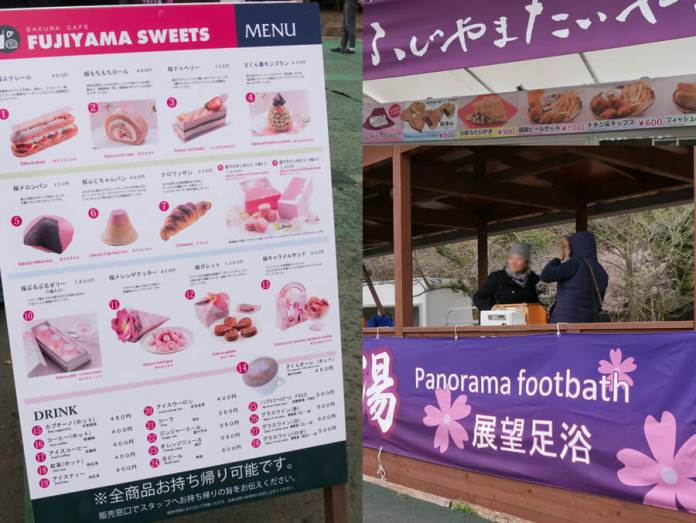 Where to See Beautiful Seasonal Flowers in Fuji Five Lakes
Take the Mt. Fuji Explorer bus from Kawaguchiko station to visit all the flower viewing areas. They have regular stops.
2)  Cave Diving Activities at Fuji Five Lakes
The Fuji Five Lakes area has many national forests you can explore by yourself or with a guide. A unique location is the cavernous area near Aokigahara forest. The most visited caves are the Wind Cave, Ice Cave and Bat Cave (no, sadly we did not see any traces of Batman). The Wind Cave was used as a natural refrigerator in the old days and also stored silkworms. The cave has a year-round temperature of 0°C to 3°C making permanent ice a common sight.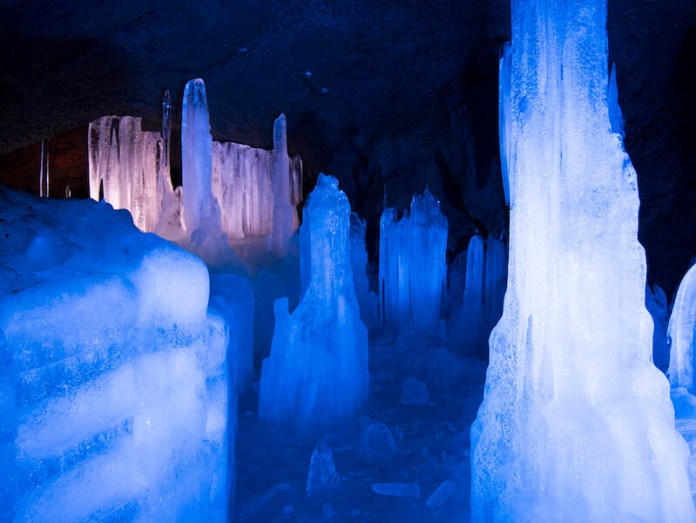 After a visit to the caves you can stop by the nearby tourist shop and eat some corn ice cream. This sweet treat has a unique flavor and is a must try if you're into strange flavors. Once you're all rested up, feel free to explore the surrounding forests which have been untouched for many years. The bus station near the caves has a Tourist Information Center providing maps with ideal hiking routes and viewpoints.
How to get to Ice Cave and Wind Cave at Fuji Five Lakes
Take a bus from Kawaguchiko Station in the direction of Lake Motosuko and Shin-Fuji Station. For the Ice Cave get off at Hyoketsu and for the Wind Cave at Fuketsu bus stop. The ride takes about 15 minutes one way.
3) Take an Amphibious Hippo Ride Around Fuji Five Lakes
Yes, you heard that right. There is a hippo near Mt. Fuji, more specifically at Lake Yamanaka. Actually, it's not a real hippo. It's an amphibian bus named after a hippo, but still very amazing nonetheless! The bus first takes you for a short ride in the area and the bus guide will give you some quiz questions about the area, Mt. Fuji and fun facts. Don't worry if you don't speak Japanese, the questions are also provided in English, Chinese and Korean.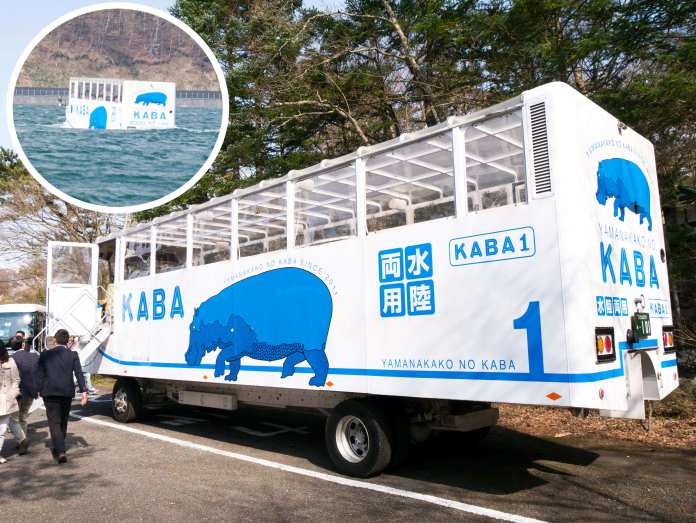 The bus drives all the way into the lake giving you a beautiful view of Mt. Fuji. This is a truly unique photo opportunity. The most exciting part of the ride is when the bus drives into the lake, creating a big splash!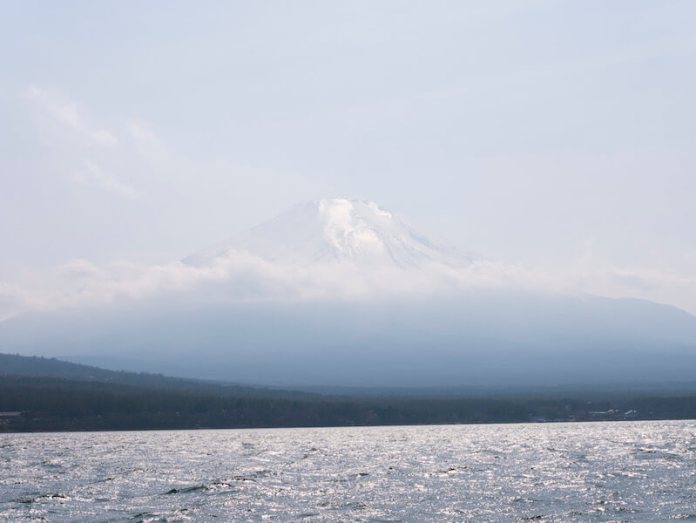 Where can you Ride the Kaba Bus around Fuji Five Lakes?
30 minutes on the Fujikyu Yamanashi bus from Fujikyuko Kawaguchiko Line Fujisan Station bound for Asahi-oka.
4) Enjoy Roller Coasters and Sweets at Fuji Q Highland
Next to Mt. Fuji is an amusement park full of Guinness World Record holding rollercoasters. Fuji Q Highland has the 5th longest rollercoaster in the world, the rollercoaster with the world's fastest acceleration time, one of only two "4th dimension" rollercoasters in the world and the rollercoaster with the steepest freefall in the world. If that hasn't convinced you to go nothing will. Next to the park is a natural hot spring (Onsen) and a little town that replicates Paris with amazing sweets shops. Artisans from Japan and France have created delicious sweets combinations for you to enjoy.
How to Get to Fuji Q Highland
There is a special 8,600 JPY Fuji Q Pack with a free return bus trip, park entrance fee and a Free Pass for all the rides in the park. Buses leave from Shibuya, Tokyo, Yokohama and Shinjuku station. Depending on where you leave it takes between 100 and 150 minutes to reach Fuji Q Highland.
5) Scenic Fujisan View Express Train Ride Around Fuji Five Lakes
Last but not least is a brand new Scenic Train that rides around the Mt. Fuji area. The Fujisan View Express takes about an hour to go from Otsuki to Kawaguchiko and makes stops at Mt. Fuji and Fuji Q Highland. Riding this train all the way is definitely worth it. The interior gives a nice old-timey feeling and the windows are big enough to see the surrounding nature – and Mt. Fuji – clearly. If you book the "Sweets Plan" for 4,900 JPY you can ride first class while enjoying a specially designed "sweets only" Mt. Fuji bento box. There is a bar on the train with drinks that all passengers can visit.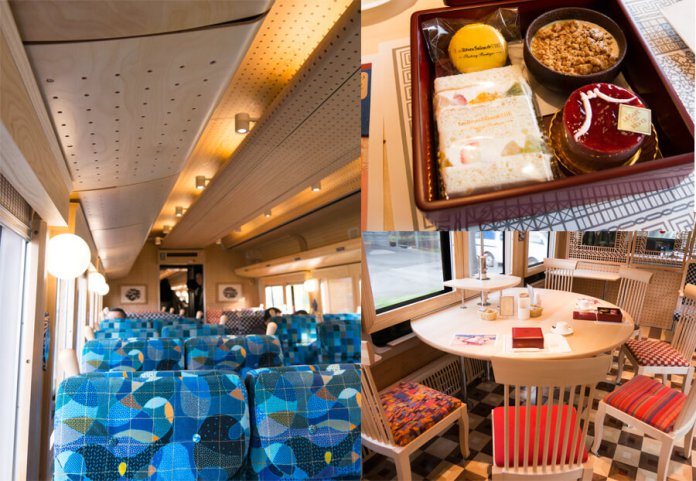 How to Ride the Fujisan View Express
Main stations for this train are Otsuki and Kawaguchiko. The train makes three rides every day.