A step-by-step bathing lecture
For the Japanese, bathing is not just done with the pure purpose of cleansing one's body. Taking a good bath relaxes both the body and soul, and is seen as one of life's major pleasures along with gourmet and entertainment. Be it an old-fashioned sento (public bath) or a luxury onsen (hot spring) resort, visiting a Japanese public bath should be on the list of any tourist in Japan. However, the majority of Japanese bathhouses have little to no English explanations, let alone English speaking staff. Heading into a bathhouse without any knowledge on the subject will leave you feeling naked, literally.
Although it is generally understood that a foreigner is unaware of the Japanese bathing etiquette and rules, seeing you do things right will make the locals surrounding you genuinely happy. To make sure you can enjoy your soak without having to worry, here's a fail-proof step-by-step guide on public bathing in Japan!
*Note that some details may slightly vary depending on the bathhouse.
STEP 1: SHOES OFF
Before you take off your clothes, take off your shoes!
Just like when entering a Japanese house, entering a bathhouse starts with taking off your shoes. Most bathhouses have shoe lockers to put your shoes in.
Before heading into the bath, pay for the fee at the reception counter, or bandai in Japanese. Depending on the bathhouse, shampoo, soap, a towel etc. need to be purchased here as well in case you did not bring your own. Note that luxury onsen usually have shampoo, soap and more provided inside the bath.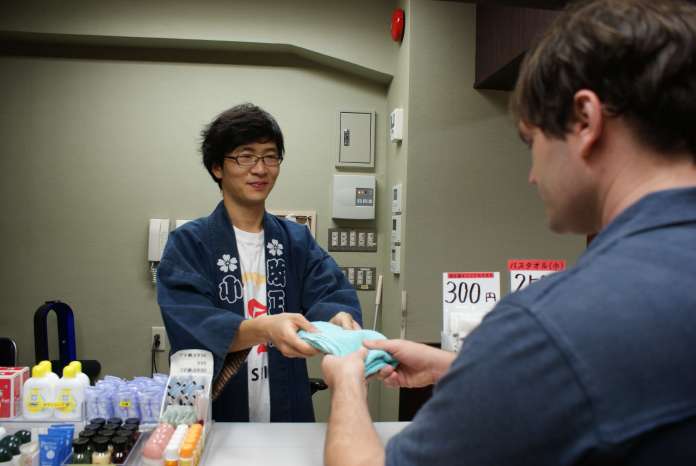 STEP 2 ENTER THE RIGHT DOOR
Unless there is only one mixed-gender bath (which is uncommon in Japan), a Japanese bathhouse usually has both a male and female bath. Two separate entrances for these baths have a noren, or curtain which indicates for which gender it is. In most cases the male bath curtain is colored blue while the female bath curtain is colored red.
However, this is not always the case, so you are advised to memorize the kanji (Chinese characters as used in the Japanese language) for male and female to make sure you don't enter the wrong bath. 男 (otoko) means male while 女 (onna) stands for female.

STEP 3 UNDRESS YOURSELF
A Japanese bath should be entered completely naked. Don't keep on your T-shirt or trunks, and refrain from wearing swimwear. As you share your baths with others, entering the bath completely undressed is considered more hygienic. Also, be sure that you put all your clothes and belongings in the provided lockers, and check if none of your belongings are left on the changing room floor. Once you are ready, take a small towel to wash your body and enter the bath, and don't forget to close the sliding door behind you.

STEP 4 CLEAN YOUR BODY FIRST
Although the spacey, hot-steaming bath-tub might be tempting, don't jump in right away (jumping is forbidden anyway). Cleansing your body at the showers first is probably the most important etiquette in a Japanese bathhouse. While it is common to stand under a shower in most foreign countries, Japanese tend to sit in front of the shower on a small stool. Don't stand under your shower here as you will splash water on the people surrounding you. Put soap on your small towel and rub your body, but rinse yourself well and be sure that no soap or shampoo is left on your body or towel once you go in the bath.

STEP 5 ENTER THE BATH
It is now finally time to enter the bath and relax. Letting out a sigh of pleasure is allowed and something you will see the locals doing, but please refrain from doing the following:
1. Entering the bath with shampoo or soap on your body.
2. Diving, swimming or splashing the water.
3. Putting your small towel or other belongings inside the water. Your small towel should be rested on your head, or put it on the rim of the bath, but be sure that it does not fall inside.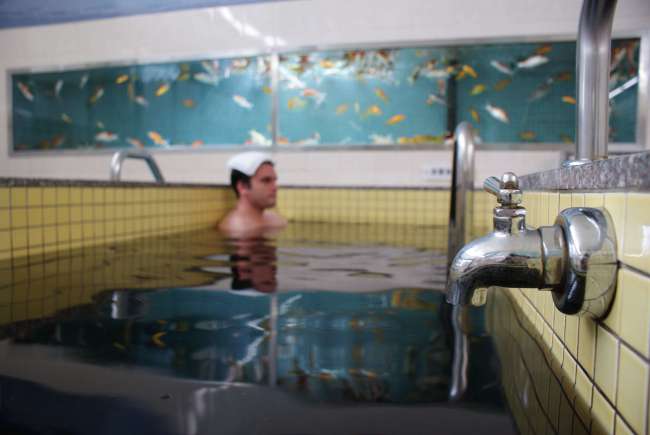 STEP 6 DON'T MAKE THE FLOOR WET, AND DRINK MILK AFTERWARDS
Back in the clothing room, dry your body at the entrance to make sure that you aren't dripping water on the floor as you head back to your locker. Once you have put your clothes back on, take all your belongings with you and exit the bath.
By the way, did you know that the Japanese like to end their bathing experience with a bottle of cold fresh milk? Although this is of course not a rule nor an etiquette, doing as the Japanese do will largely enrich your experience!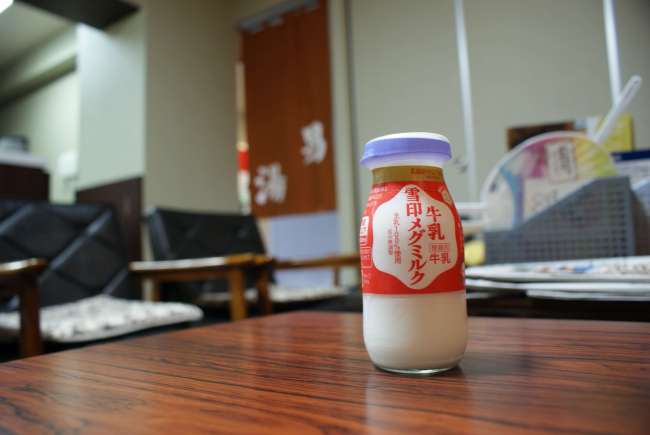 So, follow these unspoken rules to make the best of your public bath visit, because there's no point crying over spilled milk afterwards, is there?