"To an onsen!"
This was what most WAttention readers said when asked where they'd like to go when they visit Japan. Onsen are natural hot springs found all over Japan. Because there are more than 2,400 formally registered hot springs all over Japan, plenty Japanese onsen are easy to access.
The number will double if you include private onsens or those that are currently being drilled. So you'll have plenty of choices when it comes to which onsen to visit. You can go to practically any part of Japan to enjoy an onsen. But, with so many options, what are the different kinds of onsen in Japan?
What is an onsen or a hot spring?​
Onsen technically means either a place or phenomenon where water springs from the ground. According to "the hot spring law", onsen water must have temperatures of above 25℃ in Japan, Korea, Taiwan and South Africa. The temptation is lowered to 20℃ in European countries like Italy and France. Finally, the threshold is above 21 ℃ in USA. The onsen water must also have at least more than one of 18 compounds to qualify as a hot spring. Onsen minerals and compounds include manganese, ion and radium salt. Often in Japan, the springs have much higher levels of such compounds than required.
Each onsen location offers different water types and qualities – such as carbonate springs, sulfur springs or intense salt springs. However, a common characteristic among them is the rich content of minerals in the water. These onsen minerals are known to be beneficial for health. Natural Japanese hot springs can give you smoother skin, ease stiff shoulders or even aid in weight loss. The medicinal value of these hot springs have been recognised since ancient times. In fact, they have been known to alleviate symptoms like nerve-related pains, excessive sensitivity to cold, diabetes, ringworm and so on. Traditionally in Japan, many who hope to cure chronic diseases often immerse themselves in therapeutic baths called "tooji", and stay for longer periods at such spas.
For the Japanese, bathing is not just done with the pure purpose of cleansing one's body. Taking a good bath relaxes both the body and soul, and is seen as one of life's major pleasures along with gourmet and entertainment. Be it an old-fashioned sento (public bath) or a luxury onsen (hot spring) resort, visiting a Japanese public bath should be on the list of any tourist in Japan. However, the majority of Japanese bathhouses have little to no English explanations, let alone English speaking staff. Heading into a bathhouse without any knowledge on the subject will leave you feeling naked, literally.
Although it is generally understood that a foreigner is unaware of the Japanese bathing etiquette and rules, seeing you do things right will make the locals surrounding you genuinely happy. 
Soaking in a natural hot spring is a relaxing way to appreciate the beauty and culture of Japan. For beginners, it may seem intimidating to hop into a bath with a group of strangers. However, as soon as you hit the water, all worries will disappear. 
*Note that some details may slightly vary depending on the bathhouse.
Bathing in Japan Step 1: Take off your shoes
Before you take off your clothes, take off your shoes!
Just like when entering a Japanese house, entering a bathhouse starts with taking off your shoes. Most public bathhouses in Japan have shoe lockers.
Before heading into the bath, pay the fee at the reception counter, or bandai in Japanese. Depending on the bathhouse, shampoo, soap, a towel, and other items need to be purchased here as well. However, you can also bring your own items with you to the public bathhouse in Japan. Note that luxury onsen usually have shampoo, soap and more provided inside the bath.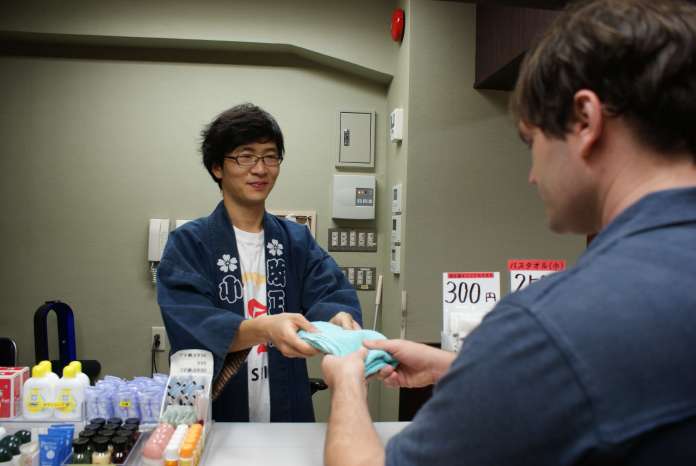 Bathing in Japan Step 2: Enter the right door
Unless there is only one mixed-gender bath (which is uncommon in Japan), a Japanese bathhouse usually has both a male and female bath. Two separate entrances for these baths have a 
noren
, or curtain which indicates for which gender it is. In most cases the male bath curtain is colored blue while the female bath curtain is colored red.
However, this is not always the case, so you are advised to memorize the kanji (Chinese characters as used in the Japanese language) for male and female to make sure you don't enter the wrong bath. 男 (otoko) means male while 女 (onna) stands for female.

Bathing in Japan Step 3: Get Undressed
A Japanese bath should be entered completely naked. Don't keep on your T-shirt or trunks, and refrain from wearing swimwear. As you share your baths with others, entering the bath completely undressed is considered more hygienic. Also, be sure that you put all your clothes and belongings in the provided lockers, and check if none of your belongings are left on the changing room floor. Once you are ready, take a small towel to wash your body and enter the bath, and don't forget to close the sliding door behind you.

Bathing in Japan Step 4: Wash your body first
Although the spacey, hot-steaming bath-tub might be tempting, don't jump in right away (jumping is forbidden anyway). Cleansing your body at the showers first is probably the most important etiquette in a Japanese bathhouse. While it is common to stand under a shower in most foreign countries, Japanese tend to sit in front of the shower on a small stool. Don't stand under your shower here as you will splash water on the people surrounding you. Put soap on your small towel and rub your body, but rinse yourself well and be sure that no soap or shampoo is left on your body or towel once you go in the bath.

Bathing in Japan Step 5: Enter the bath
It is now finally time to enter the bath and relax. Letting out a sigh of pleasure is allowed and something you will see the locals doing, but please  don't do the following while bathing in Japan:
Entering the bath with shampoo or soap on your body.

Diving, swimming or splashing the water.

Putting your small towel or other belongings inside the water. Your small towel should be rested on your head, or put it on the rim of the bath, but be sure that it does not fall inside the bath water.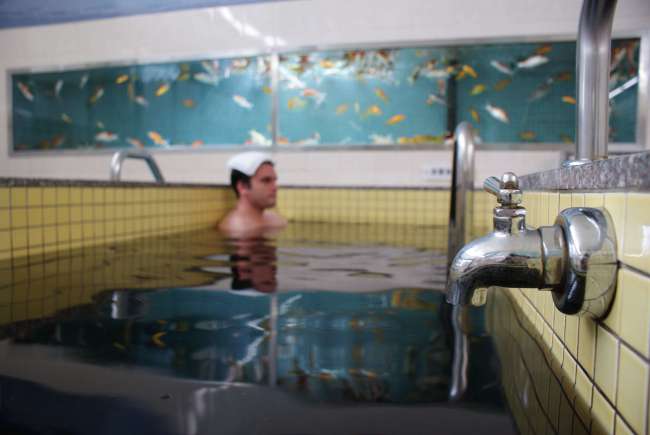 Bathing in Japan Step 6: Don't make the floor wet in the changing room
Before returning to the changing room, dry your body at the entrance to make sure that you aren't dripping water on the floor as you head back to your locker. Once you have put your clothes back on, take all your belongings with you and exit the bath.
By the way, did you know that the Japanese like to end their bathing experience with a bottle of cold fresh milk? Although this is of course not a rule nor an etiquette, doing as the Japanese do will largely enrich your experience!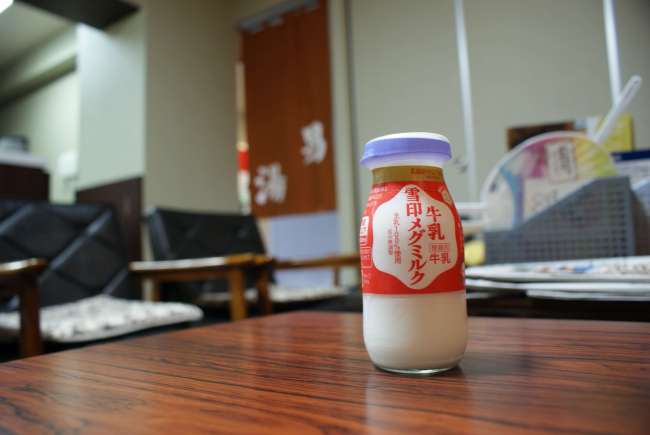 Roten-buro: Charming open-air hot springs
Can you imagine dipping yourself in an open-air hot spring bath? Let the wind roll past and sunlight bathe you as you soak in the surrounding scenic beauty. This is the special "roten-buro" experience. Enjoy the lush greens of summer, the splendid bright colors of autumn, quiet snow scenes in winter, or a night bath under a starry sky. Relaxing in a hot spring bath and falling in love with the scenery around you makes for a memorable experience.
Japan is blessed with many hot springs, each with a distinct characteristic. Here are some of the more popular places: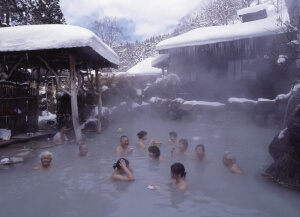 Tsurunoyu (crane's hot water), a part of Nyuto hot springs (Akita Prefecture), is situated in a deep mountain and earned its name from an old local folklore as a place where cranes used to go to nurse their wounds. This is a very popular place because visitors love the unspoiled natural beauty of the mountains while relaxing in the milky hot spring with a sulfurous content. Many foreign travellers come here from all over the world.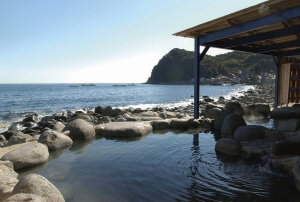 Kuroneiwa-buro (Shizuoka Prefecture) is located by the sea and has an open atmosphere. It is a wonderful spot to enjoy the scenery of the vast ocean spread right in front of you while you soak in the hot spring. The scent of the ocean and sound of waves add to the sense of relaxation. It's a mixed bathing place, but don't worry! You can wrap a towel around yourself when entering the bath. The hours between 19:00 and 21:00 are allocated exclusively to ladies.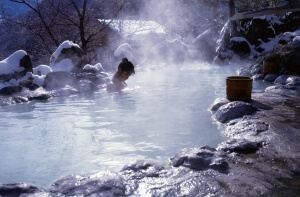 Shirahone (Nagano Prefecture) is a public open-air hot spring at the confluence of two rivers – the Yuzawa and the Yukawa. Surrounded by a forest of broadleaf trees, the autumn scenes are simply breathtaking, creating a heavenly experience when bathing during this season.
Mixed Bathing in Japan: historical Japanese bath culture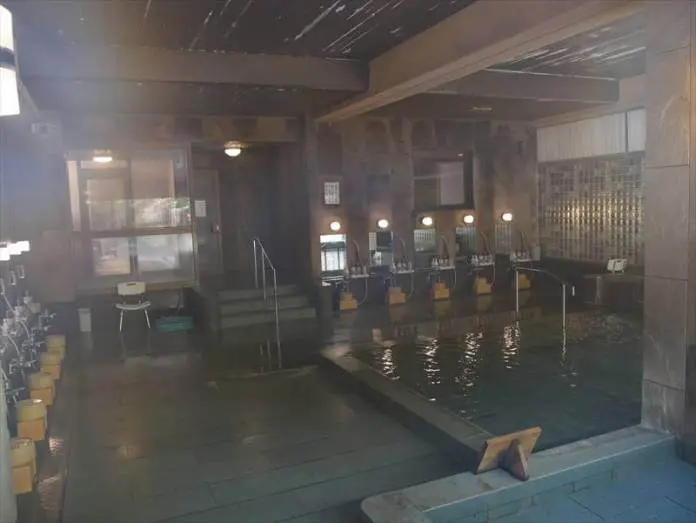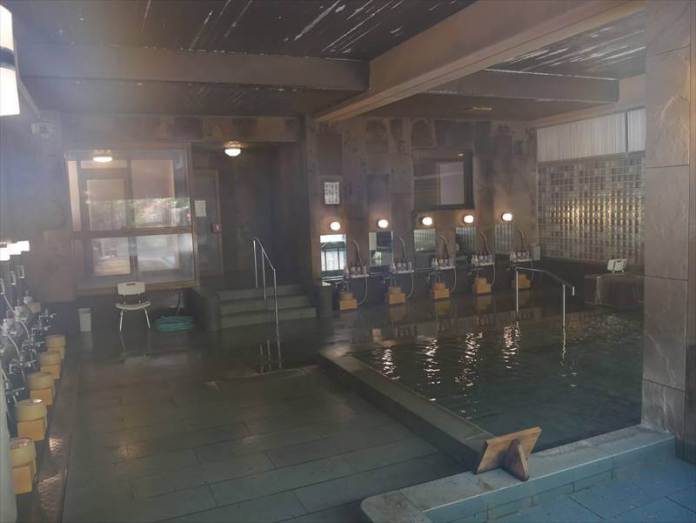 You may be astonished and even feel shy, but don't be! This has been a common custom since the Edo period (1603-1868). In fact, public baths have served as social gathering places, where everyone – including men and women, old and young – enjoyed each other's company. In those days, hot springs were meant for locals who knew each other very well. They would even scrub each other's back while enjoying local gossip. Japanese mixed bathing in modern days is the legacy of this custom in agrarian Japan. Many historic hot springs, such as the 1,300 year-old Houshi Onsen and Lamp no Yado Aoni Onsen are meant for mixed bathing in Japan.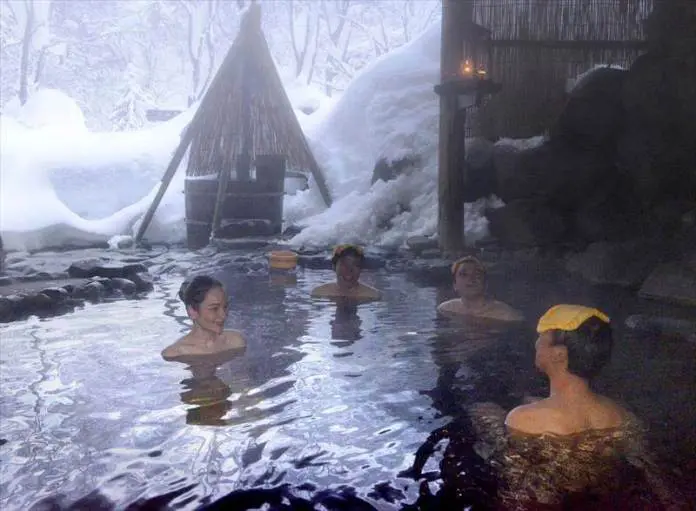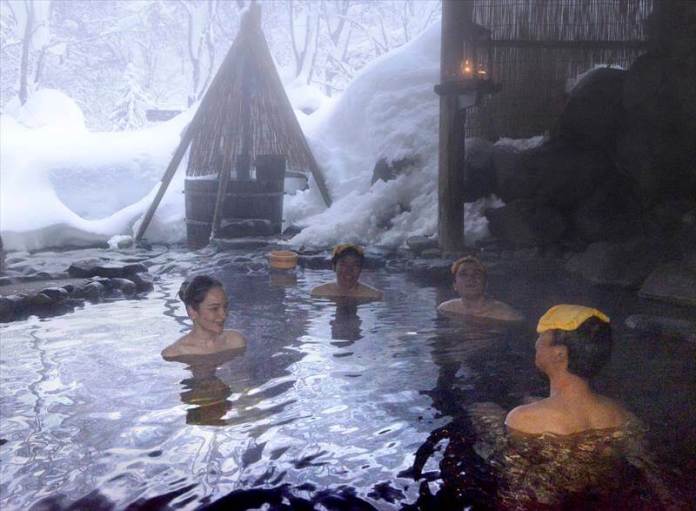 One good aspect of mixed bathing in Japan is that the whole family or a couple can take a bath together. Nowadays, the tendency to prefer mixed baths is getting popular among young women. Some would say that they felt shy in the beginning, but with their boyfriends nearby, they felt very safe. Others don't enjoy hot springs when they have to be separated into single-sex sections. "Going to an onsen on a weekend is a special occasion for us. We enjoy bathing in an onsen together."
Enjoying a dip together with friends in an onsen to chat or to enjoy the view would definitely make for a memorable holiday.
For those of you who find bathing with total strangers totally unacceptable, there is a solution! You can reserve an area in a hot spring – either open-air or indoor – exclusively for you and your loved ones. Many inns and hotels offer rooms with these exclusive onsens.
Here are a few Japanese inns and hotels that offer private open-air onsen:
Now that you know all about how to bathe in Japan. Don't miss the opportunity to try out some special onsen experiences that you can only enjoy in Japan! There are almost too many to count, but here are a few special onsen in Japan to relax your body, but dazzle your eyes! Seasoned onsen-lovers may be searching for something more than just a typical hot spring dip. Here are some special onsen experiences you can have in Japan.
Special Onsen Experience in Japan: Beppu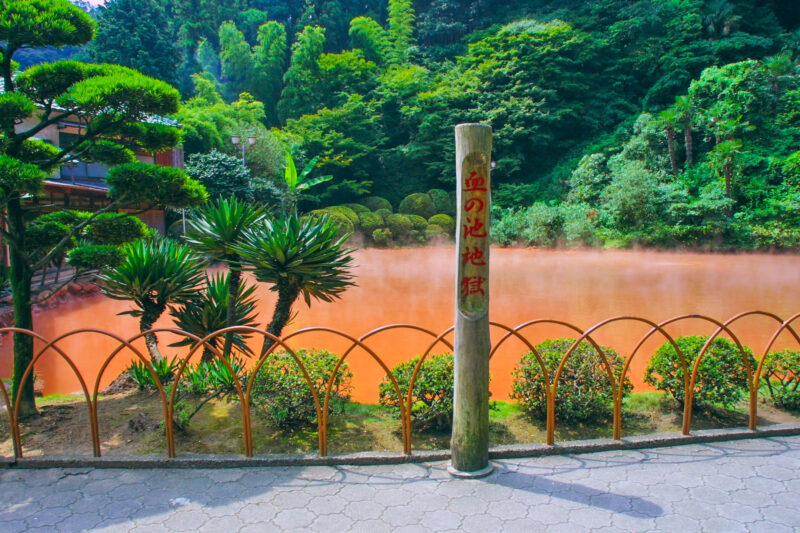 Oita Prefecture on the island of Kyushu is home to one of Japan's most famous hot spring resort areas, Beppu. In fact, the bubbling region produces the most hot spring water than anywhere else in the country. Also, its unique geography from mountains and the sea provides various kinds of natural onsen water depending on the location.
Though the mention of Japanese bathing usually brings an image of clear, pristine water to mind, one special hot spring called Beppu Onsen Hoyoland offers a unique mud bath. Here you can treat your skin to a healthy coat of mud that exfoliates, leaving your skin feeling even cleaner. The outdoor Japanese bath is mixed bathing for men and women as the milky water allows for some privacy.
Beppu is also known for its aptly named "Hell Tour" that showcases the area's hottest and most colorful natural hot springs. One example is the "Lake of Blood," which received its name based on the red color from iron oxide and magnesium oxide concentration in the water. Other scary yet beautiful pools on the tour include the "Sea of Hell," "Shaven Monk Head Hell," "White Pond Hell," "Tornado Hell," and "Monster Mountain Hell."
Beppu is definitely one of the best places for a unique, fun onsen experience in Japan. If you need to know how to get to Beppu, the best way is to fly into Fukuoka Airport or Oita Airport. From there, many express busses go directly to special hot spring destination.
Special Onsen Experience in Japan: Kusatsu Onsen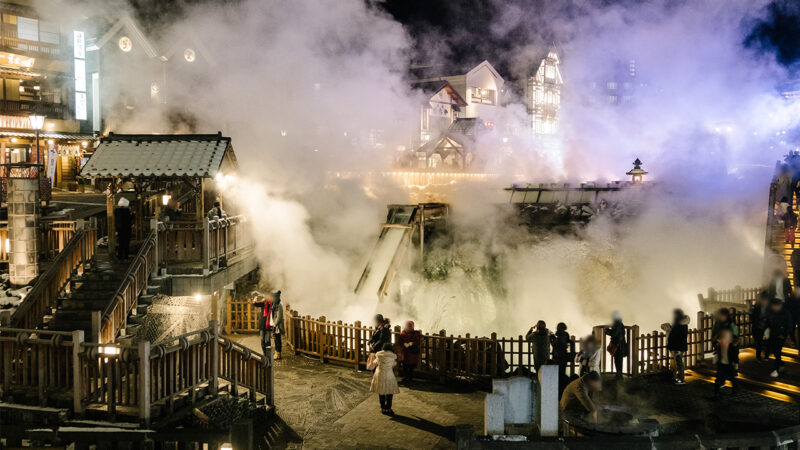 Kusatsu has earned the No.1 spot on Japan's top 100 hot spring ranking for 17 years in a row, making this resort an obvious addition to this list of fun and interesting onsen experiences. What attracts people to Kusatsu Onsen's acidic waters is its apparent healing properties that are said to relieve many ailments.
Actually, the natural hot springs are too hot to just jump right into. To cool the water down and mix up the nourishing minerals, local performers use a special method called "yumomi." The performance involves some folk singing, dancing, and stirring of bathwater with large, wooden paddles. Visitors can even try it for themselves, adding an extra layer of excitement and culture to this fun and special onsen experience.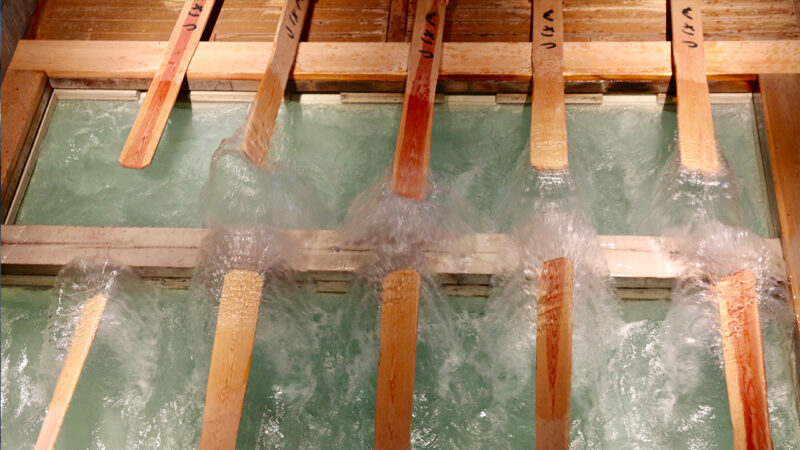 The high concentration of hydrogen sulfide in the water creates collects and forms a special bath salt called "yunohana." The phenomenon is proudly displayed at the center of the onsen town and brilliantly lit at nighttime. You can enjoy the magical atmosphere while casually walking around the town in a typical yukata.
Kusatsu Onsen is in Gunma Prefecture, just about 3 hours from Tokyo by Shinkansen. From Karuizawa, you will need to take a bus to Kusatsu Onsen.
Special Onsen Experience in Japan: Sand Bath Kagoshima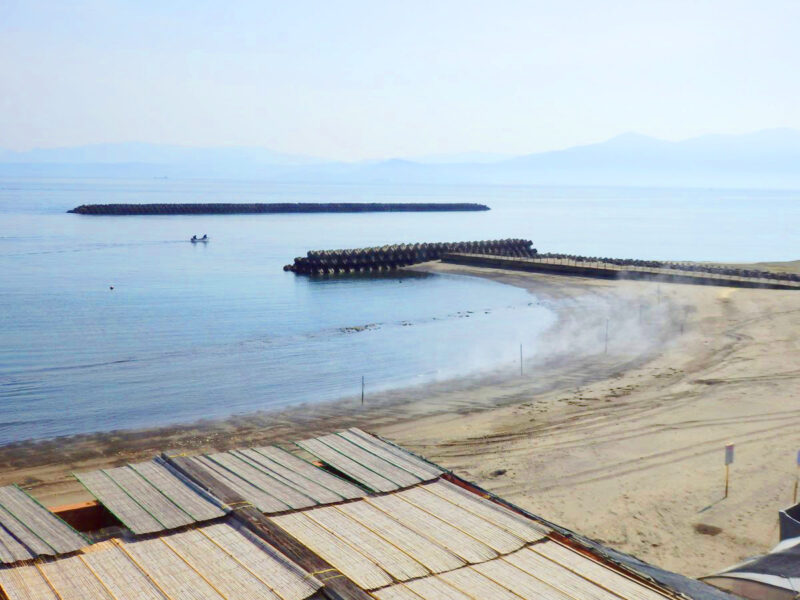 Another special onsen experience awaits at Ibusuki in Kagoshima Prefecture on the island of Kyushu. The coastal area also hosts some active volcanoes, which is ideal for creating natural sand baths. You can even see steam rising from the beach as mineral-rich water bubbling from underground volcanic activity heats the sand. The weight of the heated sand compresses your body and promotes healing and blood flow as you listen to the calming ocean waves.
The best place for this special onsen experience is Ibusuki Sunamushi Onsen. After relaxing in a sand bath, you can get clean and relax even more at one of the many other outdoor natural hot springs in Kagoshima. The best way to get to Kagoshima is by plane. The Kagoshima Airport is located in Kirishima, a great place to start your Kyushu adventure.
Special Onsen Experience in Japan: Kawayu Onsen
"Kawayu" literally means river bath. It gets its name from the geothermal activity that bubbles below the river. The special onsen experience here is actually building your own hot spring! That's right! When you stay at one of the accommodations along the Oto River, you will even be given a shovel so you can get to work digging up the riverbank. This releases the hot spring water flowing below. If it's too hot, you can just hop back into the crystal-clear river to cool down or dig some more to allow in some river water.
In the winter, a giant outdoor bath called "Sennin-buro River Bath" is available. The name "Sennin" implies the bath is so big that 1,000 people could fit inside. Relax in the warm water in the evening under the brilliant stars, surrounded by the sounds of nature.
Kawayu Onsen is located in Kumano inside Wakayama Prefecture, south of Nara in the Kansai Region. To get to Kawayu Onsen, you can take a bus from Kii-Tanabe and Shirahama.
Special Onsen Experience in Japan: Jigokudani Yaen-Koen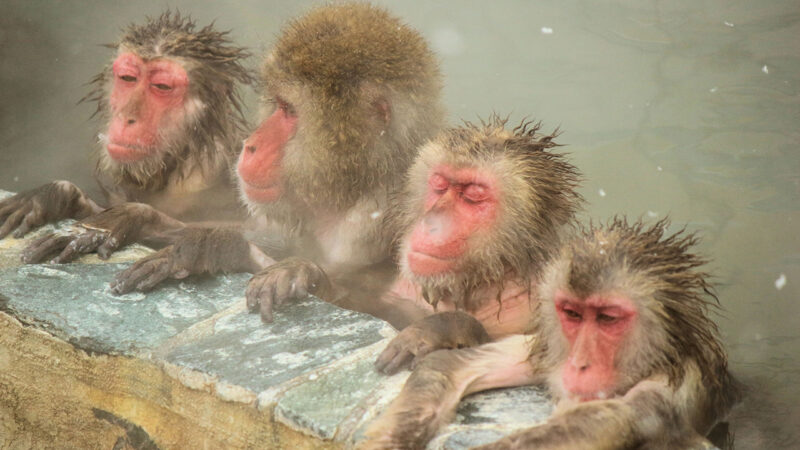 Usually, there are many rules on how to behave while bathing inside a Japanese onsen. However, there is one place where nothing but monkey-business is allowed. That is Jigokudani Yaen-Koen in Nagano Prefecture, where Japan's famous snow monkeys go to relax in the mountain's soothing natural hot springs. Though the area was named "Jigokudani" (hell valley) for its steep cliffs and jagged landscape, it is a paradise for these onsen monkeys.
Seeing the adorable creatures so relaxed bobbing along in their cozy baths is worth seeing, even if it takes a bit of a walk. You should remember not to let your guard down, though. They are still wild animals, after all, no matter how at ease they appear inside the onsen.
This delightful park is more for animal lovers than hot spring lovers. However, there are plenty of onsen meant for humans in the area, if the charming monkeys inspire you to do some relaxing too.
You can easily get to Nagano from Tokyo by Shinkansen. From Nagano Station, you should take Nagano Dentetsu Line Limited Express to Yudanaka Station where a bus waits.
Special Onsen Experience in Japan: Izu Capybara Onsen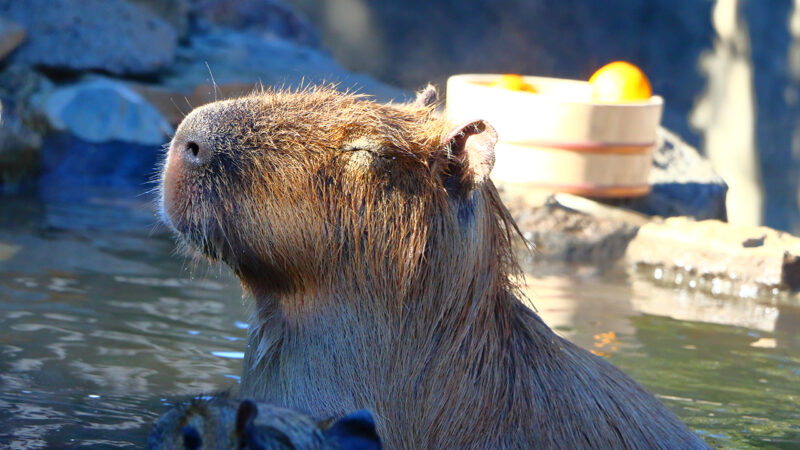 Like Jigokudani Yaen-Koen, the onsen at Izu Shaboten Zoo in Shizuoka Prefecture is occupied by cute animals. Adorably, capybara, the world's largest rodents, love to soak in the hot springs, especially when they are filled with citrus, like mikan and yuzu. It is definitely worth a stop for nature lovers, and the hot spring capybaras make great subjects for photos!
To visit the bathing capybara, take the Tokaido Shinkansen to Atami Station. From there, go to Ito Station on the JR Ito Line. Then take a 35-minute bus ride to the park.
Special Onsen Experience in Japan: Hakone Kowakien Yunessun
Located in Kanagawa Prefecture, Hakone Kowakien Yunessun offers more than two dozen attractions, including special onsen experiences like wine, green tea, coffee, and sake filled baths. In fact, the coffee bath is the first of its kind in Japan. Any coffee-lover will enjoy the refreshing aroma as it reduces fatigue and rejuvenates the skin. Additionally, there are themed areas, saunas, lie-down baths, exciting water slides, and fish-filled footbaths to delight guests of all ages. It's a great place to take the whole family for a special onsen experience in Japan.
For the best ways to get to Hakone, check out our article here.
Special Onsen Experience in Japan: Hottakarashi Onsen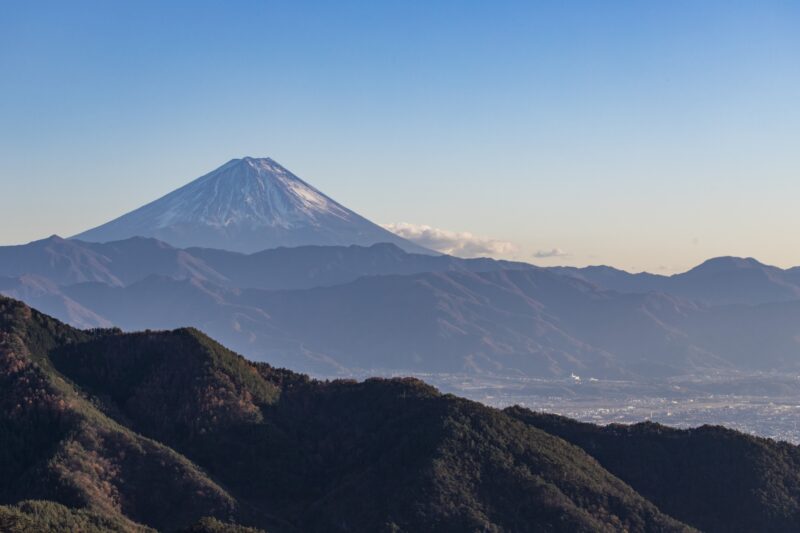 For a truly unforgettable and relaxing special onsen experience, head to the mountains of Kofu in Yamanashi Prefecture. Here you'll find Hottakarashi Onsen, an outdoor path with a spectacular view of the region's vast, mountainous landscape. Most notably, Japan's iconic Mt. Fuji is visible from the bath on a clear day.
What makes this onsen experience truly special is that the bath is open in the early hours so that you can watch the sunrise over the mountains. What an incredible way to start the day!
Being such a remote hot spring, it can be a challenge to get there. No public transportation can take you to the facility, so you need to drive or take a taxi. The taxi fare comes out to about 2,500JPY one way.
Special Onsen Experience in Japan: Oedo Onsen Monogatari and Solaniwa Onsen
The best way to describe Tokyo's Oedo Onsen Monogatari and Osaka's Solaniwa Onsen is as a hot spring theme park. Inside, great care is given to create a festival-like atmosphere where guests can eat, drink, play matsuri games and walk around in comfortable Japanese yukatas. The setting makes for a special onsen experience and great opportunities for taking fun photos with your friends.
Oedo Onsen Monogatari, in Odaiba, has a beautifully landscaped outdoor bath with a variety of indoor baths under a fabulous mural of Mt. Fuji. Exclusively for ladies, there is a footbath garden and wooden tub baths. More ways to relax while enjoying the atmosphere include saunas, skin scrubs, massages, and bedrock baths. Unfortunately, tattoos are not allowed at Oedo Onsen Monogatari. However, if they are small enough, they may be covered with a bandage.
Osaka's Solaniwa Onsen boasts various baths that overlook a fabulous Japanese rooftop garden. Nine different baths use natural hot spring water from 1,000 meters below the surface. There are also private baths available for families by reservation, which come with their own scenic gardens. Like Oedo Onsen Monogatari, there are resting areas, restaurants, games, and various relaxation services. Solaniwa is located inside the Osaka Bay Tower.
The theme park experience is what makes these two special onsen so enjoyable. Especially for families, groups of friends, and visitors to Japan, Oedo Onsen Monogatari and Solaniwa Onsen are excellent hot spring destinations.