A Hot Spring Inn and Cultural Property that Captures the Charms of Aizu
The Mukaitaki of Fukushima's Aizu Higashiyama Hot Spring Resort
Mukaitaki is one of Japan's most renowned hot spring inns. The hot spring itself, nicknamed the "Fox Spa," who had been originally declared a sanatorium by the leader of the Aizu clan, and in year 6 of the Meiji era (1868-1912), ownership of the Mukaitaki was passed to the Hirata Family. They have carefully maintained the naturally welling hot spring and Aizu's hospitality for generations.
Springtime in Full Bloom with Mountain Cherry Blossoms in Fukushima, Japan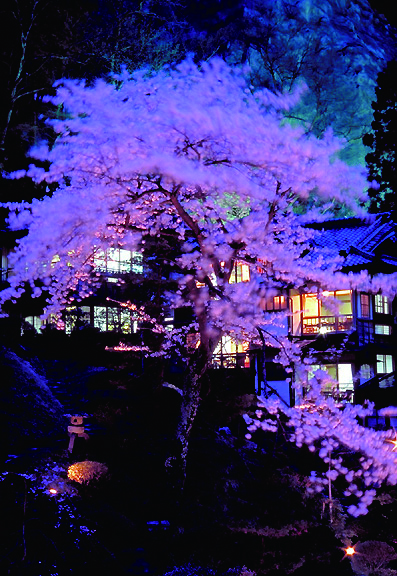 The inn is located alongside a sloping mountain stream, with guest rooms surrounding a rolling courtyard. From mid to late April, the courtyard comes alive with blooming cherry blossoms. The contrast between the dark pink weeping cherry blossoms and light-colored double weeping rosebud cherry blossoms is striking. Most of the guest rooms give visitors the pleasure of viewing Japanese cherry blossoms viewing while enjoying their stay. At night, the cherry blossom trees are illuminated by lights, giving them an otherworldly appearance. The sight will take your breath away.
Hot Spring Water with Healing Properties in Fukushima, Japan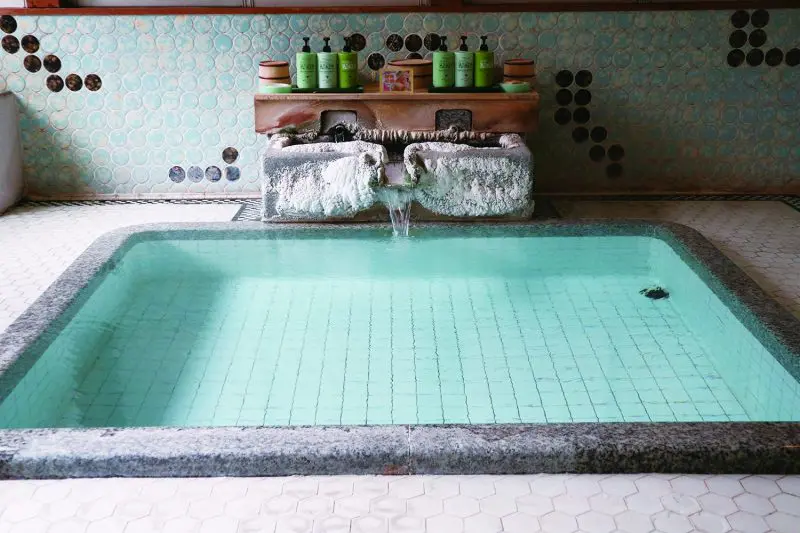 In addition to the large gender-segregated "Kitsuneyu" and "Sarunoyu" indoor public baths, there are three areas with private baths where you can lock the doors and use them anytime. All bathtubs are filled with 100% spring water flowing from the natural source. The water has a sulfate-chloride composition, and as you bathe in the clear, sparkling water, you'll feel its healing properties rejuvenating your body.
Local Cuisine from Fukushima Served with Care and Comfort in Your Room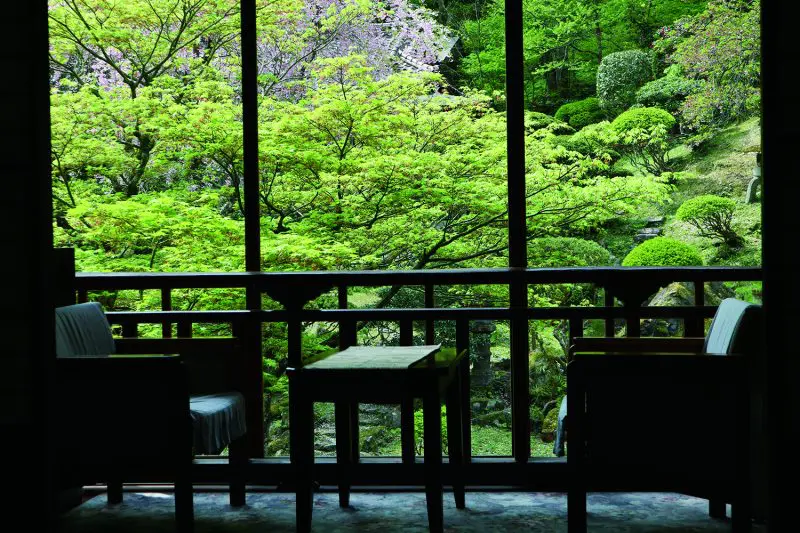 Morning and evening meals are served in your room. The female staff will carefully lay the dishes out for you and explain each part of the meal. Local dishes such as kozuyu (boiled vegetables in Japanese scallop shell broth) and koi-no-umani (carp boiled in thick, sweet soy sauce) give you a taste of the kinds of savory cuisine produced from the rich, bountiful Aizu area. The food will have you licking your lips and wanting more.
Film Tourism at the Mukaitaki in Fukushima, Japan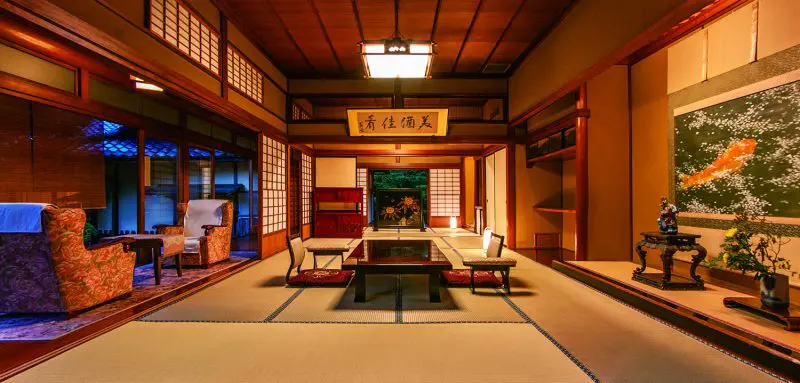 The Mukaitaki has also been used as the setting for several movies, such as Laplace's Witch (Rapurasu no Majo) and Satoshi: A Move for Tomorrow (Satoshi no Seishun). The Mukaitaki became well-known for the great care its staff show by polishing the long-standing wooden surfaces daily, keeping the inn in pristine condition. It's a stylish inn more than fitting as a set piece for films.
---
Fukushima's Aizu Higashiyama Hot Spring Resort, Mukaitaki Information
Address: 200 Kawamukai, Yumoto, Higashiyama-cho, Aizuwakamatsu City, Fukushima Prefecture
Tel: 0242-27-7501
Access: From the JR Banetsu Saisen Aizuwakamatsu Station, take the Machinaka-shuyu Bus (Classic Town Bus)  to Higashiyama Spa Station (a 16~37-min ride). From there, the inn is a minute walk.
Price: 1 night/ 2 meal packages start from 21,050 JPY.
URL: mukaitaki.com
---
Writer: Rie Nishimura
Hi, my name is Rie Nishimura. I'm a freelance writer who's written about hot springs for over 20 years. I hope my writing helps others discover the charming qualities of hot springs as I have.