Japanese summer festivals, or matsuri, are the main spot during the summer to see yukata, eat delicious food, and of course, play matsuri games. Just like every festival has traditions that have been passed down over the years, the same games have been making a comeback every year due to popularity. Here we will introduce some of the most popular matsuri games, matsuri foods, matsuri outfits, and matsuri traditions in Japan.
Matsuri Game: Water Balloon Yoyo (ヨーヨーつり)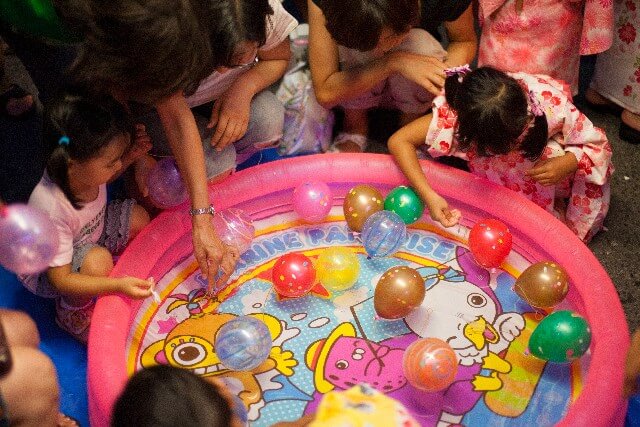 Small water balloons are filled with both air and water, giving them enough bouncy power. The balloons are closed with a rubber string with a loop. To win one of these balloons, you use a stick with a paper string with a metal hook attached to the end. The goal is to "fish" the balloon out of the water before the paper string holding the hook disintegrates. After you catch your balloon, you loop it around your finger and bounce it around like a yo-yo.
Matsuri game: Goldfish Scooping (金魚すくい)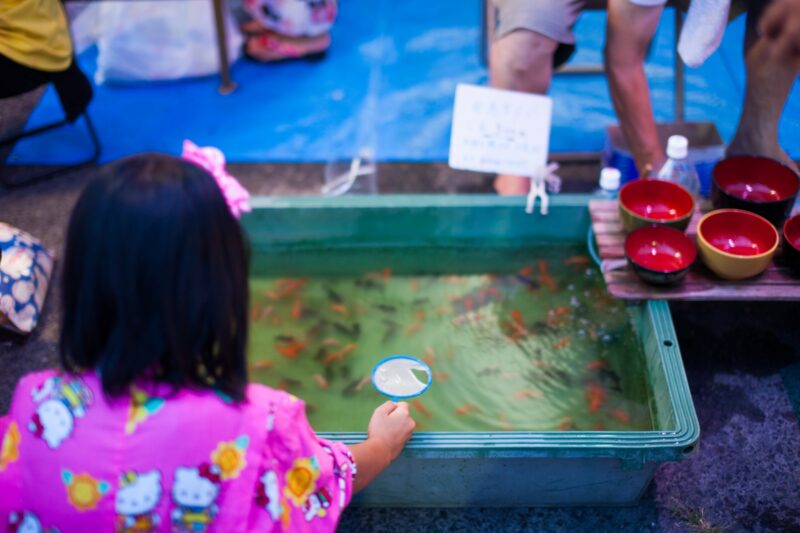 The prize for the goldfish scooping matsuri game is unlike any other. Using a scooper with a thin piece of paper as a net, you try to catch as many goldfish as you can before the thin paper breaks. This game can be difficult and very does require some skill. However, if you're successful, you can take home the goldfish you caught and keep them as pets for years to come. Maybe you can name them after the Matsuri you got them at!
Matsuri Game: Senbonbiki (せんぼんびき)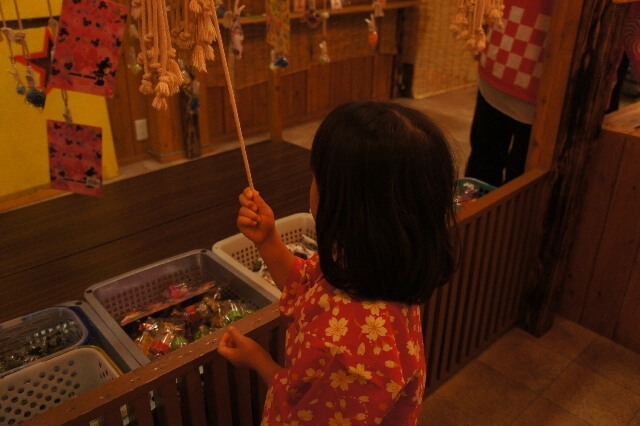 Senbonbiki is a matsuri game that offers the chance to win various items such as snacks, toys, or sometimes even coupons. Prizes are attached to one end of a string. The other ends are collected together in one bundle. Then you can choose one string to pull. The item that moves at the other end is yours to keep. Like a lottery, senbonbiki is based on luck. It's much more fun though, especially for young children at Japanese festivals. Try senbonbiki yourself to get some delightful Japanese matsuri treats!
Japanese Matsuri Fun: Fireworks (花火)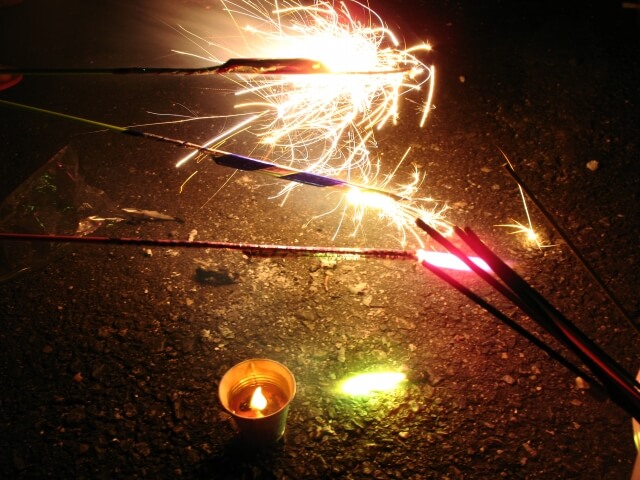 Japanese festivals are famous for their booming firework displays. Festival-goers can also wield their own sparklers to set the mood. During the summer season, you can find cheap sparklers in various places at local supermarkets or convenience stores. It might sound unsafe but these small firework sticks are totally fine to play with. Matsuri often continue until late into the night. The sparkles from these sticks bring everyone into a festive mood before the real fireworks are set off. Get some friends together and have some matsuri fun with fireworks too!
Matsuri Manual: Japanese Festival Food
A festival in Japan is not complete without rows of street stalls selling soul food and street snacks before the main event. In fact, matsuri food is one of the main draws of these events. Japanese festival-goers love to fill their gut with these irresistible matsuri treats while enjoying the exciting atmosphere. Here are some all-time Matsuri food favorites to try at a Japanese festival stall.
Matsuri Foods: Yakisoba (焼きそば)
This dish of Worcester-sauce flavored stir-fried noodles with vegetables, pork, and topped with pickled red ginger is a staple dish at any festival. Toppings vary according to region, and perhaps the fun Japanese matsuri atmosphere adds something to the flavor. Or maybe perhaps it's a special matsuri sauce that proud cooks at each booth love to boast. One thing is for sure, Japanese festivals would not be the same without this iconic matsuri treat!
Matsuri Foods: Takoyaki (たこ焼き)
Originally from Osaka, these ball-shaped snacks are a festival favorite for sure. Fillings vary for each region but the main ingredients are minced or diced octopus, tempura pieces, and green onion. When done, they are sprinkled with their signature takoyaki sauce and topped with bonito flakes (dried fish) and mayonnaise. Although they are delicious, be careful about eating them too fast. The tasty octopus balls are often piping hot on the inside! Takoyaki is easily one of the most recognizable matsuri foods.
Matsuri Foods: Okonomiyaki (お好み焼き)
Just like takoyaki, these savory Japanese pancakes come from Osaka in the Kansai region. Nowadays there are many variations of this dish as the name literally means "grill it how you like it."  The Kyoto okonomiyaki has chopped scallions and the Hiroshima version has noodles, but the basic ingredients are always slices of pork, cabbage, and okonomiyaki sauce. Just like the takoyaki, okonomiyaki is topped with mayonnaise and bonito flakes.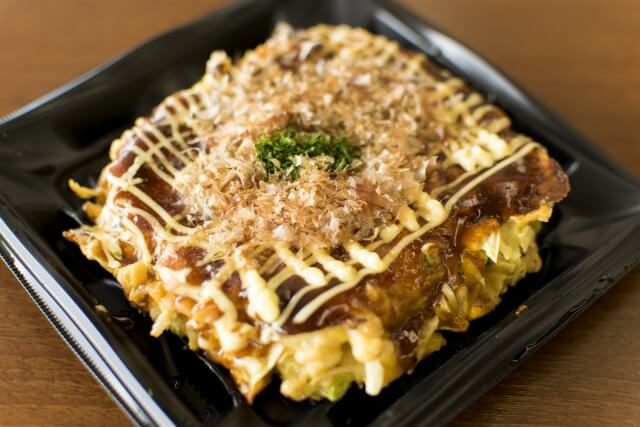 Matsuri Treat: Taiyaki (たい焼き)
This is a fish-shaped pancake-like pastry most commonly filled with red bean paste. This matsuri treat is a must for any festival-goer in Japan. If the alluring aroma isn't enough to hook you, the charming shape certainly will. More modern fillings also include custard, ice cream, and whipped cream. Choose your favorite flavor and taste the treats of the Japanese matsuri!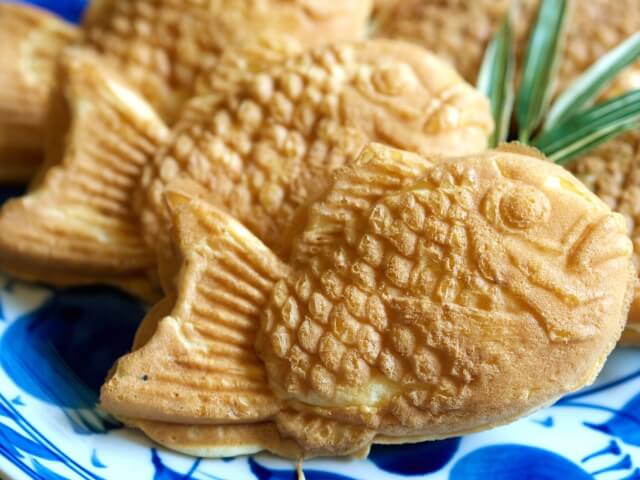 Matsuri Treat: Candied Apple (りんご飴) and Chocolate Banana
This common Japanese matsuri food may be familiar to many. Candied apples are, of course,  a sweet matsuri apple treat covered in a sugary, sticky starch syrup and eaten on a stick. They are similar to the candied apples eaten in the West, but it is still a fun way to enjoy local fruit grown in Japan. 
Perhaps the most eye-catching matsuri treat, Choco bananas have had a huge popularity boost in the last few years. While it may not seem traditionally Japanese, the bananas are always decorated with fancy colors giving them that touch of "Japanese festival flair."
Matsuri Treat: Kakigori (かき氷)
Japanese shaved ice has been eaten since the Heian period (11th century). However, it was made affordable for people in the late 19th century. Kakigori has been Japan's favorite festival treat to cool down during hot summer festivals in Japan. Flakes are shaved from a huge block of ice and then topped with syrup and condensed milk. Popular flavors of Japanse shaved ice include green tea, strawberry, blue Hawaii, cherry, lemon, grape, and melon.
Now you have all the knowledge you need to survive the classic summer Matsuri games and enjoy delicious matsuri food and treats. So get dressed in your yukata and join the festival fun the next time you are in Japan! Even if you are in Japan in the summer, you can still enjoy the matsuri atmosphere in a yukata at places like Oedo Onsen Monogatari in Odaiba.
Japanese Matsuri Style Guide
What should you wear to a summer festival in Japan? In Japan, it is common to attend a summer festival (Matsuri) in a traditional Japanese matsuri outfit. Men usually wear a jinbei while women wear colorful yukatas matched with a pair of geta (Japanese wooden clogs) and a drawstring bag called a kinchaku. To complete the picture, a paper fan is a popular choice as the perfect accessory. Of course, you are free to wear what you want on the festival grounds. But wearing traditional Japanese clothes at a Matsuri adds to the overall experience.
Japanese Matsuri Festival Outfit: Yukata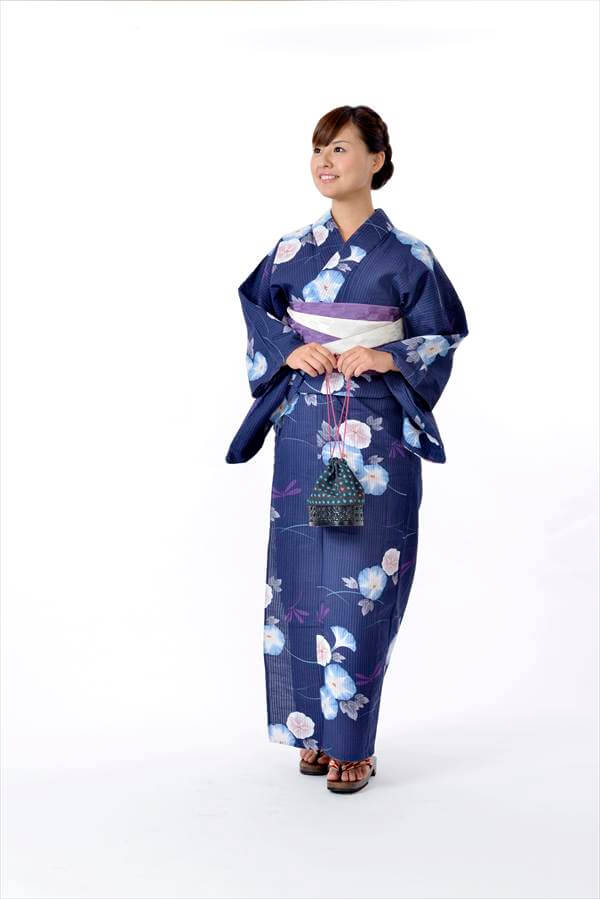 A yukata, or summer kimono, is made of hemp cloth or cotton that keeps you cool during the summer heat. It is much easier to wear than a regular kimono and young ladies may prefer the trendy mini-yukatas. Yukata are not difficult to wear at all and are easy to walk around in.
During the festival season, many shops will sell yukata sets at a reasonable price and accessory shops will sell flower hairpins for cheap.
Of course, there are also men's yukatas. These are less colorful and either have simple patterns or really flashy ones such as Japanese demons or dragons.
Japanese Matsuri Festival Outfit: Jinbei
Consisting of a top and shorts, a jinbei cools you down in the summer breeze. They are mostly made of cotton. The more traditional jinbei has a striped pattern with a simple color such as black, grey, or brown.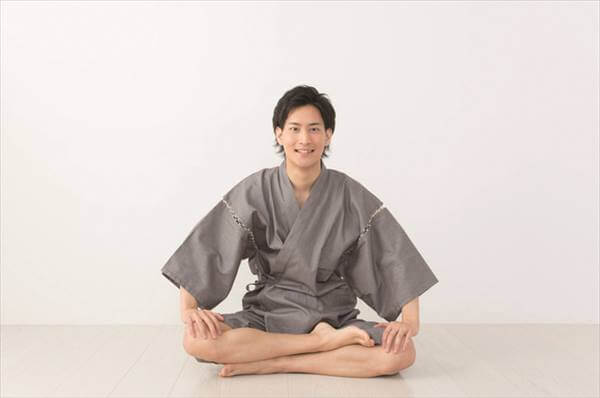 Japanese Matsuri Festival Outfit: Kinchaku
These small Japanese drawstring bags can be made of hemp fabric, cotton, or recycled kimono cloth. To be really fashionable, buy a kinchaku with the same pattern as your yukata. Tie a bowknot to close the bag, and carry it by its strings. Since yukata do not have any pockets and carrying a regular purse with a yukata kind of ruins the traditional image, a kinchaku is a must-have.
Japanese Matsuri Festival Outfit: Uchiwa and Sensu
Go for a casual uchiwa (round paper fan) or a classy sensu (folding fan). Tuck it in your obi (yukata belt) when not in use. To look like a local, tuck the uchiwa in the back and the sensu in the front of the belt.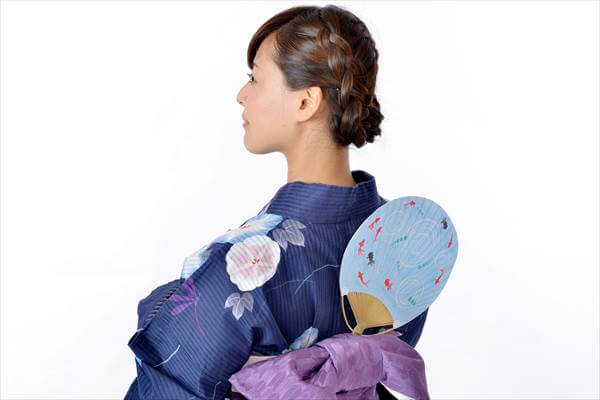 From firework festivals, shrine events and dance parades; among the hundreds of events going on during the hottest time of the year, here are some suggestions for you!
Asakusa Summer Night Festival – Toro Nagashi
Follow the flickering paper lanterns floating down the river!
Toro Nagashi was first held in 1946, in memory of those who died in World War II. After a pause in 1965, the event came back to life in 2005; since then, it has become a popular annual summer event. Besides writing down the names of loved ones who have passed away, recently people also inscribe wishes on the paper lanterns and release them into the river. Attendees can light a lantern for 1,500 yen and watch the warm sea of shining lights from the riverbank.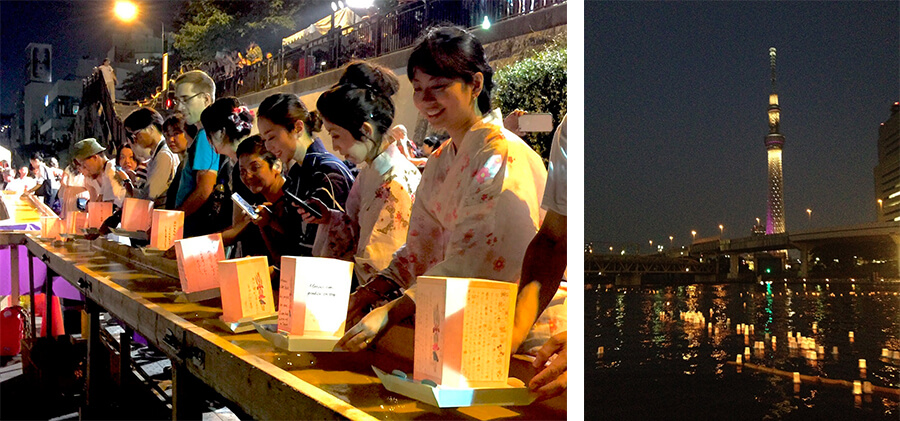 Fukagawa Hachiman Festival
Immerse yourself in one of Tokyo's biggest summer festivals!
In addition to the Sanno and Kanda Festivals, the Fukagawa Hachiman Festival is one of the major Shinto annual events remaining from the Edo period. It is held on a large scale every three years (most recently in 2014), when the imperial carriage of Hachiman, the god of war, is carried through the streets together with 120 large and small portable shrines. The highlight of the event is a parade of more than 50 large portable shrines. Also called "Mizukake Water Festival," the carriers, shouting "Wasshoi Wasshoi!" (Heave-ho in English), are splashed with water by those cheering along the roadside.
Sumida River Fireworks Festival
Be enchanted under the sparkling night sky!
Japanese fireworks displays are popular for their kaleidoscopic colors and spectacular designs, and the one along Sumida River is no exception! Boasting a total of 22,000 fireworks and attracting about one million visitors yearly, this summer event is one of Tokyo's biggest. Its history dates to 1733, when it was held in memory of the many victims of a severe famine. Since 1978, it has been an annual event, and people look forward to it with great anticipation year by year. Don´t miss the chance to see one of the most breathtaking fireworks displays in all of Japan!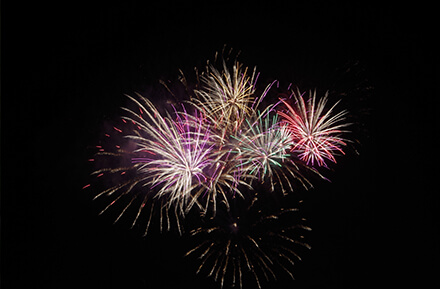 Roppongi Hills Bon Dance Festival
Wear yukata and join the folk dance!
The Bon dance is a folk dance for greeting the spirits of ancestors. People line up in a circle and dance around a high wooden stage (yagura in Japanese). Feel free to jump in and follow the steps of the yukata-clad leaders on stage! The choreography is very simple, which makes it easy to learn quickly, even for those with "two left feet." Glowing lanterns add to the traditional atmosphere and stalls abound to provide a variety of refreshments and snacks.