Odaiba is a man-made island located in Tokyo's Minato Ward in the south of the city. Considered to be one of Tokyo's major entertainment and shopping districts, Odaiba is a particularly popular place to visit on the weekends. You'll find plenty of major attractions here to include the TeamLab Borderless digital art museum, the Oedo Onsen theme park, the giant Gundam statue at Diver City Mall, Joypolis virtual reality amusement park, the Miraikan science museum, and Odaiba Beach. After hearing such high praise, you may be wondering how to get to Odaiba.
There are several ways to access Odaiba – the most convenient depends on which direction you are coming from. In this article, we'll explore each mode of available transport and advise which one is best depending on the attraction you are visiting.
How to get to Odaiba by the Yurikamome Line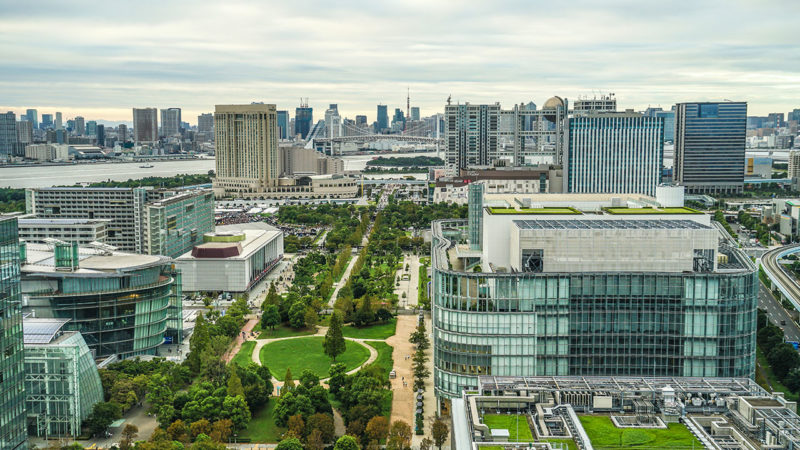 The most common way to access Odaiba is via the Yurikamome Line, a driverless train that begins in Shimbashi and takes a loop of the island, stopping at every station and crossing the Rainbow Bridge along the way. Although the fares are not the cheapest compared to other Tokyo train lines, this is one of the most scenic options to take. As the train crosses the Rainbow Bridge, it offer spectacular views of the island and Tokyo Bay area. In fact, a ride on the Yurikamome Line is almost an attraction by itself.
If you are traveling to Odaiba from Tokyo Station, Asakusa, Shimbashi, Ginza, or Shiodome then you should take the Yurikamome Line.
For visiting Odaiba beach, Joypolis, and Decks shopping mall, leave the train at Odaiba Kaihin-Kouen station. If you are visiting the TeamLab Borderless Museum, you can also leave the train here and access the museum via a pedestrian bridge that crosses the road. The total walking time to Borderless is approximately 10 minutes.
For Aqua City Mall, the replica Statue of Liberty, Hilton and Nikko hotels, Fuji Television or Diver City Mall get off the train at Daiba Station. If you are going to Oedo Onsen or the Miraikan (National Museum of Emerging Science and Innovation) then you'll need to disembark at Telecom Center Station. For the Venus Fort shopping mall, Toyota Mega Web and Palette Town, Aomi Station is closest, and you can also access the TeamLab Borderless Museum from here easily.
A one-way fare from Shimbashi to Odaiba costs around 330 JPY per adult, depending on which station you are traveling to. If you are traveling from Tokyo Station, the total fare will cost 440 JPY one way. It's worth mentioning that travel on the Yurikamome Line is not covered by the Japan Rail Pass, but if you are visiting a lot of attractions around Odaiba, you can purchase a Yurikamome Line day pass for 820 JPY.
How to get to Odaiba by the Rinkai Line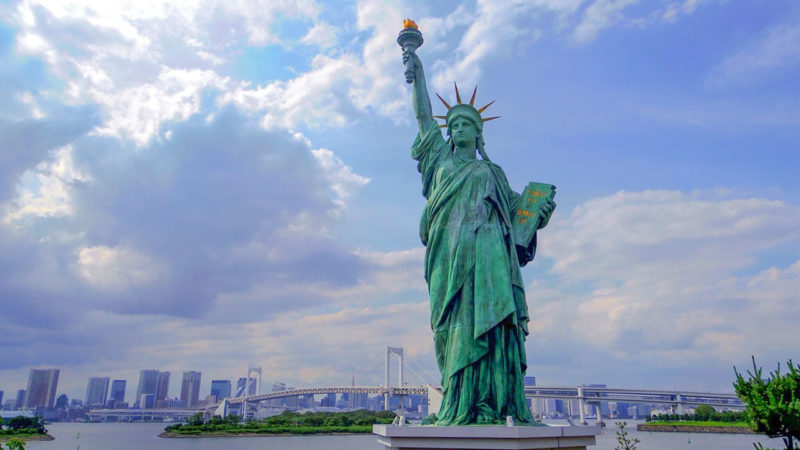 The other train line to access Odaiba is via the Rinkai Line which stops at Tokyo Teleport Station close to Diver City, Venus Fort, and TeamLab Borderless. It is possible to access Odaiba directly this way from Shinjuku and Shibuya, by boarding the Saikyo Line, which then becomes the Rinkai Line once it reaches Osaki Station. If you're traveling to Odaiba directly from Haneda Airport, you can also take the monorail to Tennozu Isle and pick up the Rinkai Line there.
The Rinkai Line trains are not as frequent as the Yurikamome Line, with trains spaced out on average between every 7-10 minutes, and you won't be treated to the same scenic views. However, the Rinkai Line can be a more convenient route due to its connectivity with stations on the JR Lines, Shibuya, and Shinjuku. Regarding the fare, expect to pay approximately 500 JPY one way if traveling from Shibuya.
How to get to Odaiba by Rainbow Bus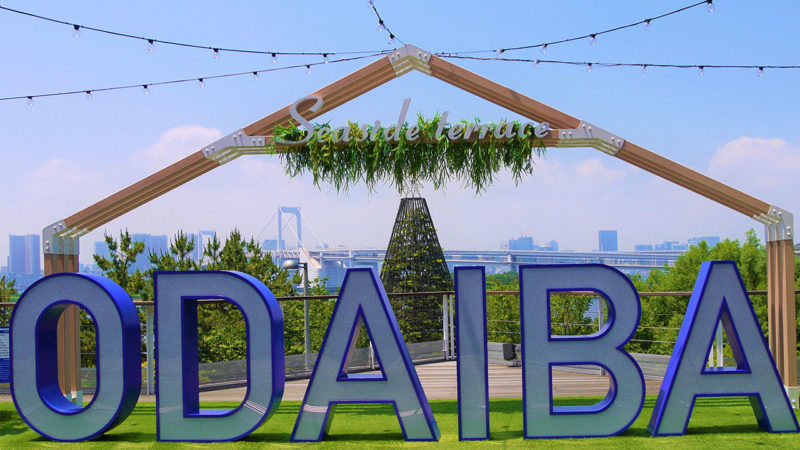 If you are staying around Shinagawa, the most affordable way to get to Odaiba is to take the Rainbow Bus. The ride costs just 210 JPY one way. Please note that as this a private bus company, you must pay the fare by cash. Also, unlike other city buses, you are unable to use IC cards. Buses run every ten minutes and the main bus stop is located outside Shinagawa Station's east exit.
There is also a free Tokyo Bay shuttle bus that departs every 20 minutes connecting the island's most popular attractions. This bus runs between 11:30am to 7:30pm daily.
You can also access Odaiba via the Toei city buses where you can use your IC card for a 200 JPY fare, making this the cheapest transportation method. Buses depart from Monzen Nakacho station every ten minutes and stop outside of Tokyo Teleport Station. The journey time is approximately 30 minutes.
How to get to Odaiba by Water Bus Across Tokyo Bay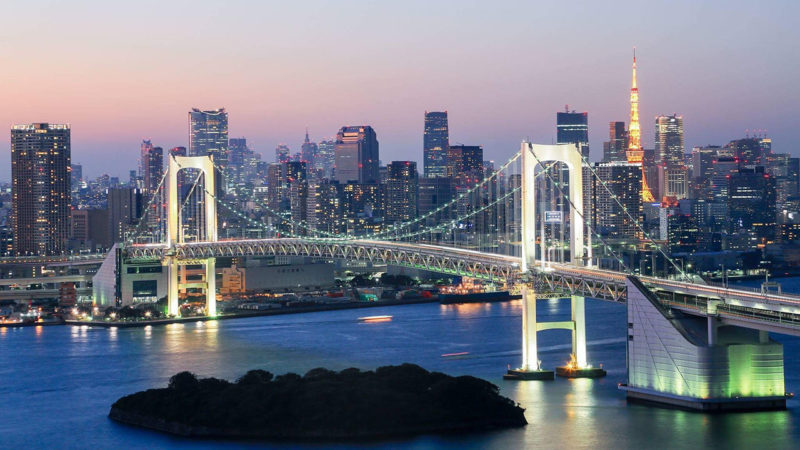 Many international tourists are not aware that there is a scheduled water bus service that stops at Odaiba. Although this is one of the more expensive ways to access the island, it's also one of the least crowded and is a nice way to incorporate some more sightseeing into your day with a cruise around Tokyo Bay.
There are three main locations where you can board a boat bound for Odaiba, these are Asakusa, Hinode, and Hama Rikyu Garden. From Asakusa, the direct boat leaves from Asakusa Pier, a 5-minute walk from Asakusa Station on the Sumida River. The boat ride takes 50 minutes and costs just over 1,700 JPY per person.
If you want to take the boat from Hama Rikyu Garden, it's best to add it onto a visit of the gardens because you'll need to pay the garden's entrance fee of 300 JPY to access the boat pier. From Hinode Pier to Odaiba, the journey time is around 20 minutes and the fare is 520 JPY per person. Boats depart between 11am until around 5pm daily, but it's best to check the schedule online in advance.
How to get to Odaiba by crossing the Rainbow Bridge on foot
Finally, people often wonder how to get to Odaiba on foot by walking across the Rainbow Bridge, and the short answer is yes, it's possible, but it is not the easiest way. The total walking time is around 40 minutes, and you are not allowed to ride a bicycle (you have to walk it over). Prepare for strong winds and secure your hats and other accessories. You should also expect a good amount of noise due to the wind and passing cars. That being said, the journey does provide a good view of Tokyo Bay and other landmarks. If you decide to walk across the bridge, please note that it closes to pedestrians after 8pm.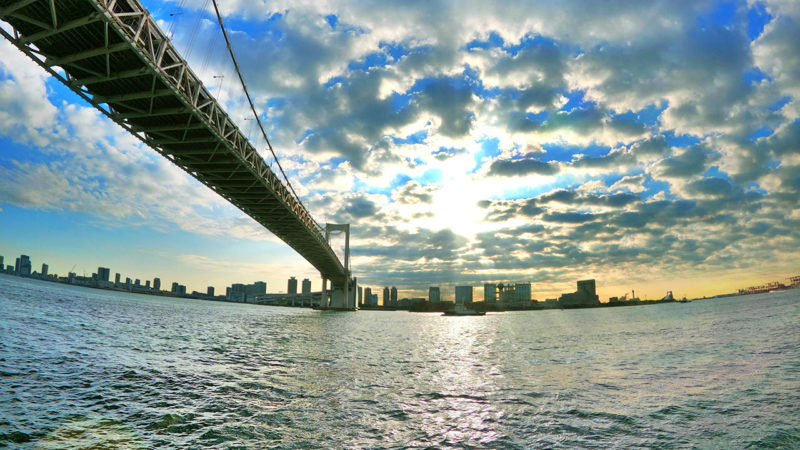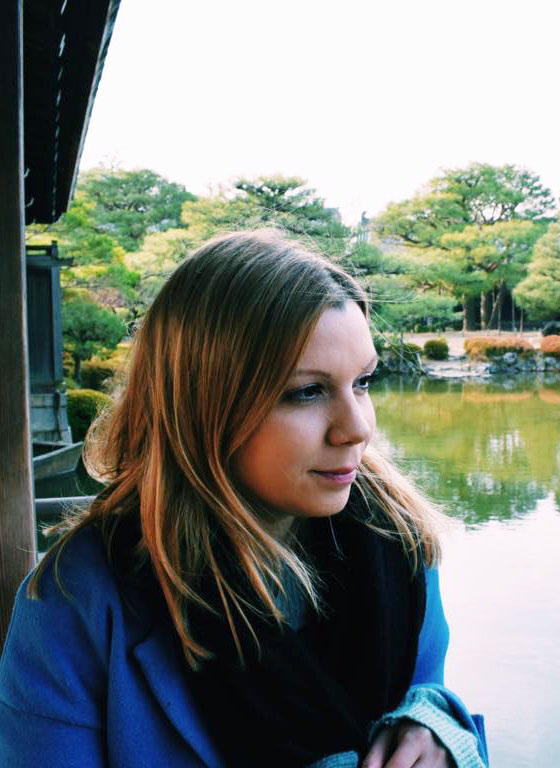 Tanja has spent more than three years exploring Japan, from the mountains of Hokkaido to the beaches of Kyushu. As a full-time travel writer, she loves to explore off the beaten path places, and her favourite part of Japan is Shikoku where she lived for two years. When in Tokyo, you can often find her checking out the latest cafes.
*Disclaimer:
This article was written by an outside writer, and WAttention is not responsible for any damage caused by the information on this page. Please be aware that the accuracy of the information posted in this article is not guarantied, and the content may be changed without notice.