The best way to travel to the Tohoku region is to take advantage of the Shinkansen (bullet train). It will take just 3 hours and 20 minutes from Tokyo to Shin-Aomori station in Aomori prefecture, which is best known for its marvellous Nebuta Festival, one of the Japan's most famous and beloved festivals. It also has distinct cultures rooted in local communities, as well as an abundance of seafood and sansai (mountain vegetables). It is also an all-season resort: in spring, beautiful cherry blossoms bloom; in summer, verdant forests and lakes are found; in fall, leaves turn brilliant red or yellow; and in winter, snow blankets towns and mountains ranges.
Majestic nature and Exciting Festival
The northernmost prefecture on Honshu island, Aomori is endowed with abundant nature, including the well-known Mt. Hakkoda, Lake Towada, a large dual crater lake surrounded by beech forest with wild animals, and Oirase Stream, a striking mountain stream with over a dozen waterfalls. Also, the Shirakami-Sanchi (Shirakami Mountains), a World Natural Heritage site, is spread across 130,000 hectares on the border between Aomori and Akita prefectures.
Facing both the Japan Sea and the Pacific Ocean, Aomori is blessed with various seafood which never fails to draw gourmands. Its most popular attraction is the Nebuta Festival, which brings in about 3 million visitors each year. For history enthusiasts, the Sannai-Maruyama Ruins – the largest archeological site of the Jomon Period (about 10,500-300 BC) – is a recommended destination.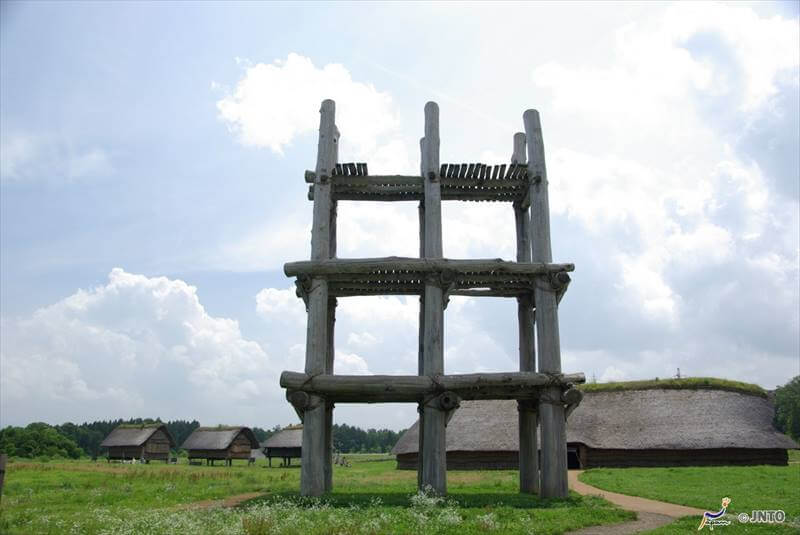 Sannai-Maruyama Ruins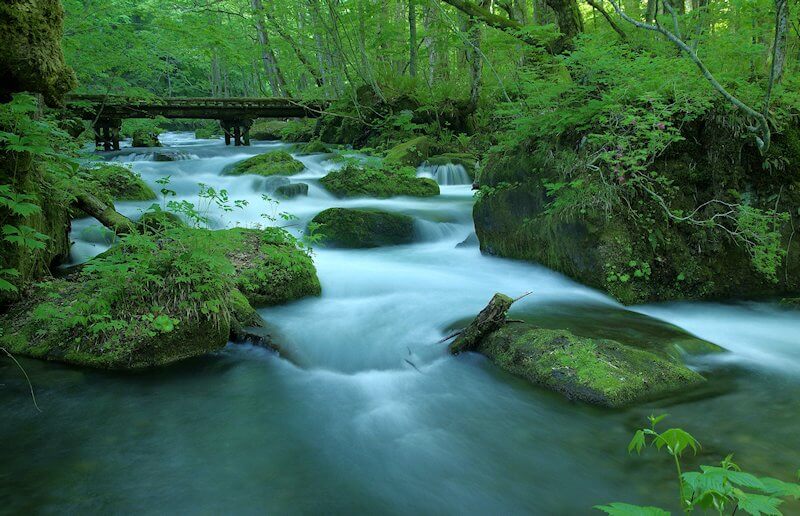 Oirase Stream
Things to do in Aomori
Enjoy spectacular view of rich nature
Aomori has a number of tourist spots, including outstanding natural sites such as Mt. Hakkoda and Lake Towada. Roads for buses and cars, as well as climbing routes and paths have been improved in recent years. Mountain cable cars are built so that children and the elderly can explore them too. However, note that it is a heavy snowfall area and you need to wear suitable winter clothing.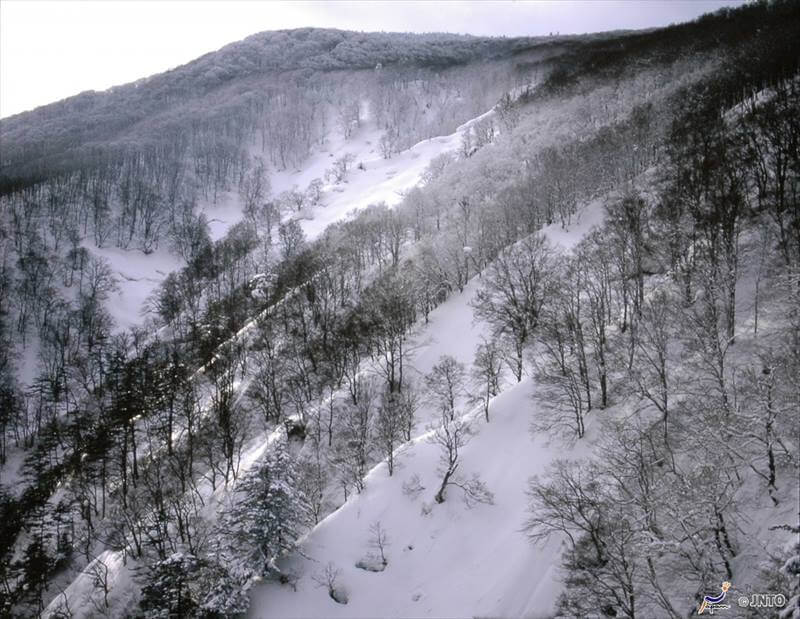 Mt. Hakkoda
Experience the tradition through festivals
Nebuta Festivals are celebrated in several northern regions, mainly in Aomori prefecture. The Aomori Nebuta Festival, which is celebrated annually from August 2-7, is the most recognised. Over 20 gigantic three-dimensional Nebuta (papier-mache dolls) depict ancient warriors, legendary creatures or Kabuki characters that illuminate the night with bright colours. Today, the Nebuta floats are made of a wood base,carefully covered with Japanese paper and lit from the inside with hundreds of light bulbs. Quite a few spirited dancers (called "haneto") in native Nebuta costumes, surround the floats and dance to the tune of flutes and beating of drums.
For those who missed the Aomori Nebuta Festival, there is an exhibition hall, Neputa No Yakata, that displays three floats all year around in Goshogawara city. Situated 25km west of Aomori city, Goshogawara is another site of the Nebuta Festival – this one is called "Neputa." It is said that the name came from the local direct "neputai," which literally means "sleepy," and the festival itself is a "sleepless festival" that prays for safety and a good harvest.
The 3 displayed Neputa, at 22m high and weighing of 16 tons, will be moved for 1.5km around the city from August 4-8. There is also a studio where visitors can see the work in progress and have a hands-on experience. Visit the official website (in Japanese) at www.tachineputa.jp.
In Hirosaki city, a central part of Tsugaru district, crowd-pleasing events include the Hirosaki Neputa Festival (characterised by 60 small and large fan-shaped floats) and Hirosaki Cherry Blossom Festival. Throughout the year, there are several flower festivals held in different cities throughout Aomori.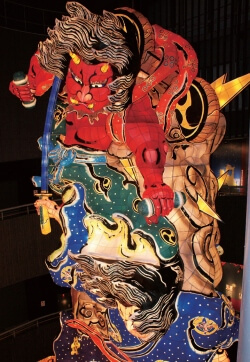 Aomori Nebuta Festival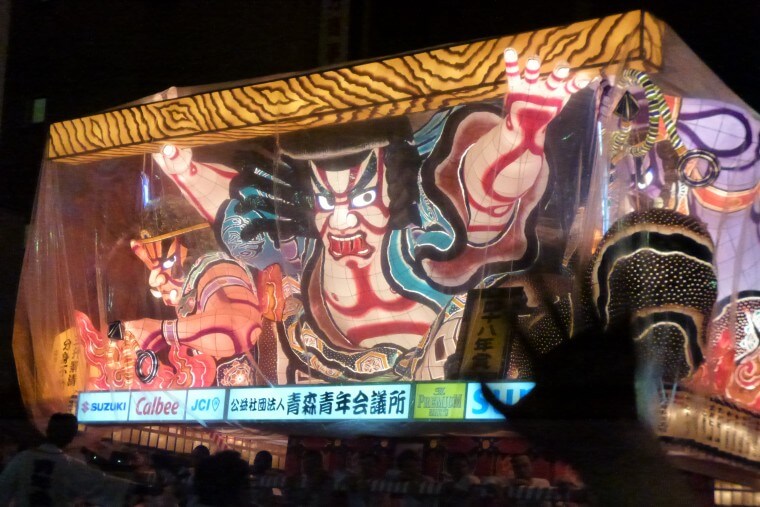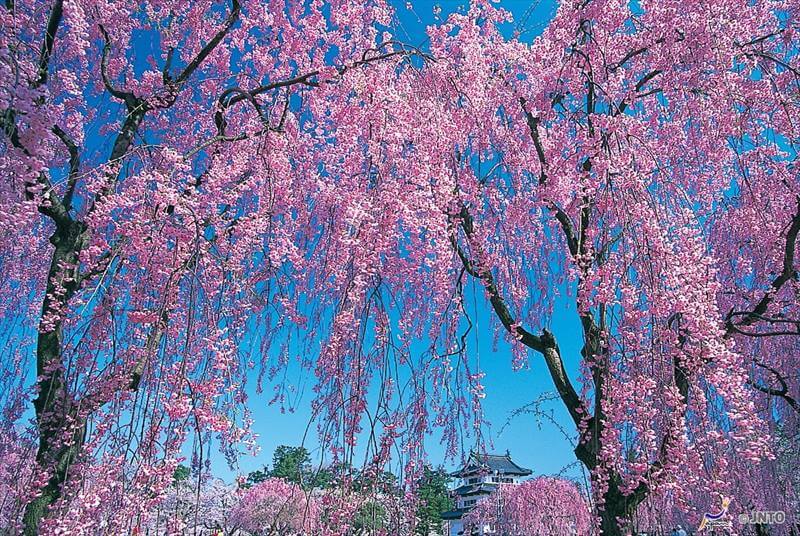 Where is the most famous Onsen in Aomori?
There are a number of onsen (hot springs) with good reputation and high spring quality in Aomori. Koganesaki Furofushi Onsen is one of the most popular and is often featured in magazines and TV programs. Its name "furofushi" means "immortality" in Japanese. Bathers can see the wild waves of the Japan Sea while soaking in their outdoor spa, with a view of the distant horizon and a splendid sunset. For more information about the onsen, please visit www.furofushi.com.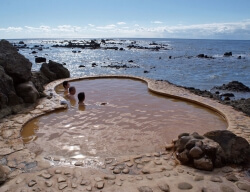 Koganesaki Furofushi hot spring
Taste the season's best
Enjoying local delicacies is a must during your journey. Aomori is known for its abundance and high quality seafood. Ohma tuna, one of the best grade tunas, is caught at Ohma Port facing the Tsugaru Strait that connects the Japan Sea with the Pacific Ocean. These tunas feed on fresh Pacific sauries, sardines and squids, and are sold almost exclusively to high-end sushi restaurants. Other seafood like squids and scallops caught in adjacent sea are also tasty.
Aomori Prefecture is Japan's largest apple producer – there are approximately 60 kinds of apple varieties, thanks to its significant difference in temperature and improved cultivation methods,which are shipped seasonally. You can try apple picking in several farms, but there is a charge.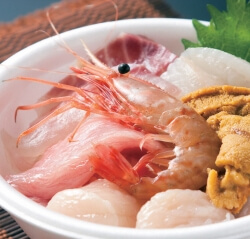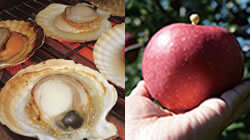 How to get to Aomori
From Tokyo to Aomori
From JR Tokyo station, take the Tohoku Shinkansen (Northern Shinkansen) "Hayate" to Shin Aomori station. Hayate is the fastest train category on the Tohoku Shinkansen and it takes 3 hours 20 minutes to there.