Aomori's Nebuta Festival: Passionate haneto dancers give the performance of a lifetime
Aomori is known for holding the Nebuta Festival from August 2 to 7 every year. About 3 million tourists from home and abroad flock into the prefecture to see massive Nebuta lantern floats depicting historical moments or mythical figures. Although the creativity and craftsmanship that go into every detail never fail to wow the audience, another highlight of the event is the haneto dancers. Wearing decorated straw hats, these dancers bring the party to life by jumping, stamping and singing "rassera! rassera!", calling visitors and customers to watch or join.
Haneto's role in Amori Nebuta Festival
It is said that the gigantic lantern we see in today's Nebuta Festival can be traced back to the miniature lanterns released into rivers during the Tanabata Festival. Haneto dancers who lead the float procession and the musical ensemble that comes after the floats are also important contributors. It's worth noting that not all the Nebuta Festivals in Aomori feature haneto dancers, whose costume also display regional characteristics.
In the earlier days, all the dancers were men. To impersonate women, they had to colour their nose white, wear decorated straw hats. Today's typical haneto costume is consists of a decorated straw hat called hanagasa, white split-toe socks, straw sandals, white yukata top, colourful belts and petticoat, and a either bell on the waist. You can also put on this outfit and join the haneto dancers. As many as 2,000 haneto dancers were said to dance around each lantern float in the past.
Mr. Haneto invites you to the dance floor
Winner of the 2018 Mr. Haneto Contest, Shinji Sakurada said that his role is to bring the party to life and get as many people onto the dance floor as possible. For Sakurada, haneto is an inseparable part of childhood and when the music of the Aomori Nebuta Festival starts to play, no one can resist the temptation of dancing.
Long, freezing winter months are always followed by a blooming spring and flourishing summer. Summer festivals are a time to release one's hibernating energy and inner drive.
Event period: August 2 to 7 every year
URL: www.nebuta.or.jp (Japanese)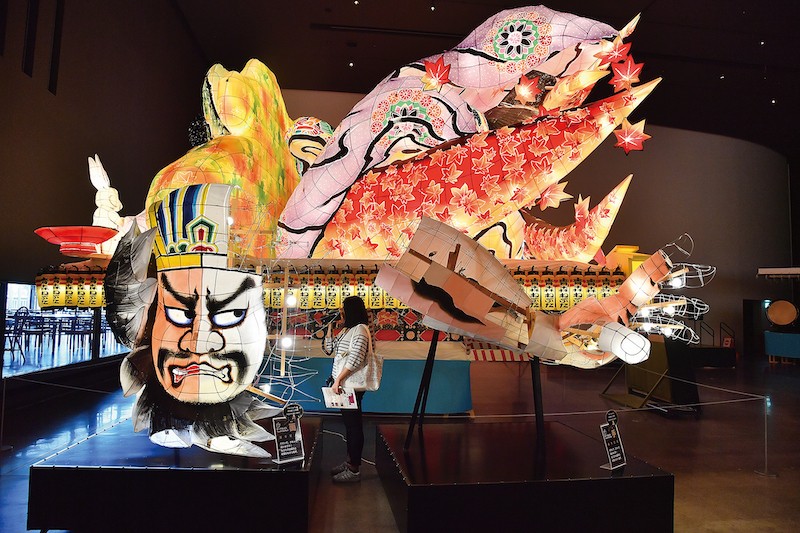 The Nebuta Museum WA-RASSE
A facility that introduces the history and charms of Nebuta. Four full-sized floats are on display, the actual ones used in the festival. Here, you can also experience a "Haneto" – try dancing to the Hayashi music or playing the taiko drums.
Hours: 9am – 7pm (May-Aug), 9am – 6pm (Sep-Apr)
Access: 3-min walk from Aomori Station on JR Ou Line and JR Tsugaru Line
URL: www.nebuta.jp/warasse/foreign/english.html