Precious heritages of the Shirakami Sanchi
A number of beech forests around the world have lost much of their ecological diversity due to the formation of continental glaciers some two million years ago; however, the beech forests and primeval plant population survive in Japan because continental glaciation did not occur here. Moreover,the Japanese didn't cut down beech trees for centuries because they served little purpose to them.
After World War II however, Japan's beech forests were logged gradually. This situation threatened wildlife habitats, so an active conservation movement to preserve the forests was begun. This movement garnered so much attention from the world that in 1993, UNESCO recognised the value of beech forests and declared the 16,971 ha area of Shirakami Sanchi as a World Natural Heritage Site. Today,the precious beech forests of Shirakami Sanchi remain almost entirely undisturbed.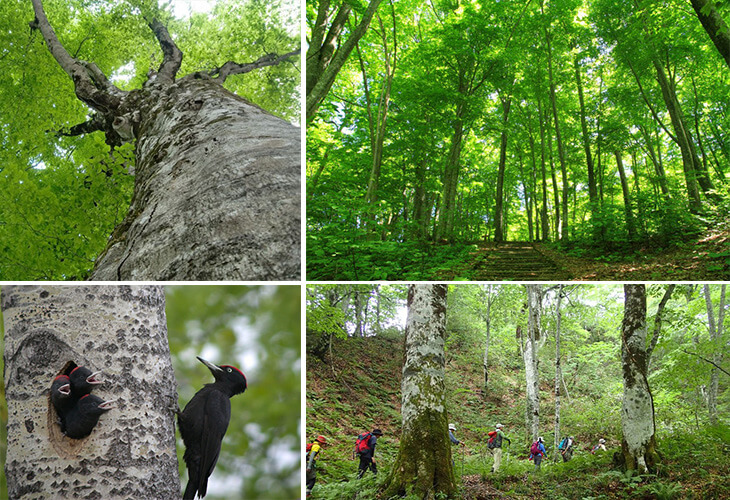 This is an area of wilderness with no access trails or man-made facilities,and more than half of the heritage site comprises of deep valleys with steep slopes. Numerous kinds of plants grow in this precious beech forest, while various species of animals call this place home, despite the high altitude. Having escaped glaciation, these 8,000 year-old forests are home to 500 plant species that have been identified as those generally seen in alpine and sub-alpine zones, of which 108 have specially protected status.
There are threatened and semi-endemic species present, such as Ranzania japonica, Hylotelephium tsugaruense, and Tipularia japonica.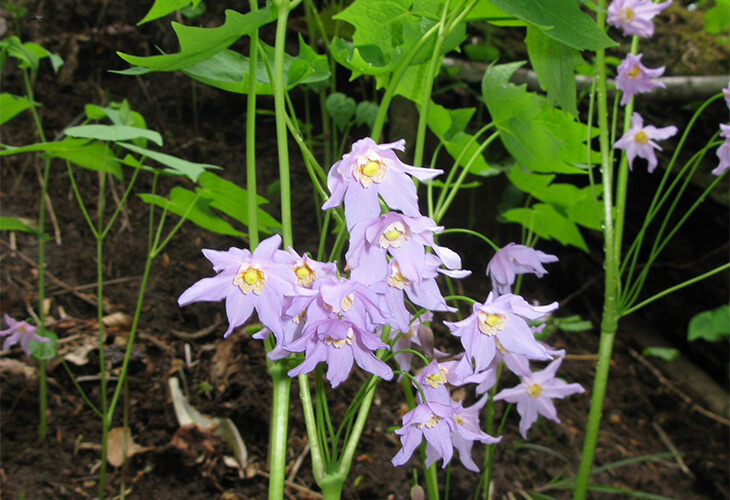 The beech forests have played a vital role in the ecosystem for thousands of years. All mammals found in the Tohoku region exist in Shirakami Sanchi, including the black bear and Japanese serow. There are 87 bird species currently identified in the area, including the Golden eagle and Hodgson's hawk eagle. There is also a particularly rich insect population, with 2,212 recorded species.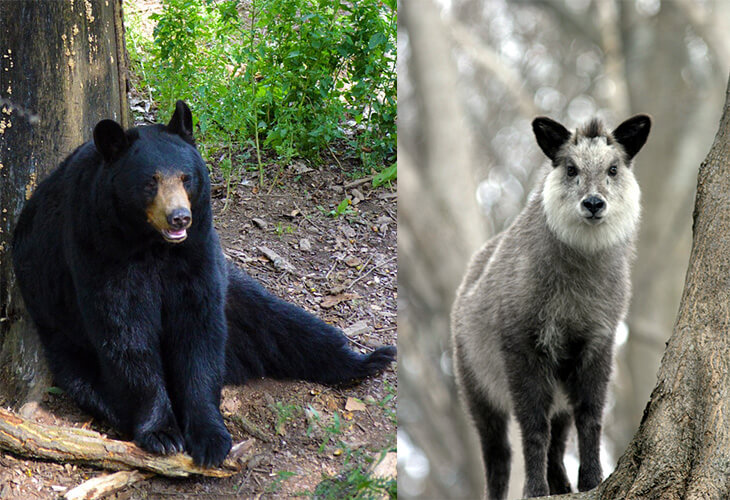 Read also : World Heritage (1): Shirakami Sanchi
The outstanding beauty of Juniko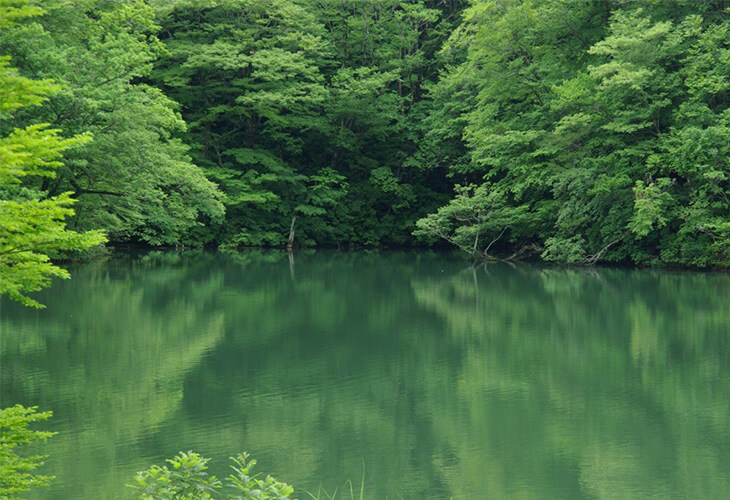 Juniko, which literally means "twelve lakes," consists of 33 lakes and ponds scattered across a 780 ha area of beech forests in Shirakami Sanchi. These were created by a big earthquake of about 300 years ago. It is said the name Juniko comes from the fact that the twelve lakes can be seen from the top of a mountain.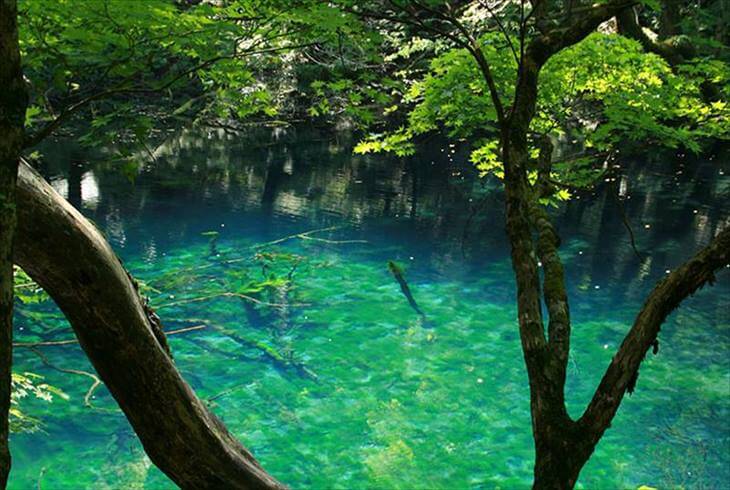 Aoike Pond, part of Lake Juniko, is known for its inky-blue beauty and clarity. The fallen beech trees lurking beneath the surface appear as ever-changing illusions. Oike, the largest of all ponds, is made up of two (eastern and western) ponds and Wakitsubo Pond is designated as one of the best water sources in Aomori Prefecture. Other drawing points here include 0'kuzure and the Nihon Canyon, a breathtaking gorge with steep, rugged rocks that are huge and dynamic.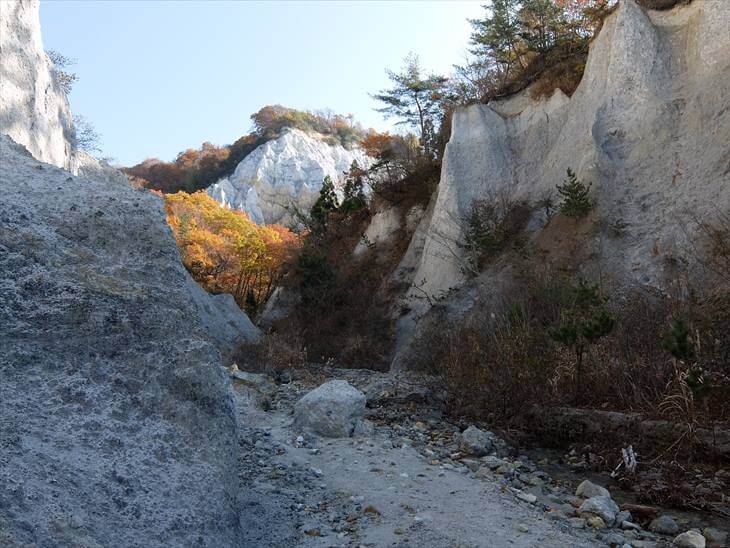 Please note that if you prefer touring all 33 ponds,it will take a full day and you would need a car. However, visiting the major ponds and forest area along the hiking trail will take just about an hour.
"Resort Shirakami" train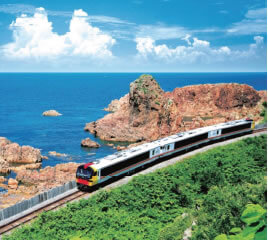 If you travel to Tohoku, riding a train on the Gono Line is recommended. The line, stretching 147.2 km, was first opened in 1908 between Noshiro (now Higashi Noshiro) and Noshiro City (now Noshiro) as a branch of Japan National Railways' Ou mainline. In 1936, the railway line fully opened when the final section between Mutsu Iwasaki and Fukaura was completed. Today, the railway line is known for providing one of the most scenic views in Japan.
Debuting in 1997 at the same time as the Akita Shinkansen, the Resort Shirakami is a train that operates in three configurations, named the Aoike, the Buna and the Kumagera. These limited express trains run from Akita along the Gono Line to Hirosaki, and then turn around before continuing northward along the Ou Line to Aomori. The train trip offers alluring vistas of the Japan Sea and the Shirakami Sanchi highlands, as well as expansive panoramas of the Tsugaru Plain. Specialty bentos (lunch boxes) are popular among passengers and if you are lucky, there will be local events taking place. You can also stopover to enjoy a soak in an onsen.
As the train trip is popular, seats may easily be sold out during some periods of the season, thus making a reservation in advance is recommended.
More information for Resort Shirakami or Gono Line:
https://www.jreast.co.jp/e/joyful/shirakami.html
More attractions around Shirakami Sanchi
There are a lot more attractions to draw tourists along the Gono Line.
Ajigasawa, situated on the west coast of Aomori Prefecture, connects the Sea of Japan in the north and Shirakami Sanchi. There are rich beech forests along the headwaters of Akaishi and Nakamura rivers to provide a freshening breeze. The town has highly-reputed onsen facilities and fried squid is a popular local food there.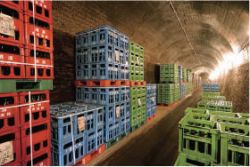 Noshiro in Akita Prefecture has a unique background, known as the "the town of basketball," thanks to the success of the Noshiro Kogyo High School team. You will see a hoop at Noshiro Station. The town is also famous for its pine forest, which is one of the largest in the country. For sake lovers, there is a Kikusui Brewery that uses an old railroad tunnel.
How to get to Aomori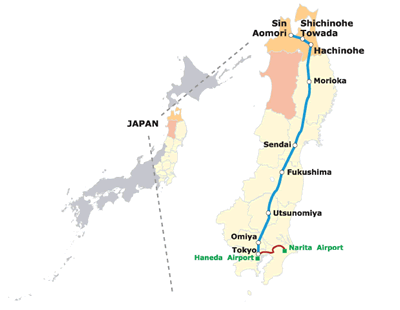 To Shirakami Sanchi
It is a 5-hour train ride from Tokyo via Hachinohe (Tohoku Shinkansen Line) to Hirosaki Station on the JR Tohoku Line, and a 50min. bus ride from Hirosaki Bus Terminal to Tashiro. Alternatively, it's 3 hr 55min. from Tokyo to Akita by Akita Shinkansen Line, then 50min. from Akita to Higashi-Noshiro station by JR Ou Line, and 33min. from Higashi-Noshiro to Akita Shirakami by JR Gono Line.
To Shirakami Sanchi Visitor Center
A 5min. walk from Nishimeya Murayakubamae bus stop. The Nishimeya Murayakubamae bus stop is approx. 50min. by Konan bus (to Tashiro) from the Hirosaki Bus Terminal near the JR Hirosaki Station.
To Lake Juniko
From the JR Juniko Station on Gono Line,it's a 15min. ride by Konan bus bound for Juniko. The Juniko Yogyojo bus stop is in front of the Juniko Visitor center.
Special thanks to: APTINET AOMORI Prefectural Government, JR East, and JNTO