A lot of the items in a Japanese public bathhouse or sento have very specific names that are usually left untranslated. Instead of translation, they are best understood through explanations. Below, we delve into the history and meaning of bandai, tomeoke, okayu, sansuke, zakuroguchi, nakabukuro, tenugui, furoshiki.

Nukabukuro (f) is a body scrubbing tool, with a similar purpose of a today's loofah sponge. It is really a 'bukuro' or a bag filled with rice bran and it has exfoliating properties. In the past it was mostly used by women in the sento. Nukabukuro are being sold even today, of course with some new designs.
Sansuke (d) is a male bathhouse assistant to both male and female customers in charge of preparing buckets of rinsing water, scrubbing customers' backs and taking care of the waiting list. 
Sansuke replaced 'yuna' girls who originally had this job, but after some time they also started giving sexual services. The inappropriate act of having sex in a Japanese bath prompted the authorities to ban them. 
Sansuke were paid well and had a high position in the sento. Previously they had to go through responsibilities such as maintaining bath temperature. Today there are no sansuke in the sento
Tenugui is a narrow and long Japanese cotton cloth mainly used as a towel, washcloth, or dishcloth, It can also be used as a decoration, as wrapping, and a headband. Tenugui always have some kind of design or pattern and new designs keep coming out. Often designs feature pop culture elements. Recently, there has been a revival of buying and selling tenugui, as they also make very good souvenirs and gifts.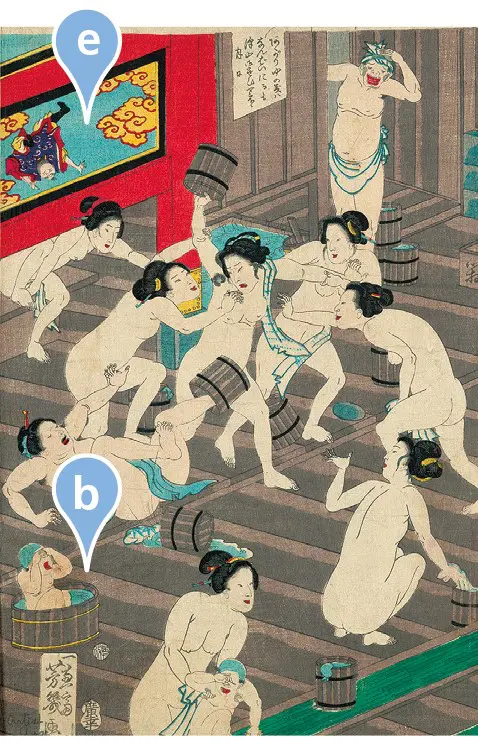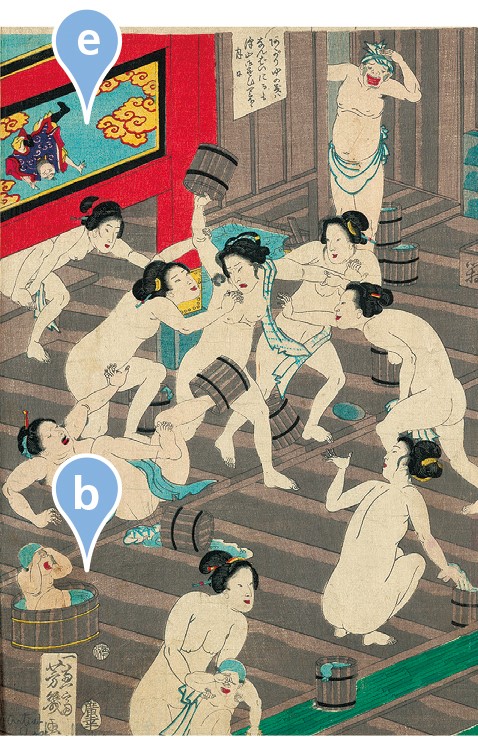 Zakuroguchi (e), meaning "pomegranate entrance", is an entrance to the bath area at a typical Edo style sento. Actually, what many Japanese people know as sento today is slightly different from traditional sento in the Meiji period. 
This entrance was very low in order to leave the least open space possible. This was to keep the heat steam from escaping. 
In the Meiji period the bath became open, the walls and ceilings became high and there were even windows to let the steam escape. As a result, the zakuroguchi disappeared.
Tomeoke (b) can have two meanings. Firstly a private oval oke bucket that you use to pour water on yourself in the sento. That water is for rinsing yourself after scrubbing your body.
Secondly, in the past, oke were buckets that richer families would pay extra money to keep them for their private use.
Okayu (c) is the clean water used to rinse yourself after scrubbing, scooped up by the oke bucket. This was the last step before you could enter the sento bath.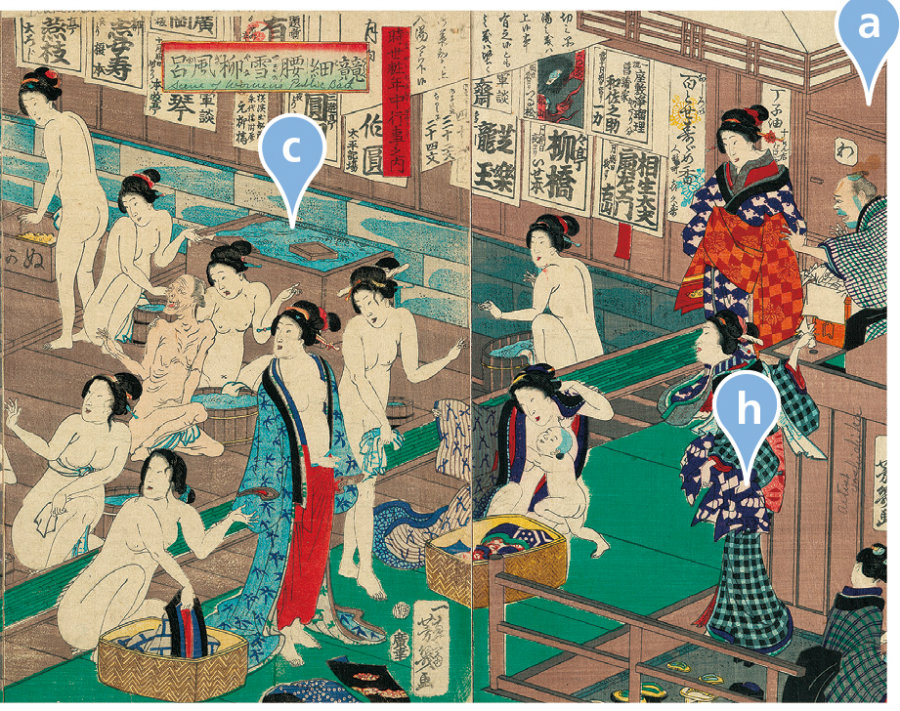 Bandai (a) is the space dividing the male and female bath. A person would overlook the male and female bath area from a high chair in between. This person also works as a receptionist and cashier. In the past all sentos had a bandai person. However, now it has been replaced by a simple reception desk at the entrance of the sentos. Even today, small sentos with a bandai person remain, although they're extremely rare.
Furoshiki (h) is versatile cloth that can transform into many things. It has been a convenient item in the life of every Japanese person since the Nara period. It has several sizes, ranging from small to extra large. In addition, it can be made of various fabrics like silk, cotton, and polyester. 
Depending on how you tie it, it can become a great gift wrap, a sturdy bag, a backpack, a bento bag, or a bottle carrier. You can even transport a whole watermelon in a neatly tied furoshiki! But the 'furo' in 'furoshiki' stuck because one of its uses is carrying all your bathing supplies. Furoshiki have many designs. In fact, you can even wear them as accessories or use them as decoration. 
Because it is reusable and renders plastic bags unnecessary, this magical, shape-shifting cloth is also eco-friendly. 
More Hot Topics Around Sento
Even if you are interested in trying a sento, you may still be hesitant. The culture is probably quite different from your own country! However, hopefully by answering these burning questions and answers about Japanese sento, you can enter with confidence and enjoy a relaxing time bathing in Japan.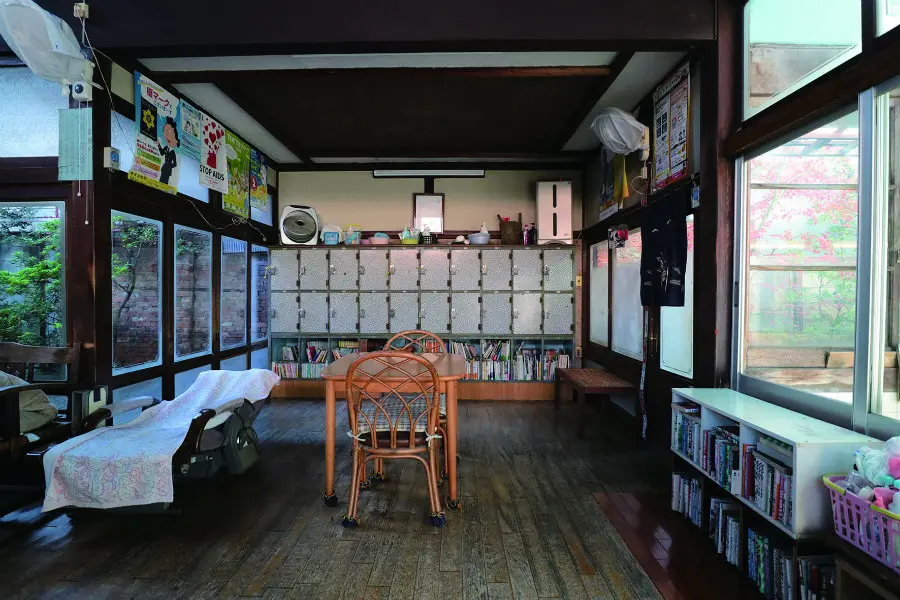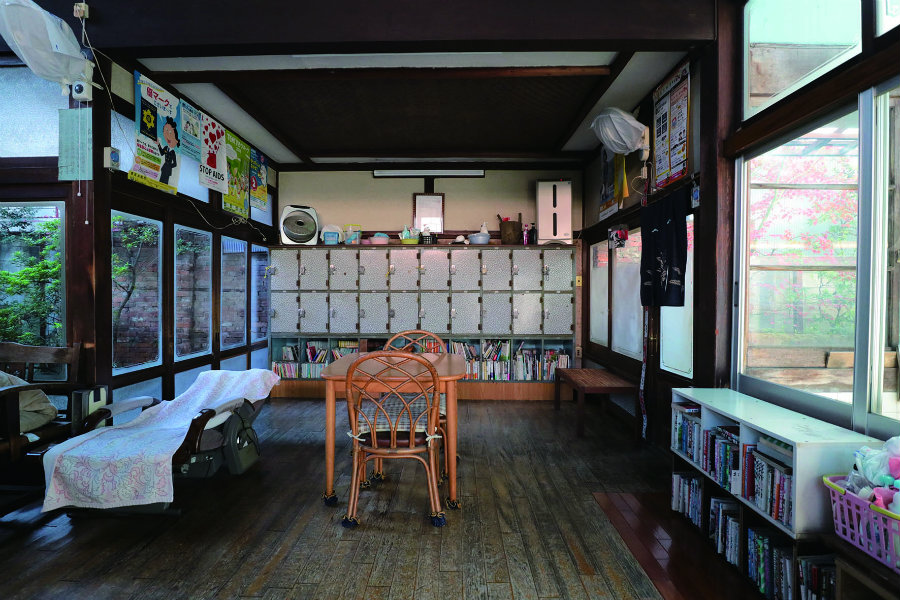 Why do Japanese people like the water temperature to be so hot?
The temperature of the water at sento had been regulated by the metropolitan ordinance to not be lower than 42℃ . This was revised in 2012, but still most of the sentos follow this guideline.
Why is it common to drink cold milk after having a bath in a sento?
It is common to rink cold milk after a bath in Japan, because in the late 1950's, a dairy products maker asked sentos to sell cold Coffee Milk as they had refrigerators in sentos, which was rare in Japan at that time.
Can foreign visitors/tourists enter and use a sento?
Yes, foreign visitors and tourists can enter local Japanese sento and use the bath. However, be sure to try and follow the rules. Here's a beginner's guide for bathing in Japan if you are unsure!
How often is the water at sento changed? And how?
Japanese sento bath water is changed at least once a day. For circulating baths it is changed at least once a week, as prescribed by the metropolitan ordinance.
What is the off-peak time to visit a sento?
The off-peak time to visit a local Japanese public bath depends on the sento. In general, they are less busy from 7 pm to 8:30 pm, which is usually dinner time, and around midnight.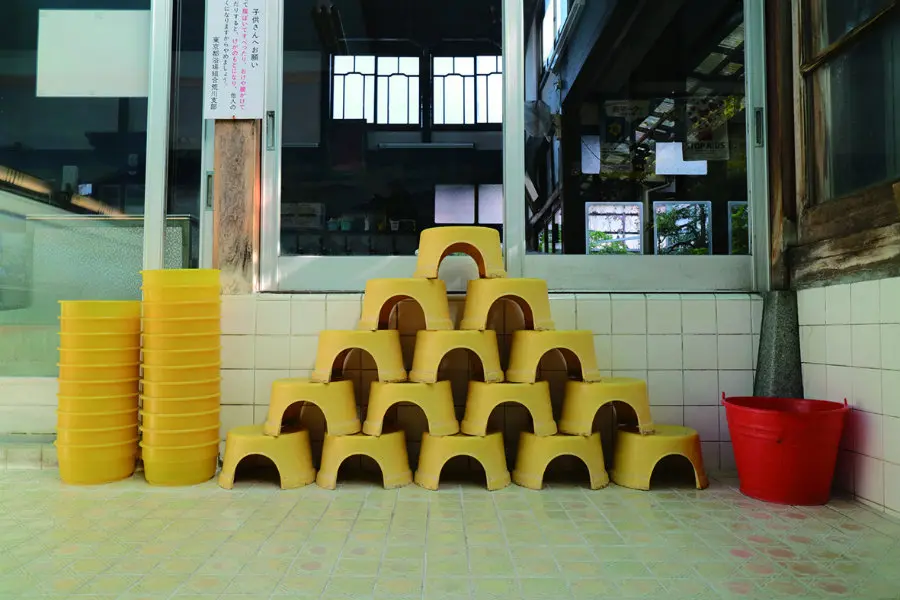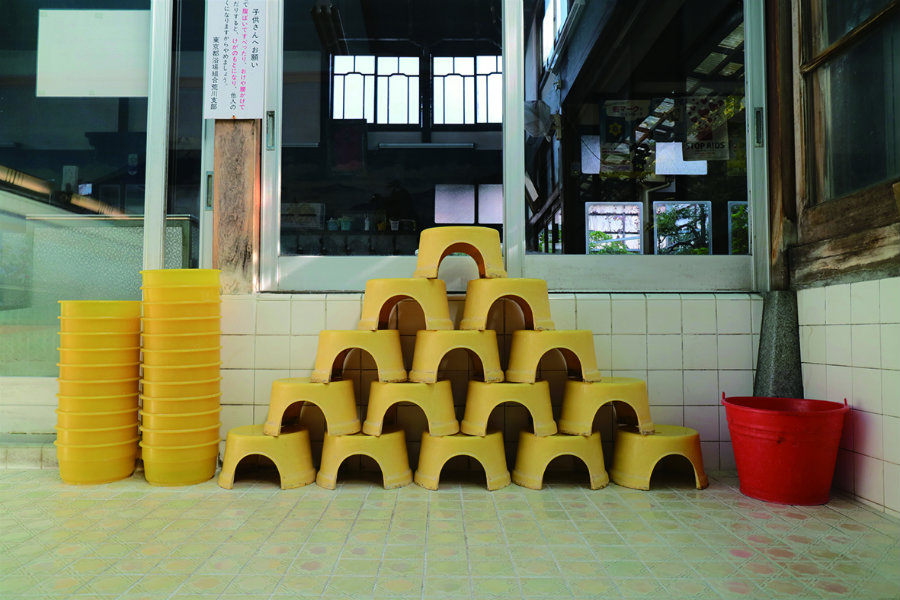 What are the health benefits of going to a sento?
Bathing in a sento is healthy because it relaxes muscles, increases blood circulation, helps with weight loss, and more.
Can people with tattoos enter a sento?
Sento don't discriminate against people with tattoos, but the super sentos and onsens do.
How long should we stay in the bath water (optimal duration)?
How long you should stay in the Japanese bath water depends on the temperature and the purpose. For example, it is thought that 10 minutes in a 42℃ bath would be good for relaxing your body from fatigue.
Is it common to have a mixed sento with both men and women together?
No, it is not common for sentos in Tokyo to have mixed bathing, but there are some super sentos where you can put swim wear on and go in a mixed bath.

If you decide to visit a sento, why not start with one of these local Japanese bathhouses? 
Mikoku-Yu

Miroku-yu is a designer's sento in Sumida that adds modern Japanese design elements and a luxurious feel. This luxurious local sento is right in the heart of old Edo. In addition, you can see TOKYO SKY TREE from some parts of the sento.
Address: 3-30-8, Ishiwara, Sumida, Tokyo 130-0011
TEL: 03-3623-1695
Open: 15:30-26:00
Closed on Mon., next day of holiday
Teikoku-Yu

This retro sento in Nippori can conjure up nostalgic feelings with its charming art and wall murals.
Address: 3-22-3, Higashi-Nippori, Arakawa, Tokyo 116-0014
TEL: 03-3891-4637
Open: 15:00-24:00
Closed on Mon.
Chiyo-No-Yu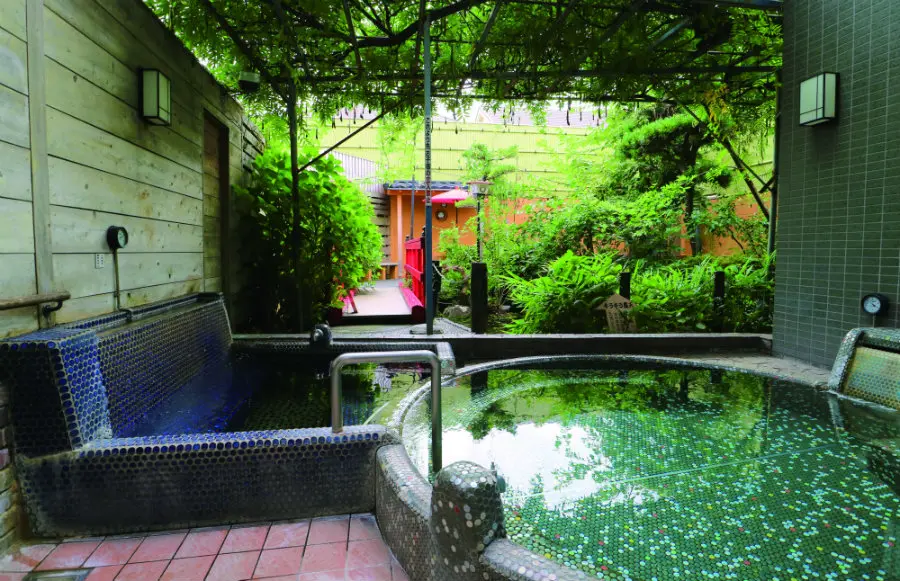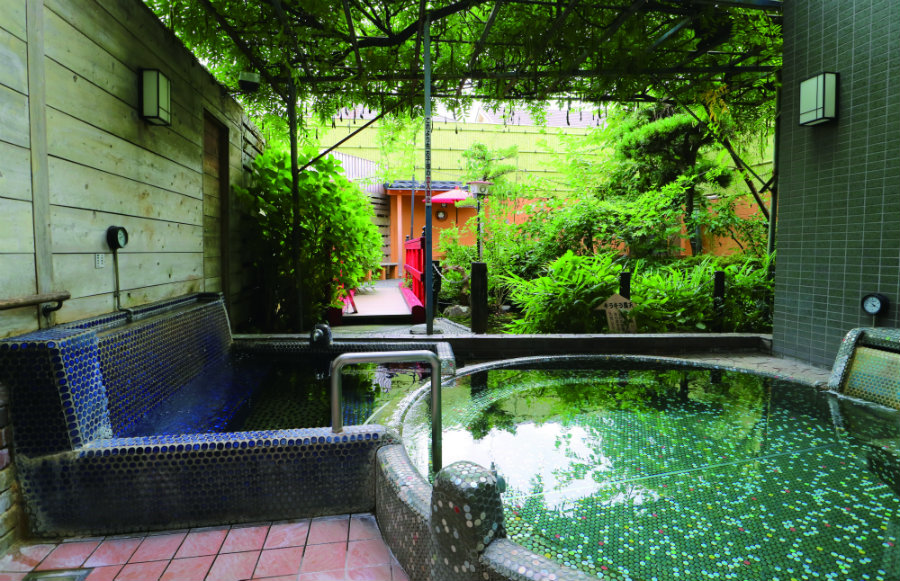 Chiyo-no-yu is a sento in Mitaka with nostalgic feel, but also a lot of different baths. There is even open air baths in a garden.
Address: 2-4-31, Iguchi, Mitaka, Tokyo 181-0011
TEL: 0422-39-1010
Open: Mon. to Fri. 15:30-23:30
Sat. Sun. Holiday 13:00-23:30
Last entry: 23:00
---
WATTENTION WRITER PROFILE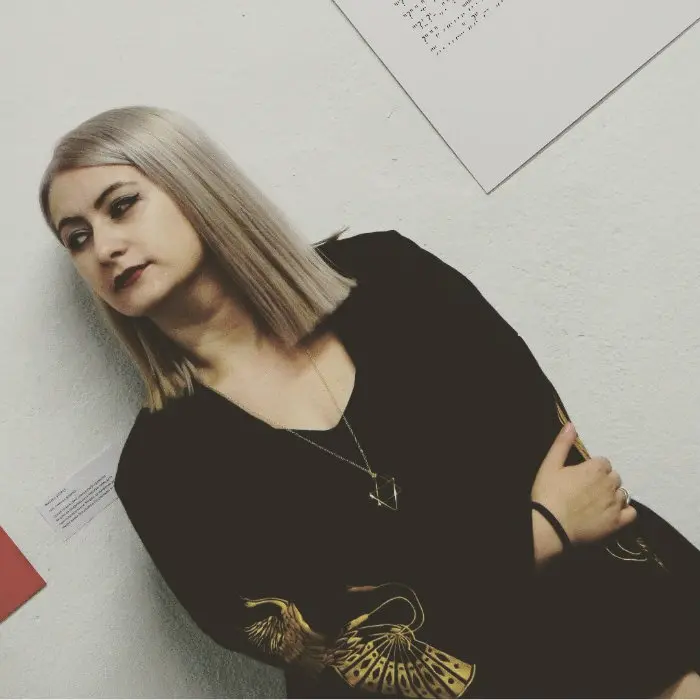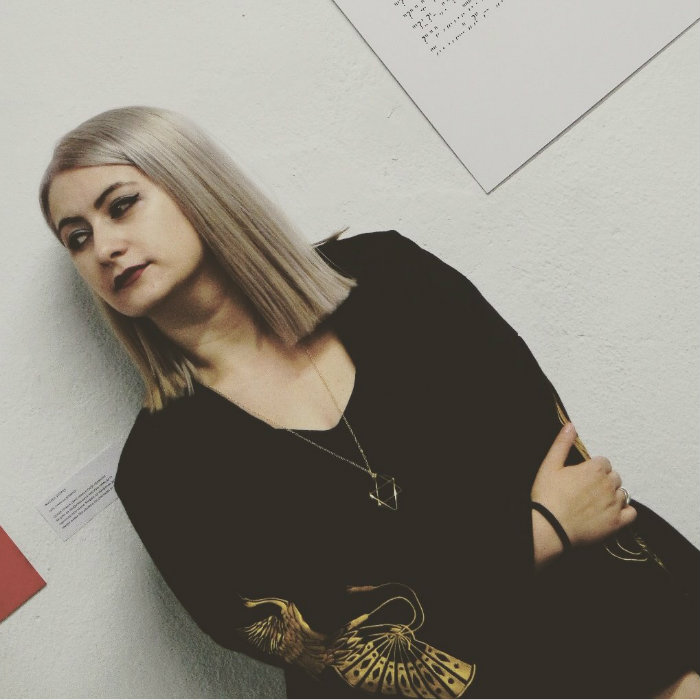 Zoria April
Zoria is a writer, of the rare poet variety and a passionate photographer. If you see somebody around Tokyo taking photos of concrete walls, it must be her. She loves to dress fashionably and go drink as many cups of coffee as humanly possible, preferably in cafes with a view.