3 hours of Nightlife Fun in Tokyo
Tokyo nightlife is some of the best in the world, with amazing restaurants, night clubs, live music, and performances to perk anyone back up after a long day on their feet sightseeing. Come out and experience all the city has to offer after-hours!
It's just not

summer time

without a trip to visit a

Japanese Beer Garden!
Though the idea of sitting at a huge table, drinking beer and eating with friends and family originated in Munich, Germany back in the 19th century, the trend has caught on all over the world, and beer gardens have become wildly popular in Japan.
However, visitors to a Japanese beer garden will notice one major difference: that most are located on rooftop terraces of establishments like hotels or department stores. Only open during the hot summer months, they provide a great place to relax with others while sampling different types of beer, eating a variety of light dishes from your go-to fried chicken to the more Prussian choice of sausages, all as the sun sets on the horizon. Different beer gardens offer different menus, so it's always worth looking around to find the one that's right for your palate!
Although ordering and payment systems can vary from garden to garden, the most common style offers a fixed charge for a certain amount of time, meaning basically that from the time you sit down until your time is up, it's all-you-can-drink. Other beer gardens combine this with all-you-can-eat options, or have you pay for everything you eat individually like in a standard restaurant — some even encourage you to bring your own food! Why not get together with friends for a summertime rooftop picnic?
Beer and BBQ: the perfect summer evening combo at Ark Hills Beer Garden!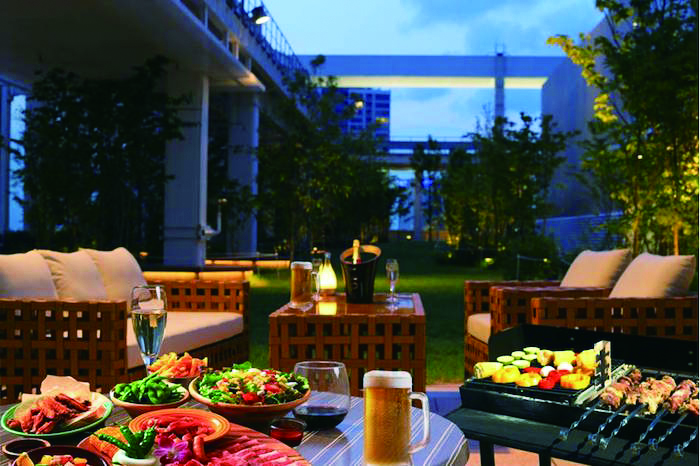 Relax on a sofa at Ark Hills Beer Garden, on top of Roppongi's South Tower. A must for BBQ lovers, here you can purchase cuts of meat from the butcher downstairs and barbecue to your heart's content!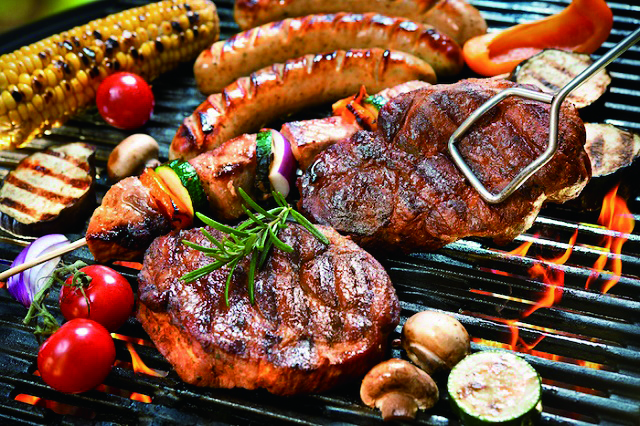 Hours: Weekdays: 5:00 pm – 11:00 pm, Weekends: (April – June) 12:00 pm – 11:00 pm; (July – August) 3:00 pm – 11:00 pm; (September) 12:00 pm – 11:00 pm. Closing time on Sundays and public holidays is 10:00 pm.
*Beer garden may close due to weather conditions.
Address: Ark Hills South Tower, Outdoor Rooftop Skypark, 1-4-5 Roppongi, Minato, Tokyo
Utsukushikunaru Beer Garden: for the health-conscious visitor!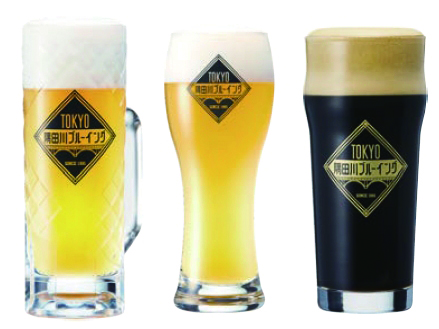 Though some claim it to be the nectar of life, let's be honest, beer is about as far as you can get from a "healthy beverage." Fortunately, this Beer Garden in Ginza – whose name translates to "become beautiful" – has already taken that into consideration, serving up high-protein, low-calorie food for anyone who may be watching his or her waistline or simply wants a healthier option to go with the beer.
Hours: Open May 25 – September 30, 5:00 pm – 10:00 pm on weekdays and 4:00 pm – 10:00 pm on weekends and public holidays (last order at 9:00 pm)
*Operating hours may change if an event happens to be scheduled.
*Beer garden may close due to weather conditions.
Address: Matsuya Ginza roof, 3-6-1 Ginza, Chuo, Tokyo
Matcha Beer Garden @ GREEN TEA RESTAURANT 1899 OCHANOMIZU 
Try an exquisite blend of Japanese green tea and beer in 1899
Nope, the brand doesn't date back to the end of the 19th century; 1899 is the name of a beer garden in Ochanomizu that specializes in Japanese green tea, to the point where they've made their own beer out of it!
Hours: Open June 1 – September 29, 5:00 pm – 11:00 pm. Last order for food is 10:00 pm and drinks is 10:15 pm.
*Sakura Nights events (March 24 – April 4, April 7 – April 8) from sunset to 8:00 pm
Admission: 500 JPY cover charge for entrance after 3:00 pm during Sakura Nights
Address: 3-25-1 Koyama, Nerima, Tokyo
Access: 2-minute walk from Toshimaen Station on Seibu Toshima Line or Toei Oedo Line
If you enjoyed this article, you might also enjoy:
Another 3hr trip – Nightlife in Tokyo
Nightlife at Yokochos in Tokyo
A Day in Sumida Ward
Travel Back in Time to Kawagoe, the little Edo