Have been to almost all major tourist attractions in Tokyo and have no idea where else to go? If you want to escape from Tokyo's hustle and bustle, visiting Kawagoe in suburb Tokyo will be a good choice. 35 minutes from Ikebukuro and you'll feel like traveling back in time to the Japan of 150 years ago. Known as the little Edo, the nostalgic streets of Kawagoe exude a charming atmosphere of Edo, or old Tokyo. From old establishments boasting over a hundred years of history to modern stores offering the trendiest products, Kawagoe is a mix of new and old, past and present, and always offers something new and exciting for everyone at anytime.
How to Visit Kawagoe with the Kawagoe Discount Pass Premium
---
If you want to travel in Japan as much as you like without paying a huge traffic bill, taking advantage of discount travel passes is a must! Tobu Railway's "Kawagoe discount pass premium" and "Kawagoe discount pass" offers unlimited train travels between Ikebukuro Station and Kawagoe Station, as well as special discounts at participant stores in Kawagoe's old streets.
On top of the above benefits, the premium pass includes unlimited city travel by Tobu buses within designated area. At only 950 yen, "Kawagoe discount pass premium" will get you to all major tourist attractions in Kawagoe. It is the best discount travel pass for visiting Kawagoe!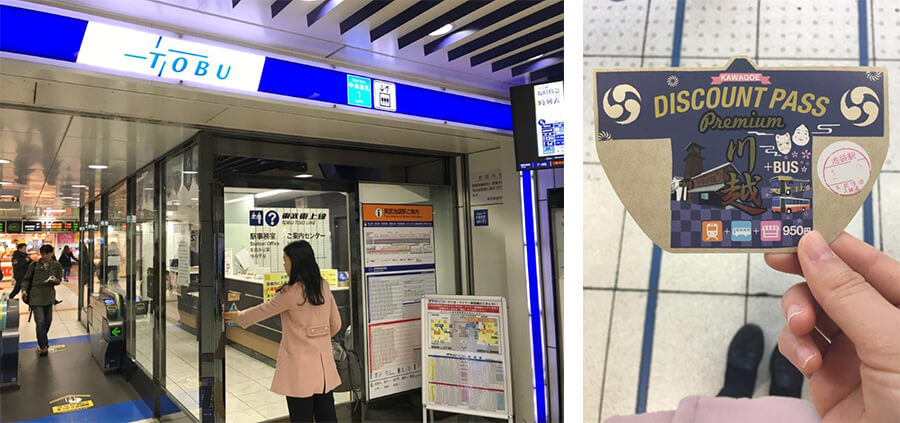 You can buy a discount pass at the central no.1 ticket gate of Tobu Tojo Line. The ticket makes a good souvenir because it is designed to mimic a traditional festival costume.
When is the Best Time to Visit Kawagoe in Winter?
In Japan the day gets dark at around 4pm in winter, so it's better to head out earlier so that you have enough time to explore Kawagoe. Today I got up early and from Ikebukuro I took Tobu Tojo Line's express train bound for Ogawamachi. Though it was morning rush hour, the train wasn't as crowded as the always packed Yamanote Line trains. The train ride was far more comfortable and I could even take a seat and relax.The ride was very smooth, with comfortable seats, power outlets and free Wi-Fi connection. Eventually, after a while of looking out the window, I dozed off and before I knew it, I was already at Tobu Nikko Station.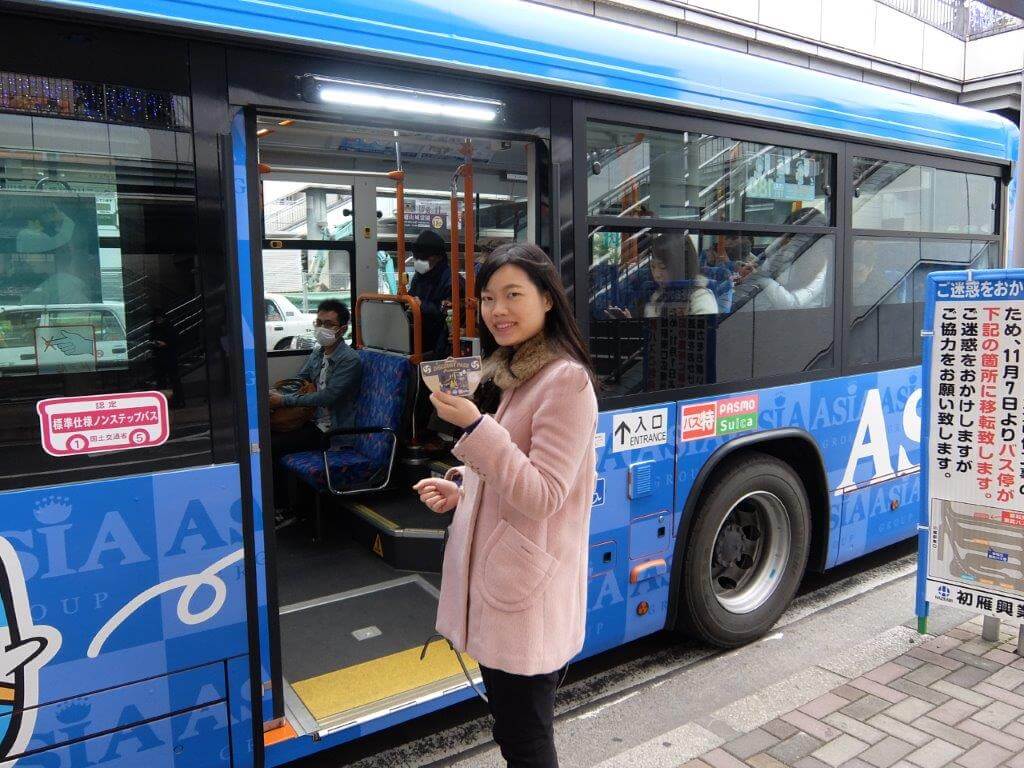 How to Take the Bus from Kawagoe Station
From Kawagoe Station you can take a bus to the Ichibangai bus stop of Kawagoe. Get on the bus from the rear door. Just show your "Kawagoe discount pass premium" to the driver as you get off.
Get off the bus at Otemachi station. Turn left, walk along the alley, soon the famous Bell of Time will be at sight.
Kimono Experience in Historic Kawagoe, Japan
Today's art and culture trip in Kawagoe will start from the Bell of Time in the center of the old streets. Let me show you around! The most exciting thing about visiting Kawagoe is the kimono experience. Put on a kimono and take a walk along the historic old streets is such a memorable experience that you'd feel like becoming an actress featuring in a historic drama and have your graceful appearance pictured at any corner of the streets.
Today I made a reservation for Coedo Vivian kimono rental shop, which is probably the oldest of its kind in Kawagoe. An all inclusive service from hair styling to kimono and accessories to getta wooden shoes costs only 2,160 yen. You may wear the kimono from 10am to 5pm. The price is rather reasonable in Japan.
If you couldn't decide which color suits you best, ask the kimono dresser for her professional advice.
Traditional Shopping in Little Edo on a One Day Trip
Wearing a kimono in winter can be a bit cold. To keep warm you may bring a big scarf and a few heat packs just like I did. Get changed and we are ready to explore the old streets!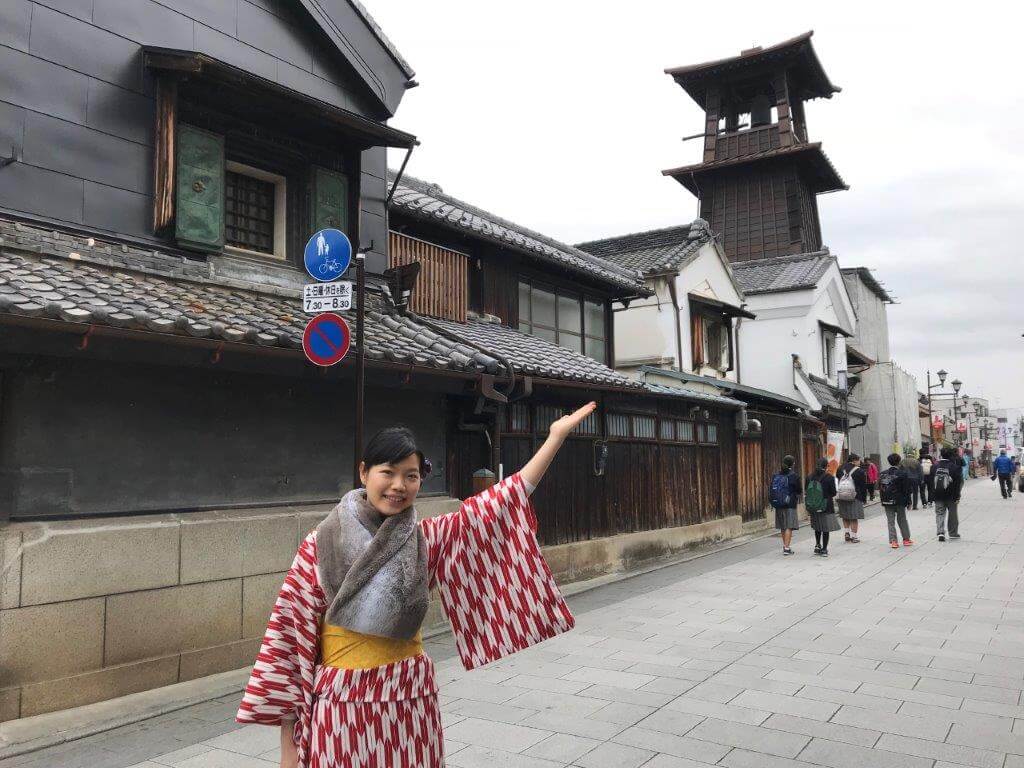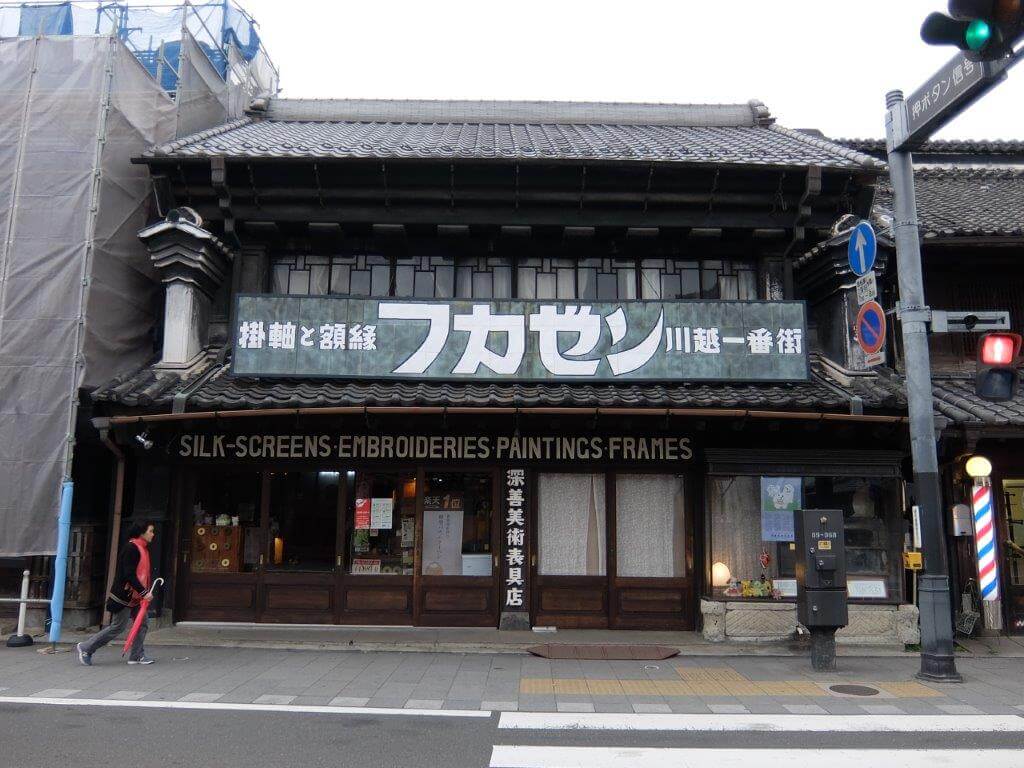 Walk from the Bell of Time to Ichibangai shopping streets you will see rows of historic Japanese warehouse buildings. These houses were designed to be fire resistant because a major fire disaster struck Kawagoe in the Edo period. Then the houses have been preserved to modern days. To preserve the precious Edo period cityscape, the Japanese authority has designated the area as Important Preservation Districts for Groups of Traditional Buildings.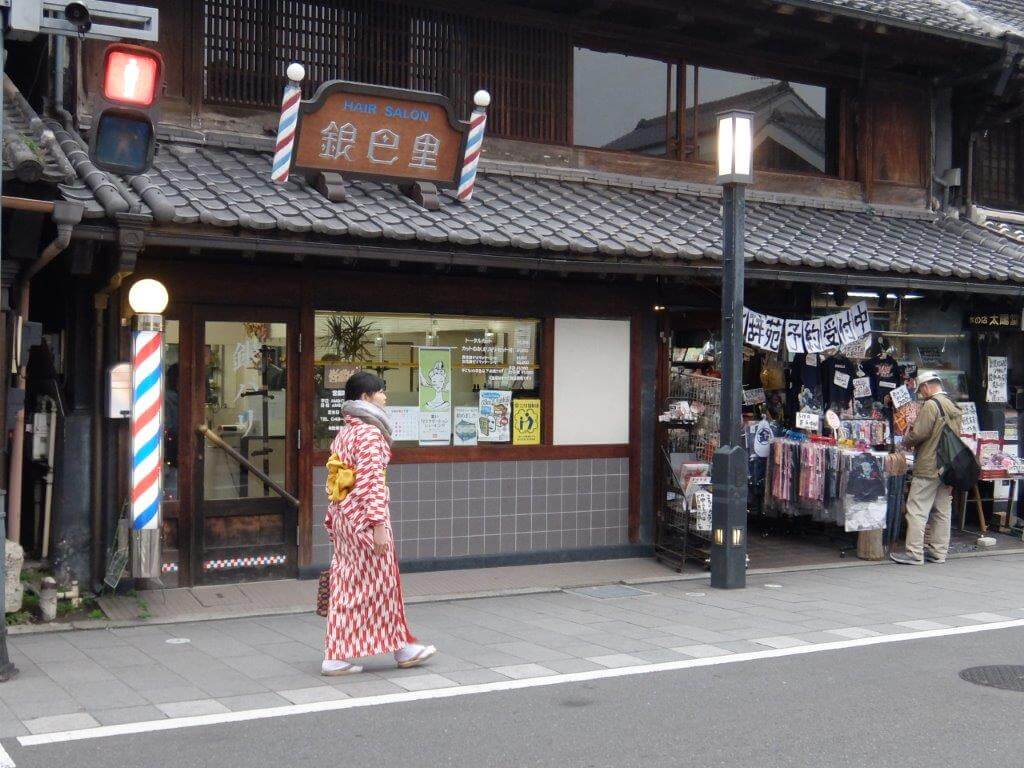 In Japan it's a recent trend to put old houses to new uses. For example, you would see many old houses being turned into grocery stores or cafes, which you may not know what kind of shop it is simply by looking from outside. So it is also a nice surprise in your trip.
Take a closer look you will find a few western style buildings from Meiji or Taisho period standing among Japanese style ones without looking out of place. They seem to fit into the nostalgic atmosphere rather well.
Little Edo Turtle Treats to Eat in Kawagoe at Kameya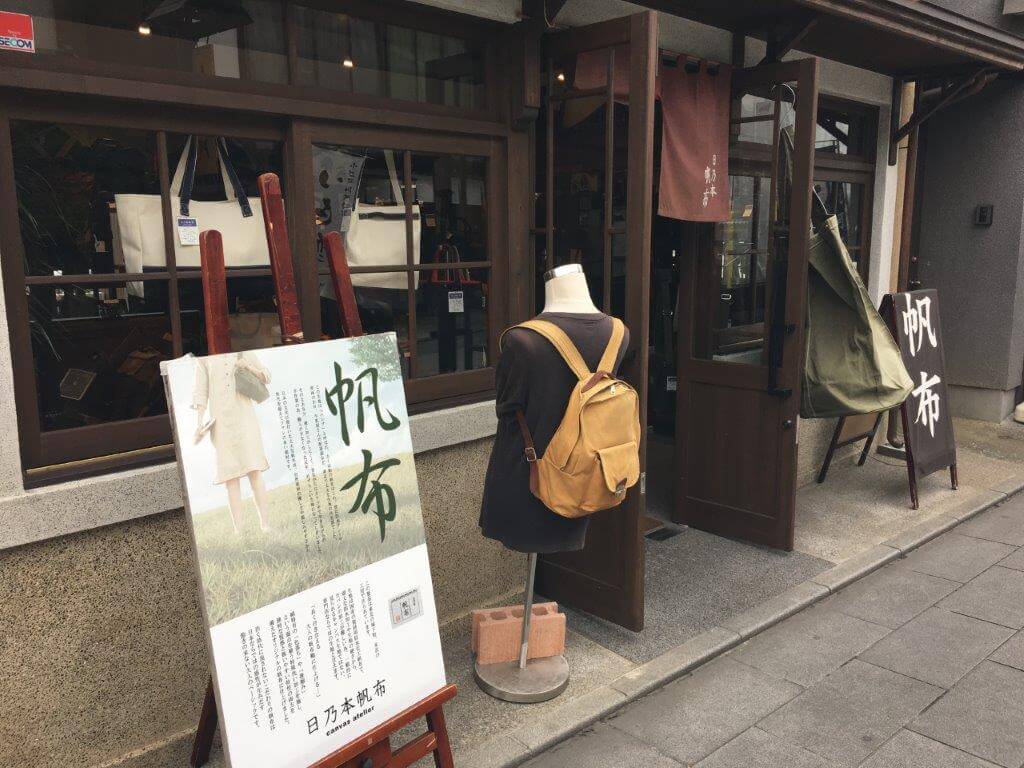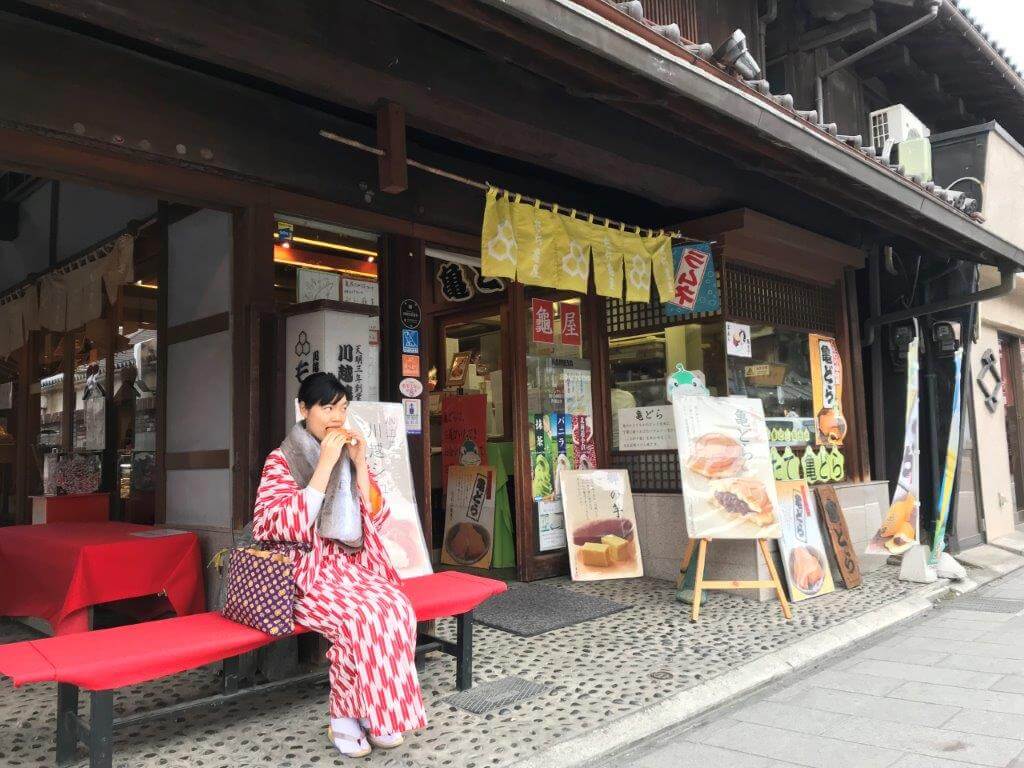 Tired after a long walk? Why not stop for some desserts? Kameya is a famous Japanese confectionery shop with a history of about 230 years. Its main store is right on Ichibangai shopping street, and its Motomachi store has a limited edition turtle-shaped dorayaki pancake which not only looks nice but also comes with many flavors such as red bean, chestnut, and yam paste. I bought a yam paste dorayaki and started eating it in front of the shop. What a great experience!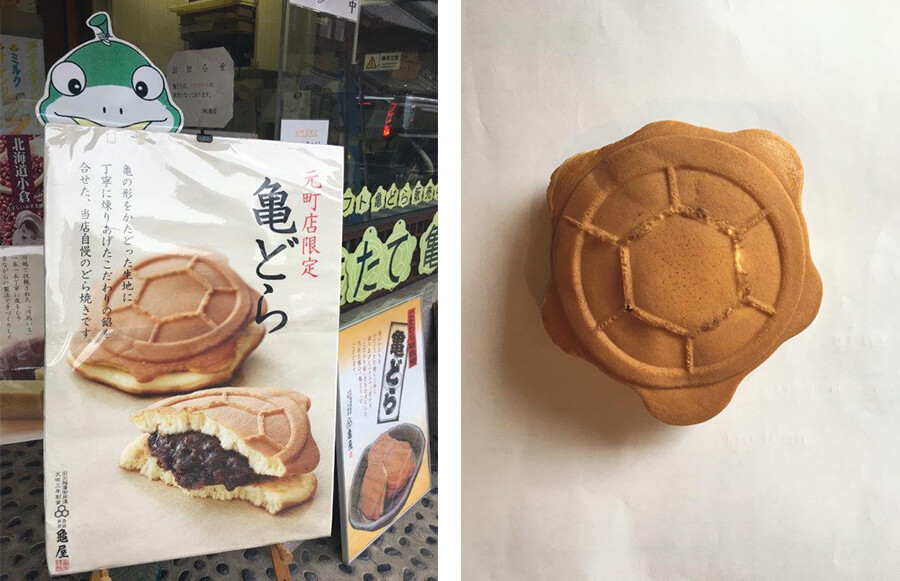 Local Yam Cuisine in Kawagoe, Japan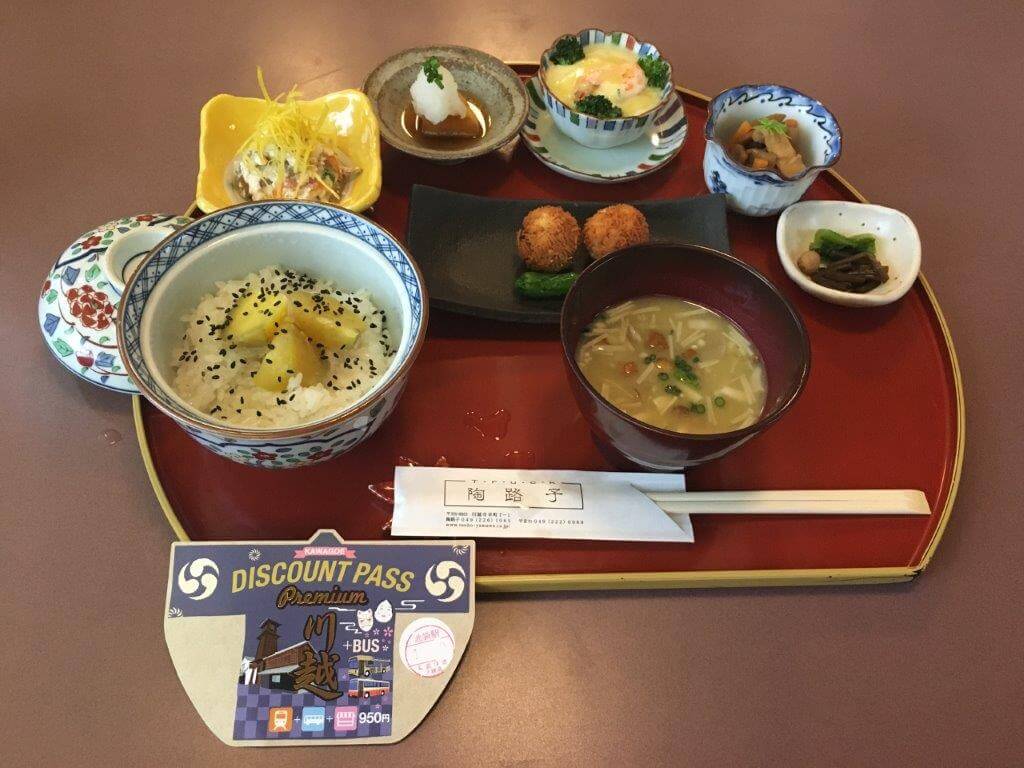 In Kawagoe you'll find a variety of yam sweets sold almost in every corner of the streets. Even there are restaurants serving specialty yam meals. It is because Kawagoe was a prosperous river transport hub. Planting yam became popular as river transport got more and more convenient. As time went by, yam has become a specialty product of Kawagoe.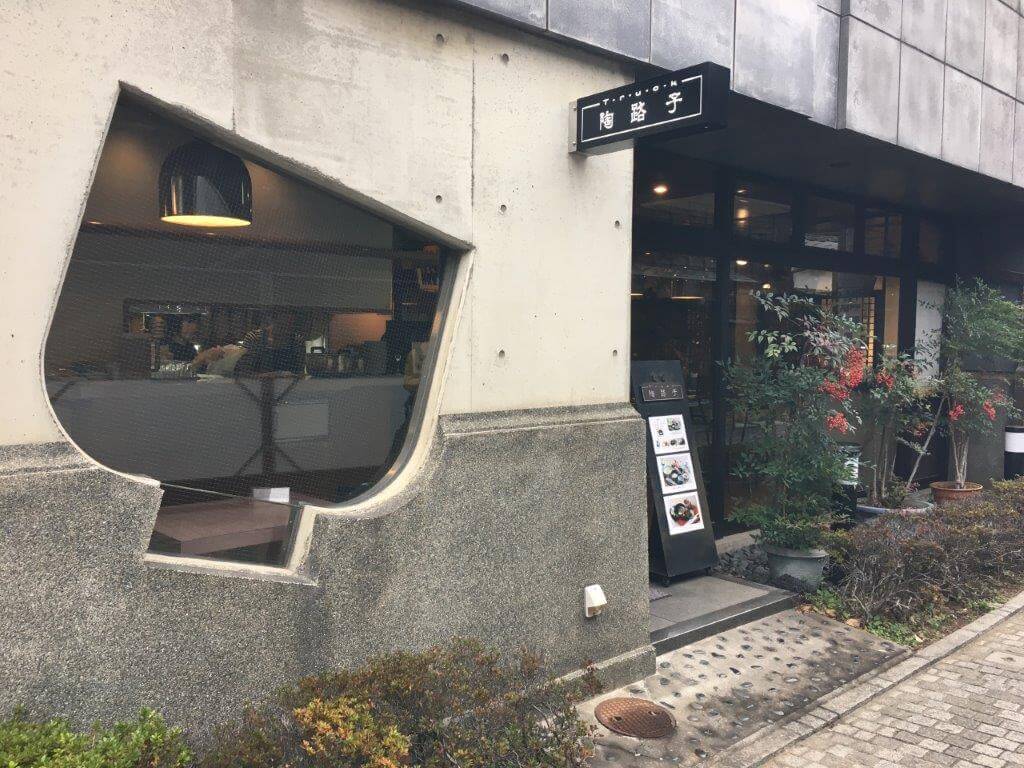 For example, restaurant Torokko serves a yam-themed mini Kaiseki cuisine that includes 10 dishes such as yam rice, stirred tofu with yam, fried yam with grated radish, udon noodles with baked yam, and yam croquette. Every dish has yam in it. Really amazing that a vegetable as simple as a yam can become so many different cuisines while maintaining yam's unique flavor. Don't forget to show your "Kawagoe discount pass premium" for a 5% discount and enjoy Kaiseki cuisine without paying a huge bill. And I reccomend you to make a reservation by phone or by mail three days in advance.
Next to the restaurant is a pottery workshop featuring atmospheric black tiles and white wall. If you've got some spare time, why not try your hands at pottery making and painting?
More Nostalgic Sweets to Try in Little Edo's Candy Alley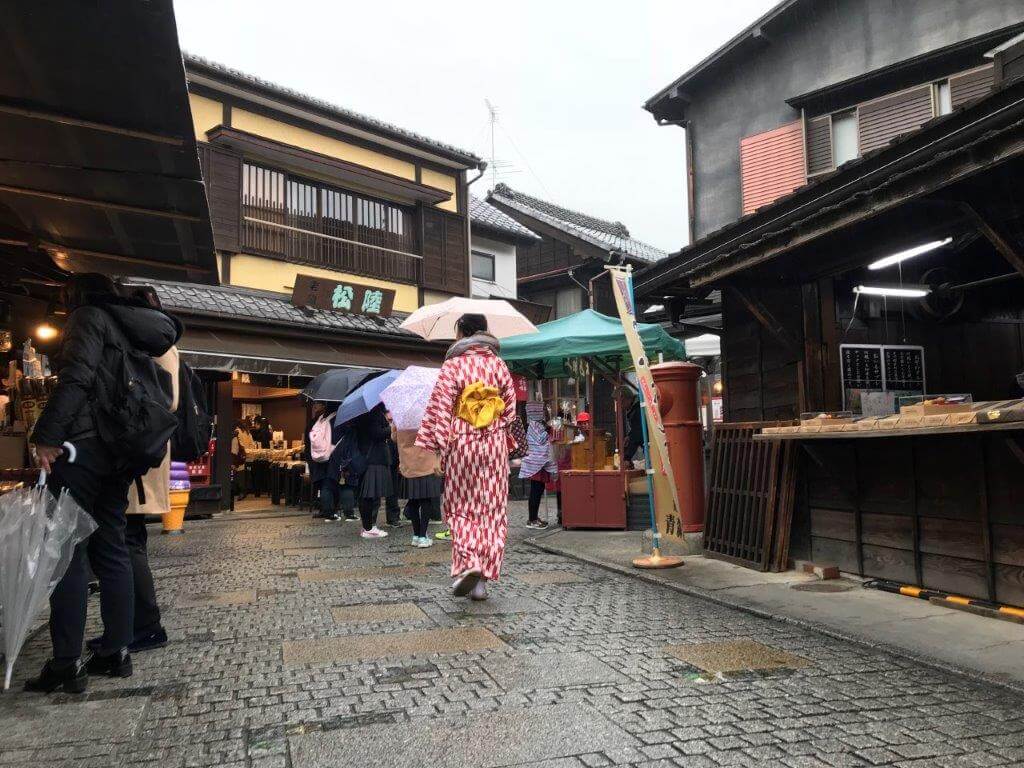 Walk from Ichibangai street to Candy Alley (Kashiya Yokocho), you'll find several small shops that will remind you of your childhood. You know, it's one of those small shops around the corner selling everything from candies to toys.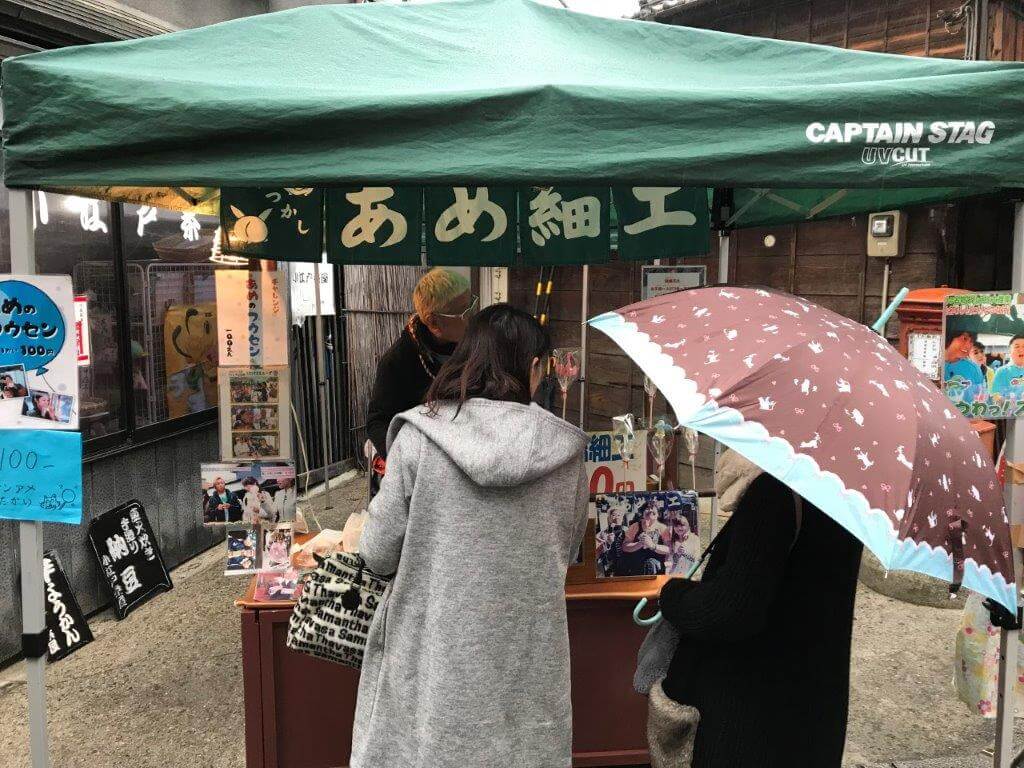 Check out how an amezaiku (a kind of traditional Japanese candy craft artistry) artist shapes malt syrups into various cartoon characters.
This Edoya store is located right at the entrance of Candy Alley. The pink exterior aroused my curiosity, so follow me and check it out.
Look at the shelves! So many different items! These candies are long sellers all Japanese people familiar with.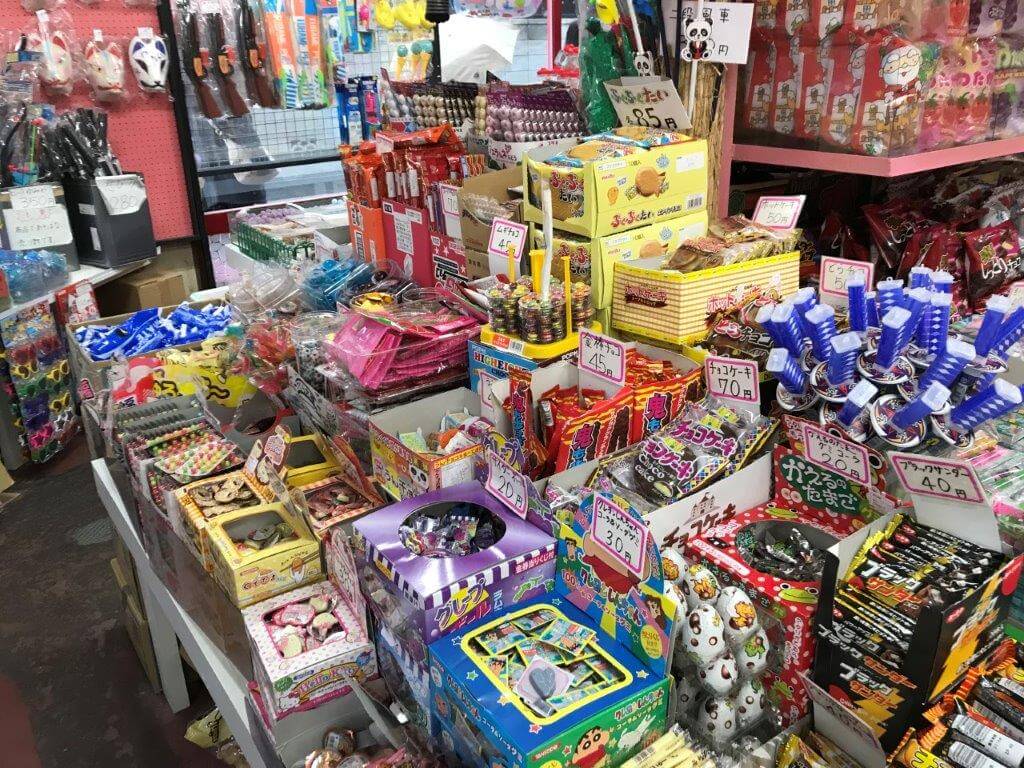 Check out these whistle candies, pop rocks candies, coke candies, juice and jelly candies. The store has got everything you can think of. There are even vintage toys that you seldom find in other shops. It's really a one-stop shop for all kinds of candies and toys.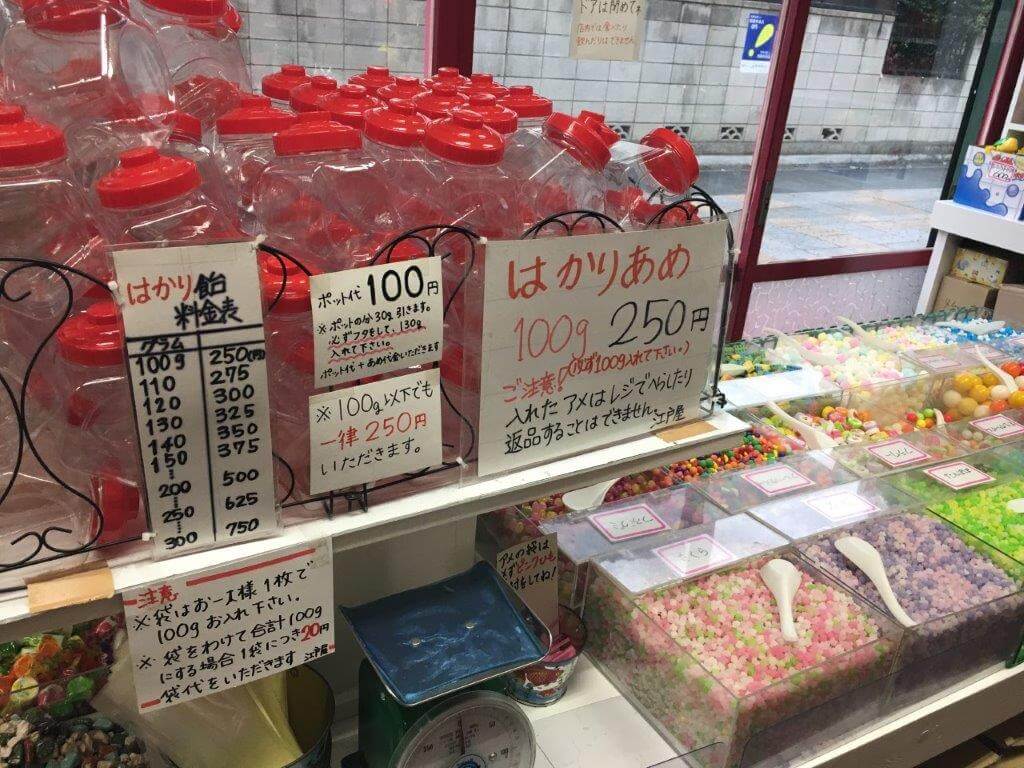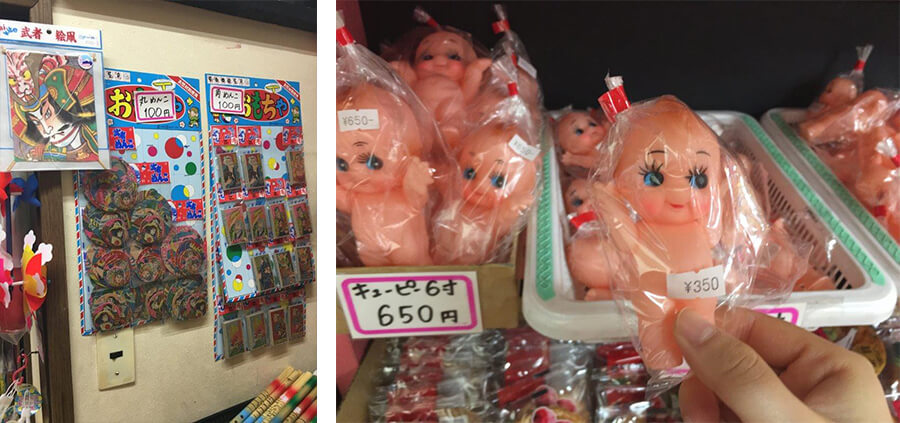 Tamariki Candy Shop and More in Kawagoe
Located in the Candy Alley, Tamariki candy shop boasts more than a hundred years of history. As I walked into the shop, a group of primary school students flooded in and everyone was buying candies with great enthusiasm. I suppose they are here on a school field trip. Anyway they are cute!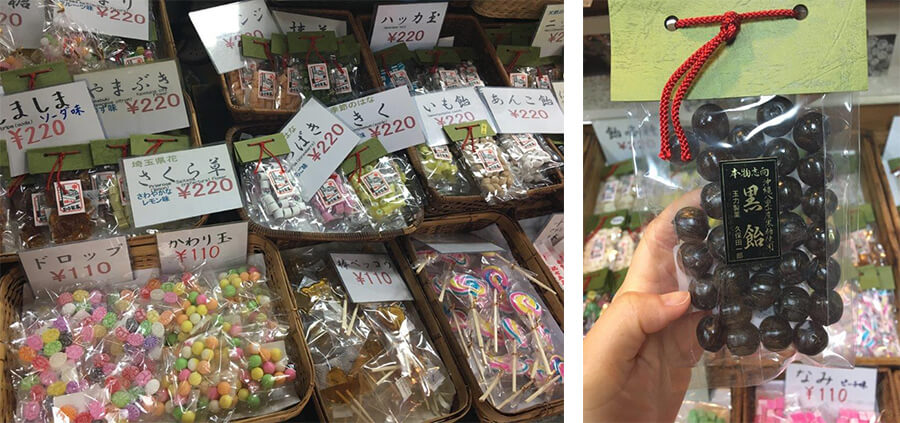 Look at these colorful hand-made candies! The store owner recommended me this pack of Okinawa black sugar candies that was invented a hundred years ago.
This Inabaya Honppu is famous for its hand-made yam donuts. Their signature products are hand-made Japanese traditional confectionery such as purple taro yam buns and yam yokan dessert.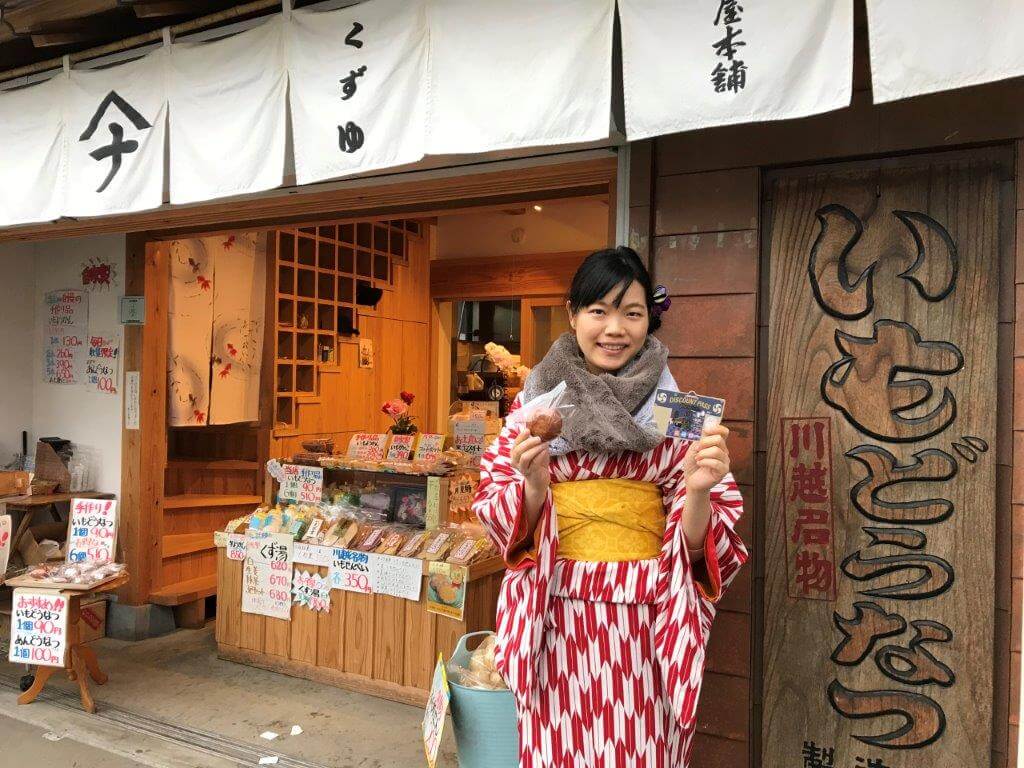 A Delicious Café and Shrine Combination in Kawagoe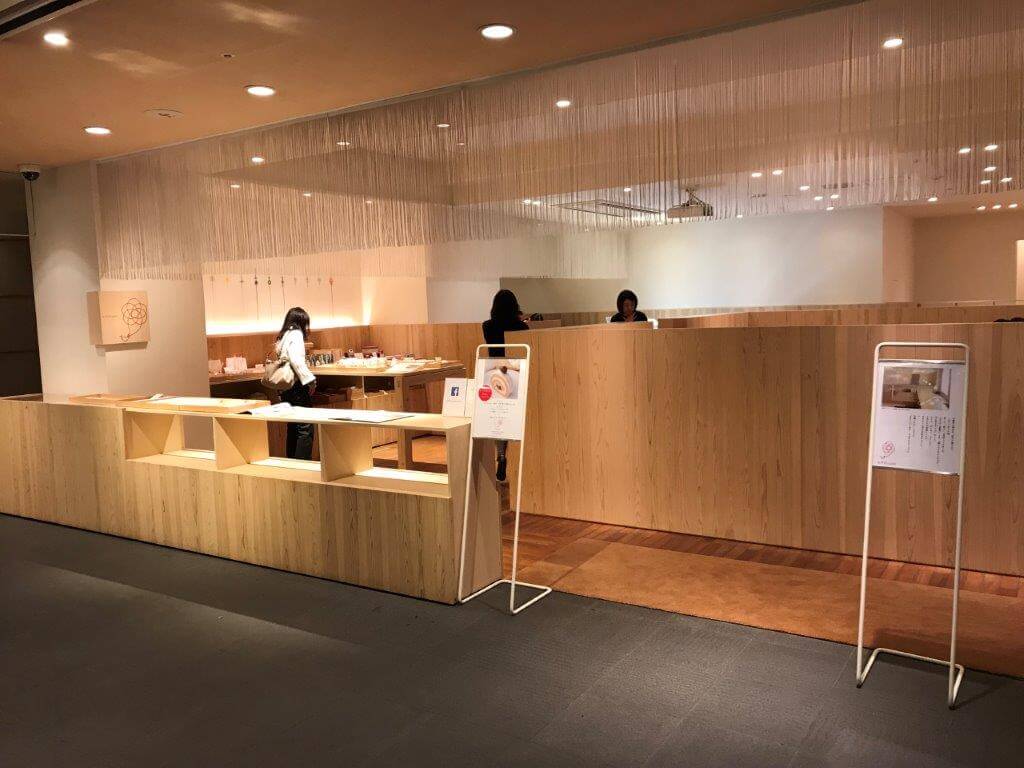 Kawagoe Hikawa Shrine is famous for giving good luck for love. There is a café named Musubi in the building next to the shrine. Since some ingredients are prayed before putting to use, every bite of food you eat is as if instilled with Gods' and Goddess' blessings.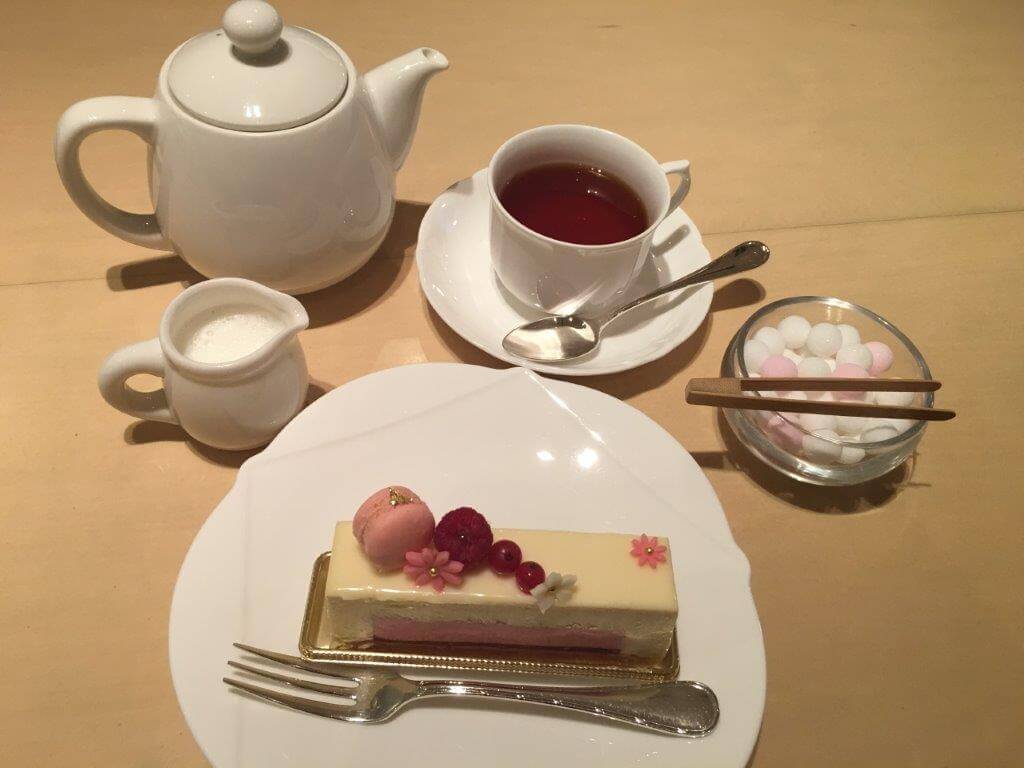 The café serves light meals and afternoon tea. All cakes and confectioneries are so delicately prepared. Because the shrine next door is known for giving good luck to marriage, the café serves berry mousse cakes decorated with a macaron, berries, and white chocolate. The cake looks like a bridal hair accessory and is so cute that I almost don't know how to eat it! The sweet and sour berries and white chocolate mousse go so well with other. I could taste the different layers of ingredients inside it. A cake and a sip of hot tea, what a great duo to warm my body!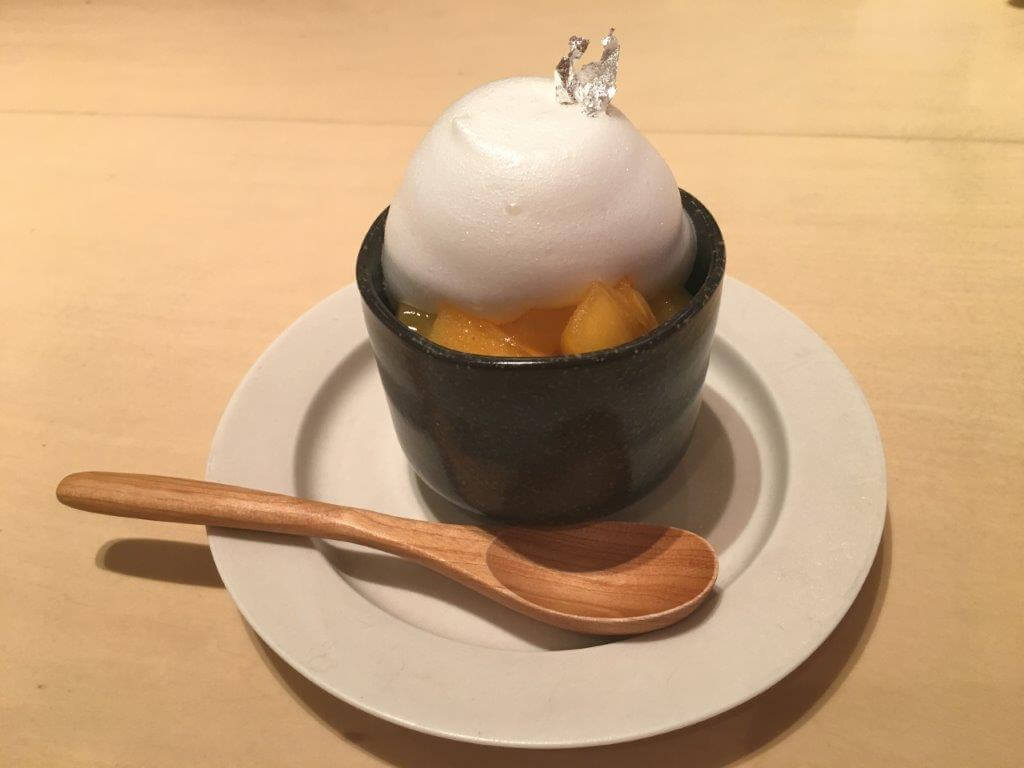 Enjoy an afternoon tea party with Gods and Goddesses. Maybe it will bring you happiness and good luck in love!
A visit to Hikawa Shrine is not complete without fishing up a fortune-telling paper strip hidden in fish-shaped containers and praying for good luck in love.
You may also try "Hitogata-nagashi". You float a paper doll down a river so that all bad things are gone with it.
Taisho-Roman Street Illuminations at the End of a One Day Trip to Kawagoe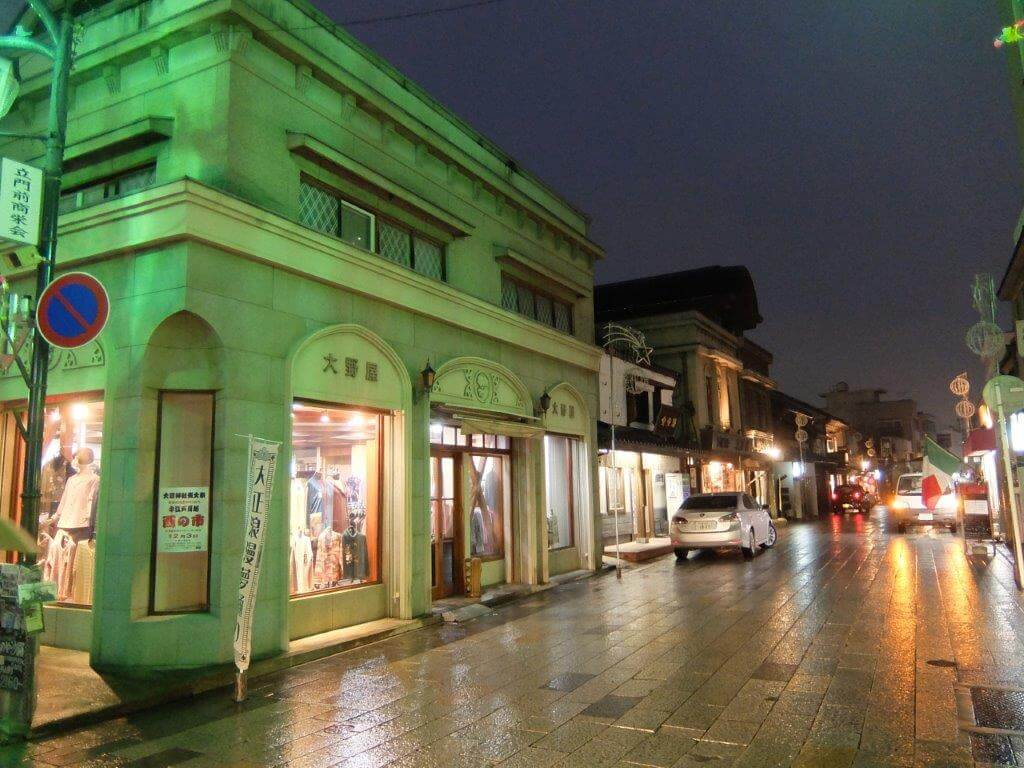 Then I took a bus to Taisho-roman Street. As the name says, here you may see many buildings built in Taisho period and preserved until now. Everything from architecture style to signage exudes an exotic atmosphere.At night it was drizzling and the night sky of Kawagoe was kind of misty and illusory.
Most shops on Taisho-roman Street are about to close. By chance I passed by a Japanese confectionery shop that is still open. Being a food lover as I am, I have to drop in and have a taste!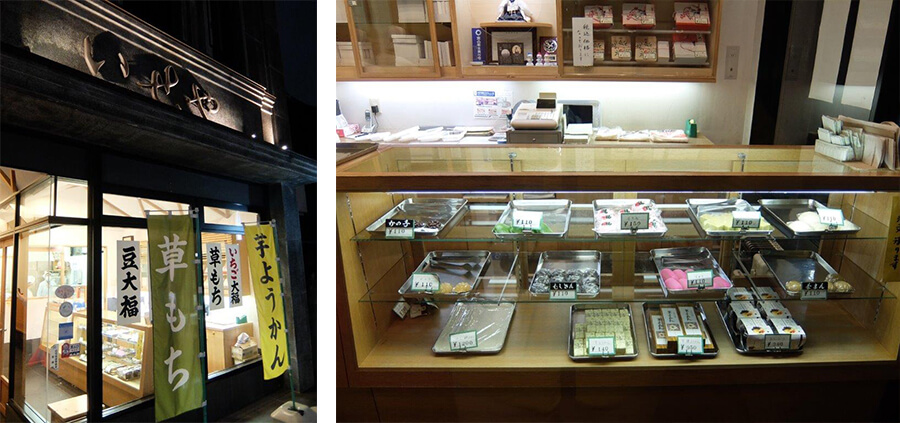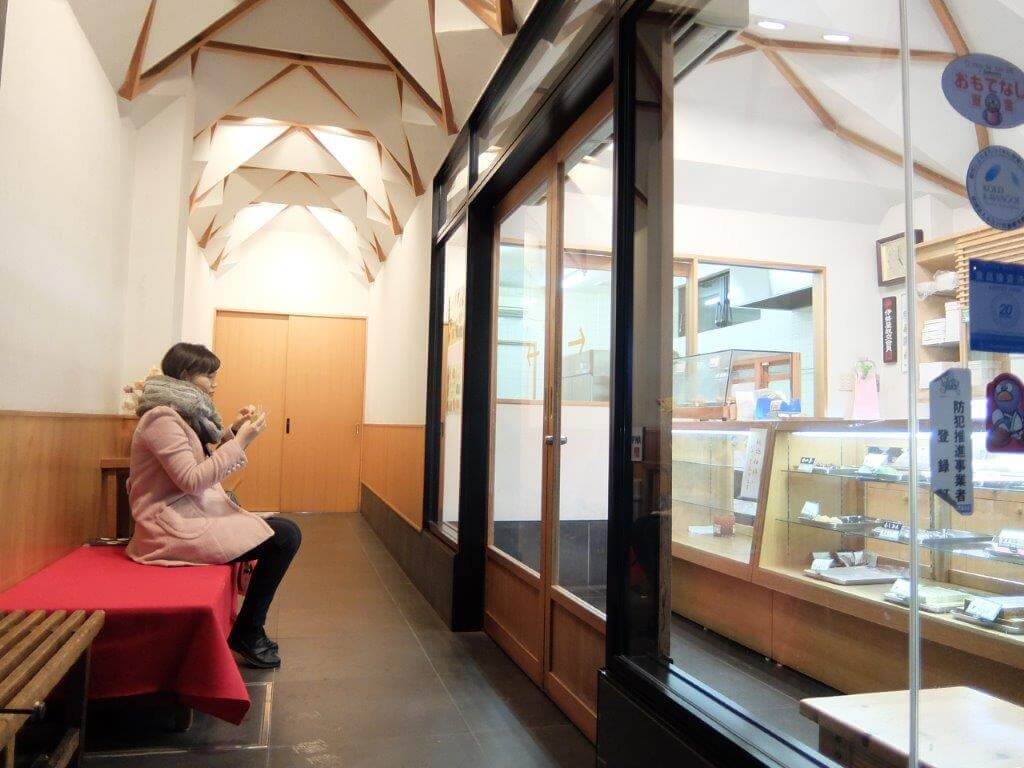 The appearances of yam yokan dessert and baked dango sweet rice dumplings may not look as impressive as those modern pastries, but the flavor is for sure real stuff handed down from generation to generation. After eating, I have refueled my energy and ready to take a bus back to Kawagoe Station.
Through a day trip in Kawagoe, I have had many precious memories. Kawagoe is such a lively place where new and old coexists. Every turn at a street corner may bring you new discoveries. If you like traditional Japanese cityscape, historic buildings, and a slower-paced life, I promise you will fall in love with Kawagoe, just like I did!
Information
Travel information for Kawagoe
www.tobu.co.jp/en/sightseeing/ikebukuro_kawagoe/
Tickets and discount passes
www.tobu.co.jp/en/ticket/kawagoe/premium.html
Route map of Tobu Bus
www.tobu-bus.com/en/kawagoe/ (Japanese)
Café Torocco
touho-yamawa.co.jp/en-us/