How and where you should have your beer in Tokyo
---
Being a vibrant city, Tokyo is full of bustling entertainment districts, but where and how do the locals take their beer after a hard day of work?
If mingling with the locals at small pubs and bars is your thing, head over to one of Tokyo's many Yokocho's, which are narrow alleyways full of quality drinks and simple but delicious food awaiting you.
In this article, I will not introduce any specific Yokocho, but give you an impression of what kind of bars, pubs and restaurants you can expect in general.
(A list of some Yokocho in Tokyo can be found at the end of the article.)
Yakitoriya
---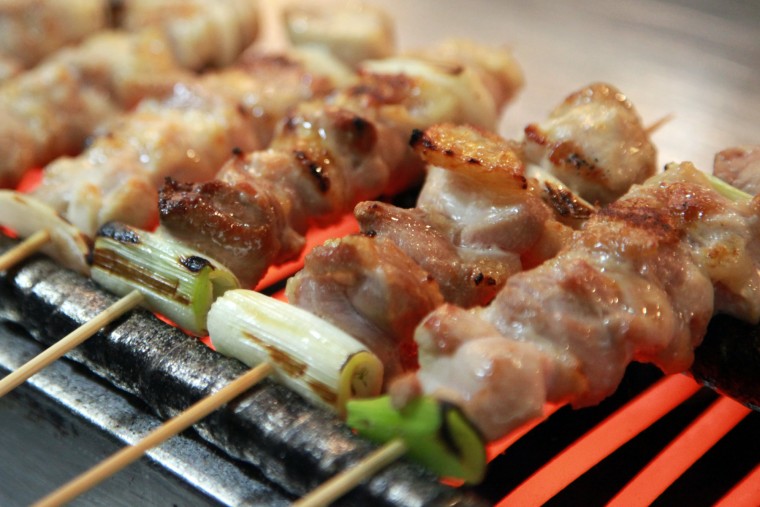 Without a doubt, Yakitoriya are the most common type of bars at Yokocho's. You will recognize them by the smoke that comes from the charcoal grill on which the Yakitori skewers are grilled. In most cases, a crowded counter is faced towards this charcoal grill. While consuming a beer or shochu, mostly male customers will be enjoying a conversation while their skewers are sizzling on the grill. Skewers come in a large variety such as chicken breast, chicken leg meat, chicken meatloaf, chicken skin, gristle, gizzard and even beef tongue and entrails.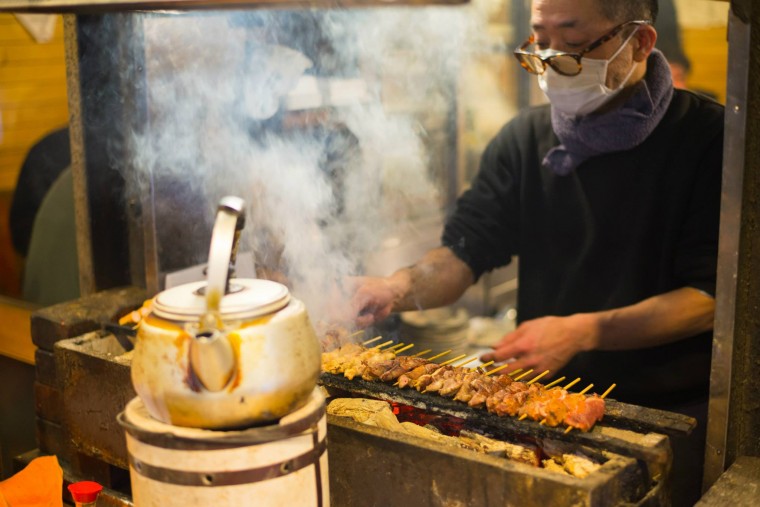 Izakaya
---
You might know Izakaya as big dining style restaurant bars, but the Izakaya at a Yokocho are usually much smaller, simpler and more old-fashioned. Their coziness gives them an undeniable charm, and they often have rare sake bottles collected from all over the country for you to pick out. The dishes served here might not be culinary masterpieces, but you will be able to taste the character of the bar owner that prepares these dishes like a caring mother does for her children.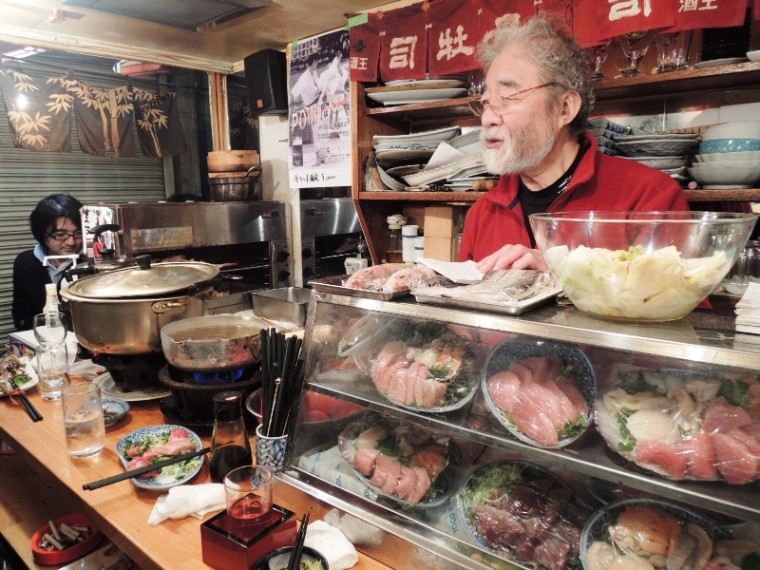 Tachinomiya
---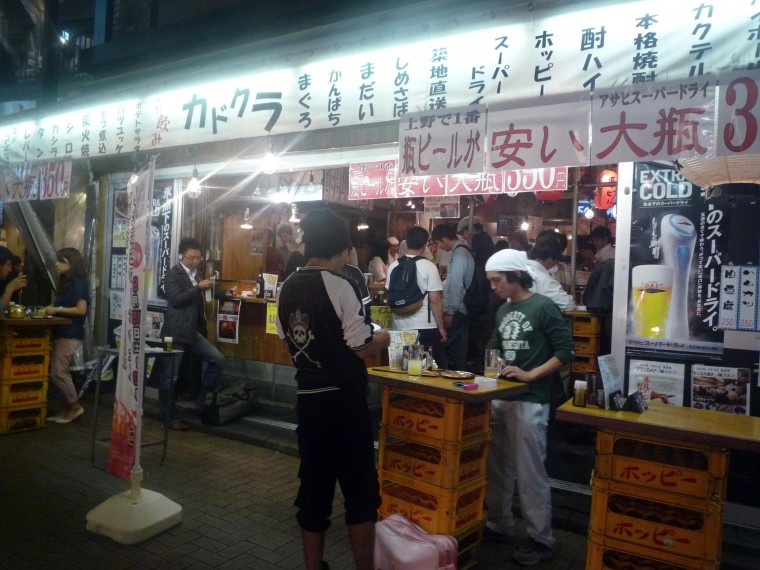 If you just want a quick drink or bite, a Tachinomiya, or a stand and drink bar, is your pick. The alcohol and food here is usually very cheap, and you don't have to gather energy to stand up if you want to leave!
If this does not sound romantic enough to you, think again. I for one, would chose picking at some edamame (boiled and salted soybeans) from a wooden board that is balanced on empty beer cases on the side of a small alley with a highball cocktail in my other hand over a luxury French restaurant anytime!
Ramen and gyoza
---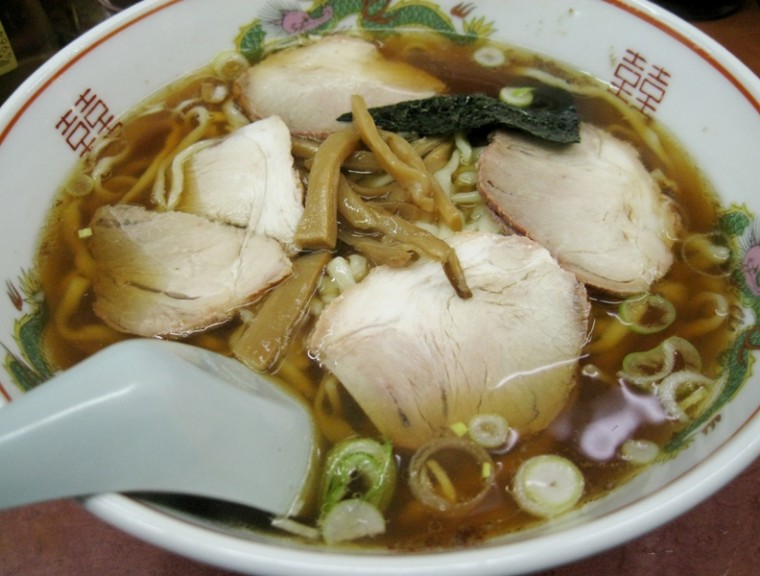 Every good Yokocho has a small eatery that serves quality ramen and gyoza, but do you know why? In Japan, after a session of bar hopping, the night is often ended by slurping a good ol' bowl of ramen, maybe together with some gyoza. Once you also get strange cravings for ramen after a night of drinking, it's time to start considering yourself Japanese!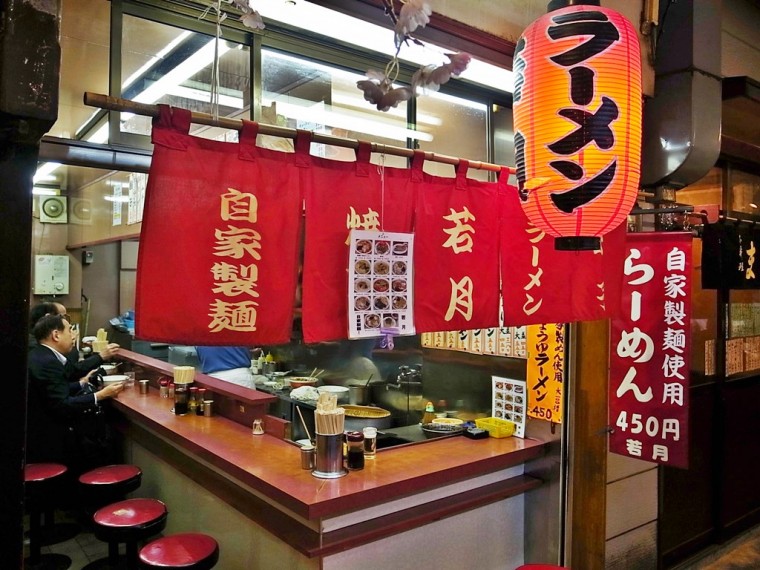 Snack
---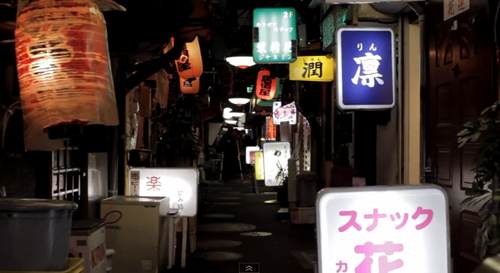 Don't think that bars that say "snack" are simple snack bars where you can have a light meal. Snacks are drinking bars with a woman host called "Mama" that entertains guests and listens to their problems and worries of life. Many Japanese salaryman have one particular Snack they visit regularly to have their favorite Mama cheer them up. Snacks are an interesting phenomenon in modern Japanese society, but are not really a place for tourists to visit, especially without any knowledge of the Japanese language, so be careful!
Spot information:
Omoide Yokocho
Location: Nishi Shinjuku 1, Shinjuku
Access: A 1 minute walk from the West Exit of Shinjuku Station (JR Lines, Subway Lines, Odakyu Line, Keio Line)
URL: http://www.shinjuku-omoide.com/english/index.html
Ameya Yokocho
Location: Ueno 4-9-15, Taito
Access: A 3 minute walk from Ueno Station (JR Lines)
URL: http://www.ameyoko.net/ (Japanese only) 
Ebisu Yokocho
Location: Ebisu 1-7-4, Shibuya
Access: A 2 minute walk from the East Exit of Ebisu Station (JR Lines, Saikyo Line, Shonan Shinjuku Line)
URL: http://www.ebisu-yokocho.com/top.html (Japanese only)
Harmonica Yokocho
Location: Kichijoji Honcho 1-1-2, Mushashino
Access: A 3 minute walk from the North Exit of Kichijoji Station (JR Lines and Keio Inokashira Line)
URL: http://hamoyoko.com/ (Japanese only) 
Nonbe Yokocho (Tateishi)
Location: Tateishi 7-1 Katsushika
Access: A 3 minute walk from Keisei Tateishi Station (Oshiage Line)
URL: none available