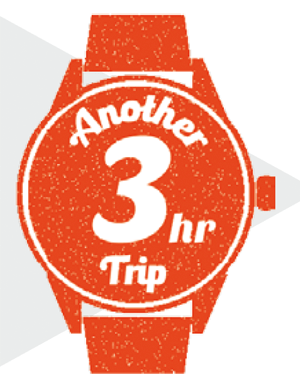 How to Make the Best of 3 Hours in Tokyo
It is the last day of your trip and you have three hours left before departing for the airport. Don't know what to do with the time? WAttention did the homework for you. Here is a three-hour itinerary that will leave you entertained, refreshed and with lots of memories of Japan!
GINZA STATION
Unlike most streets in Tokyo, which are nameless and often curve off, the ones in Ginza are laid out like a grid. Every street has a name as well as a history worth investigating. Besides being awe struck by impressive business complexes and international fashion brand that line the main streets, why not take a stroll to discover the best that Ginza has to offer?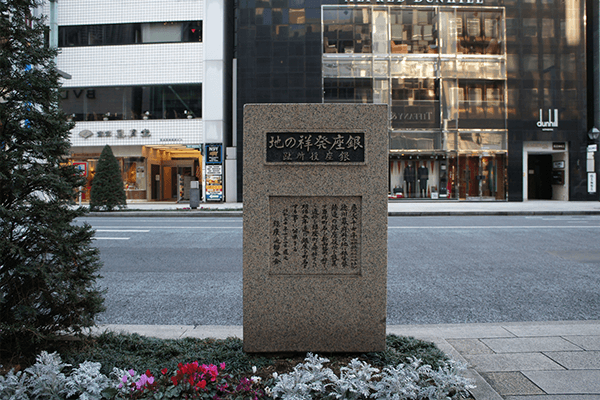 Origin of Ginza
The name Ginza originated in the Edo period as a site for silver coin mint. In Japanese, Ginza literally means the "place where silver is minted". The monument that marks the origin of Ginza can be found on the east side of Chuo-dori.
Access: 2-min walk from Ginza-itchome Station (Tokyo Metro Yurakucho Line)
Address: 2-7 Ginza, Chuo-ku, Tokyo


Noritake Ginza Store
Noritake, a leading Japanese ceramic company with more than 100 years of history, is loved by people all over the world for its chinaware. Visit the Noritake Ginza Store to get a glimpse into the dedication behind their artistic collections and see how beauty is defined through dinnerware.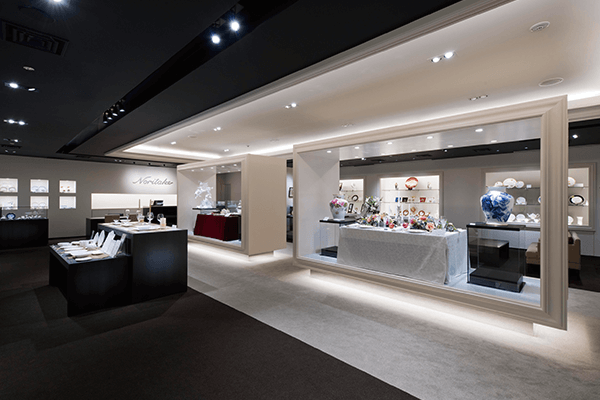 Hours: 11am – 7:30pm
Closed: around new years
Access: 2-min walk from Ginza Station (Tokyo Metro Ginza Line, Hibiya Line, Marunouchi Line)
Address: Bunshodo Bldg. 2F, 3-4-12 Ginza, Chuo-ku, Tokyo
Url: http://www.noritake.co.jp/eng/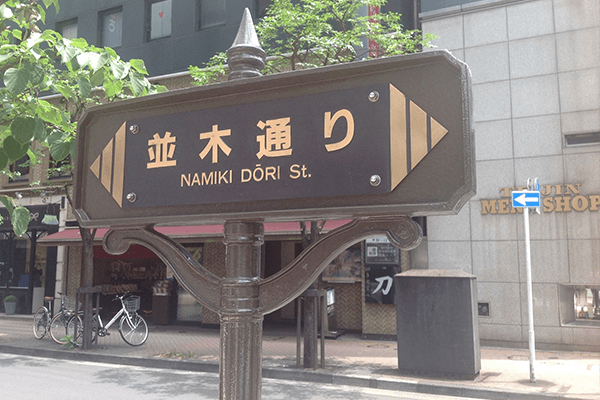 Namiki-dori
Namiki-dori is a shopping street that features a red granite path bordered by tall lime trees. Feel the authentic atmosphere of Ginza on this iconic street lined with high class fashion flagship stores.


Mikasa Kaikan
After passing the Harumi-dori, you will see Mikasa Kaikan, an old restaurant complex that serves as a Ginza landmark. Dedicated to introduce authentic western cuisine to Japan, Mikasa Kaikan first opened in 1925 and has had a branch in Ginza since 1947. Choose from all kinds of cuisine, including Japanese, Italian and more, here.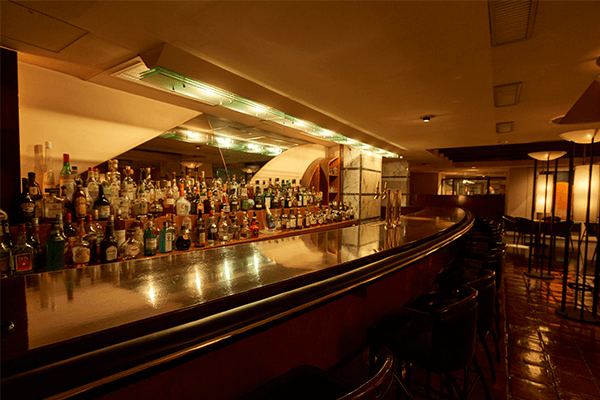 Hours: Vary by restaurant
Access: 3-min walk from Ginza Station (Tokyo Metro Ginza Line, Hibiya Line, Marunouchi Line)
Address: Mikasa Kaikan Honten, 5-5-17 Ginza, Chuo-ku, Tokyo
Url: https://www.mikasakaikan.co.jp/ (Japanese only)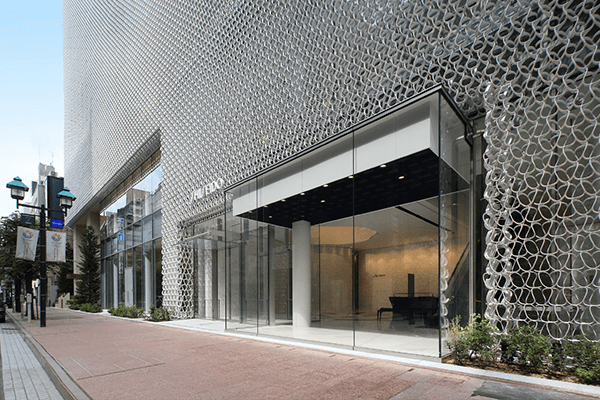 Ginza Shiseido Building
The headquarters of Japanese cosmetic maker Shiseido is also located on Namiki-dori. This modern architecture cleverly incorporates the tsubaki (camellia) motif symbolizing Shiseido and embodies the company's sense of aesthetics and beauty.
Hours:
Vary by store
Access:
6-min walk from Ginza Station (Tokyo Metro Ginza Line, Hibiya Line, Marunouchi Line)
Address:
Shiseido Head Office, 7-5-5 Ginza, Chuo-ku, Tokyo


S. Watanabe Color Print Company
Founded in the Meiji period, this old standing woodcut print store collects works by famous ukiyo-e masters like Utagawa Hiroshige as well as modern artists. Get your hands on not only rare collections but also reasonably priced art as a gift for friends back home.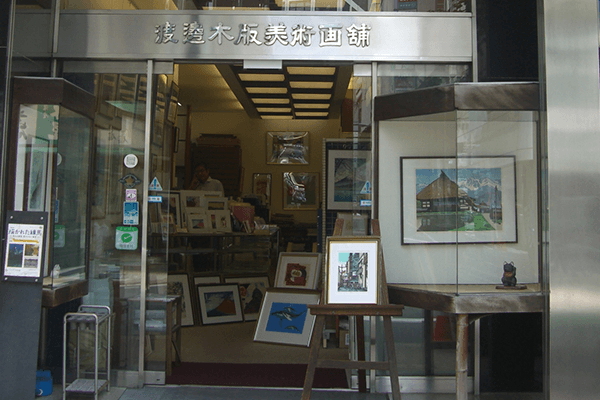 Hours: 9:30am – 7:30pm (Mon-Sat), 9:30 – 5pm (national holiday)
Closed: Sunday
Access: 4-min walk from JR Shimbashi Station
Address: 8-6-19 Ginza, Chuo-ku, Tokyo
Url: http://www.hangasw.com/map/index.html (Japanese only)



Ginza Konparu-dori
Walk to the very end of Namiki-dori and wander back on Konparu-dori, a nostalgic street where geishas used roam, to immerse in a different atmosphere. This street got its name in the Edo period, when the area was home to the estate of the Konparu School of Noh Theater. Today, Konparu Festival is held on August 7 every year. Compared to Namiki-dori, Konparu-dori is lined with shop smaller in scale, but equally rich in traditional and personality.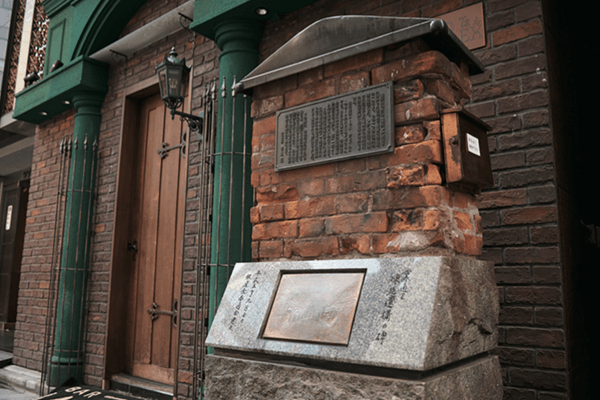 A monument commemorating Ginza's past as a brick town
In the old days, Ginza used to be a large brick town that extended for as long as 10 kilometers. Although most brick buildings were destroyed by a fire caused by the 1923 Great Kanto earthquake, there is a monument to remind people of the past.
Access:
6-min walk from JR Shimbashi Station
Address:
8-7 Ginza, Chuo-ku, Tokyo


Konparu-yu
Konparu-yu is a sento, or public bath house, with rich cultural heritage. In the Edo period, Tokyoites loved hot baths and that love has contributed to the making of sentos in the middle of busy commercial districts today. When founded in 1863, Konparu-yu was a wooden establishment. Now it has taken up the space of a modern building. The old fashioned bathhouse has tile paintings of Japanese carp fishes and a wall painted with Mount Fuji—something you don't come across every day.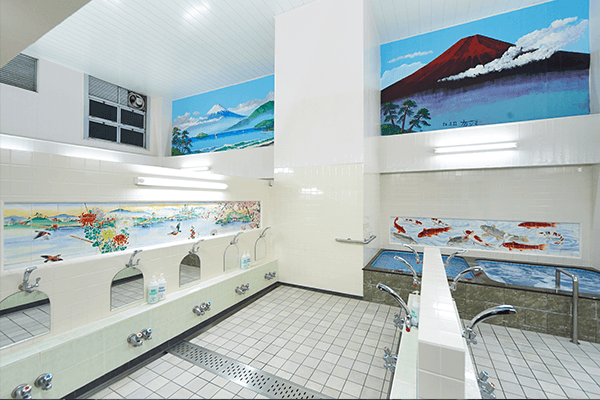 Hours: 2pm – 10pm
Closed: Sunday, national holiday
Admission: 460 yen (adults), 180 yen (elementary school students), 80 yen (preschool children)
Access: 5-min walk from JR Shimbashi Station, 5-min walk from Ginza Station (Tokyo Metro Ginza Line, Hibiya Line, Marunouchi Line)
Address: 8-7-5 Ginza, Chuo-ku, Tokyo
Url: http://www002.upp.so-net.ne.jp/konparu/index.html (Japanese only)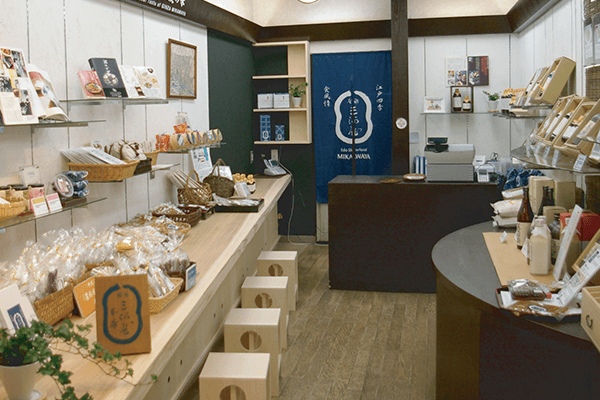 Irizake-no-Mikawaya
Located on Konparu-dori, Mikawaya is a one-of-a-kind shop selling condiments that most people in the Edo period would recognize. Irizake and Ninukijiru are popular food seasonings among Japanese women, who are keen to learn the secret of Japanese cuisine and want to give more variations to their cooking rather than just using soy sauce and miso paste as main ingredients. There are a lot of counter-style restaurants on Konparu-dori serving oden, yakitori, sushi and various Japanese street food. How about giving your taste buds a tasty treat?
Hours: 11am – 8pm
Closed: Sunday, national holiday
Access: 7-min walk from JR Shimbashi Station
Address: 8-8-18 Ginza, Chuo-ku, Tokyo
Url: http://www.ginza-mikawaya.jp/ (Japanese only)