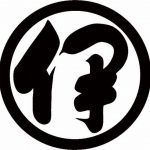 Depachika roughly translates to "an underground floor of a department store", but it is much more than just a location. Not to be confused with an ordinary supermarket, a depachika, as is the case with the Isetan Shinjuku Store, is filled to the brim with ready to eat food and snacks, many freshly cooked and ready for take-away. The choices more numerous and diverse than some restaurants could possibly match, there is bound to be something to everyone's taste. At Isetan Shinjuku Store, you can take your depachika haul to the rooftop garden, a peaceful oasis surrounded by Shinjuku skyscrapers.
Bento Bonanza at [U NO ZEN]
The bentos at "U NO ZEN" are as tasty as they are pretty, perfectly put together as if they were a box of chocolates. Here are several extraordinary bento options found in Isetan Shinjuku Store's depachika.
〈Honoka〉Hanaikada Juniki 1,000 JPY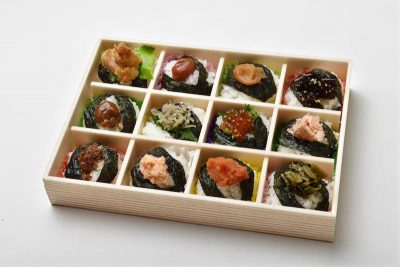 Ever found yourself taking too long to decide what to eat captivated by too many scrumptious-looking foods? Most bento boxes solve this for you by providing many different bite-sized delicacies in one. Honoka excels at this by providing a bento of 12 mini onigiris. The iconic rice balls use high quality ingredients like for instance the special Koshihikari Imazuri rice from Niigata.
〈Kameido Masumoto〉Macrobiotic Bento 1,350 JPY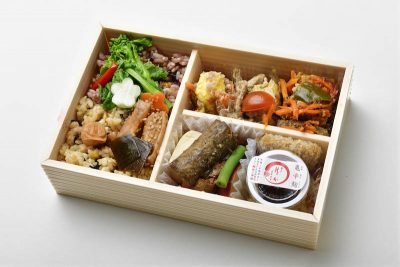 Good for vegans – Kameido Masumoto has several macrobiotic vegan bento boxes, which are tasty explosions of colors. They are beloved not only for their deliciousness, but also for their use of authentic Japanese foods.
〈RF1〉 Vegetables Salad Bento 1,080 JPY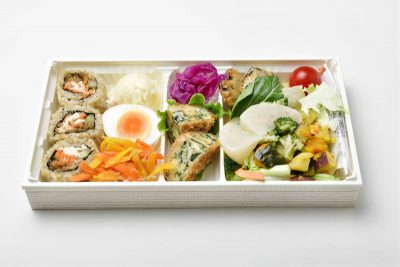 Delicious and healthy go hand in hand in this bento box that boasts to contain enough vegetables to satisfy half the daily recommended quantity. The vegetables play a leading role here, changing to represent what is freshest and best in the season, accompanied by sides like chicken and meatballs.
Hit the [FRESH MARKET] for exquisite fruits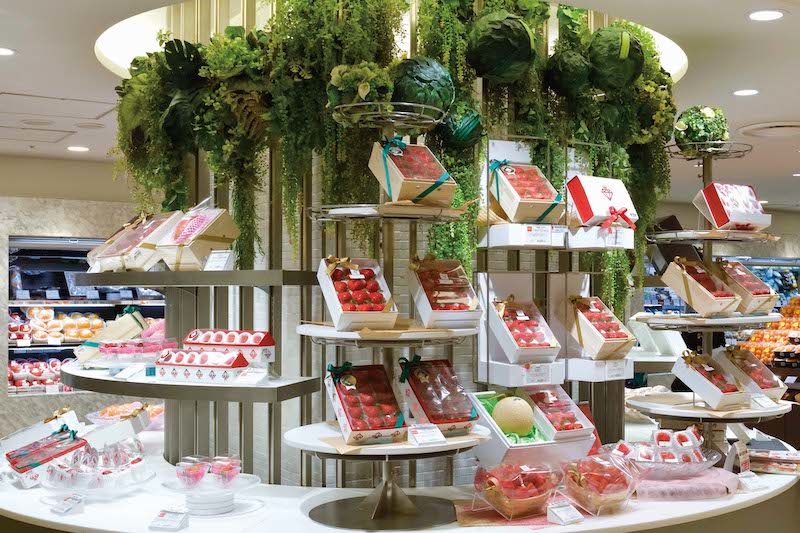 Isetan Shinjuku's Depachika also has a fresh market for fruits and vegetables. It is stocked with a variety of seasonal produce and even some rare items. Fruits of jewel-like beauty are carefully packaged and displayed, with the utmost attention to detail. The fresh market has  fruit specialists that customers can consult, and even if there is a language barrier, Isetan Shinjuku provides a free phone interpreter service you can use.
Cheers to [SUI NO ZA] and their Japanese sake
Carrying sake from all around Japan, the "SUI NO ZA" corner in the Isetan Shinjuku Store's Depachika is a great place to try out a variety of sake. They stock fresh sake and have bottles both cold and at a room temperature. They also rotate in different stores introducing a new sake every week accompanied with expert advice from the English speaking staff on which sake to buy and take home.
Can't get enough of Kara-age Chicken?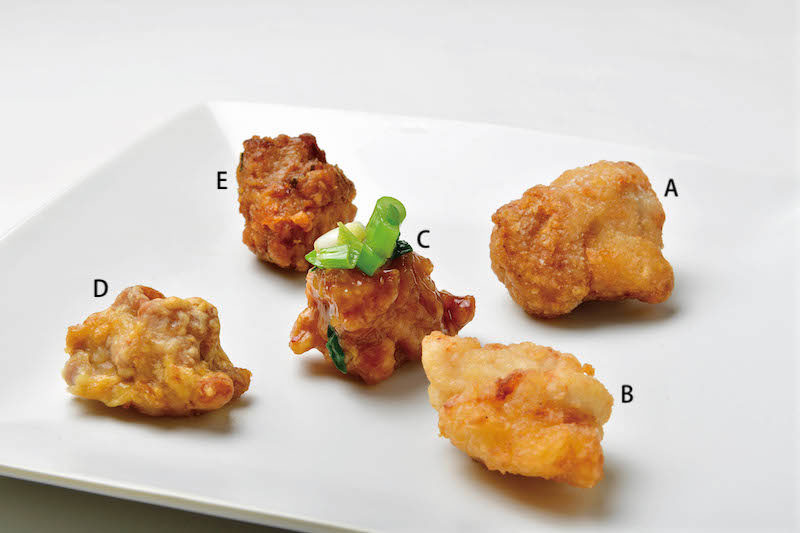 At "U NO ZEN" you can find at least five delicious kinds of the popular and ubiquitous Japanese kara-age fried chicken. The varieties of kara-age fried with soy sauce and rice malt and fried with salt and rice malt, are a must-try. We also tried the 'negi-nanban' (a mix of Japanese sweet vinegar sauce, chopped green onions and red peppers) and a non—oil fried kara-age chicken. Finally, we also tasted a spicy Thai-style kara-age (served with red pepper), showing how simple and yet versatile dish a kara-age dish can actually be.
A. B.〈Ito Washigoro Shoten Tori Sanwa〉soy sauce/rice malt 368 JPY (100g), salt/rice malt 292 JPY (100g)
C.〈Kakiyasu Dining〉negi-nanban 351 JPY (100g)
D.〈Oishii Plus one and only〉non-oil fried 756 JPY (5pieces)
E.〈Mango Tree Deli〉 Thai-style 362 JPY (100g)
Isetan Shinjuku Store
Address: 3-14-1 Shinjuku, Shinjuku-ku, Tokyo
Hours: 10:30am – 8:00pm
Tel: +81-3-3352-1111
URL: http://www.isetan.co.jp/int
Food Scenery in Tokyo Today