Spring is a season of new beginnings, new life and good weather. The cherry blossoms in Japan don't last long, but they create a wave of excitement that we can ride all the way to summer. So don't cry over fallen cherry blossoms, go and explore the other mesmerizing spring flower landscapes Japan has to offer. We have chosen three amazing spots not far from Tokyo and perfect for day trips. They have flowers that reach peak season right after the cherry blossoms – from the middle of April to the beginning of May. This also coincides with the series of Japanese public holidays strung together and referred to as Golden Week – so if you have the chance, try to visit these spots either before or after that.
Japanese Spring Flower Viewing Day Trip 1: Hitachi Seaside Park
kochia and nemophila flower fields
This vast Park in Ibaraki Prefecture has already made the rounds on the web with stunning photos of fields overflowing with flowers. What you might not have known is how close to Tokyo this park is. You can reach it by train or by car in 2 or 3 hours, depending on where you are in Tokyo.
The kochia plants that dot the fields like cute pom-poms are very popular online, especially when they become burgundy red in autumn, as you can see in our Ultimate map of fall foliage destinations article. That is why they are also known as burning bush or fireweed. They can also be seen green in July. However, the reason to visit Hitachi Seaside Park in spring are the baby blue fields of the nemophila, a spring flower also called baby blue eyes, that blossoms from the middle of April to the end of May. This coincides with the Golden Week holiday in Japan, so Hitachi Seaside Park becomes more crowded than usual.
How to get to Hitachi Seaside Park
Taking into account the size of this park there are also transportation options inside the park. One option is the Seaside Train that takes 35 minutes to circle the entire park and costs only 500 yen for a one-day round trip ticket. There are 10 different stations where you can get off or on.
A good way to explore the park at your own pace is renting a bicycle. A whole day fee is only 400 yen for 3 hours with an additional 50 yen for each 30 minutes extension.
You can check the official website for recommended walking and cycling courses. They also have a flower calendar that tells you when the different flowers are blooming and gives you walking courses that maximize on the full bloom times.
This park is not only full of flowers, it also has a lot of other entertainment spots like shops, restaurants, golf courses, a Ferris wheel, roller coasters, BBQ spot and so on. The only worry you might have on a day trip is running out of time before the park closes, so early arrival is recommended.
Hours:
9:30 am – 5 pm (March 1 – July 20th・September 1 – October 31)
9:30 am – 6 pm (July 21 – August 31)
9:30 am –4:30 pm (November 1 – end of February)
closed every Monday
admission fees
adults (high school and older): 450 yen, 2-day pass: 500 yen
seniors (65 and older): 210 yen, 2-day pass: 250 yen
Japanese Spring Flower Viewing Day Trip 2: Ashikaga Flower Park
Wisteria flowers
Wisteria is a spring flower that creates a magical atmosphere wherever it grows and in Japan it has been a favorite since the Heian Period because it was the symbol of the the very powerful Fujiwara clan. Not the only one, but certainly one of the most impressive spots where wisteria can be seen is Ashikaga Flower Park in Tochigi prefecture. This park has been chosen as one of the top 10 international dream destinations by CNN in 2014 and very often it has been compared to the magical forests of the movie Avatar.
The park has other flowers as well, perfectly tuned to the seasons, but the wisteria is the main attraction, particularly the "Great Wisteria", which is more than 150 year-old and spreads over 1,000 ㎡. In addition, there are two 80 m long tunnels of white and yellow wisterias. The blooming order of all the different wisterias, starting from the earliest one is: pink, purple, white and yellow.
How to get to Ashikaga Flower Park
Ashikaga Flower Park is quite close to Tokyo and perfect for a day trip. Depending on your starting point, actual times may vary, but from Shinjuku station it is reachable in roughly two hours one way. The train will cost you less than 2000 yen one way. You can walk for 15 minutes from JR Ryomo Line's Tomita Station to reach the park, or you can use the free shuttle bus from the Tōbu Isesaki Line "Ashikagashi" station. You can check the shuttle bus timetable on this website. (Japanese only)
The wisterias blossom from mid-April to mid-May so it's a perfect way to enjoy spring. As always, please be warned that the park will be crowded during Golden week. Moreover, the entrance ticket depends on the blossoming condition of the wisterias on the day. You can check the entrance fee of the day on their official website. It's only in Japanese but it's easy to spot the price. For other information, there is an official website in English.
Hours:
From April 14 (Sat.) to May 20 (Sun.): 7 am – 6 pm
(9 pm during lighting up period)
Lighting up period: From April 18 (Wed.) to May 13 (Sun.)
Admission fees:
General: Adults: 900- 1,800 yen; Children: 500- 900 yen
Nighttime admission (5:30 pm – 9 pm): Adults: 600- 1,500 yen; Children: 300- 800 yen
If you want to see this park in another season, you can check out our article on the winter illumination at Ashikaga Flower Park. And we have one more article on the park, Welcome to Wisteria Lane in Japan, that showcases beautiful photos of wisterias in spring.
If photos weren't enough, take a look at the promotional video from the official YouTube account of Ashikaga Flower Park.
Japanese Spring Flower Viewing Day Trip 3. Fuji Shibazakura Festival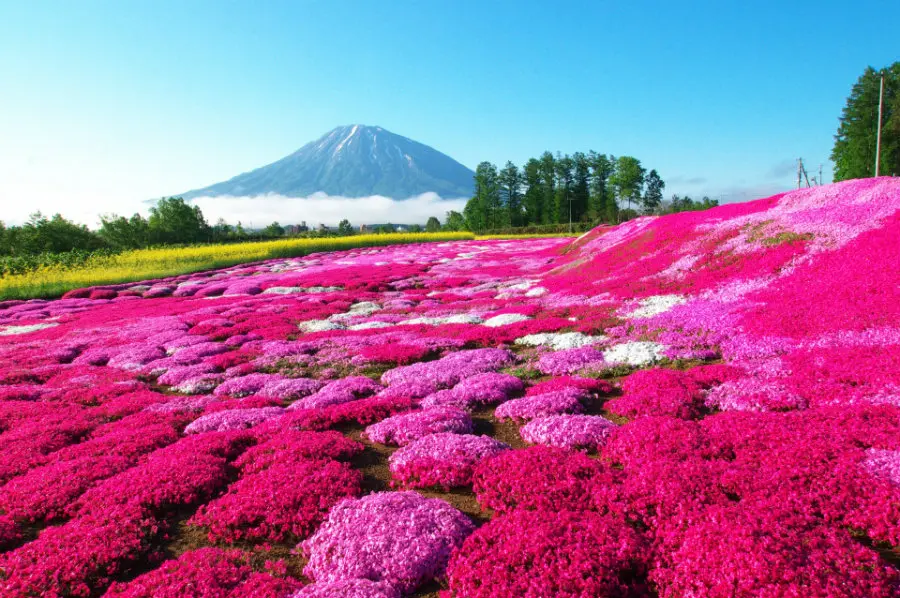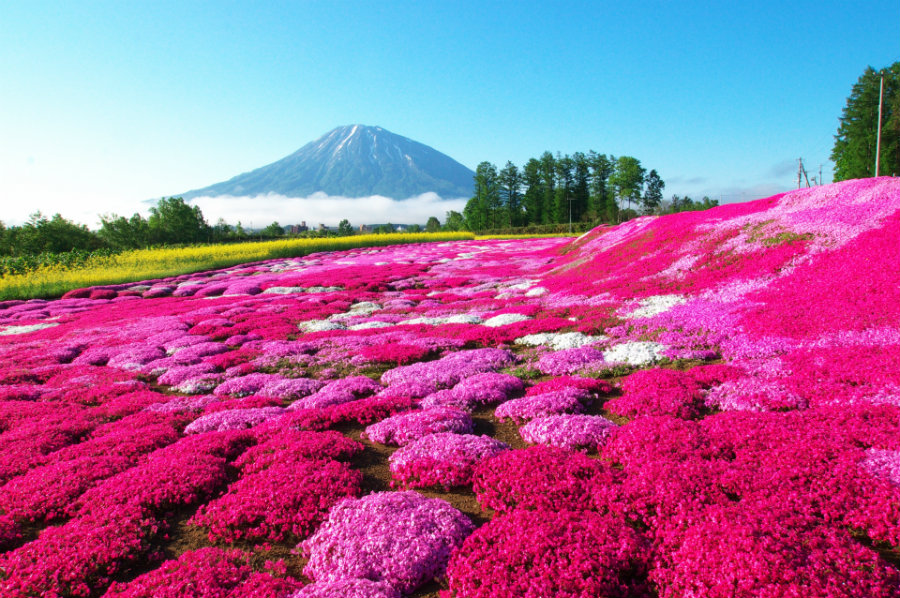 If you have seen photos and posters of pink meadows before, let us confirm that they are very real. The magical scenery is thanks to a flowering plant called "moss phlox" or "shibazakura" in Japanese. The Japanese word literally means "lawn cherries" and that is exactly what you think of when you see them. The official website of the shibazakura festival lists seven different varieties of blossoms that cover about 2.4 hectares of land. The spring flower carpets are quite stunning by themselves. However, they're even better at the Fuji Shibazakura Festival. During this festival, they team up with the towering Mount Fuji to capture everyone's heart. And of course, it is an opportunity to capture beautiful photos!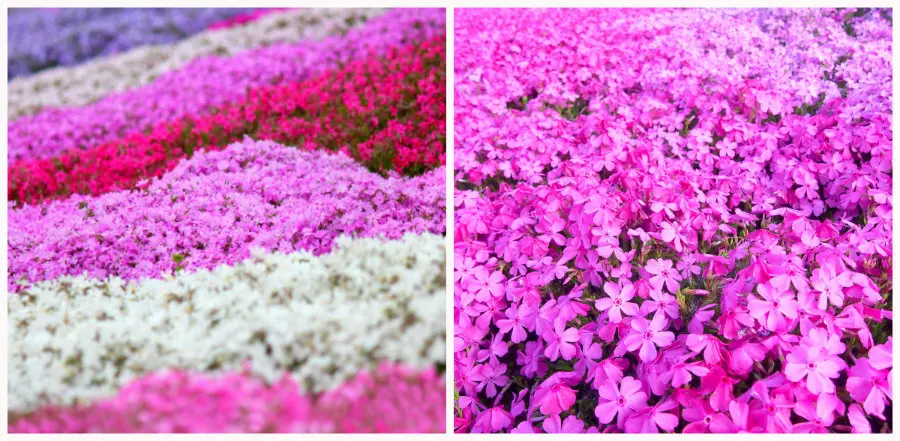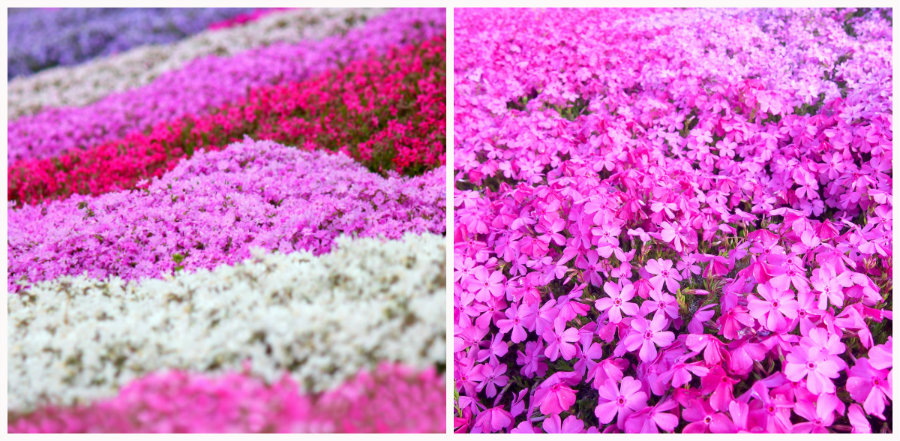 The venue is open from 8 am to 5 pm with no illumination afterward. While you are there you can enjoy special food you can buy from the food stalls, and the souvenir shops will be stocked with limited-edition seasonal goods. Lastly, be careful of some prohibitions that the Fuji Shibazakura has, such as – no pets and no camping. And be sure to enjoy your day trip to the festival!
Venue: Fuji Motokosuko Resort
Access: Approximately 2 hours from Shinjuku to Kawaguchiko Station.
From Kawaguchiko Station, 30 minutes by "Shibazakura Liner" bus. You can also access the festival by car or by direct highway bus.
You can check the festival's website for the schedule of the shuttle bus and other transportation tips.
Entrance Fee: 13 years of age and up: 550 yen, 3 to 12 years of age: 230 yen, less than 3 years of age: free
You can buy tickets online here.
Read more about the impressions from the Fuji Shibazakura Festival by our WAttention ninjas. If you are planning a longer trip around Fuji, here are 5 things you can do at Fuji Five Lakes area.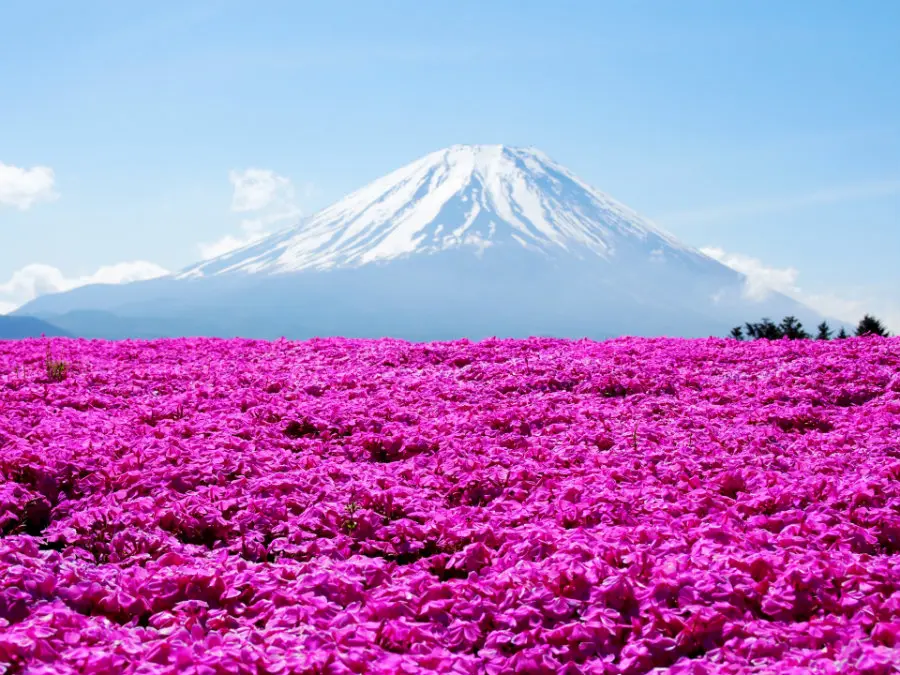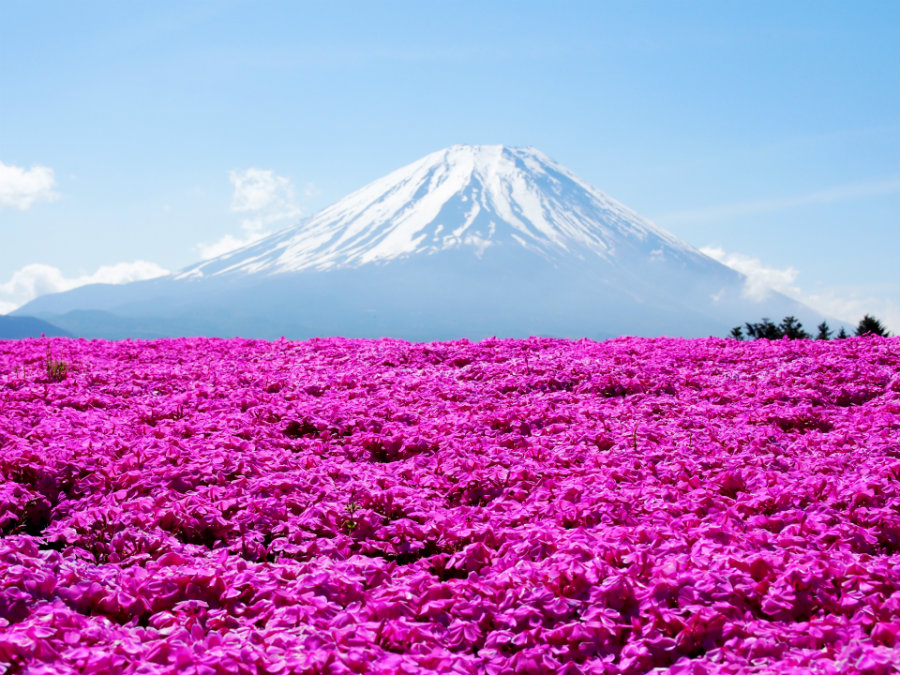 ---
WATTENTION WRITER PROFILE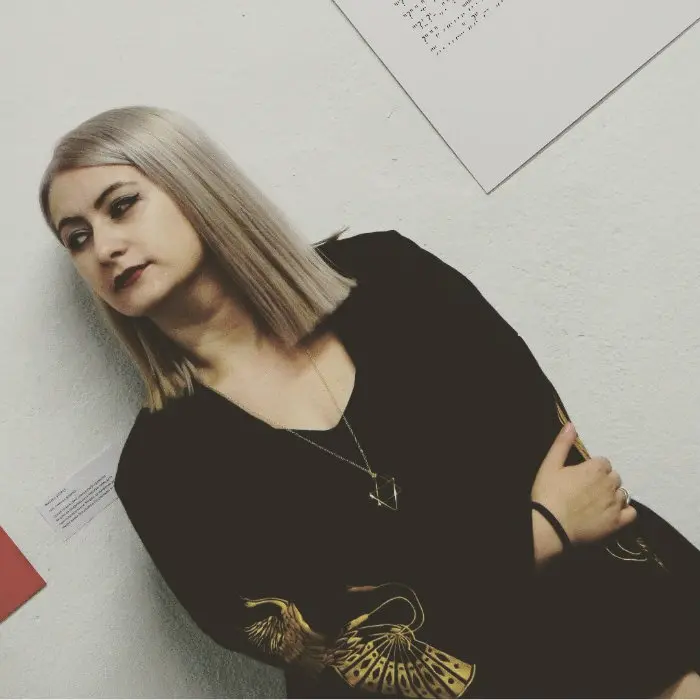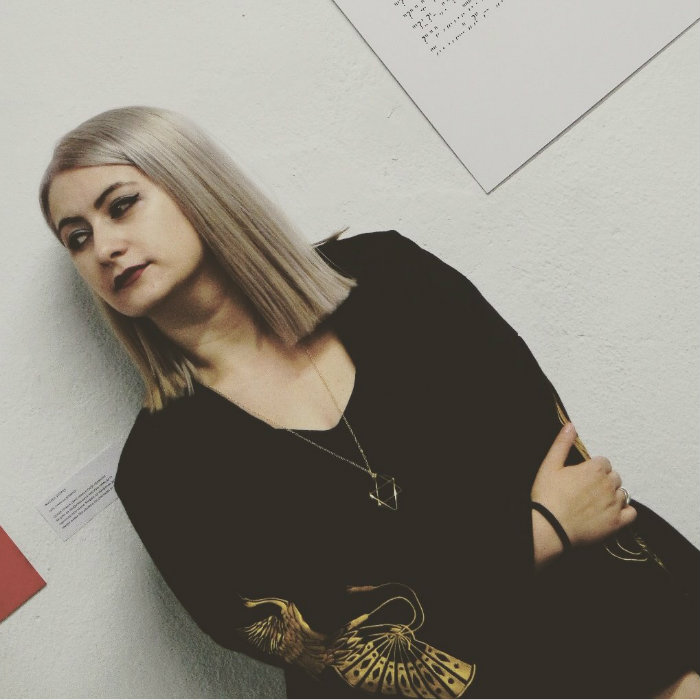 Zoria April
Zoria is a writer, of the rare poet variety and a passionate photographer. If you see somebody around Tokyo taking photos of concrete walls, it must be her. She loves dressing fashionably and drinking as many cups of coffee as humanly possible.