There is plenty to see and do around the picturesque Matsumoto City in Nagano Prefecture. If you are after that perfect snapshot to immortalize your time in Nagano, Japan and show your friends, here are some recommended photo spots near Matsumoto City. Along with the natural beauty in Nagano Prefecture this list even includes a couple of museums that represent the skill and creativity of Japanese art and the artists from the region. Here are our 7 best photo spots in Nagano Prefecture, Japan.
Nagano Photo Spot 1: Hiking around Kamikochi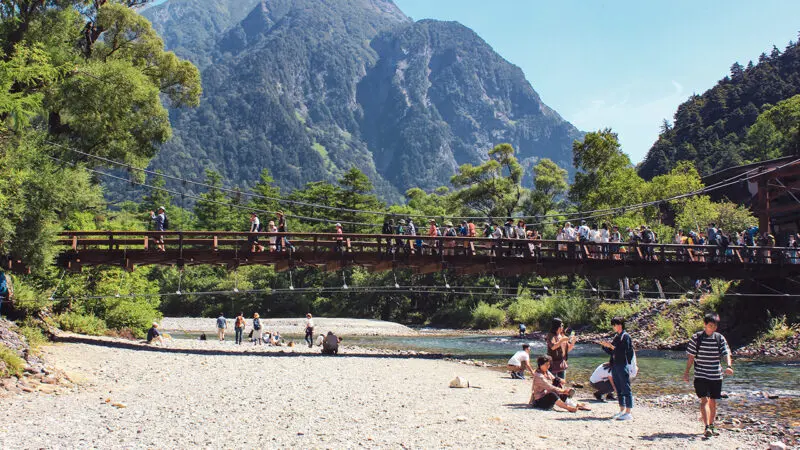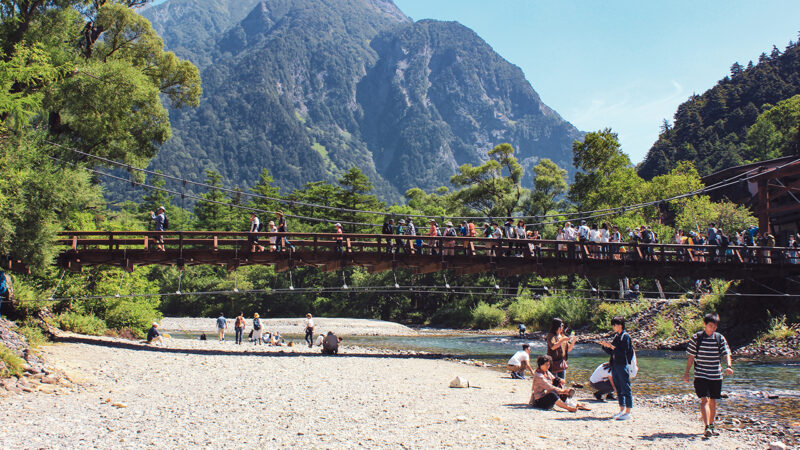 Some of the best hiking trails in all of Japan are in the Japanese Alps in Nagano Prefecture. You can make it as adventurous as you want, climb a high mountain or take a long leisurely walk in the forest. Be prepared for raw nature, as the Kamikochi area is forbidden for personal vehicles. Access is only possible by bus or taxi. Special buses are arranged to take you to Kamikochi.
Most hikers start from the Bus Terminal near a wooden suspension bridge called Kappabashi. Near this suspension bridge are several hotels, souvenir shops, and restaurants. The trails along the Azusa river provide you with the most scenic views with the Japanese Alps reflected in the crystal clear water.
The best season to go is from mid-May through July. As a result, walking routes around Kamikochi are often crowded in the summer.
There are about ten kinds of willow species in the Kamikochi area. The higher you go the more the landscape changes and the dominant trees shift from willow to Japanese elm and Japanese larch trees. During Autumn these trees turn into beautiful hues of red and yellow, giving Kamikochi a completely different look.
Wildlife around Kamikochi in Nagano Prefecture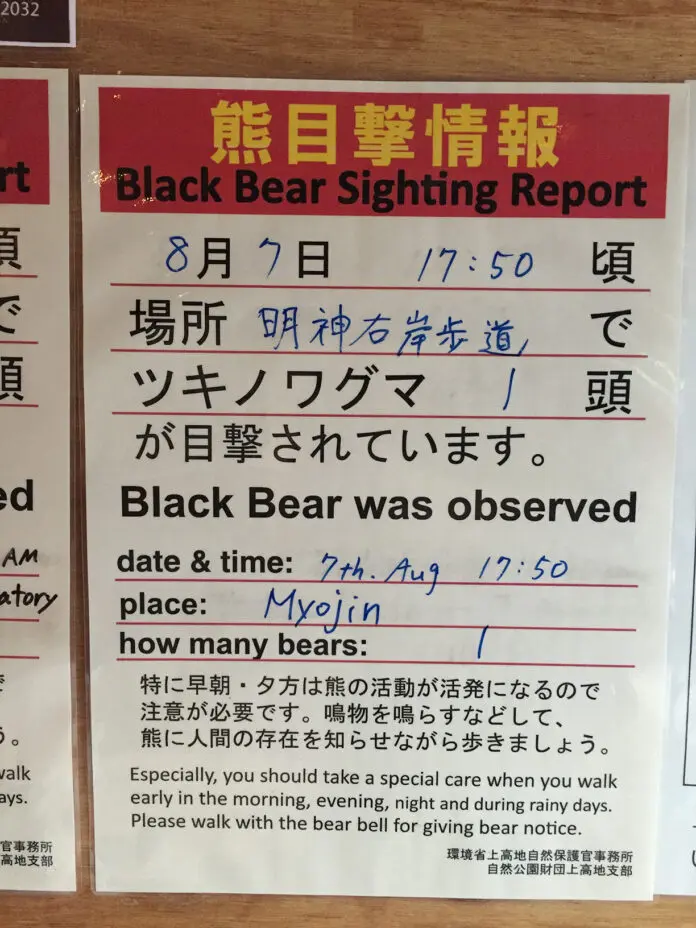 Surrounded by such beautiful nature, you can be sure that there is also plenty of wildlife to see! The mountains around Kamikochi are home to many species of animals.
Along the way, you may encounter a variety of cheery birds and playful Japanese Macaque monkeys. Known as "nihonzaru" these mischievous monkeys are the same as the ones you may see bathing in hot springs in Nagano. Though they are photogenic, they can be aggressive if approached, so be sure to give them plenty of space.
As relaxing as the trails around Kamikochi can be, it is important to be aware of your surroundings. Though it is rare to see bears on the trail, they do live in the area. Be sure to follow any advice the guides give to avoid running into trouble.
Japanese mountain hiking courses around Kamikochi
For the more adventurous hikers there are plenty of mountains to challenge. A popular mountain is Mt. Okuhotaka-dake, the third-highest mountain in all of Japan. In 2016 Kamikochi is scheduled to be open from April 15 to November 15, as it can be dangerous to climb the mountains out of season.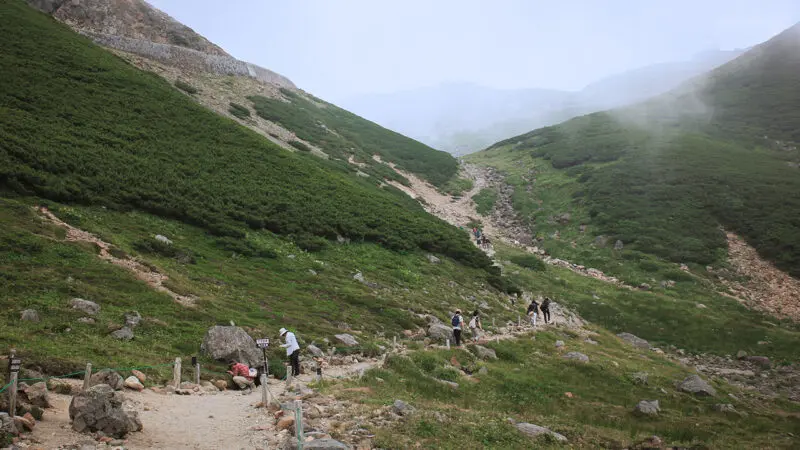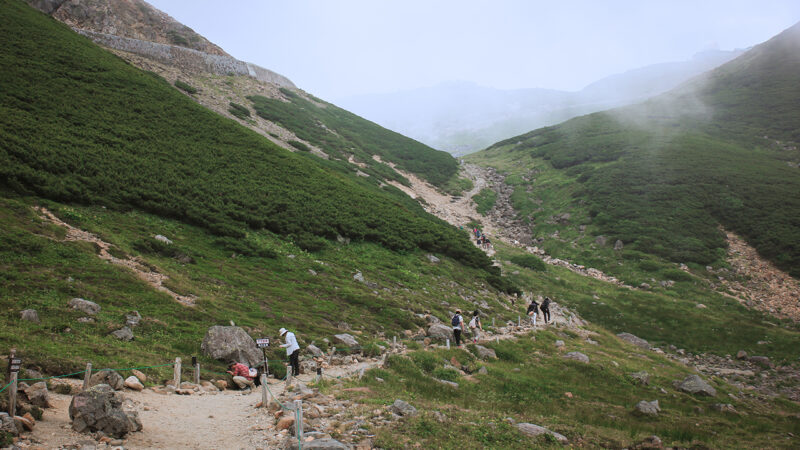 If you want to make your hiking trip longer than a day, there are mountain huts along the trails in Kamikochi where you can stay for around 8,000 yen per person. No need to bring food or a sleeping bag as bedding and two meals are provided. It is advised to arrive at these huts before 3 pm. Of course, you can stay in one of the lavish hotels or relaxing ryokans where you can enjoy natural hot spring water. Be sure to make a reservation for these popular accommodations well in advance!
How to get to Kamikochi in Nagano
There are many ways to get to Kamikochi. You can start from the nearest city, Matsumoto, but there are even buses from Tokyo, Nagoya and Osaka all the way to the Kamikochi area.
Matsumoto Station, Nagano: A local bus takes about 90 min.
Shinjuku Station, Tokyo: The highway bus takes about 4h 40min.
Nagano Station, Nagano: With highway bus takes about 2h 30min.
2 Day Pass for sightseeing in Kamikochi, Norikura and Matsumoto: 

This pass allows unlimited travel by train & bus to/from Kamikochi, Norikura-Kogen, Norikura area and the local bus in Matsumoto within 2 days. This is the best deal if you want to sight-see not only in Kamikochi but also in Norikura and Matsumoto.
Price: 5,150 yen (adult), Children: 2,580 yen (children)
Pass is Available in the Matsumoto Bus Terminal.
Nagano Photo Spot 2: Norikura Snow Wall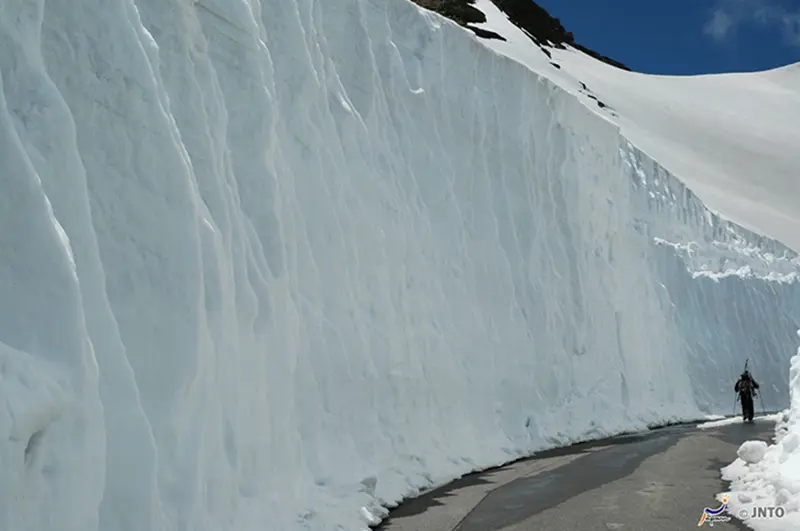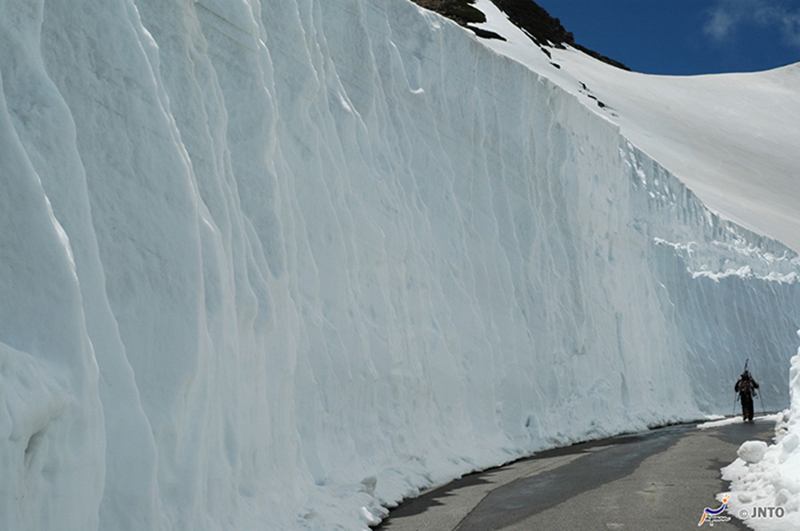 Thanks to the stable climate on the mountain, you can enjoy skiing even from May until August. This also means, snow can pile up creating incredible walls around the mountain roads. The snow corridor is only open for a limited time from April to June, so be sure to check the days before your visit. 
On the opening day, the walls can reach an amazing height of 13 – 20 meters. The only way to witness these massive walls of nature is to take a special Norikura Snow Wall sightseeing bus.
This bus makes several stops along the way, giving you the opportunity to walk to the top of the 3,026m high mountain from whatever point you choose. The bus takes you about 2,700m up, so from there you still have some walking to do.
What to do at Mt. Norikura in Nagano Prefecture
The surrounding area is equally beautiful and invites hikers for amazing adventures. During the summer there is a marathon on Mt. Norikura called the "Heavenly Marathon," which attracts more than 1,000 runners every year. 
The route up to Mt. Norikura is closed off for private cars, so you can enjoy the quietness of nature. Along the road, there are some restaurants where you can stop for a drink or a bite.
The bus goes to and from the top about 4-5 times per day and waits at the top for an hour before going down again. The snow walls are a 2-min walk from the bus stop so you have plenty of time to observe this wonder of nature.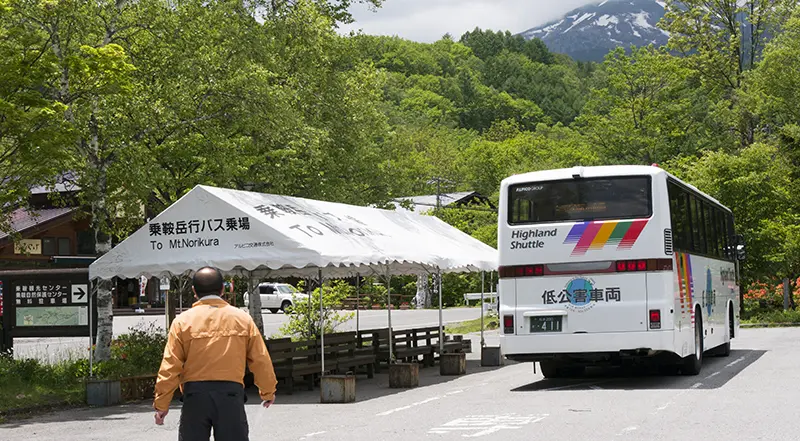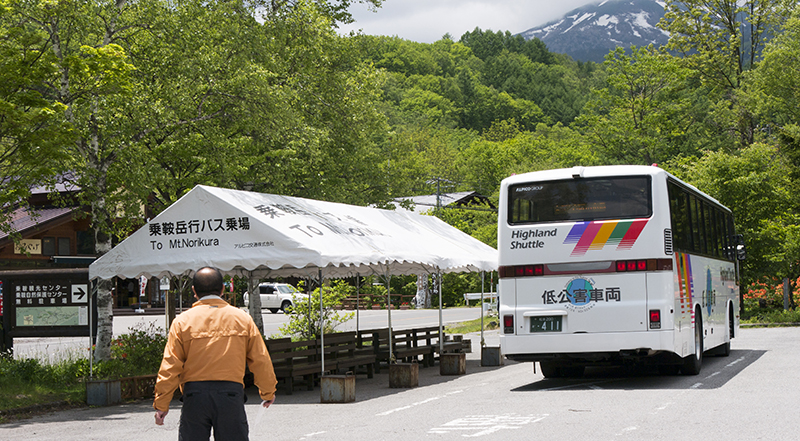 How to see the Snow Walls of Norikura in Nagano Prefecture
Private cars are not allowed in the area. So, you will need to take a shuttle bus to see the Snow Walls of Norikura in Nagano Prefecture. You can take a bus from Matsumoto City to this popular sightseeing area.
Access: Take an 80-min bus ride from Matsumoto Station (JR Line) to Norikura Station. Then take the Mt. Norikura Highland Shuttle Bus (about 50-min) from Norikura Kogen.
Price: 2,500 yen for a round trip.
Hours: Departures every 1-2 hours.
Nagano Photo Spot 3: Old Station Town Narai Juku
Walking along this street makes me feel like a traveler from the Edo period (1603-1868). Narai Juku in Nagano prefecture was the thirty-fourth of the sixty-nine stations of the Nakasendo. Nakasendo is one of the old five main roads between Tokyo and Kyoto. In the past, it took more than two weeks to walk the whole way. As a result, there were many station towns catering to weary travelers. 
In contrast to the famous Tokaido along the coastline, the Nakasendo goes inland through mountain trails. Interestingly, it's built along a slightly curved road. This technique was often used in the olden days so that all the storefronts were visible to travelers when they are looking straight ahead. This made it easier for inns and shopkeepers to advertise. There are still many traditional inns and ryokans in service, giving tourists an original experience.
History and traditions of Narai Juku in Nagano Prefecture

Being such an important historical street. There are plenty of stories and traditions created and shared by the many visitors who stopped by on their journey.
The efforts to preserve Narai Juku street are clearly shown. In fact, electricity cables are hidden underground. In addition, cars are forbidden during the day to preserve the atmosphere and allow people to walk the traditional Japanese streets freely.
The interesting traditional architecture of Narai Juku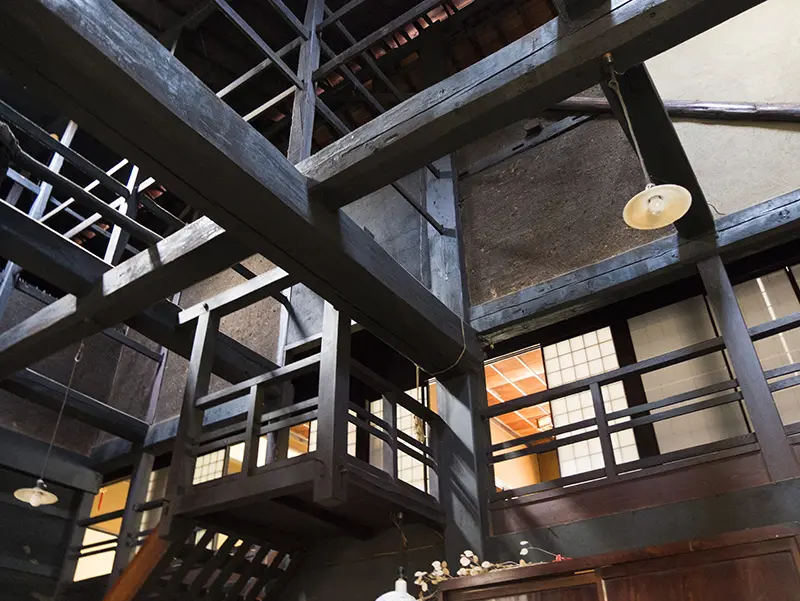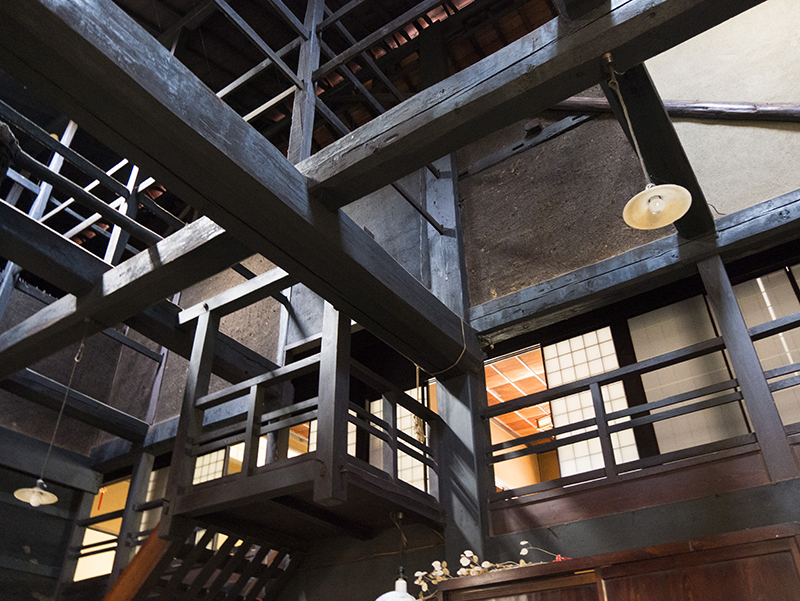 Edo-style houses line the street and create an air of the past. An interesting aspect of the Edo houses is that even though they have a second floor, no one lived there or held shop. In old Japan, the class system was still very much alive and the Samurai were at the top, right under the government officials of the Shogunate.
When a high-ranking Samurai would pass the street, people would go upstairs to the balcony to observe. 
Touching a Samurai's sword, even by accident, or looking at him in a wrong way could result in punishment or even death. Of course, people did use the second floor for other things, but it was there as a precaution.
The hidden statue of Mary in Narai Juku, Nagano Prefecture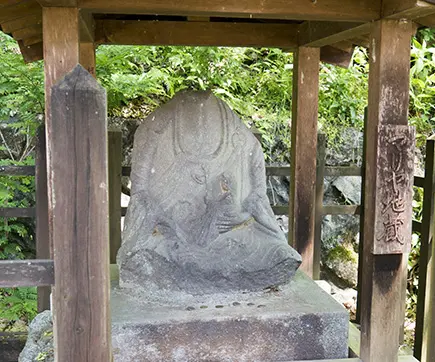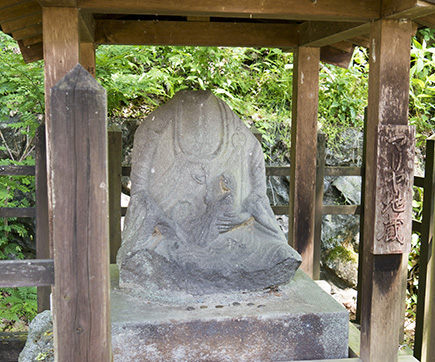 In addition to all of the traditional Japanese culture, there is also a hidden statue of the Christian Virgin Mary at Taihoji Temple. Though it is somewhat disguised as a Buddhist statue, it depicts the typical image of the Virgin Mary, caring for a child with a cross.
However, during the Edo period Christianity was forbidden. In fact, there were severe punishments for people following Christianity. As a result, Christians had to go into hiding for fear of their lives. 
The damage to the headless statue was likely not caused by accident or an act of nature. It is believed that this image of the Virgin Mary was discovered by the Tokugawa authorities and decapitated.
Refreshing natural spring well in Narai Juku, Nagano Prefecture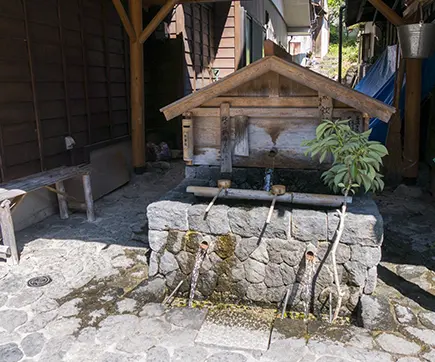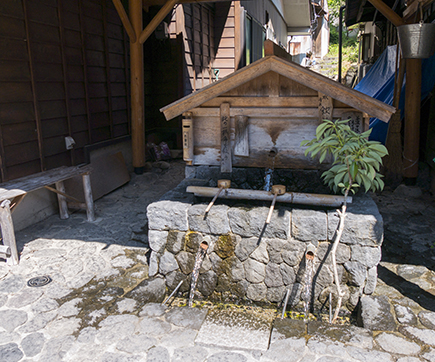 Halfway down the street, is a small well fed by spring water from the Japanese Alps and purified by the mountains. Since many travelers used to stop at Narai Juku either before or after climbing a mountain pass, pure mountain water was a precious source of energy and strength for the road to come.
You can tell how dangerous the mountain path was by looking at two hundred statues of Jizo in a nearby graveyard. These were brought together to honor those who died on the Nakasendo.
If you want to feel the atmosphere of a traditional Edo period street in Nagano Prefecture, visit Narai Juku! Take your time to relax and take imagine what it was like to walk these old Japanese streets in the days of the samurai.
Nagano Photo Spot 4: Daio Wasabi Farm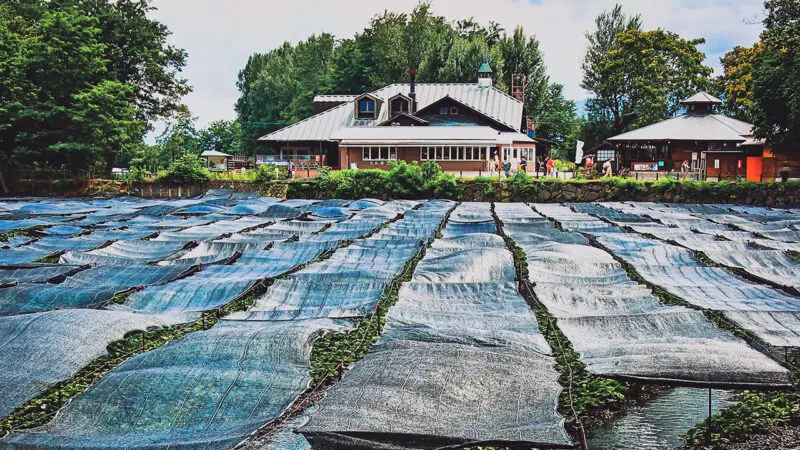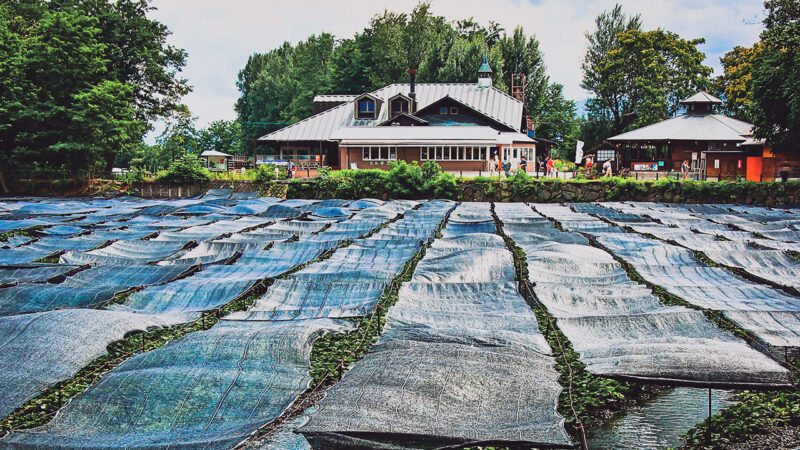 You know wasabi as that green thing they serve with your Sushi, but do you know how it's grown? 32 kilometers north from the center of Matsumoto City is a 15 hectares wasabi farm that has been in operation since 1915. Its location and prosperity are no coincidence, as the fresh Alps water provides the most ideal conditions for the perfect wasabi.
Wasabi is a fickle root that takes a lot of effort to grow. If the leaves are damaged the whole growth process of the plant can slow down. The root needs constant caring since it requires plenty of fresh water. Furthermore, wasabi can take up to three years to grow for the flavor to fully develop. This is why some wasabi can be very expensive. But for those who love Sushi with wasabi, it's worth the wait and money.
During the warmer months with plenty of sunshine, farmers cover the wasabi with black nets so the sun doesn't damage their leaves. The temperature of the water at Daio Wasabi Farm is kept at a constant 13°C all year.
What to do around Daio Wasabi Farm in Nagano Prefecture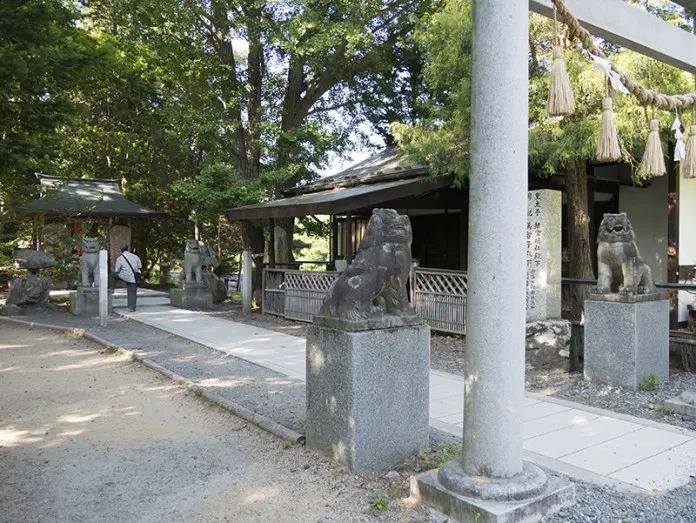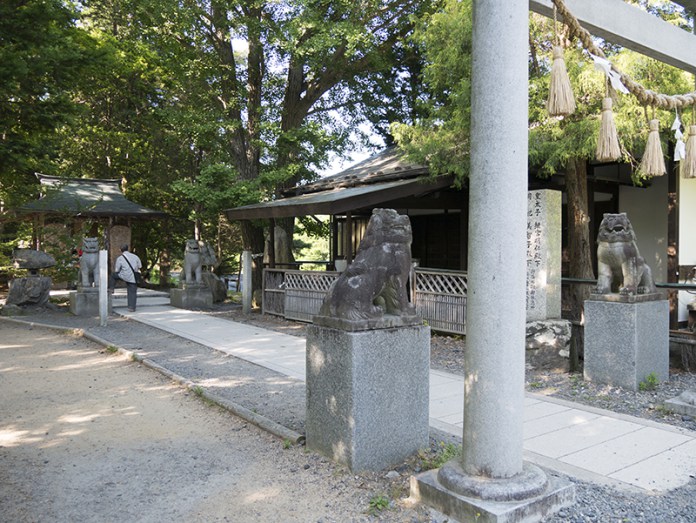 But the farm is not the only reason why visitors come to this area. There are beautiful walking trails between the fields. Here you can take in the fresh air and admire the crystal clear water from the Japanese Alps. 
Near the farm stands the Daio Shrine. The sacred spot enshrines the spirit of an ancient local hero in Nagano Prefecture, Hachimen Daio. It's no wonder the farm was named after him.
All the parts of the wasabi are harvested and processed for consumption. The restaurant and food stalls near the farm offer all kinds of food with wasabi. In fact, they even serve items like popular wasabi soba noodles and refreshing wasabi ice cream.
If that's not enough wasabi for you, stop by the gift shop and surprise your friends with some wasabi beer, wasabi chocolate, wasabi crackers, and more! So spice up your journey with a trip to Daio Wasabi.
How to get to Daio Wasabi Farm
If you want to visit one of Japan's largest wasabi farms in Nagano Prefecture, first go to Hotaka Station on the Jr Oito Line. Also, if you feel like taking in the fresh air, you can rent a bicycle! Find a ride at the front of Hotaka Station. The rental fee is 200 yen per hour. Admission into the farm is free, but be aware of the opening hours. 
Hours: 8:45am – 5:30pm (April – October), 9am – 4:30pm (November – March)
URL: http://www.daiowasabi.co.jp/ (Japanese only)
Nagano Photo Spot 5: Ukiyo-e Museum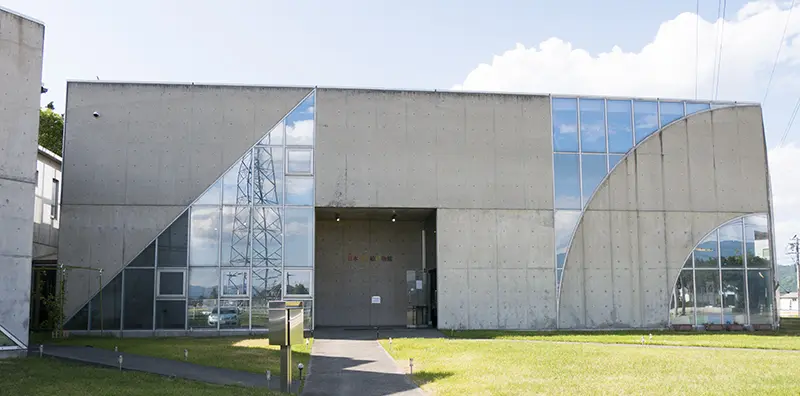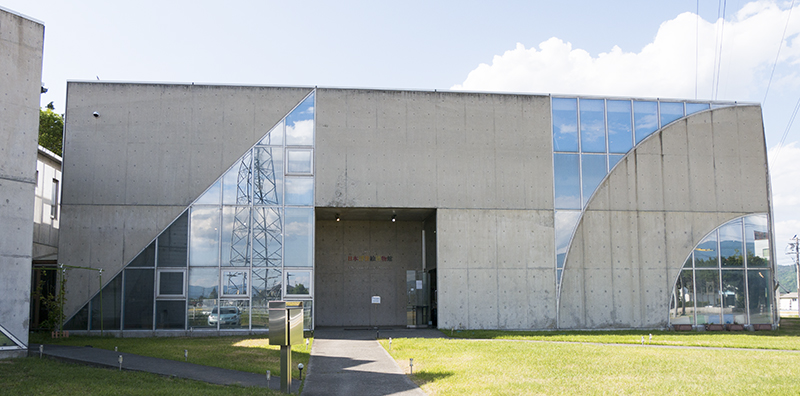 If you the the building is intriguing, just wait until you get inside and see the collection of Japanese woodblock print. 
Ukiyo-e, also known as Japanese woodblock prints, became a cultural phenomenon during the Edo era (1603-1868). But now they are admired around the world and many Ukiyo-e enthusiasts spend time and money to collect as many as they can to get their hands on.
One of the passionate collectors was Mr. Sakai, the second richest merchant in Matsumoto, Nagano prefecture. His extensive collection included paintings, scrolls, and art books. But among them were about 100,000 pristine Ukiyo-e prints. Thanks to the family's generosity, the prints have been made available to the general public and the Ukiyo-e Museum was established in 1982 in the city of Matsumoto.
How are Japanese Ukiyo-e woodblock prints made?
The Ukiyo-e prints are the results of a collaborative effort of three artisans; an artist, a woodblock cutter, and a printer. Unlike the modern machine-made prints, these prints require several woodblocks, sometimes dozens of blocks to produce. So, let's look at the process of making an Ukiyo-e print step by step.
First the artist draws his picture onto a piece of paper, this is later traced to a thin and partially transparent piece of mulberry paper. The picture is then transferred to a piece of cherry wood so the outlines are visible. A carver, called a horishi, uses different tools to cut out the image from the woodblock.
This takes special skill and years of training as some lines are very small and intricate. The woodblock cutter also has to make sure he does not break the piece of wood, or he has to start all over again. First, he makes one woodblock to print the outline of the picture in black.
How to add color to Japanese ukiyo-e woodblock prints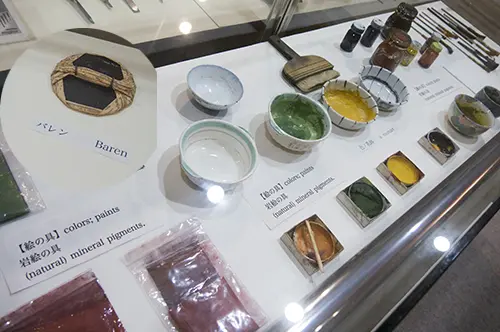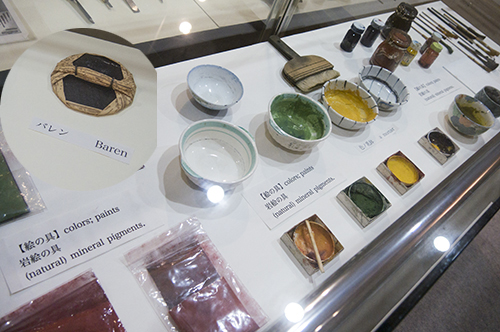 Ukiyo-e used to be full-black pictures. In the early 18th century, colors were added. This made the process more complicated, but the effects are stunning! Brushes for applying ink to the woodblock are made from horsehair and smoothed using shark skin. The Baren is a unique tool specially invented for woodblock printing. It is made with thin bamboo ropes and multiple layers of papers sheathed in a bamboo leaf.
For a picture with many colors, separate woodblocks have to be made for each color used. Once the blocks were made, the printer had a lot of flexibility in changing and choosing colors. Of course the artist designed a main image with specific colors in mind, but now new colors could also be used.
The paper is aligned on the block and the printing happens color by color and block by block. The principle in Ukiyo-e is that you start from the lightest colors and finish with the darkest. However, the outline is always done first.
The print always needs to be aligned perfectly on the block and the printer has to adjust the positioning many times. If the alignment is wrong and the colors are not inside the black outline, then the print needs to be made all over again.
Japanese woodblock prints paint a picture of the Edo period
These prints were made by the hundreds and were very popular among the general populace of old Japan. Looking at Ukiyo-e prints with many colors, you can really admire the effort and craftsmanship that went into producing these pieces of art.
At the Ukiyo-e Museum in Matsumoto you can take a closer look at the process and the tools used to make Ukiyo-e. And of course, don't forget to admire all the prints, which give you a glimpse of daily life during the Edo period.


How to get to Ukiyo-e Museum in Matsumoto
The Ukiyo-e Museum in Matsumoto is worth a visit for fans of art and Japanese culture. To get there, head to Matsumoto in Nagano Prefecture! Ukiyo-e Museum is just a 15-min walk from Ohniwa Station on the Matsumoto Railway Kamikochi Line. You can also take a 7-min taxi ride from Matsumoto Station on the JR Line.
Address: Shinkiri 2206-1, Shimadachi, Matsumoto, Nagano Prefecture
Hours: 10am – 5pm, closed on Mondays (open on National Holiday-Mondays, closed on the following Tuesdays)
Admission: 1,050 yen (Adults) / 530 yen (Elementary School to High School students)
The Museum is located beside the Japanese Court and Open Air Architectural Museum (Rekishi-no-sato). 
Nagano Photo Spot 6: Matsumoto Castle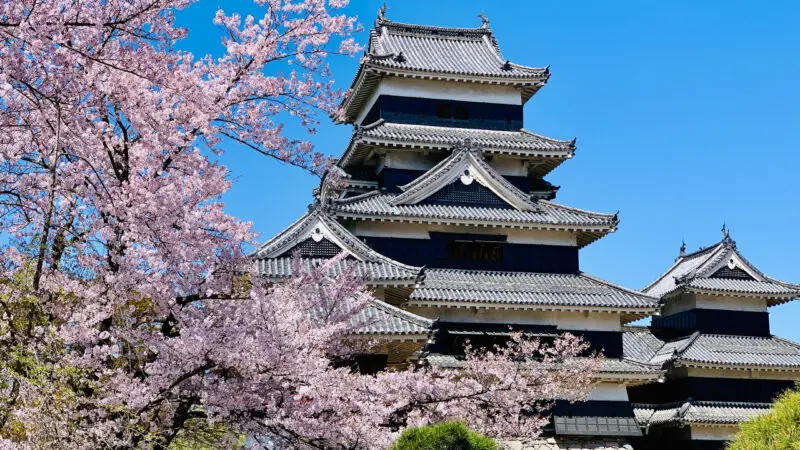 Matsumoto Castle is one of the oldest original castles still remaining in Japan. Besides being designated as a "National Treasure of Japan" and its beautiful surroundings, the castle holds an immeasurable historical value for the Japanese and the global audience alike.
The castle used to be known as Fukashi Castle but during the Sengoku era, then it was moved to another location and renamed Matsumoto Castle in 1582. Minor keeps, gates, and moat were being added and finally, the castle's main keep was completed somewhere between 1593-1594.
Because of its black wainscoting and roof decorations that seem to be flaring out, the castle was nicknamed "Crow Castle." Most of the original surroundings are still preserved but the gates and defensive measures have been upgraded to fit the standards of the modern world.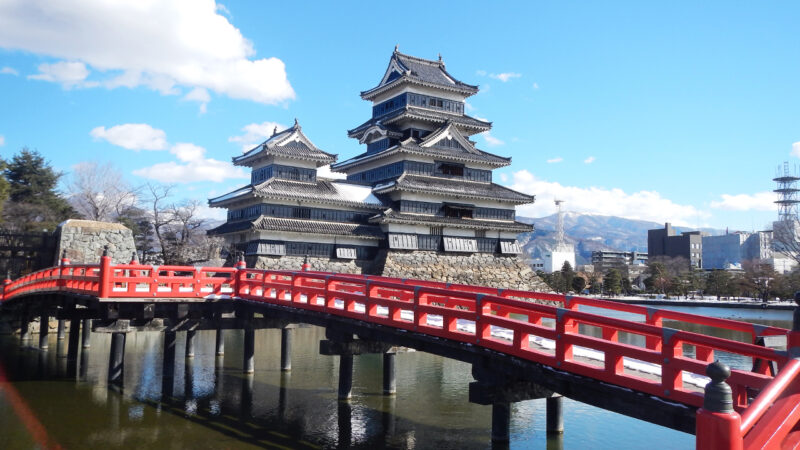 Matsumoto Castle is a flatland castle (平城 hirajiro). Its complete defensive structure consists of an extensive system of interconnecting walls, moats, and gatehouses. 
Inside the castle wall, there lived about a hundred samurai families. All of these samurai families were loyal to the lord of the castle.
The amazing Japanese architecture of Matsumoto Castle
One of the castle's secrets is that it has a hidden floor. From the outside, it seems like the main tower only has five stories, but it actually has six. The hidden annex area was used to hide weapons and gunpowder. 
The castle has a very interesting structure with wide passages and steep staircases. There are holes for defending the castle with bow and arrow all around the castle. These holes were later narrowed down for the use of guns. The wooden construction for the foundation floor curves inwards to follow the line of the stone foundation. Truly, Mastumoto Castle is a historical architectural marvel.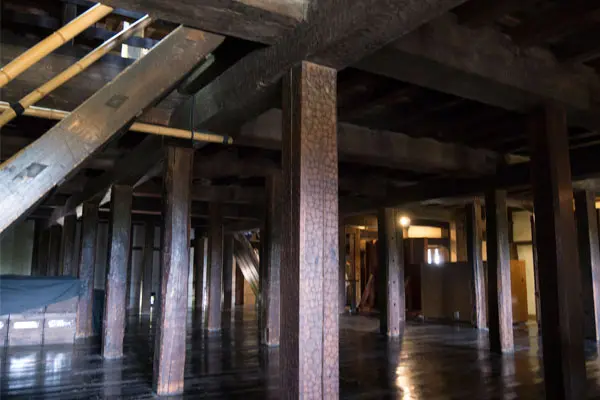 The sixth and top floor lies 22.1 meters above the ground and could be covered with 16 tatami mats for comfort. This floor was used as the headquarters of the "war lord" if the castle was under attack.
On the ceiling there is a shrine dedicated to Nijuroku-yashin, the 26th night goddess of the month. On the night of January 26th, 1618, one of the young vassals on duty saw a woman dressed in beautiful clothes.
She handed him a brocade bag and said "if the lord of the castle enshrines me with 500kg of rice on the 26th night of every month, I will protect the castle from fire and enemy." The deity is still enshrined in the castle rooftop to this day, and it is believed that because of this reason the castle has been able to survive as the oldest castle of Japan in its original form.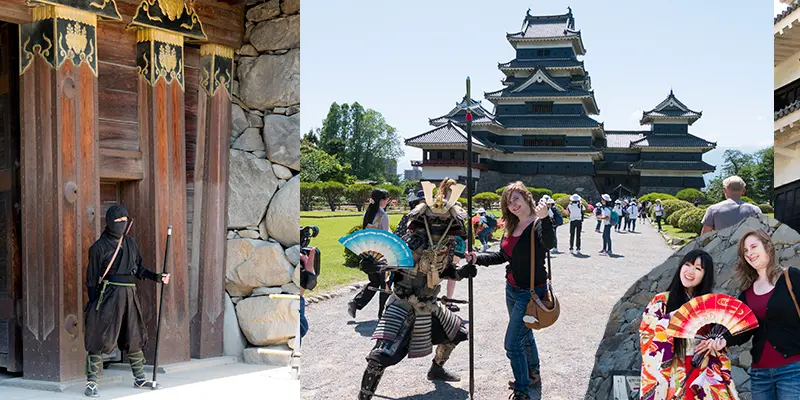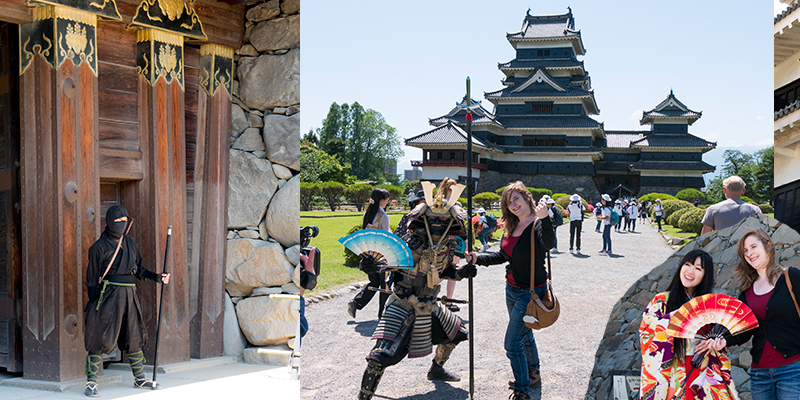 How to get to Matsumoto Castle in Nagano Prefecture
If you want to get an in-depth tour of Matsumoto Castle, volunteer English guides are available! The castle is a 15-minute walk from Matsumoto Station on the JR Line. You can also take a 5-minute bus ride from the station.
Hours: 8:30am – 5pm (doors close at 4:30pm)
Admission: 610 yen (Adults), 300 yen (Elementary School to High School students)
Closed: From December 29 until January 3
Nagano Photo Spot 7: The Bizarre World of Yayoi Kusama
At the forefront of the artistic avant-garde movement stands Matsumoto-born artist Yayoi Kusama. She has had many successful exhibitions abroad but her permanent museum is in Matsumoto City.
Born on March 22, 1929, Kusama started painting at an early age. However, her parents did not agree with her choices. As a result, she left for New York in 1957 without notifying her family after a short time studying in Kyoto.
The artistic foundations of Kusama Yayoi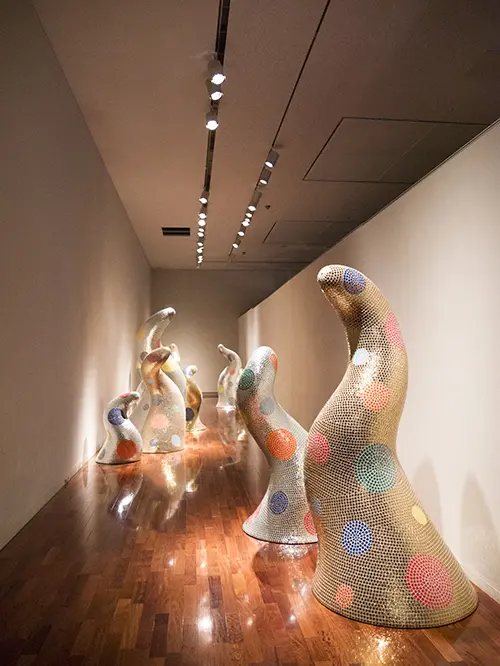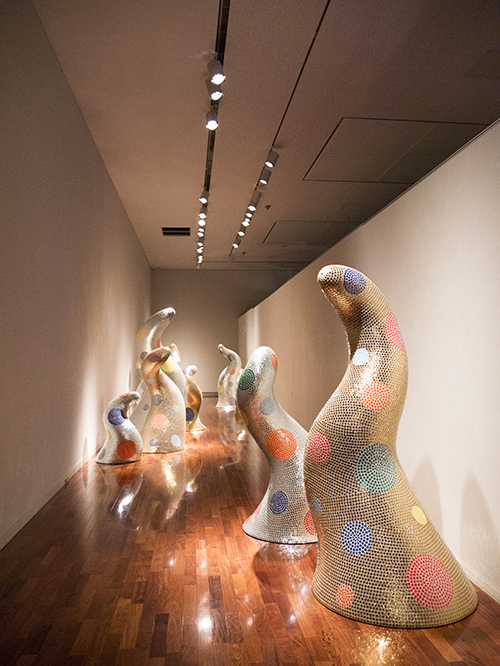 In New York, she spent almost twenty years surrounded by prominent avant-garde artists such as Donald Judd and Eva Hesse. In this environment, she felt inspired to create large artworks, installations, and events.
Being such an influential artist, Kusama has even been said to be an inspiration for many artists. Her admirers even include big names like Andy Warhol.
In 1973 she moved back to Japan and her mental health started to deteriorate. Eventually, she voluntarily admitted herself into a mental hospital in Tokyo and she still lives there today.
Though she remains at the mental hospital, she does not let her condition hold her back. During the day she commutes to her art studio just across the street to continue her work.
Recurring themes of Kusama's artwork are polka dots, mirrors and organic shapes. She creates large exhibits that the visitor can interact with or walk through. Most of the exhibits in the Kusama Yayoi museum bring the visitor into her world.
It's easy to visit the permanent exhibition of Kusama Yayoi in Matsumoto City. It only takes about 12 minutes from Matsumoto Station on foot. A bus will also get you there in about 5 minutes.
Hours: 9am – 5pm, closed on Mondays (but open on National Holiday-Mondays) and from December 29 – January 3.
Admission: 410 yen (Adult), 200 yen (University Student), FREE (elementary/junior high students and senior citizens)
Unique Japanese Ice Cream Flavors: A Sweet Bonus While Traveling around Matsumoto City
During our visit to Matsumoto City in Nagano prefecture, Wattention staff found some very interesting Japanese ice cream flavors. Traveling around Matsumoto City and other places in Nagano Prefecture in the summer, it was definitely refreshing to grab some special Japanese ice cream flavors throughout our journey. Please enjoy these unique finds when you make a trip to Matsumoto and don't forget to check out our other articles for more sightseeing spots.
Unique Matsumoto Ice Cream: Cream Cheese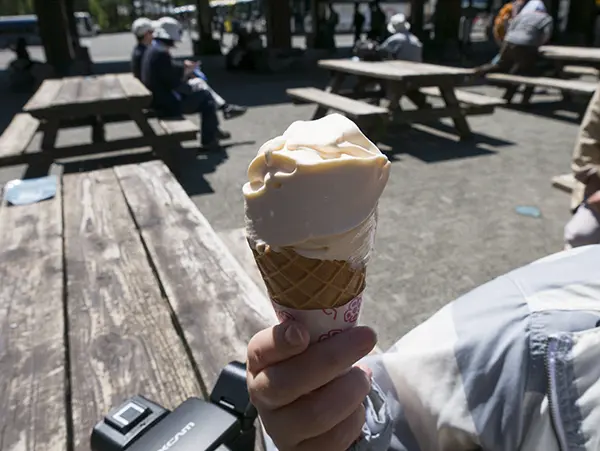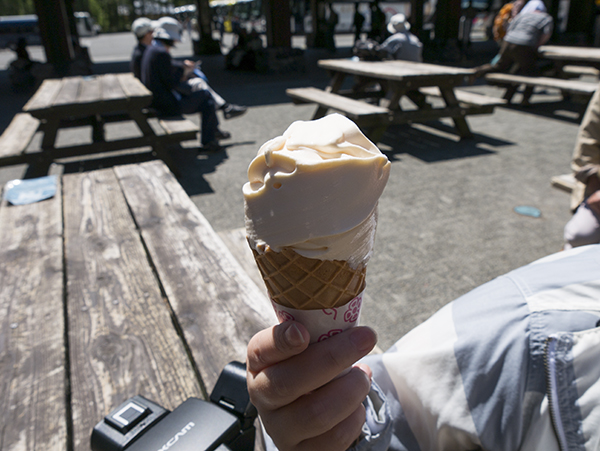 During our hike in Kamikochi, we tried this ice cream from a souvenir shop at the main bus terminal near Kappabashi Bridge. It's refreshing on a summer day, making it a great treat after hiking. It's no wonder people were lining up to get a cone of this unique Japanese ice cream flavor! I just couldn't get enough of this smooth, creamy treat in Kamakochi. Together with the beautiful scenery and pleasant atmosphere around the Kappabashi Bridge, it was an unforgettable memory. 
Unique Matsumoto Ice Cream: Wasabi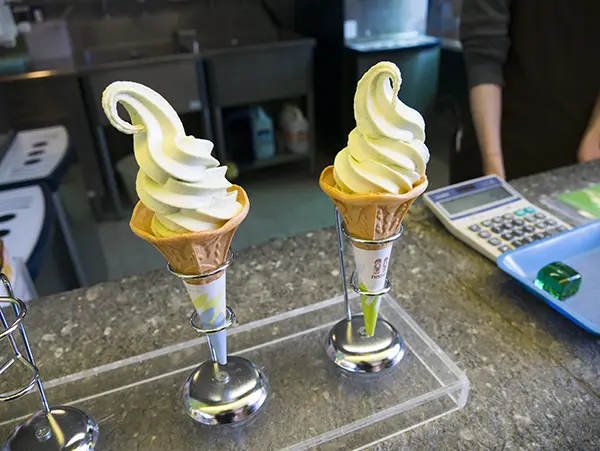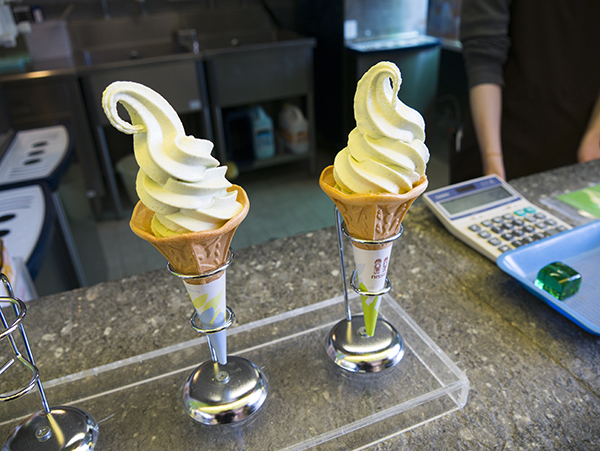 We all know it as that green spicy substance served with sushi, but did you know it also makes great ice cream? Of course, we had to try some for ourselves when we visited the Daio Wasabi Farm, one of Japan's largest wasabi farms. Though intimidating, don't be afraid to try this unique Japanese ice cream flavor. Even non-wasabi lovers will be able to handle it because there is no hint of the sharp wasabi flavor, you're only left with a nice and mild "green" taste.
Unique Matsumoto Ice Cream: Miso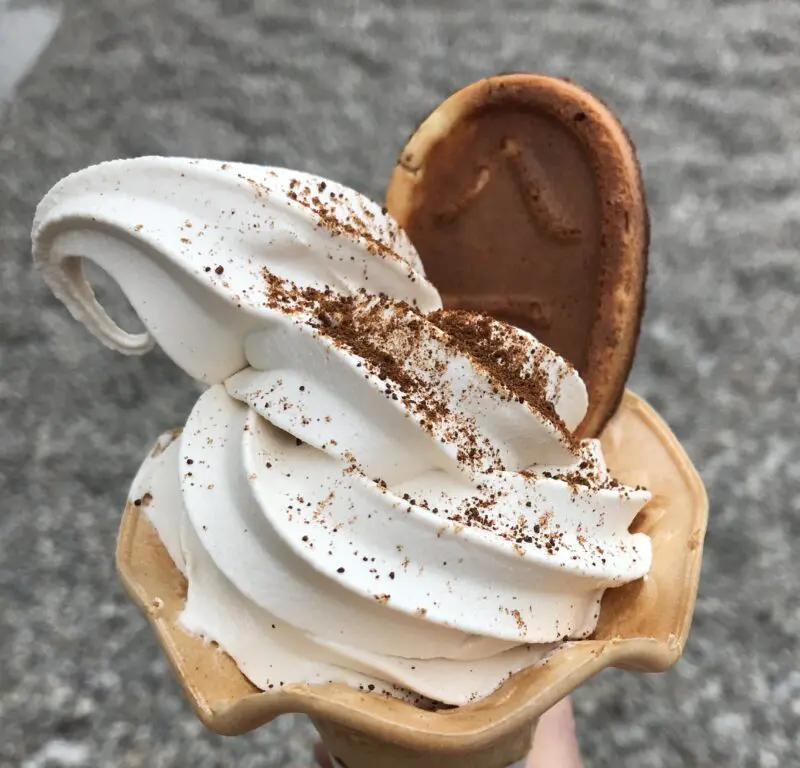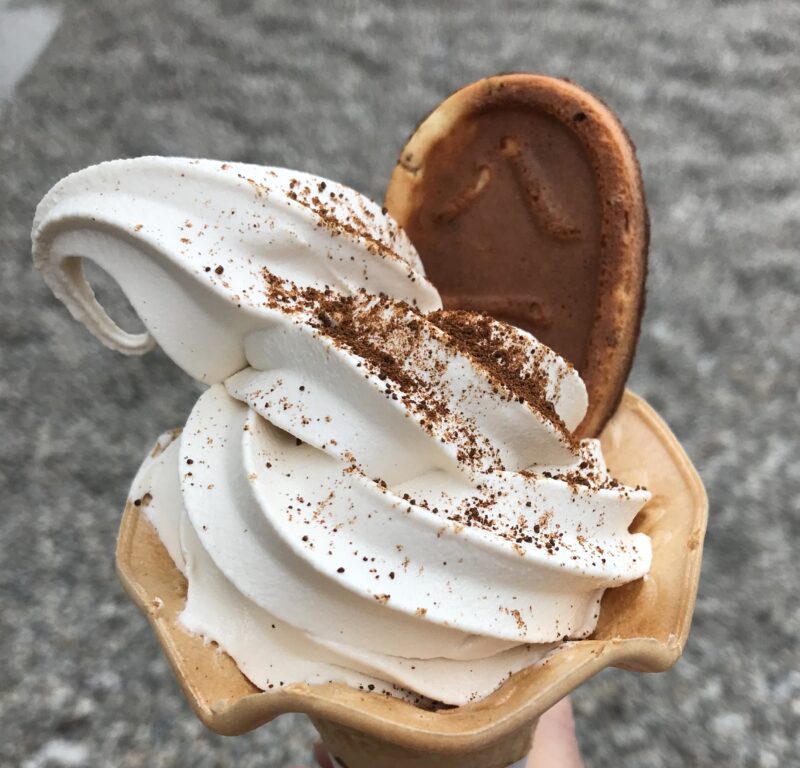 This miso-flavored ice cream was the weirdest that we tried. However, it was also the most surprising flavor in all of Matsumoto.
Miso is made from fermented soybeans and is a staple in the Japanese kitchen. Producing that unique Japanese umami flavor, miso is becoming loved all over the world. But we never would have thought about putting it in ice cream! This special Japanese ice cream flavor is very and reminiscent of sweet and salty English fudge.
This miso ice cream is only available at the Ishii Miso Brewery, so stop by for a taste!
As you can see, Matsumoto City in Nagano Prefecture is a great place to travel while in Japan. As you hunt for the perfect photo spot, Matsumoto also offers amazing culture and food. Along with your camera, bring an empty stomach and an open mind to explore all of the incredible sights around Matsumoto City in Nagano Prefecture.