Message from Fuji-Q, Mt. Fuji Area.
Hello from the Mt. Fuji area! The rainy season has ended in Japan, and now, things are heating up here. How are things in your area? This year, we couldn't have people come see our beautiful cherry blossoms bloom. Before we knew it, spring was gone, and it was summer. Usually, from the beginning of the year, the Mt. Fuji area is jam-packed with visitors: in February people come to do snow sports and other winter activities; between April and May, people enjoy seeing the cherry blossoms and the other kinds of beautiful, budding greenery; and from July, Mt. Fuji opens up for climbers. Kawaguchiko Station is normally jumping with tourists, but it's been awfully quiet these past months. Things are a little lonely out here nowadays, but we're keeping busy preparing facilities and equipment for when people can visit us again. We've heard that many countries are encouraging people to enjoy local trips, and Japan is doing the same. Fuji Kyuko operates many different leisure businesses on the open fields at the base of Mt. Fuji. Even during these troubling times, we offer you the most enjoyable and relaxing experience possible.
1. We challenge you to "Keep A Serious Face" on park attractions
With new guidelines for amusement parks to help prevent the spread of COVID-19 infections, we ask that park visitors refrain from screaming when riding attractions. Many have voiced that a "no screaming" rule is too strict and would be impossible to follow, so the presidents of our park created a video showing how to enjoy attractions silently. We ask that you watch it before coming to the park.
2. "Clear Canoe" attraction added last May
Unlike your usual canoe, this attraction features a canoe made completely out of transparent material. When you take a picture riding this, you get an unbelievable photo of yourself floating on water with Mt. Fuji behind you. A trip on the Clear Canoe is the ideal way to get your muscles moving again after an extended stay at home.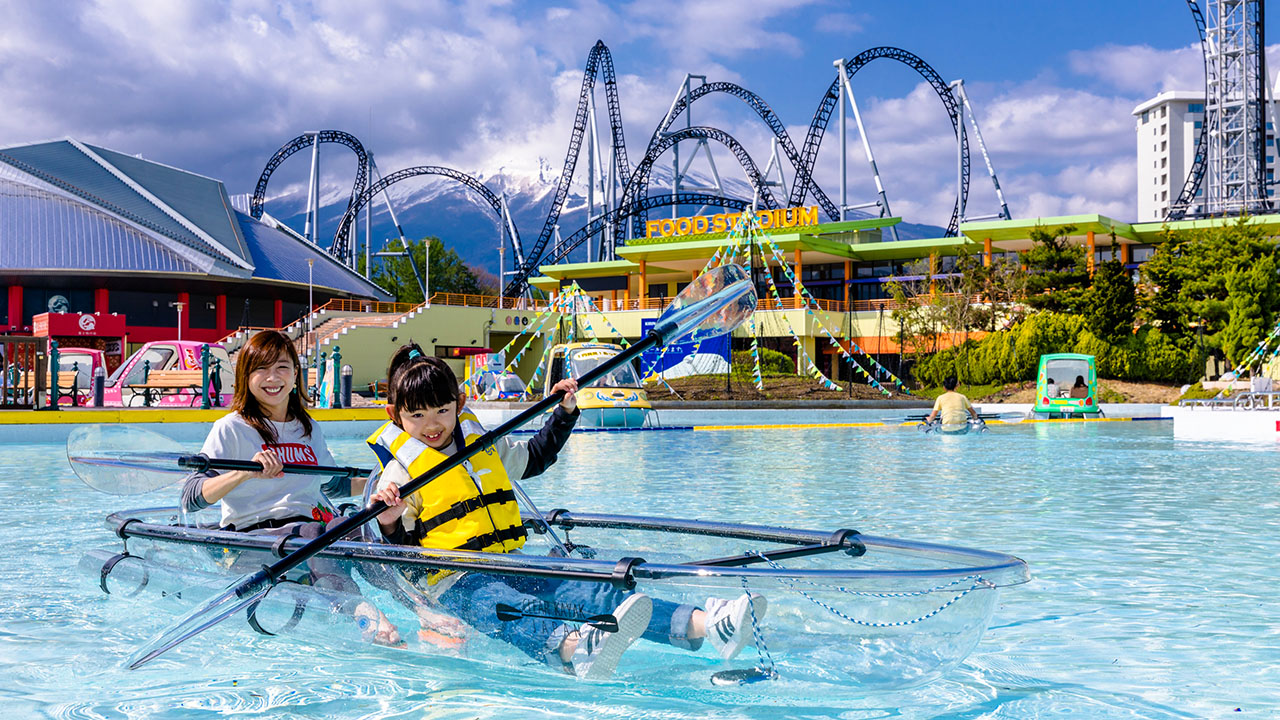 With the importance of social distancing nowadays, more people are turning to relaxing and high-end camping. We run five camping grounds in Yamanashi prefecture, three in Shizuoka prefecture, and one in Saitama and Kanagawa prefecture. Camp lodgings are very spacious, with each located a generous distance from others so you can enjoy a safe and private camping experience. The campgrounds and the lush surrounding nature are fantastic places to take a load off and enjoy some fresh air!
Our measures to prevent the spread of COVID-19
To prevent the spread of COVID-19 infections, the Fujikyu Group implements many safety measures, including the following four points, based on the guidelines from several organizations.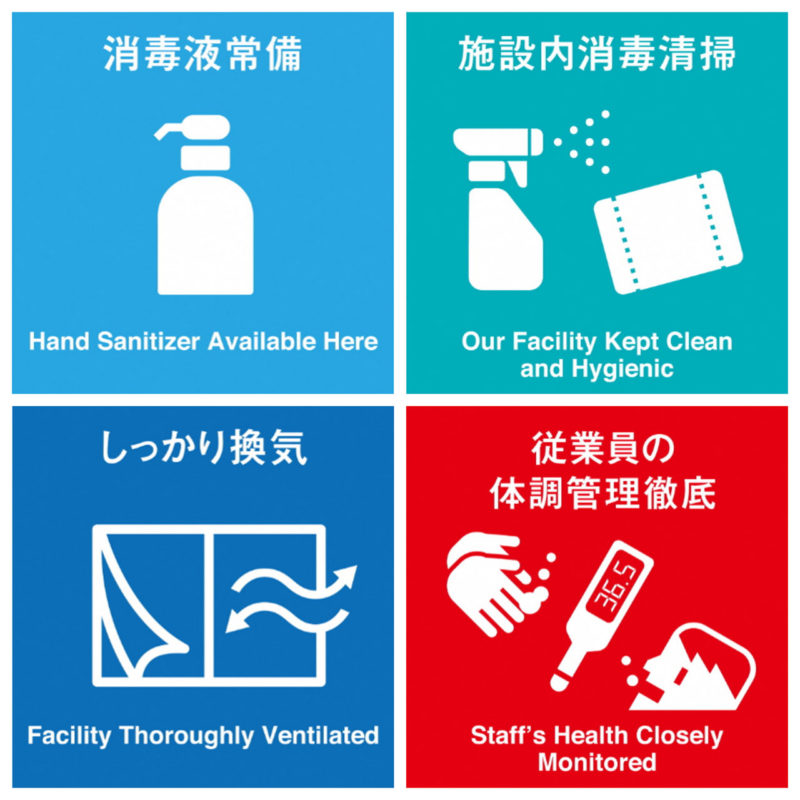 1. Implementation of the "Three Cs"
Staff and park guests are asked to practice social distancing, protective counter screens have been installed in parks, and indoor air is ventilated regularly to prevent the gathering of virus particles in the air.
2. Thorough disinfection of park facilities and attractions
All facilities and attractions, including transport vehicles, ships, accommodations, and play equipment, are disinfected.
3. Safety and health procedures for park guests
All park guests are required to have their temperature taken at park entrances, and asked to frequently wash their hands, use alcohol disinfectants, gargle, wear masks, and use proper coughing etiquette. Also, we ask that guests refrain from going outdoors when experiencing symptoms such as fever to limit the spread of the virus.
4. Thorough management of employees' health and office facilities
Fujikyu Group employees undergo daily health checks and office facilities are routinely disinfected.
Fujikyu Group is striving to create a safe and healthy environment for everyone to enjoy our parks and facilities with peace of mind.
We hope these difficult times will end soon, and life can return to normal at Mt. Fuji.