During the summer, many head to Mt. Fuji to either visit the Fuji 5th Station or climb to the summit, but we decided to switch things up and explore less known spots around and on Mt. Fuji.
We started our journey at Shinjuku Station, transferred at Otsuki Station, and finally arrived at Fujisan Station. For those exploring the area, the Mt. Fuji Pass is the perfect way to travel with ease as it can be used on local transportation and other tourist attractions and facilities (including entry to Fuji-Q Highland!) in the area.
※Since the Japan Railway Pass is not valid between Otsuki Station and Kawaguchiko Station (Fuji Kyuko Line), purchase the Mt. Fuji Pass in addition, to discover the area around Mt. Fuji to its fullest.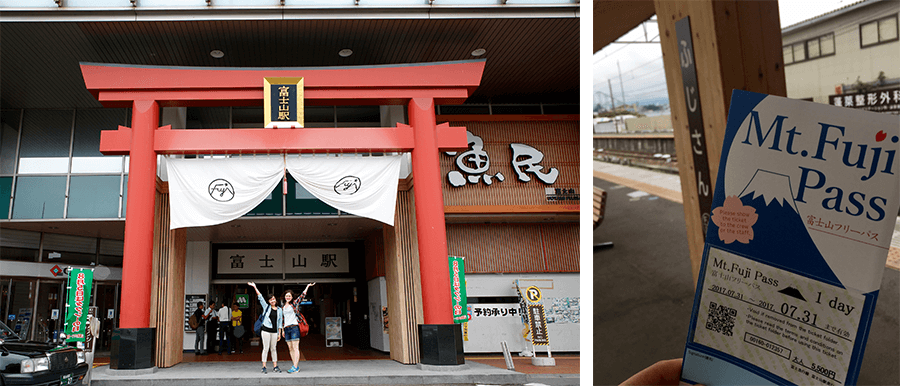 From Mt. Fuji Station, we took a local bus to Kitaguchi Hongu Fuji Sengen-jinjia Shrine, which was originally the starting point for pilgrims climbing Mt. Fuji over 500 years ago. Walking up the peaceful path lined with enormous cryptomeria trees and moss-covered lanterns, you feel as though you stepped into a magical realm. After saying a prayer at Fuji Sengen-jinjia Shrine, we purchased a shuincho (translates as "red seal booklet") where you can collect seals from government registered shrines. It's truly mesmerizing to watch the penmanship as the shrine's name is inscribed before the seal is stamped.
Walking back to Mt. Fuji Station, we came across a charming street with a historical vibe called Fuji-michi. Here, oshi (lodges for pilgrims) use to line the road, offering a place for pilgrims to rest and bath (in water from Mt. Fuji) before their religious journey up the holy mountain. We stopped by The Togawa Oshi House to learn more about the history of the Mt. Fuji pilgrims and oshi, giving us a new perspective of the significance of Japan's iconic mountain.
We hopped on the bus headed for Fuji 5th Station and got off at the Okuniwa Bus Stop to explore the Okuniwa National Park First. The 40-minute walk from the bus stop to the park is a very family-friendly trail. As we walked down the moss covered forest, we came across a rest house (Okuniwaso) where many bird watchers gather. Here we stopped to have lunch, which entailed a feast of homemade Japanese cuisine with kokemomo juice (cowberry). Perfect way refuel for our hike ahead!
Next off, we crossed the street over to the Ochudo trail, which is said to be the border between the human and spiritual realm. We walked for 70 minutes to get to Fuji 5th Station and this was a journey that left us in awe. Never a dull moment, this family friendly trail offers scenery that is continuously changing with every blinking moment, revealing mother nature's grandness. It is the perfect way to enjoy Mt. Fuji without having to climb to the summit!
After a peaceful time hiking, we are met with civilization again at the Fuji 5th Station where there is the Fuji Komitake-jinja Shrine, gifts shops and restaurants. What better way to let your family and friends know about your adventure than by sending a postcard from Mt. Fuji Post Office!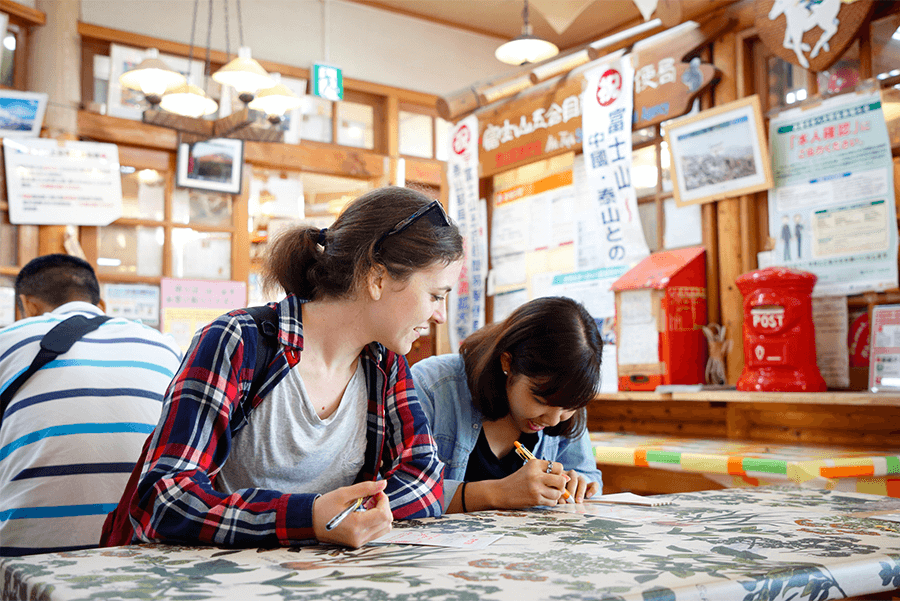 We called it a day at Unjo-kaku, where we spent the night at their lodging where they offer capsule beds, showers and toilets. Ever sleep in a capsule before? Well, FUJIKYU UNJO-KAKU offers spacious and comfortable cocoons for a good night's sleep! After picking our Fuji-themed souvenirs at the gift shop on the first floor, we enjoyed a warm and nutritious meal at the restaurant on the second floor while reflecting our experience that day.
3a.m. time to wake up! Yes, we woke up in the middle of the night to hike to Fuji 6th Station to see the sunrise; completely worth it! It's chilly and dark as you hike up the somewhat challenging trail, so it is wise to dress warm and take a headlamp. Watching as the sky slowly lights up in many shades of colors with the grand entrance of the sun was the perfect way to start the day for our next adventure!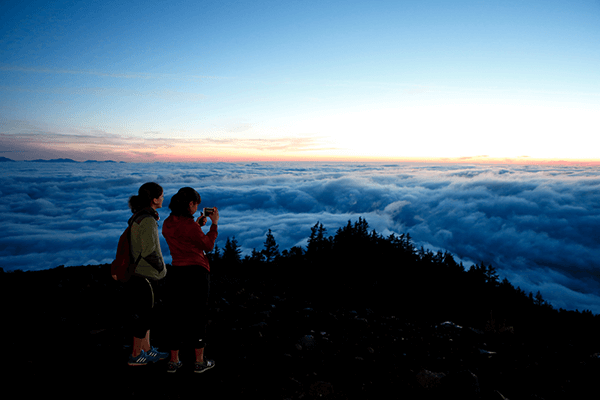 ——————————————-
Mt. Fuji Pass can be used on this route.
— local bus
— bus headed for Mt. Fuji
——————————————-
Continue reading, go to DAY TWO
Enjoy the Mt. Fuji Area to the fullest with this useful tool
・Mt. Fuji Pass 
This is a tourist pass especially made for foreigners visiting Japan. Save on sightseeing and transportation and get preferential access to different tourists facilities, including Fuji Q Highland.
Find out more here:
http://bus-en.fujikyu.co.jp/mtpass/