With over 600 resorts to choose from, Japan is well established as a veritable snow sports paradise. Here you can enjoy some of the best snow conditions anywhere, with deep powder that has reached a legendary status among enthusiasts the world over. Hokkaido in the north is the most famous destination in the country, but you don't actually have to leave the mainland to get world-class snow conditions. In fact there are some slopes you could even call Tokyo ski resorts, because they are so easy to reach from the capital.
Accessible from Tokyo, the Japanese Alps are a mountainous region in the center of the country, spanning four different prefectures. All four have some excellent resorts, many with around 15m of snowfall each year! Heading a little further north, you'll find plenty of great mountains in the northern prefectures of Honshu, with conditions much like the pristine slopes of Hokkaido.
In the past, it would have taken a considerable effort to reach these places. But nowadays, with the help of the super-fast Shinkansen bullet trains, you can access all of the amazing high-altitude pistes of these regions in just a few hours from Tokyo!
The Japanese Alps/Central Japan
Near Tokyo ski resort 1: Hakuba Valley (Nagano)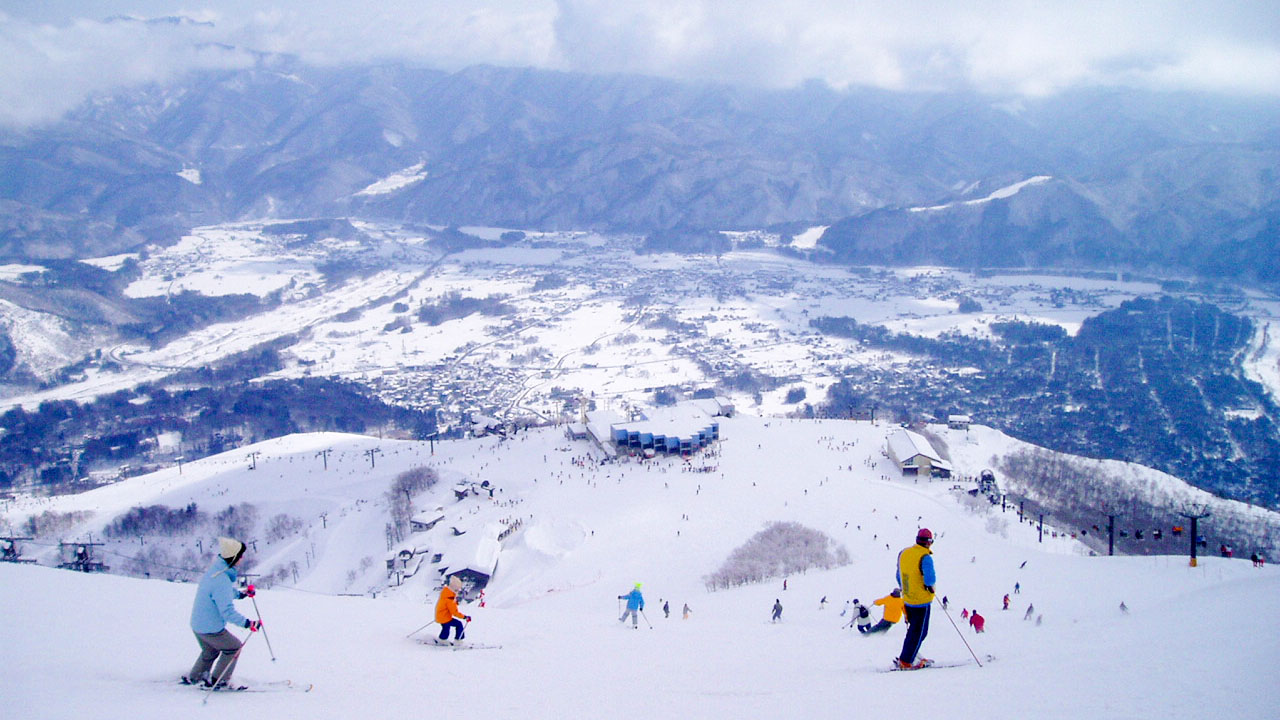 A true skiing and snowboarding playground, this expansive area is known as the heart of Japanese winter sports. In 1998, the Winter Olympics were held here, and the valley has held on to its reputation as a real world-class destination ever since. It's actually comprised of 11 separate resorts with good connections between.
There are trails to suit any level of ability, with 200 different pistes and a total of 136km of trails between them. Hakuba Valley also enjoys quite a long season, since most of its peaks reach up to 3000 meters above sea level. This means high-quality powder for months on end!
As for which resort to base yourself in, you can't go wrong with Shiga Kogen or Happo One: both of these spots have a great choice of bars and restaurants. The closest city to Hakuba Valley is Nagano, which can be reached in close to 90 minutes from Tokyo.
Near Tokyo ski resort 2: Nozawa Onsen (Nagano)
Also in Nagano you'll find this long-established snow sports and hot spring favorite. It's been in operation for almost 100 years — about as long as skiing has been in Japan — meaning you can get a true taste of tradition at the town here.
The slopes themselves are quite extensive, with around 48km of trails. This is a great place to visit with a mixed-ability group, because beginners can happily cruise along the numerous blues and greens while advanced skiers can hit the mogul runs, 39 degree incline, and half pipes.
If your legs need a break from all of the action, then head along to any one of the many public onsen in the area. Alternatively, take a trip to nearby Jigokudani Snow Money Park, home to the world-famous bathing snow monkeys!
Near Tokyo ski resort 3: Yuzawa (Niigata)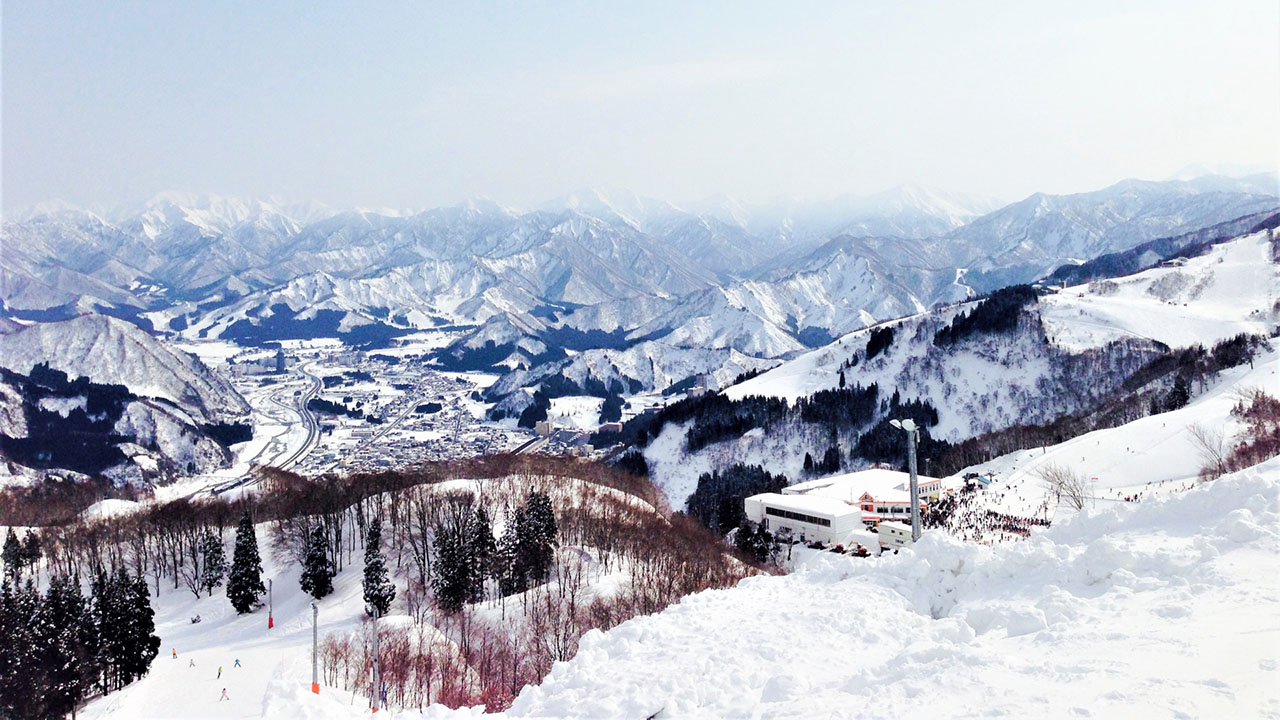 Heading over to Niigata Prefecture, you'll find the easily accessible from Tokyo ski resort Yuzawa. Yuzawa is a collection of 12 different resorts with excellent connections between them. You could spend a month exploring every inch of the almost 200km of trails here, and never see the same part twice. Many of the resorts offer package deals on lift passes, meaning you can tackle at least two or three within your time here.
The slopes are suitable for experts and beginners. For those who want ultra-high-level adventures, there are also plenty of places to go off-piste. One of the best resorts in the area is GALA Yuzawa, so consider basing yourself from there during your visit tog et the most out of your time.
If it's a day trip you're looking for, then that's also very possible. From Ueno to Echigo Yuzawa Station, it's only about 90 minutes via train. In fact, this is probably your best bet for a comfortable, easy day trip with guaranteed great snow conditions.


Near Tokyo ski resort 4: Naeba and Kagura (Niigata)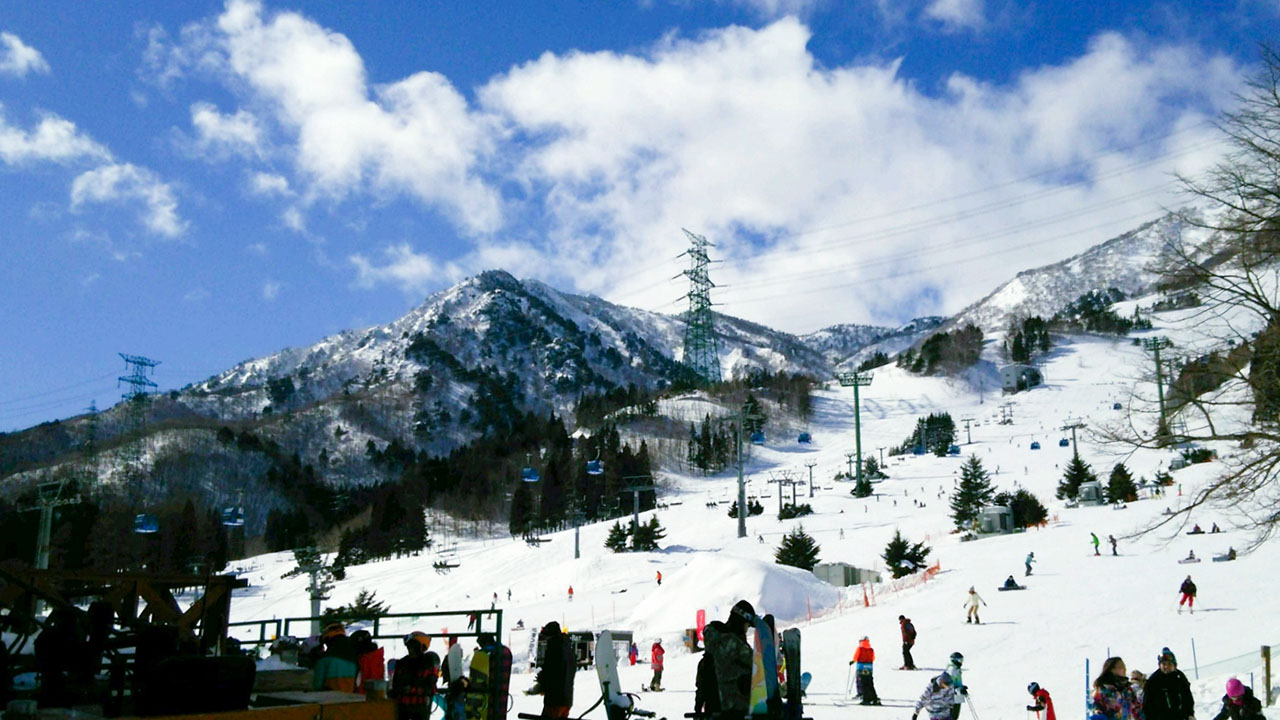 Niigata has a few other hidden gems for powder chasers and leisurely cruisers, and these twin resorts are two of the best. Although separated by quite a few miles of mountain, these accessible from Tokyo ski resorts are connected by an extremely long gondola cable car, nicknamed the Dragondola.
Naeba is probably the best place to base yourself, with a good range of difficulties among its 27 runs. It's a new resort with excellent facilities such as a kids' winter playground, hot springs, and a downhill course. Perhaps the greatest draw is that you can expect good snow conditions here right up until May!
Take the 25-minute gondola trip to arrive at Kagura. This resort is better suited to beginner and low-intermediate skiers, as the runs are wide, gentle, and offer some beautiful views of the lake below.
Near Tokyo ski resort 5: Myoko Kogen (Niigata)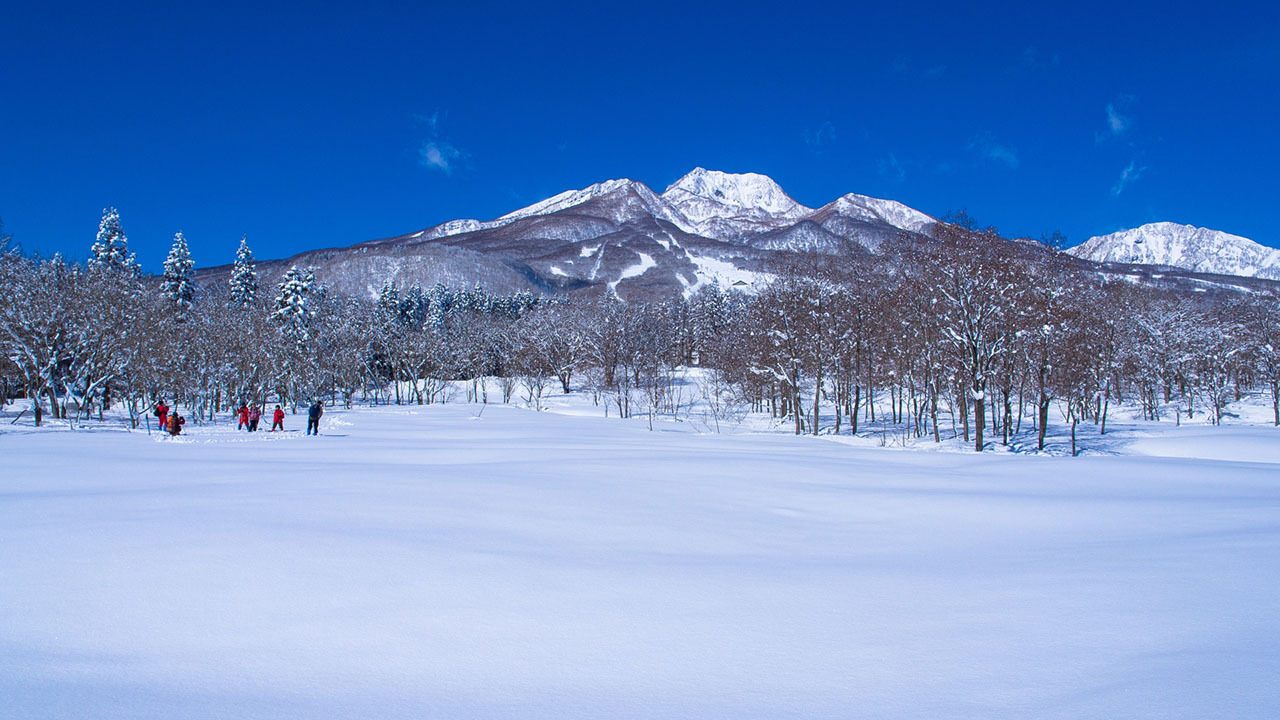 As one of the oldest snow sports areas in Niigata, Myoko Kogen is a great place to soak up some historic Japanese atmosphere when you're done on the slopes for the day. This near to Tokyo ski resort was established in the 1930s, and many of the businesses in the area have been run by. the same families since those early days.
There are 9 different resorts in the area to choose from, but if you enjoy long runs then Myoko Suginohara is the one for you. This resort boasts the longest single run in Japan at over 8.5km!
The total journey time from Tokyo shouldn't exceed 2 and a half hours, so Myoko Kogen is suitable for both day trips and longer stays. With an average of 15m of snowfall each year, the exquisite powder alone is enough reason to make journey.
Near Tokyo ski resort 6: Karuizawa Prince Hotel Ski Resort (Nagano)
As far as accessibility goes, it's difficult to beat Karuizawa. Among the Japanese, the area is known as one of the best places for outdoor adventure. In the winter months, the Karuizawa Prince Hotel Ski Resort opens its slopes extremely early thanks to the efforts of their advanced snow machines. You can ski here from the start of November onwards, with conditions peaking in January.
The pistes are split 50-50 between beginner and advanced, with a total 10 to choose from. There's also a nice-sized terrain park with plenty of features to keep thrill seekers entertained for days, making this place suitable for families and mixed-level groups.
The slopes are accessible in just a few minutes from the Karuizawa Shinkansen station, itself reachable in just 1 hour from Tokyo! There are some great facilities to enjoy before or after the skiing, including the Prince Shopping Plaza and a snow park playground for young kids.
Near Tokyo ski resort 7: Fujiyama Snow Resort Yeti (Shizuoka)
While the other resorts Japan tend to open their slopes in December, Snowtown Yeti really gets ahead of the game by opening in October! This is only possible because they have the snow-making machines running full blast, providing a great chance to get your legs ready for the season ahead!
This may not be the biggest resort in Japan by any means, with just 4 runs and 2 lifts, but it is certainly one of the most convenient accessible from Tokyo ski resorts. You can get here on a budget by taking a 2-hour bus from Shinjuku Station. The resort is actually found on the slopes of the famous Mt Fuji, so expect some lovely scenery in the area.
The two main runs are 1km in length, and provide a leisurely experience for beginners. Higher-level skiers will want to head to the shorter but steeper slopes for some more excitement. One of the most unique features of this resort is that night skiing is available throughout the small hours, until 8AM in the morning!
Near Tokyo ski resort 8: Appi Kogen (Iwate)
This resort has garnered something of a luxury image for itself in recent years, and with good reason. Known by some as the St Moritz of Japan, Appi Kogen is home to some real high-end accommodation and facilities.
The pistes themselves are also worth shouting about, with 21 separate runs and 45km of total track. You'll find everything from tricky mogul runs to leisurely beginner slopes among them. Although the après-ski nightlife is a little lacking compared to some other resorts, this place does offer plenty of activities for families.
Iwate Prefecture is fairly easily accessible from Tokyo, at just 2 hours and 40 minutes to the capital city of Morioka, and a 1 hour local train to Appi Kogen. If visiting this resort, you'll want to stay at least one or two nights to get the most out of your trip.
Near Tokyo ski resort 9: Zao Onsen Resort (Yamagata)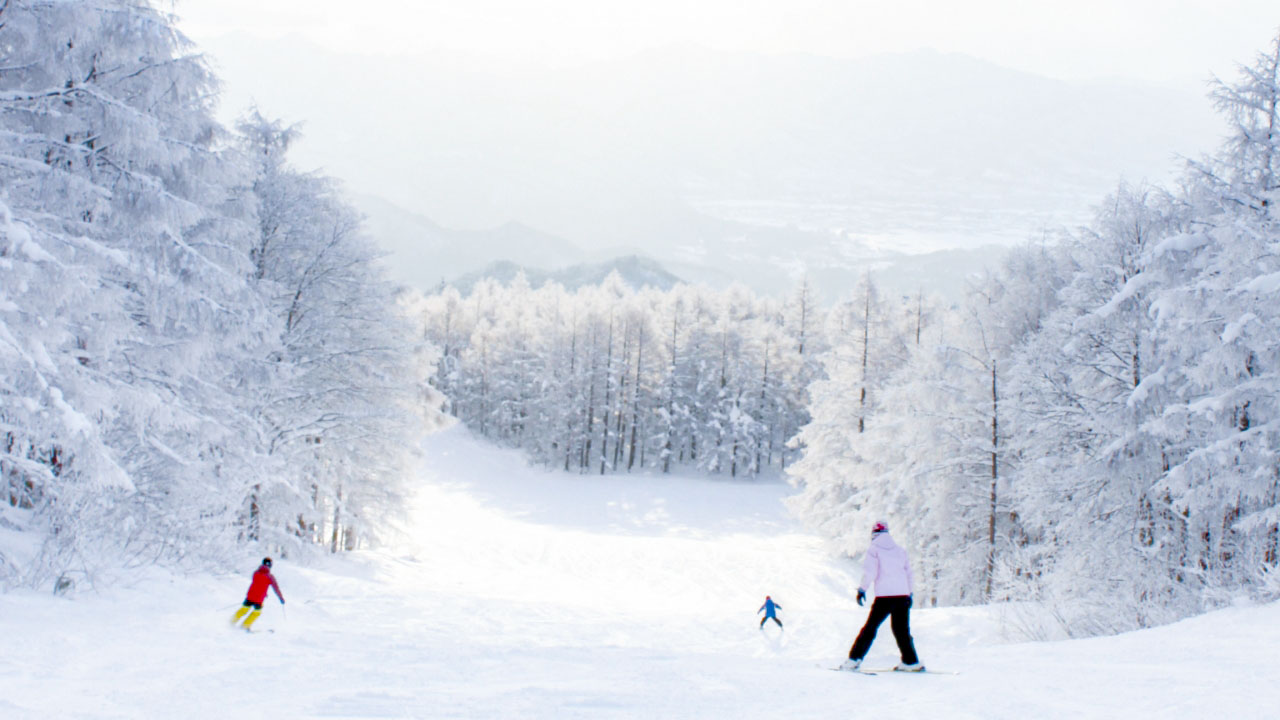 The history of this near Tokyo ski resort dates back before skiing even came to Japan, when it was popular as a hot spring destination for centuries prior. Since the mid 20th century, it's also been one of the country's top snow sports spots, with over 40 lifts and an extensive network of pistes.
You might have heard of this place before due to the infestation of Zao Snow Monsters, which you're free to ski among. Before you start panicking, they aren't going to eat you; these monsters are just strange-looking formations made when the cold Siberian winds cover the trees in snow and ice! Skiing among them is quite a unique experience (and great photo op)
To get there, take the Shinkansen for about 2 and a half hours to Yamagata Station. After that it's just a 40 minute bus to the resort, where you can stay at a traditional ryokan inn with gorgeous outdoor onsen attached.
Near Tokyo ski resort 10: Hakkoda Ski Resort (Aomori)
If world-class powder snow is what you're after, then Hakkoda is the place to go. You'll have to travel a little further from Tokyo for this one, but true powder-heads won't regret it. The Tohoku Shinkansen can get you to Aomori in around 3 hours, after which you'll need to take a bus for about an hour.
The relative remoteness of the location — perched on the very tip of Japan's main island — means that you won't be facing much competition for space. For the dedicated pilgrims who make their way to Hakkoda, some of the best snow conditions in the world await; the annual snowfall regularly reaches almost 20m!
Those partial to off-piste action will love exploring the expansive wild spaces, with over 2000m of vertical drop and thousands of snow-caked trees to weave between. Be warned though: this is not a place for beginners! Only hit these slopes if you know how to take care of yourself on a mountain.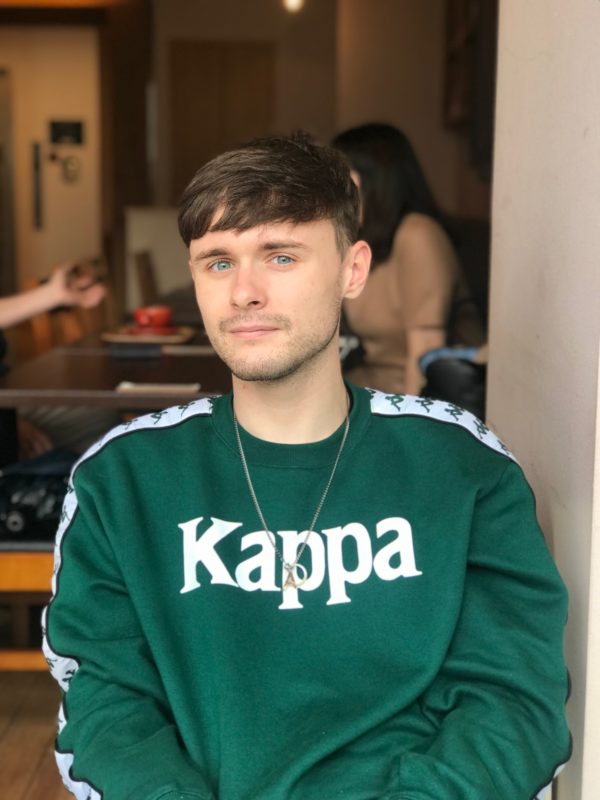 Hi everyone! I'm a freelance writer from sunny Scotland with a love of history, literature, and techno. It's been around 7 years since my first trip to Japan and life hasn't been quite the same since. For the past 2 years I've been living and working in Tokyo. Through my writing I hope to share with you my fascination for this always interesting, often bizarre country.
*Disclaimer:
This article was written by an outside writer, and WAttention is not responsible for any damage caused by the information on this page. Please be aware that the accuracy of the information posted in this article is not guarantied, and the content may be changed without notice.