The way of tea or "chado" tea ceremony is an elegant Japanese tradition that shows the utmost respect to the guest and dates back to the 9th century. A tea ceremony involves not only excellent tea, but also beautifully sculpted wagashi (Japanese sweets), and artistic cups and utensils.
In the past, a tea ceremony used to be a rare experience of the high classes, but presently, anyone can participate in a tea ceremony in the heart of old Edo and today's Tokyo, Nihonbashi. Two WAttention Ninja reporters went to experience a tea ceremony by Gahou-kai school, taking place in Tsuruya Yoshinobu, a legendary Japanese confectionery maker. This experience will be open for everyone on two separate occasions: December 6th, 2018 and January 2nd 2019. Read on for the experiences of our reporters and more details on how to join one yourself.
If you want to learn more about the history of tea ceremony, check out our article on Japanese Tea Ceremony: History & Philosophy.
---
"Everything was carefully considered, from the position of their tools, to the noise their last sip makes. " – June Culp
" I realized that tea ceremony is not just a ritual of the physical, but also of the spiritual." – Sabrina Tiffany
---
text by June Culp 
Tea ceremony or 'chado' is a practice born from Zen Buddhist principles and aesthetics representing harmony, respect, purity, and tranquility.  It is not difficult to understand how these virtues manifest once you experience your first ceremony.
On a cool November morning, across from the historic Mitsukoshi building, I stepped inside a confectionery store called Tsuruya Yoshinobu in Nihonbashi. Looking through their windows, I had already begun admiring their unique flower display and delicate looking sweets called wagashi.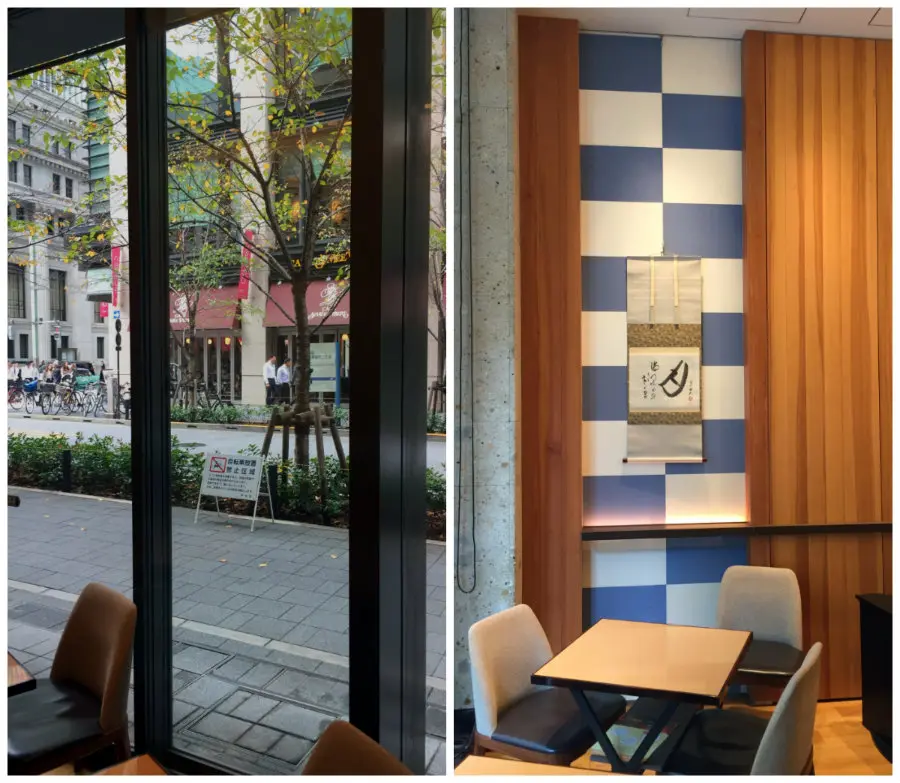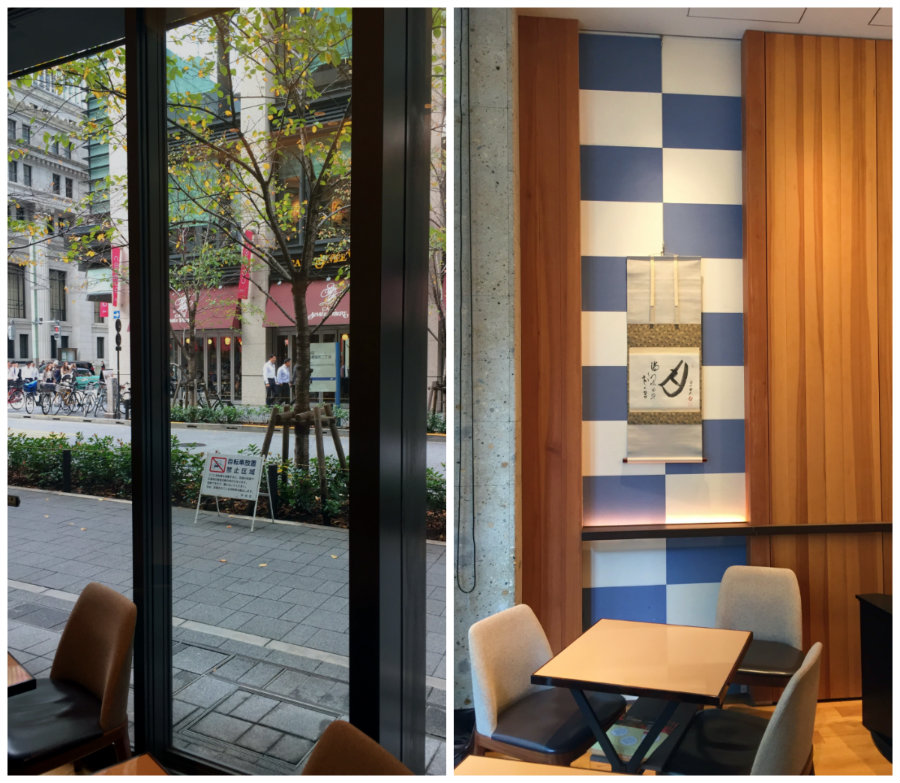 Upon entering, my group was greeted by three elegant women in kimonos.  We were politely seated at a counter exhibiting four different wagashi, each reflecting the current season's symbols.  A man behind the bar wearing a beige ensemble recreated the sweets one by one. Walking us through the process, he shed insight on the ingredients, color choices, and name origins.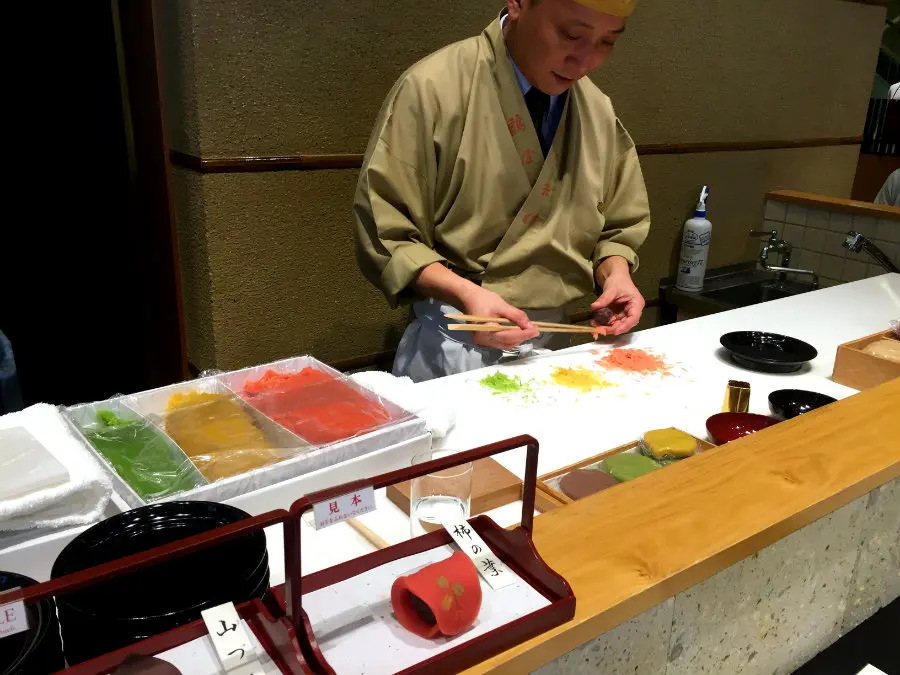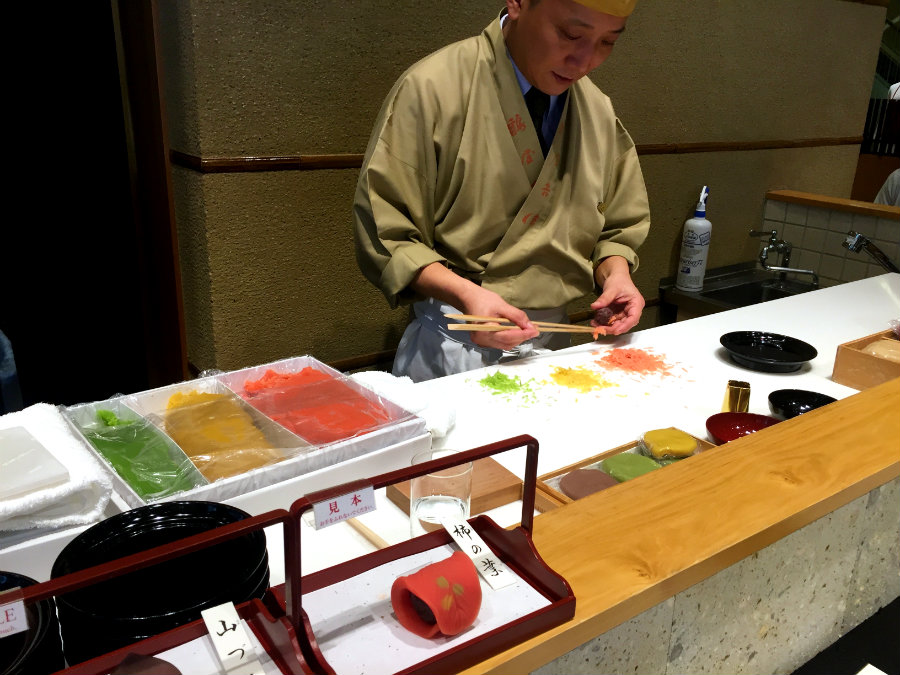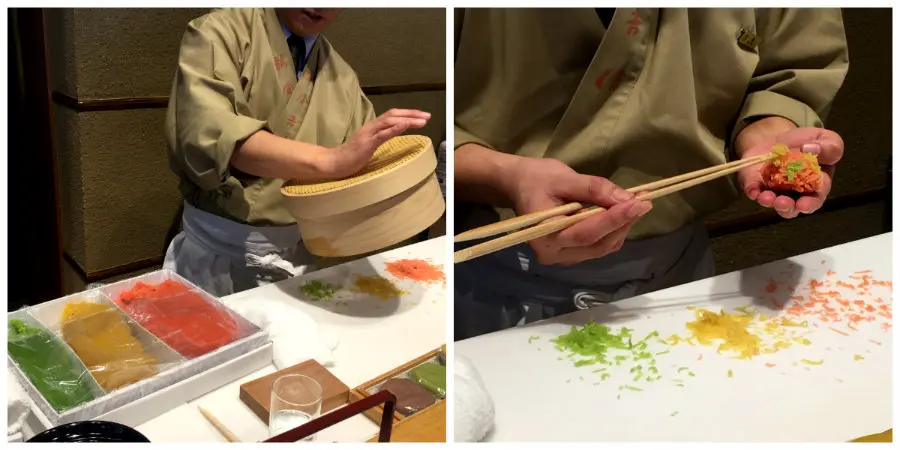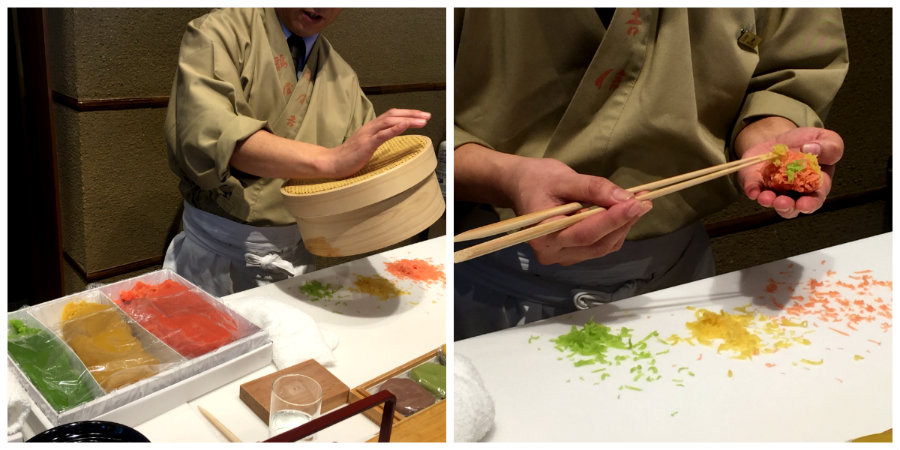 Already, ripples of calmness had transfixed me as I watched his careful but swift movements. The chef made the assembling look effortless with his execution, his craftsmanship growing evident once I noticed the subtle intricacies of the sculpted sweet. The use of leaf veins imprints, spots of yellow/green/red referencing autumn, and delicate layering of sugar shavings were just a few examples of the chef's exquisite details.
After we picked which wagashi we'd like to eat with our matcha, we were ushered into a tea room in the back.  Two rice paper covered walls, a wooden wall with a hanging scroll, and one giant glass wall looking out onto the cosmopolitan streets enclosed us in a little room. We sat at two person tables awaiting directions from the three women in kimonos seated at the head of the room. A few simple tea utensils made from bamboo, a rather large but modestly decorated tea bowl, a metal kettle heated by coals, a small lidded container holding matcha powder, and a larger one holding water laid before one of the women. She would be the demonstrator, the second woman the narrator, and the third – the translator.
They showed us the ritual of preparing matcha tea, drinking the tea, and cleaning the utensils. Everything was carefully considered, from the position of their tools, to the noise their last sip makes. The Japanese sweets balanced out the bitter taste of the frothy matcha tea. The entire process was sealed with slow and low bows and the influence of Zen resonated throughout…..well, until it was our turn to try and mimic what we just witnessed. To no one's surprise, it takes a lot of practice to get this old tradition down right.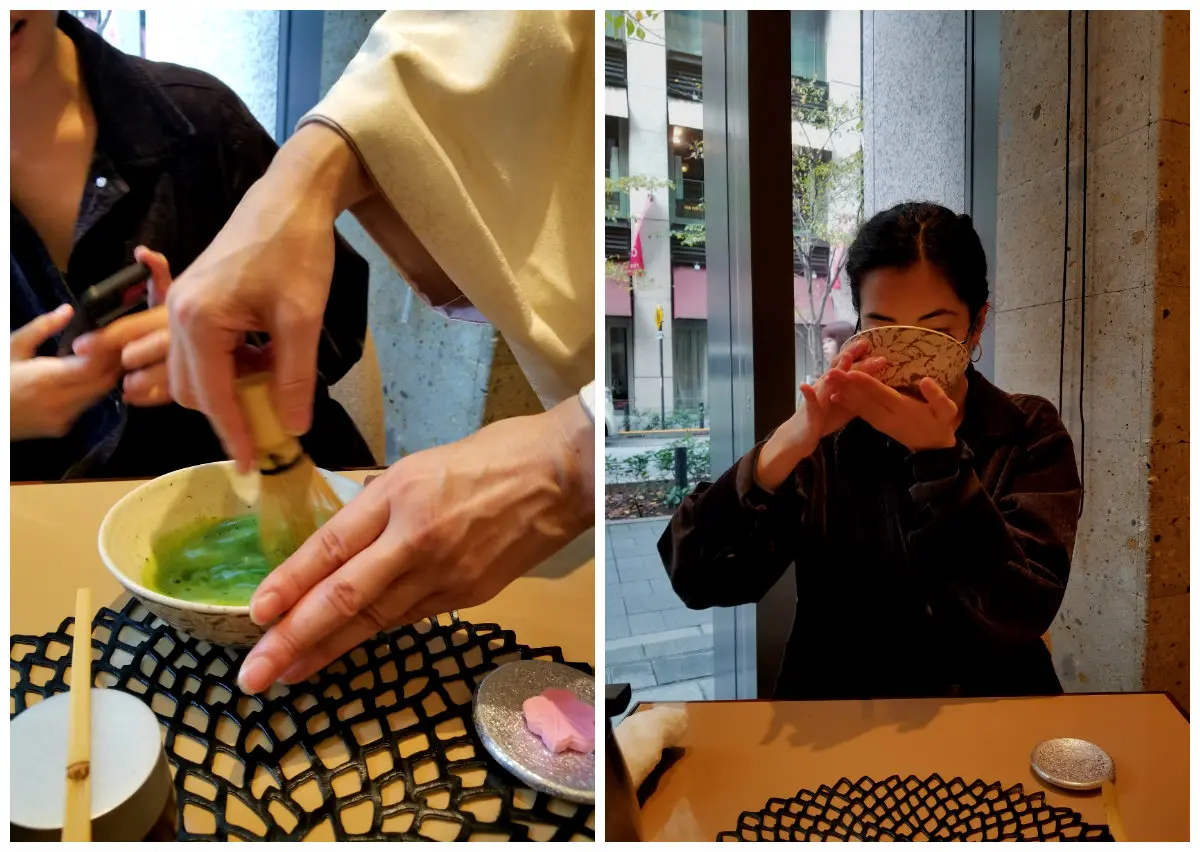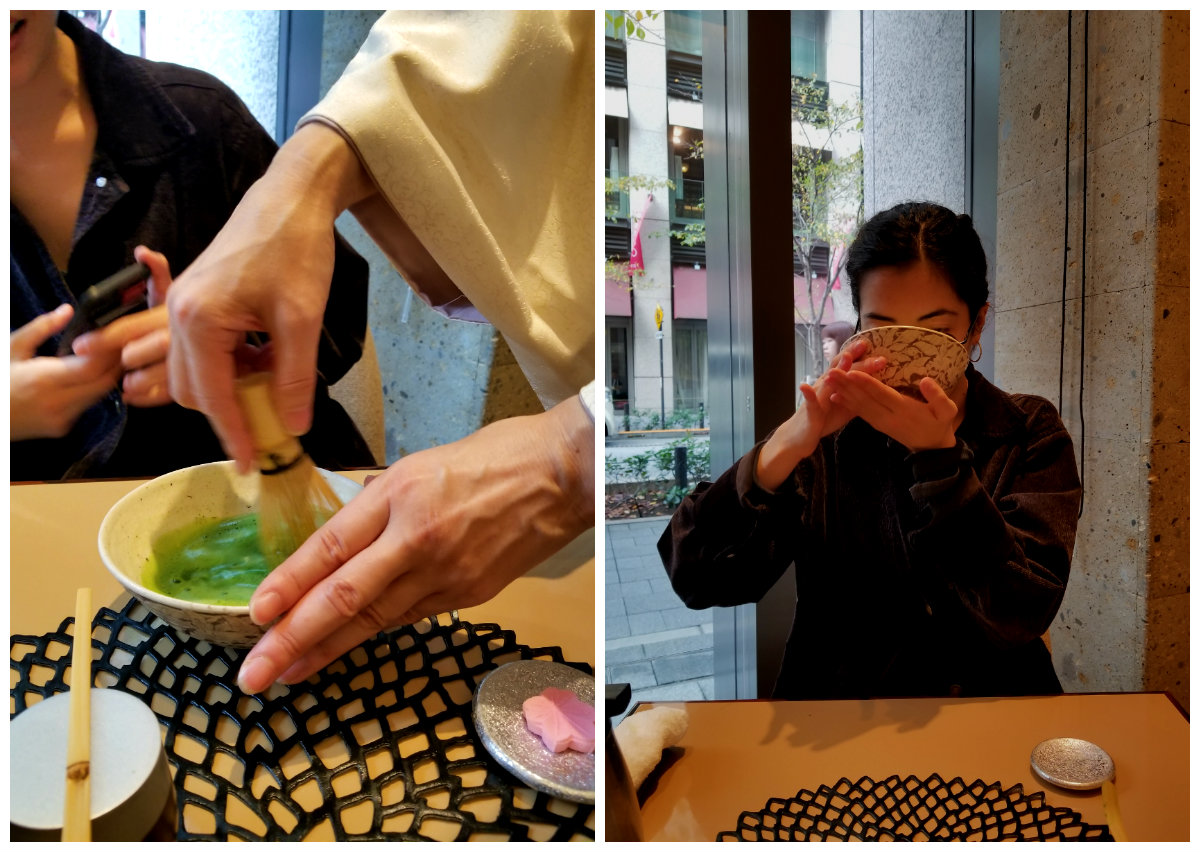 -by Jun Numabe, WAttention Ninja reporter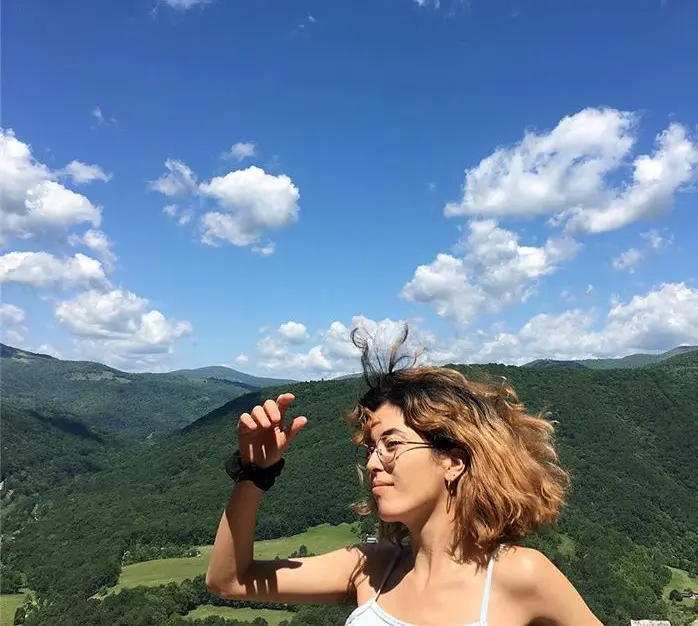 Jun Numabe is a Japanese American artist based out of Tokyo with a vintage manga fixation. Exploring areas near and far, Jun enjoys eating local foods, hiking up mountains, visiting shrines, and studying the arts. With a deep understanding of cultural differences, Jun aspires to absorb all Japan has to offer as she diaristically records her observations.
---
text by Sabrina Tiffany
In Nihonbashi, across the oldest department store in Japan, Mitsukoshi, there's an elegant sweets shop called Tsuruya Yoshinobu stands. This is where went to experience a Japanese tea ceremony and wagashi sweets.
Upon entering the shop, sweet ladies in kimonos (which I later found out were the teachers in the tea ceremony practice) greeted us. I was feeling apprehensive of the language barrier at first, but it turned out that won't be an issue, as the tea ceremony teachers spoke English. First, we were to observe the making of Kyogashi (wagashi), traditional Japanese sweets.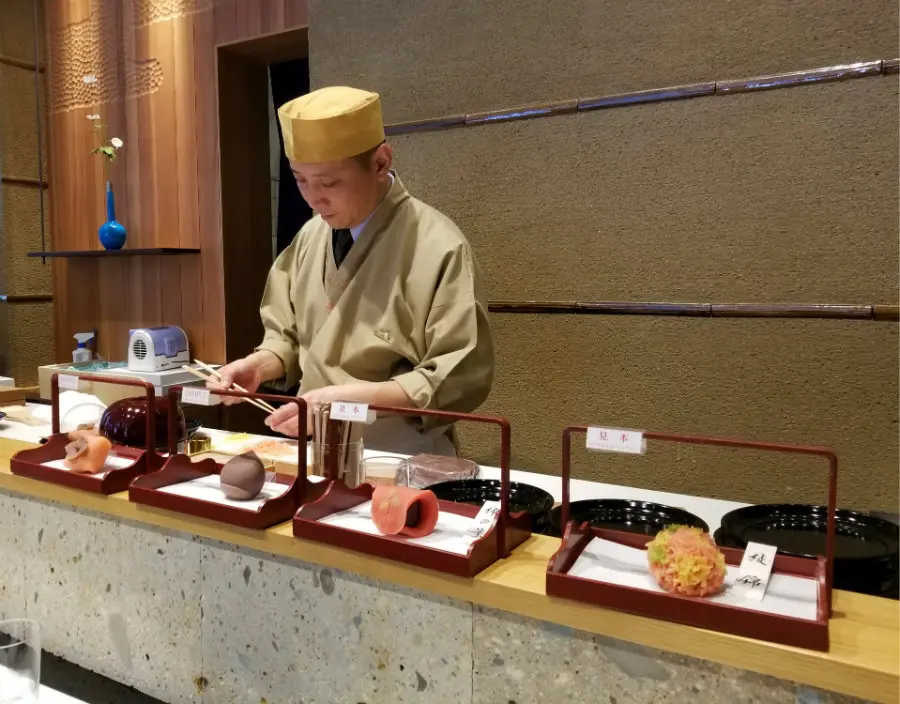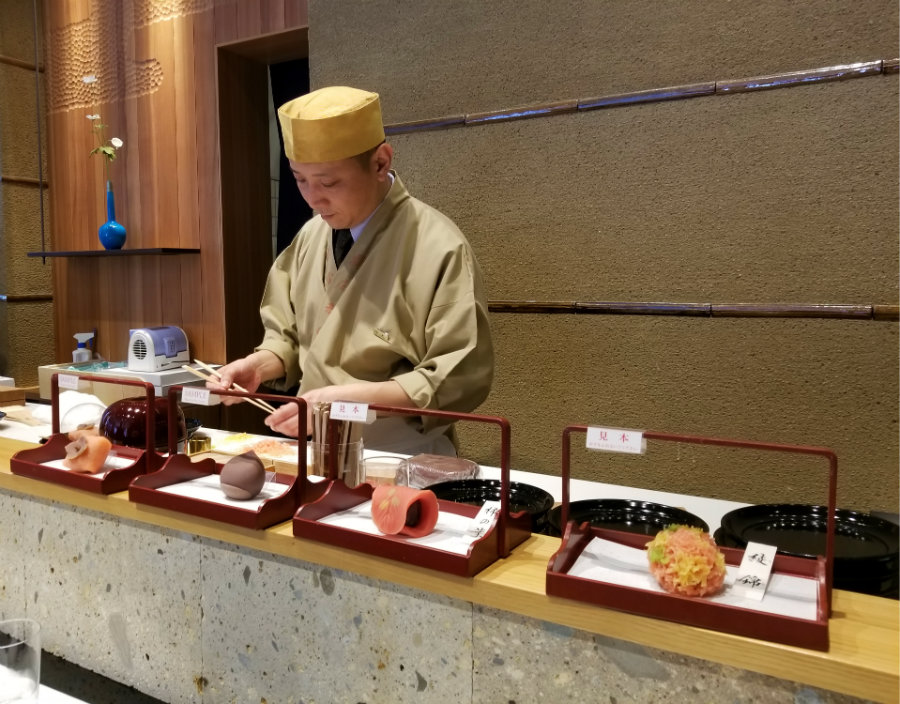 The kyogashi making took place at the counter table. Kyogashi is a Kyoto confectionery used for traditional events and tea ceremonies, and seeing it being made is a rare opportunity. The main ingredient is sweet red beans paste for the filling and wheat flour, and the sweets are always expressing a change of seasons, and this time it was Autumn.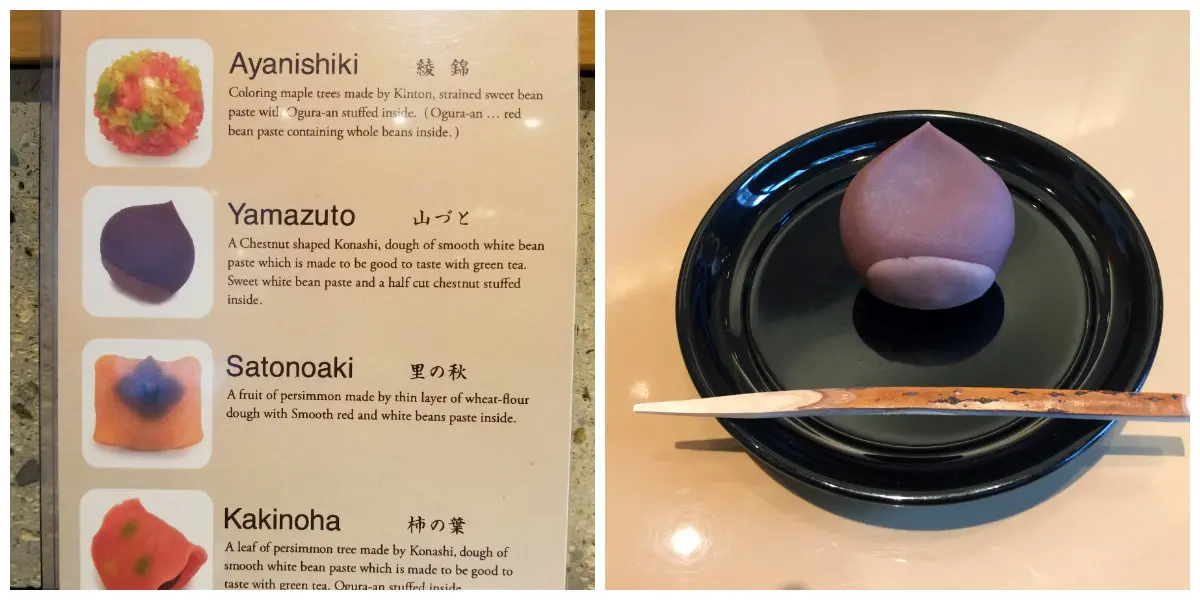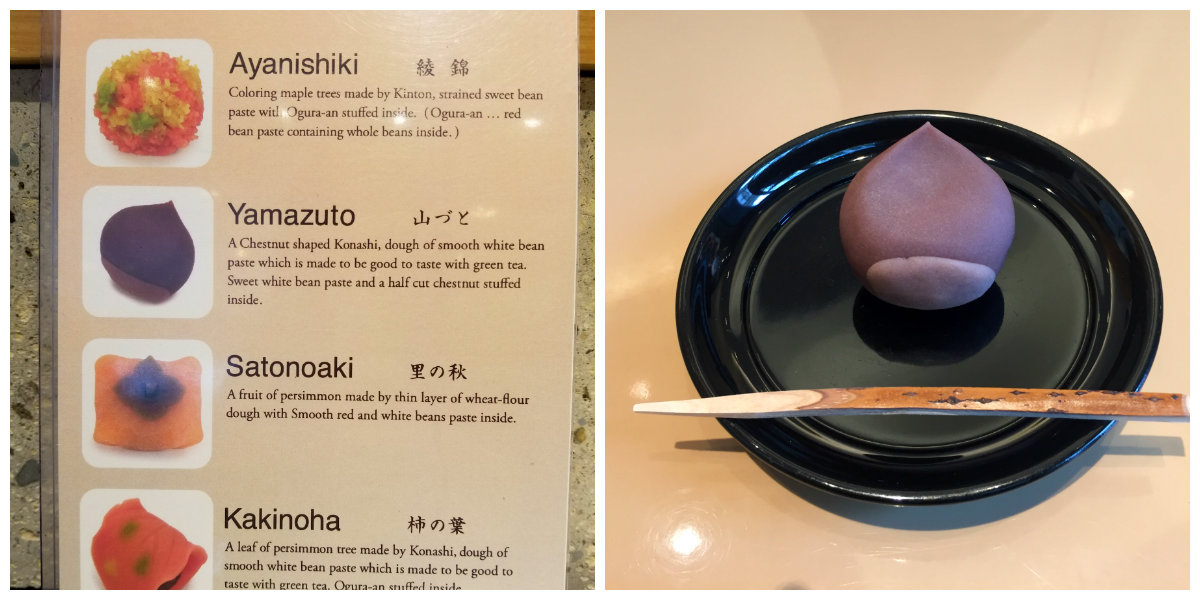 The sweets represented Autumn at its best: the changing leaves, chestnuts, persimmon leaf, and flowers. Watching the making process felt as if watching fine art painting, just small and delicate. I find one particular dish, satonoaki, fascinating, due to the detail that combines green and brown colored flowers made from sugar dough and wheat flour dough that gives a chewy pancake-like texture.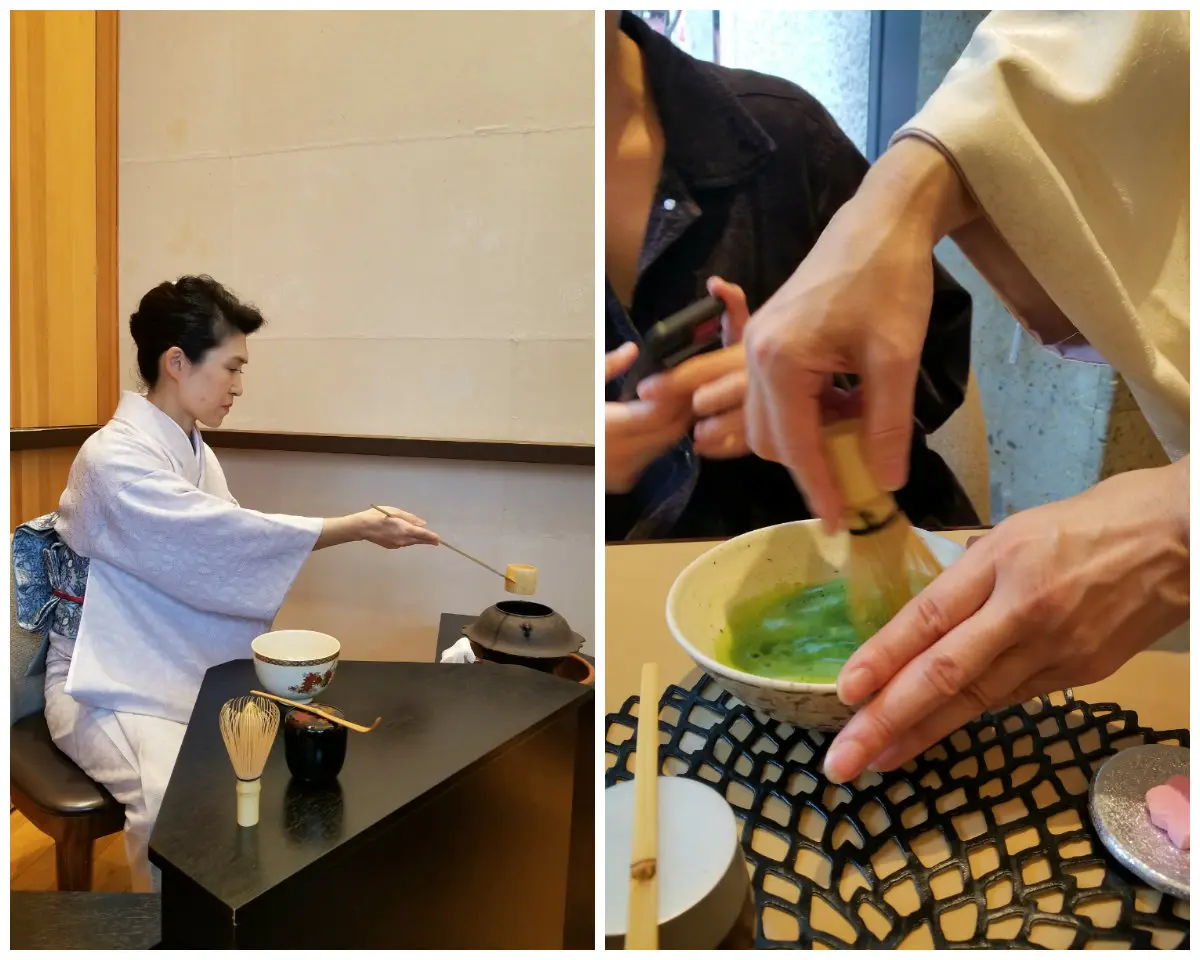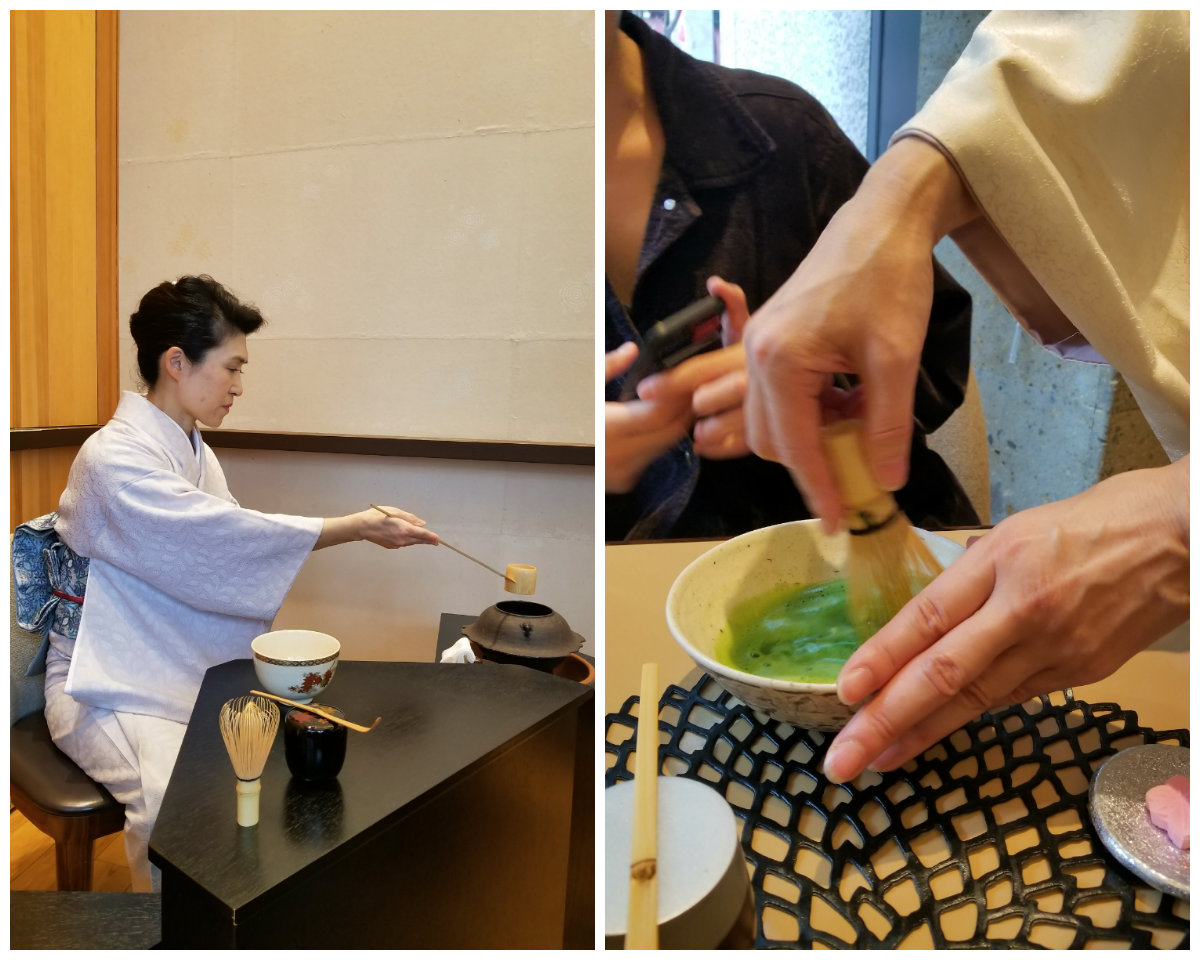 After the kyogashi spectacle, they brought us to the tea ceremony room. We were taught how to make matcha, how to whisk, hand positions, and the appropriate words to say for every part of the ceremony. I realized that tea ceremony is not just a ritual of the physical, but also of the spiritual. When drinking the delicious matcha tea, you also need to show appreciation and gratefulness to your surroundings.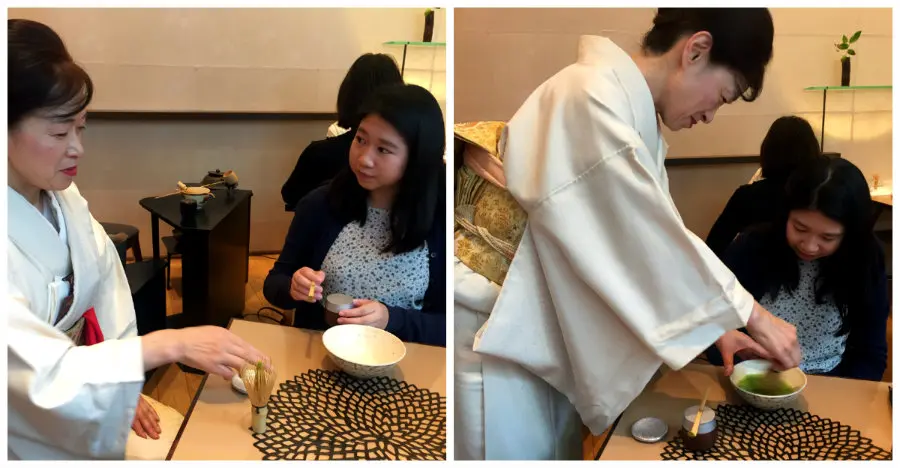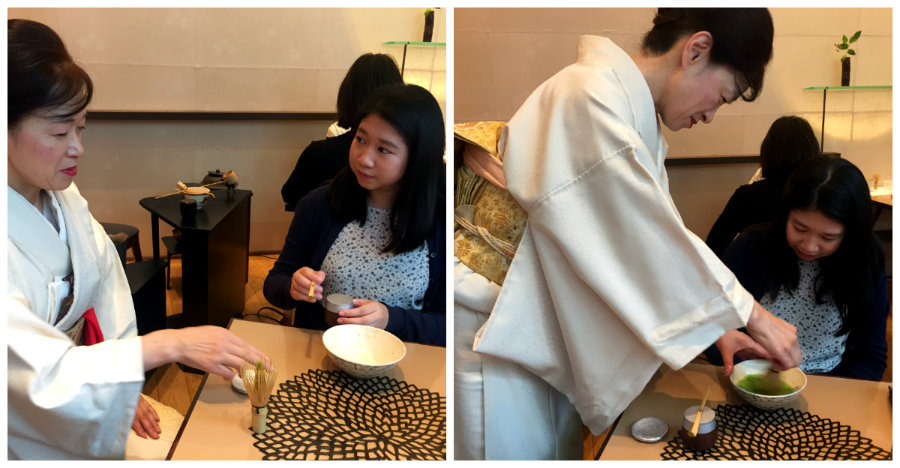 In the end, it was an inspiration to see how they craft both the traditional sweets and the matcha. This elegant and charming place made me realize that I can't help but think of coming back again and maybe you will too.
– by Sabrina Tiffany. WAttention Ninja reporter

Sabrina Tiffany Currently studying business economics at Tokyo International University. She is passionate about learning new things, ideally through travelling. In her spare time, she Iikes to sing and watch movies. She also has a keen interest in all kinds of art.
---
* all photos by the two Ninja reporters.
Venue: Tsuruya Yoshonobu "TOKYO MISE" , Nihonbashi COREDO Muromachi 3, 1st floor
Address in Japanese: 〒103-0022 東京都中央区日本橋室町一丁目5 番5 号 COREDO 室町31階 鶴屋吉信 東京店
Event dates:
December 6th, 2018
January 2nd, 2019
Duration of the event: 10:30 – 12:00
Fee per person: 3000 yen
Website of the tea ceremony school: http://gahoukai-tky.wixsite.com/index/event1
Website of Tsuruya Yoshonobu: http://www.turuya.co.jp/en/ 
---
Do you want more firsthand experiences of Japanese culture? WAttention also visited a Noh Theater Workshop in Tokyo and we also wrote about all the different free cultural experiences offered here Traditional Culture Experience Programs for Foreign Visitors.