Japan Tour Guide (JTG) is an online portal that aims to match volunteer Japanese guides with visitors coming to Japan.
Read about their tours put together for tourists by these friendly local guides in this regular column! 
We received a guide request from Eddie and Pete from the US. They are colleagues and Pete has been in Japan on business trips before. This time, two of the members of Japan Tour Guide, Kazuhiro Takano and Tomoka Kosuge showed them around Tokyo! They met up in Akihabara.
First, our guides took them to Asakusa to let them enjoy Japanese traditional atmosphere. It was so busy with both visitors from other countries and even Japanese. They seemed to be interested in the rickshaws called "Jinriki-sha" in Japanese, which are really popular in Asakusa. They all took a picture in front of "Kaminarimon-gate", and then took a walk along "Nakmise-street".
They were little bit hungry by this time, so they bought some "Ningyo-yaki" which is a pancake stuffed with sweetened bean paste or custard. The ones they had were freshly baked, so they were lucky to get the best ones!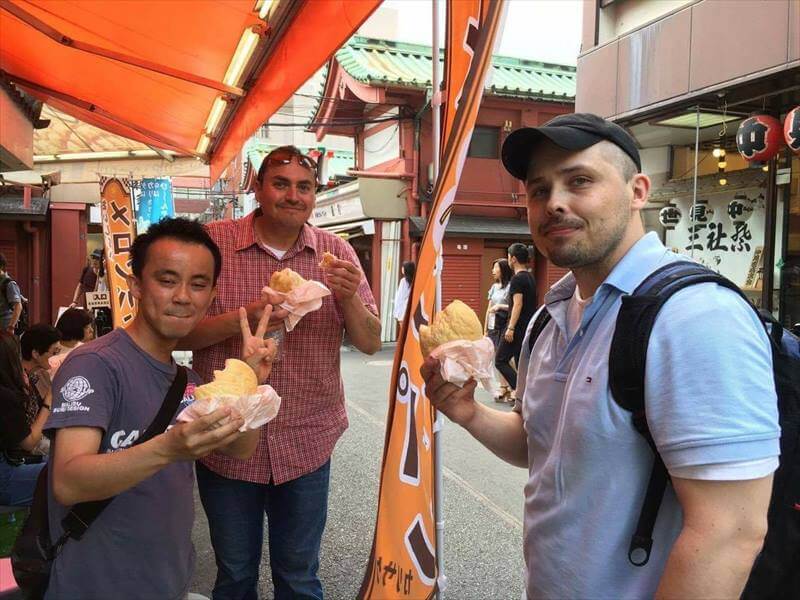 Then, they headed to the confectionery store, "Kagetsu-do" which is famous for its melon shaped bun. It's really popular now and they took to it very much. They also had a Japanese dessert, "Anmitsu," which is a Sweetened Red Beans Parfait with some pieces of fruits served in syrup. They all were able to enjoy such Japanese sweets in Asakusa, so if you like sweets, I guess Asakusa would be the best spot to enjoy them!
Then, they left Asakusa, and moved to Shibuya. They walked to "Shibuya KAMO" to buy the uniforms of "Gamba-Osaka", a famous Japanese soccer team, as a souvenir to their friend.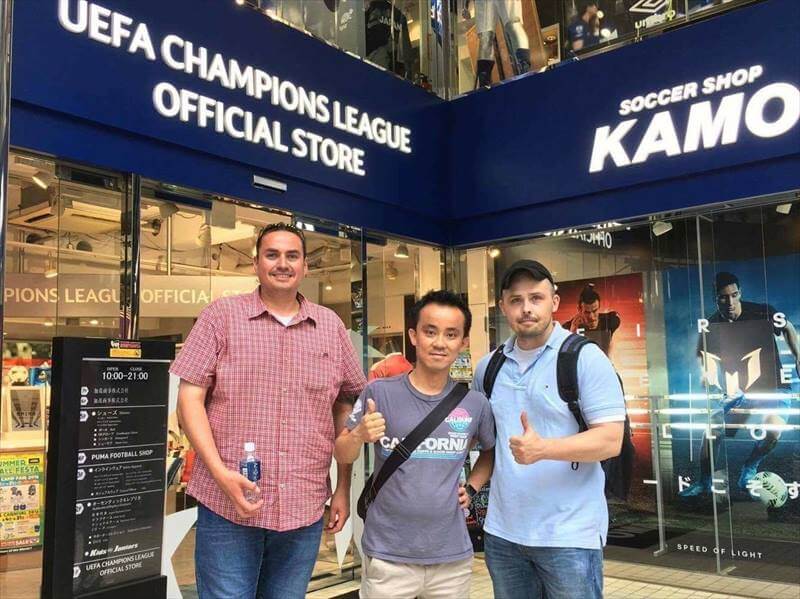 After that, they went to Don Quijote to buy matcha flavored Kit Kats. They told our guides that it is really popular in their country. So they looked really happy to purchase a lot of them.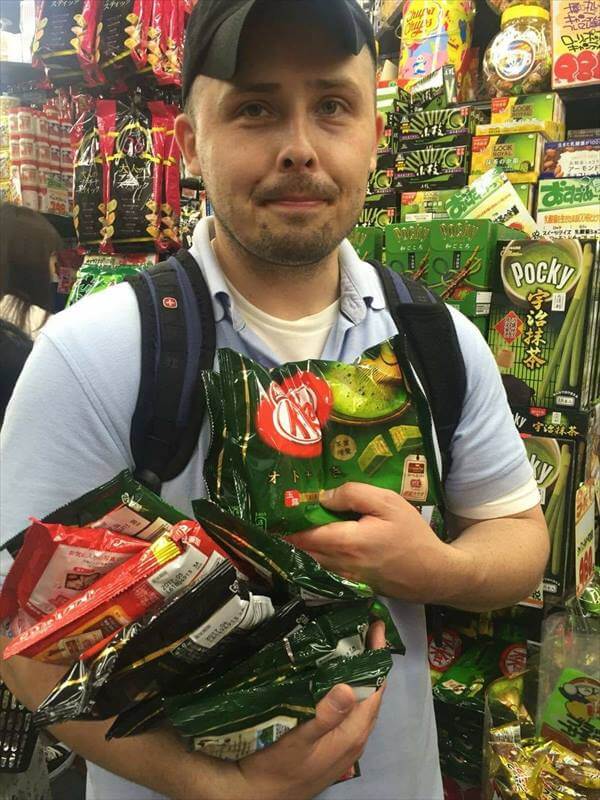 Then, our guides heard that the guests had wanted to eat sushi, so they took them to the sushi restaurant, "Sushi Zanmai" for dinner. They have few opportunities to eat sushi in their hometowns, so they seemed to be satisfied with eating the sushi along with some alcohol. They all enjoyed the meal and had a good time with each other.
After finishing dinner, they saw Eddie and Pete off to the station platform, and then said goodbye.
That is just a small look into one of the many adventures you can have with Japan Tour Guide.
We are looking forward to guiding you around the city and showing you the ins and outs of Japan!