This curry will rock your world!
Bacon and runny eggs and butter may sound like a typical American breakfast but these are the toppings to Rock's unique curry.
Practically every Japanese household or restaurant that serves curry has its own secret recipe. Some stew bananas, apples or chocolate for a sugar and spice curry, others add a touch of red wine, soy sauce or even bonito shavings. Toppings can be anything betweeen natto, cheese and fried pork cutlets. Japan's competition in curry is so high it is probably only second to India.
Still, it is safe to say that Brewpub Restaurant ROCK's version of Japanese style curry can count itself among the true curry elites.
Brewpub Restaurant ROCK is located within Moeginomura, a pleasant area with picturesque gardens, restaurants, cafes and shops located in Hokuto City, Yamanashi Prefecture. The area makes for the perfect setting for a European mountain village postcard, except for the fact that it is located on the other side of the planet.
In the middle of this setting, ROCKS's old-fashioned American saloon style architecture creates a remarkable juxtaposition between European and American architecture in Japan!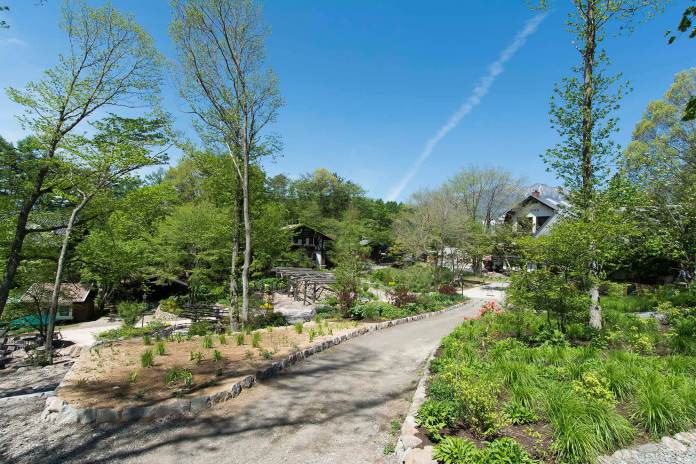 Before I start talking about the curry, it cannot go without mentioning that ROCK is also famous for its craftbeer brand, TOUCHDOWN.
TOUCHDOWN has 5 different flavors as well as lager brewed beer and has won the prize of "Best beer of Asia" at the World Beer Awards of 2014.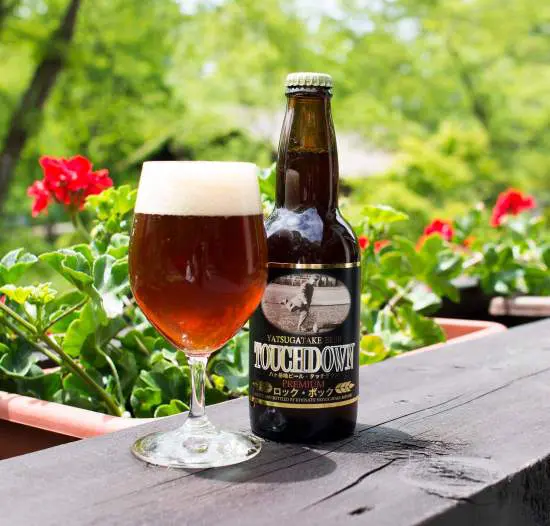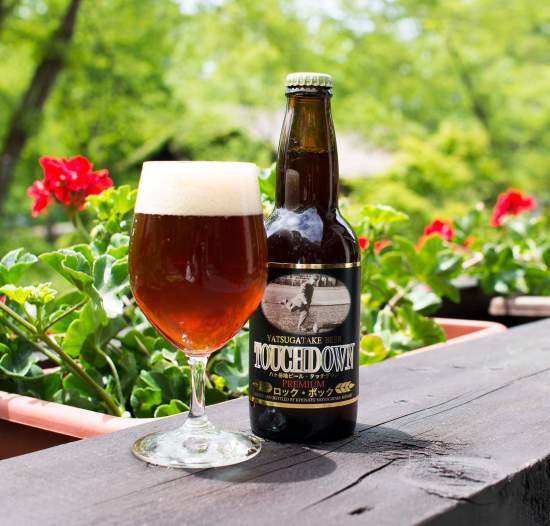 ROCK's curry is so beloved that it would be hard to find a local that never gets cravings for it. It has a history of over 40 years, and while maintaining its roots, it has continued to evolve and capture the hearts of young and old.
The curry's roux is on the thick side, tastes sweet but has a spicy and slightly sour fragrance at the same time.
Spices and ingredients stewed to create this roux are a company secret, but the slight sourness made me speculate that TOUCHDOWN beer could have been used as seasoning to add a special final touch.
The toppings play a role just as significant as the roux in ROCK's curry, so let's have a closer look. You will first notice the giant lump of juicy bacon which has been a trademark ever since ROCK originally opened in 1971, but that's just beginning of this richly topped curry. A soft-boiled egg (or onsen egg in Japanese as it is boiled at the same temperature of hot spring water) is placed on top of the bacon so that the egg yolk may drip over it later on.
What might be even more important, is the raisin butter you seen in front of the bacon. Mix this melting morsel with the roux for a sweet, rich taste that really distinguishes it from other Japanese curries.
While the dish might appear to be voluminous, note that half of it consists of fresh vegetables that come from nearby farms. The pickles on the right edge are capsicum, a vegetable rarely pickled in Japanese cuisine or even in general.
Altogether ROCK's beef curry makes for a unique curry that is hard to compete with. Those that seek for even more satisfaction can add toppings as an extra slice of bacon or fried sausages.
Degree in which the curry stands out from its competitors: ★★★★☆
Degree in which the restaurant's facade stands out from its surrounding: ★★★★★
Important Message:
In the early morning of Aug. 8, 2016, fire broke out in Moeginomura ROCK, causing heavy damage to the building. Excluding Rock, all the other buildings in Moeginomura were not affected and are operating as normal. No word yet on what may have started the fire and there is no definite date yet on when they will resume its business, but according to their website, Rock will definitely re-open. We do hope that they re-open quickly and we can once again enjoy their iconic curry.
UPDATE: Starting September 17, Moeginomura finished setting up a provisional kitchen and are currently re-opened for business. Even though the seating is still outdoors under a tent, we are glad to be able to once again savor the flavors unique to this beloved (and resilient!) restaurant.
ROCK
Price Range: 1,000 – 2,000
Hours: 10 am – 11:30 pm
Location: Kiyosato 3545 Moeginomura, Takanecho, Hokuto, Yamanashi  山梨県北杜市高根町清里3545 萌木の村
Access: 10-min walk from Kiyosato Station (JR Koumi Line)