The common soba (buckwheat noodles) is made from buckwheat flour mixed with wheat flour that acts as a "tsunagi" or binding agent that keeps the dough together. Only soba restaurants with the most skilled craftsmen are able to produce Juwari soba, which consists entirely of buckwheat and Soba Restaurant Sanbuichi is one of them.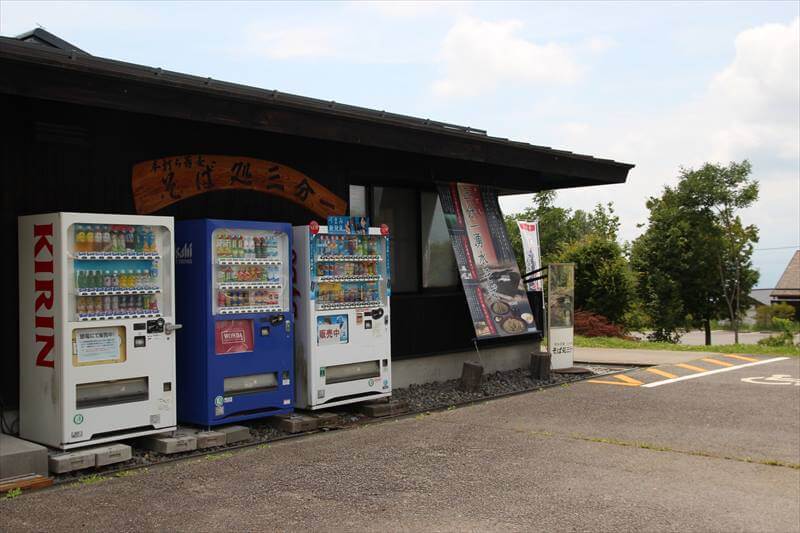 No need to hide
You can see for yourself how skilled their soba craftsmen are through the big window that looks into the kitchen.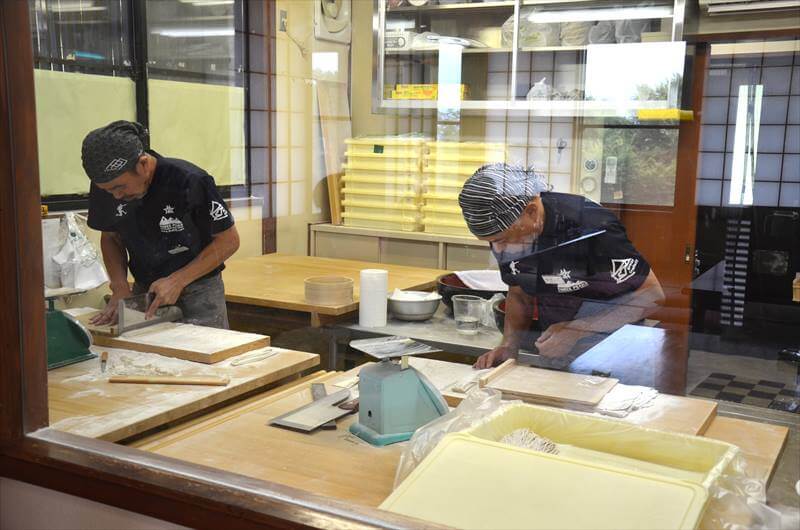 Even in the peak of summer which is said to be the hardest time of the year to produce soba, they were able to roll and fold the dough evenly, their quick and precise cuts producing uniformly thin soba noodles.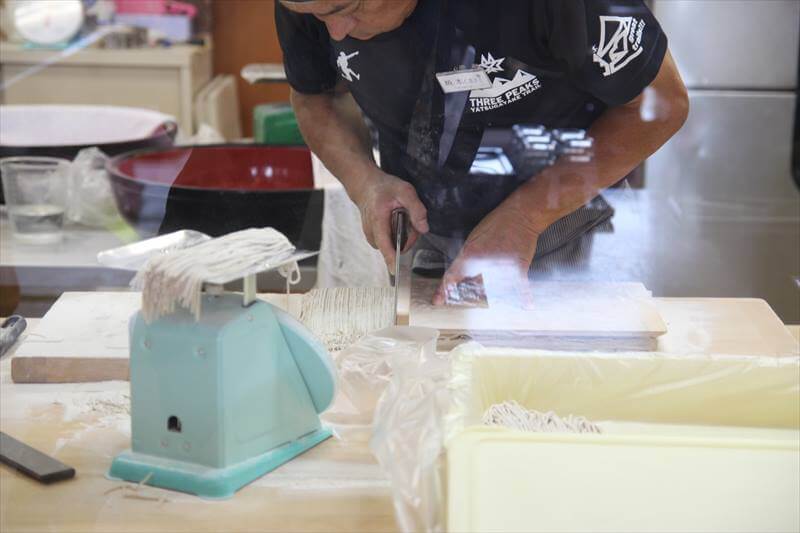 Water worth fighting for
The secret of Sanbuichi's soba lies in the spring where they got their name and water from. Sanbuichi Yusui is arguably the most famous spring in Yatsugatake. Legend says that Takeda Shingen, an exceptionally famous samurai warlord divided the flowing water into three using this triangular stone in order to settle a feud among his farmers over the spring water.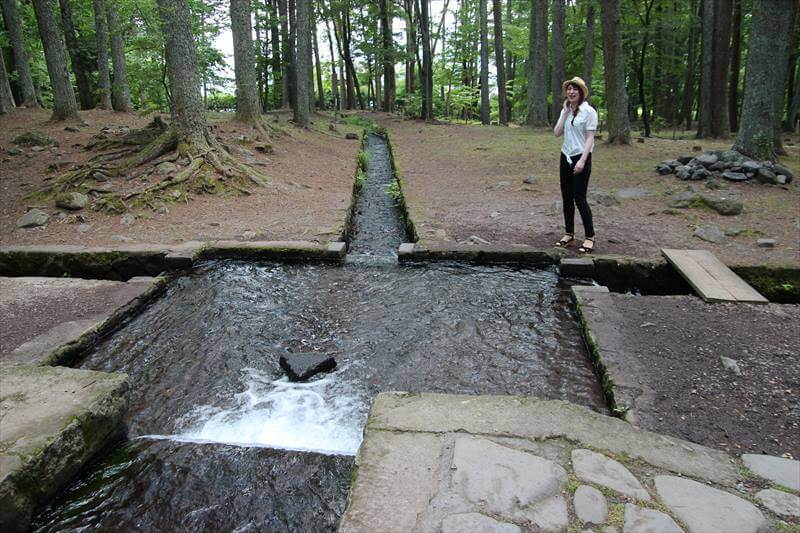 The water comes from the snow and rain that falls on the peaks of Yatsugatake which then filters through the ground, emerging as pure water filled with healthy minerals. The water flows throughout the year, neither drying out during summer, nor freezing over during winter.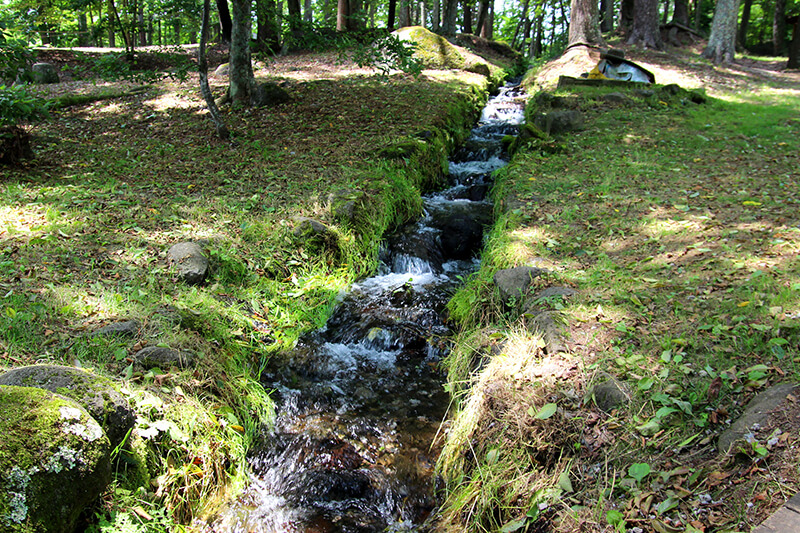 Soba so good
We tried their Juwari Soba Tenmori, which consists of Juwari soba and a side-dish of crispy tempura of season vegetables and shrimp. The tempura batter is thin enough that it doesn't overwhelm the fresh vegetables. Dip them lightly in fine-grained salt for a subtle flavor. The soba is fragrant and has just enough chewiness in them. Put a bit of wasabi on the soba before dipping them in the tsuyu (dipping stock).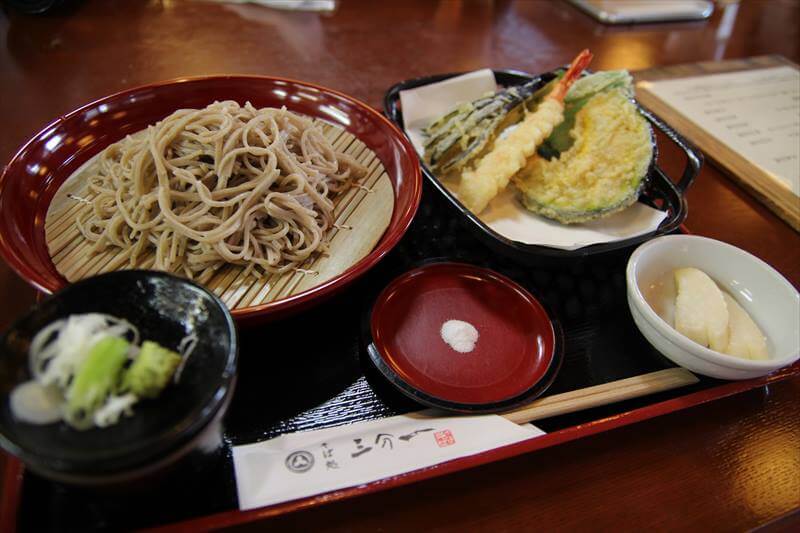 Afterwards, pour some soba-yu (hot water mixed with buckwheat flour) into the leftover tsuyu and drink it like a soup. It's believed to give you longevity.
Don't forget to visit the farmer's market shop adjacent to the restaurant where you can pick up vegetables and rice from the surrounding fields, some Shingen mochi (with a picture of Takeda Shingen on the packaging!) or some buckwheat flour and tsuyu to make your own soba-yu at home.
Noodle flavor rate: ★★★★★
Freshness of ingredients:★★★★★
Restaurant information
Soba Restaurant Sanbuichi
Price range: 1,000 yen – 5,000 yen
Location: 292-1 Nagasakacho Koarama, Hokuto, Yamanashi Prefecture
Access: A 10-min walk from Kai-Koizumi Station
Read about other interesting spots in Hokuto City:
The Charm of Hokuto (1) : Oasis of the Highlands
The Charm of Hokuto (2) : Hirayama Ikuo Silk Road Museum
The Charm of Hokuto (3) : Suntory Hakushu Distillery
The Charm of Hokuto (4) : Inn Blue in Green
The Charm of Hokuto (5): Top 5 Photogenic Nature Spots