Our next destination after visiting Tokei-ji and Jochi-ji is Meigetsu-in (明月院) which is popular for its Hydrangea and flower garden. We left Jochi-ji and reached the temple grounds of Meigetsu-in after a 10 minute walk.
The little hike leading to the entrance of the temple was already covered by blooming Hydrangea flowers and fresh greenery.
A romantic temple of flowers, rabbits and the moon
We reached the Meigetsu-in, paid 500 yen entrance fee and lined up to enter the Hydrangea garden.
Once you step inside, you will know why it´s called Ajisai-dera, the Hydrangea Temple. There are more than 2500 Hydrangea shrubs all featuring beautiful blue colors known as Meigetsu-in blue. They are in full bloom during the rainy season in June.
Meigetsu-in was built by Uesugi Norikata (1335-1394) in 1383. It used to be a part of a larger temple complex named Zenko-ji (禅興寺), which was then abolished during the anti-Buddhist movement after the Meiji Restoration in 1868, leaving Meigetsu-in as an individual temple.

Every corner of the temple grounds is decorated with beautiful Hydrangea flowers. Even Hydrangea ema are available during this time. Ema (絵馬) are little wooden plaques, on which you write your own wish. Then you hang them on a board, where the specific god of the temple or shrine receives your wish.
Inside the temple grounds you can see several small statues of rabbits, as well as real rabbits kept in cages. This is because there is a deep rooted connection between the temple´s name and the moon. Meigetsu means "harvest moon" or "bright moon."  When you gaze at the moon, some see faces, others see figures or hands. But here in Japan, people see a rabbit pounding a rice cake.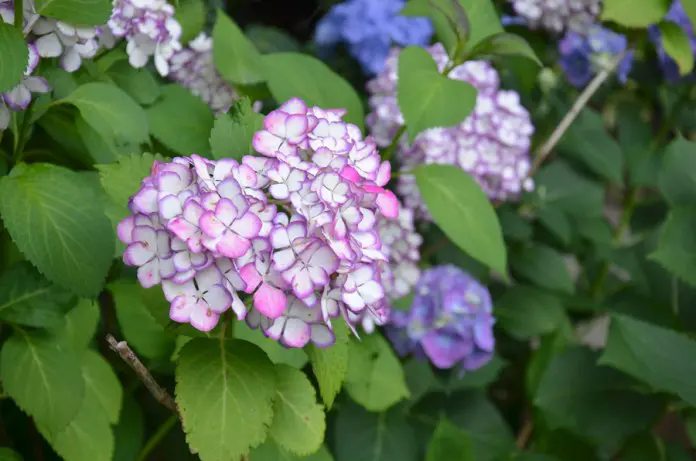 Beside the beautiful Hydrangea flowers, you can enjoy a stroll through the bamboo forest, as well as a cup of green tea in their Japanese style teahouse. Completing the Zen atmosphere of the place is the austere serenity of the Karesansui (枯山水), a traditional Japanese dry landscape garden.

Information
Meigetsu-in
Hours: 9am – 4:00pm (8:30am – 5pm in June)
Admission: 300 yen (500 yen in June)
Access:  A 10-min walk from Kita-Kamakura Station (Shonan-Shinjuku Line and Yokosuka Line)
Address: Meigetsu-in, 189 Yamanouchi, Kamakura-shi, 247-0062 Kanagawa
---
WATTENTION WRITER PROFILE