As the earliest blooming sakura in Honshu, Kawazuzakura cherry blossoms start blossoming as early as February, coloring their surroundings in vibrant pink. In order to enjoy the fleeting beauty of the cherry blossoms, we got "Misaki Maguro Day Trip Ticket" from Shinagawa Station in Tokyo. This value-packed ticket set includes a comfortable train ride to Miurakaigan Station in Kanagawa (south of Tokyo city), where stunning views of Kawazuzakura cherry blossoms and nanohana (rapeseed flowers) awaited us. Following the recommendation from the booklet picked up at the station, on this trip, we also tasted some delicious, locally-caught maguro (tuna).
Spring Strawberry Picking is a popular spring activity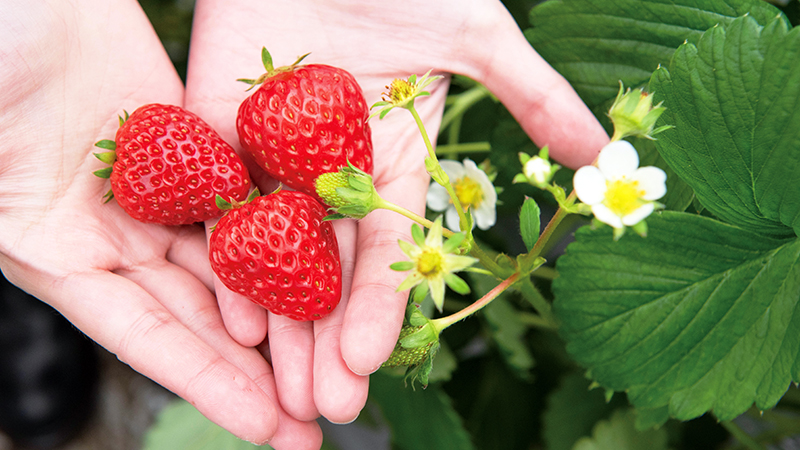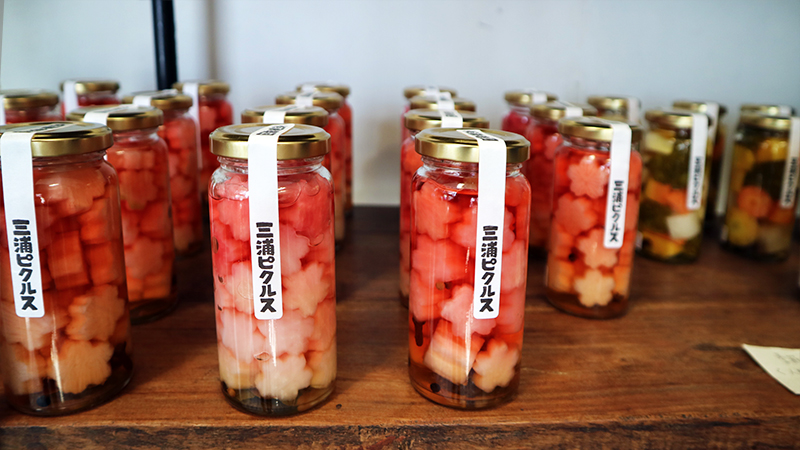 Since spring is the strawberry season on Miura Peninsula, our first stop on the journey was strawberry picking at Tsukuihama Farm, which is just a 20-minute walk from Tsukuihama Station. We were immediately ushered to the greenhouse for a 30-minute strawberry-picking spree after completing the registration. We couldn't help but be awed by the fresh, gigantic and juicy strawberries before our eyes. These red jewels struck the perfect balance between sweetness and acidity. We took one bite after another and left with over-full stomachs.
Miurakaigan town has already transformed into a pink wonderland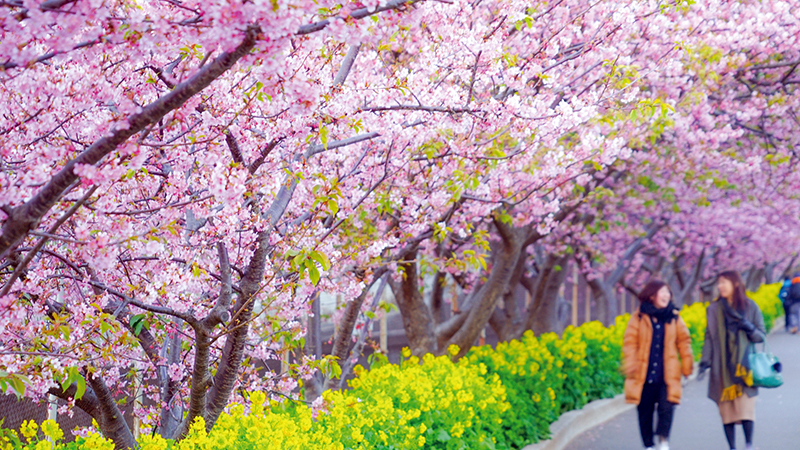 Upon arrival at Miurakaigan Station, we were greeted with Kawazuzakura cherry blossoms that were not quite fully in bloom. Vendors selling local delicacies crowded the streets, giving off a holiday atmosphere that put everyone in a festive mood. The most famous flower-viewing spot is a one-kilometer long path between the station and Komatsugaike Park. Pink Kawazuzakura cherry blossoms and vivid yellow nanohana (rapeseed) flowers decorate the scene as the occasional train passes by. This is a must- see for rail enthusiasts and photographers. If you have plenty of time on your hands, make sure to visit again in the evening when the cherry blossoms light up in romantic colors.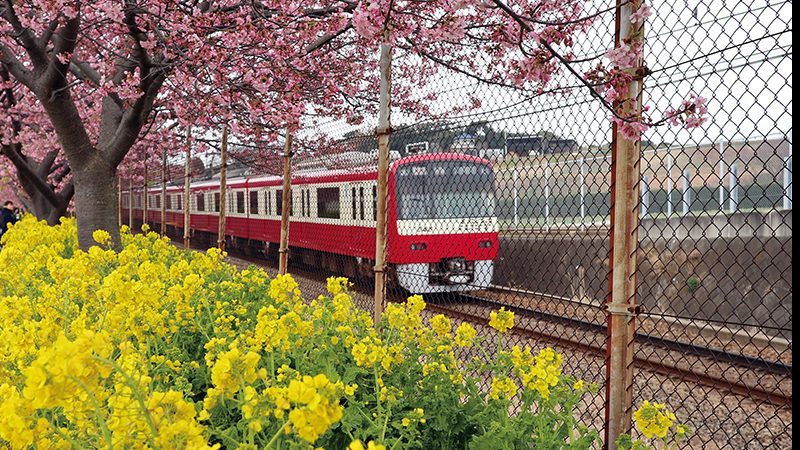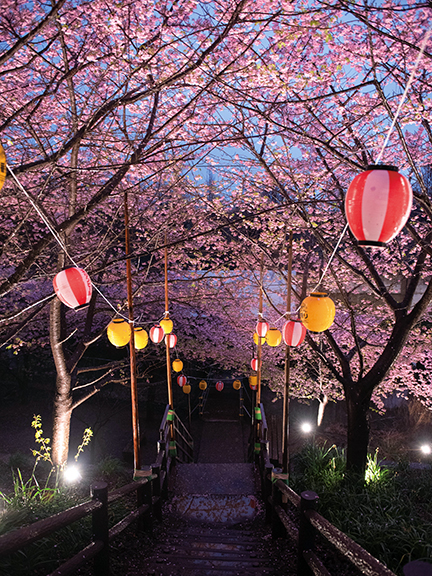 Enjoy Maguro and more with Misaki Maguro Day Trip Ticket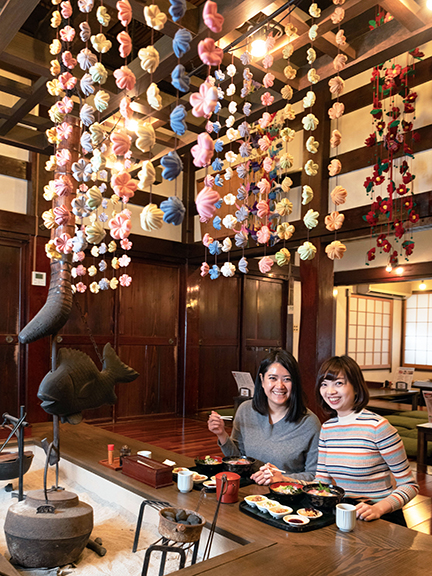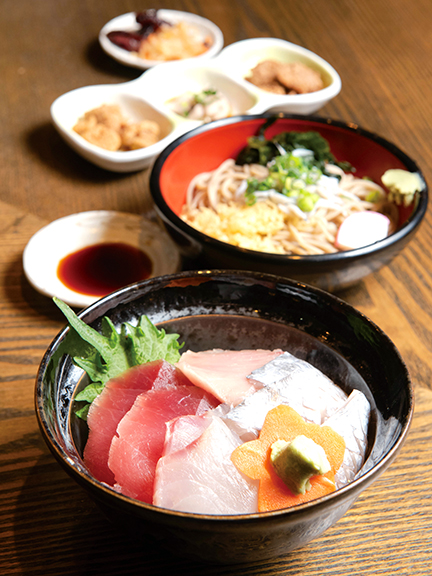 "Misaki Maguro Day Trip Ticket" is one of the discount tickets issued by Keikyu Railway. The ticket set is available year-round and features a round-trip train ticket on the Keikyu Line, unlimited rides on Keikyu buses, Maguro Selection Meal Ticket that allows you to choose a tuna dish from 32 different restaurants and a Leisure Facility Use or Souvenir Ticket that gives you the option between a free activity, and a souvenir to take home. Talk about value for money! One thing to bear in mind is that train rides allow you to alight at various points along the way, you can't double back. Buses are different story though-unlimited rides are available in specified areas.
After flower viewing, we paged through the booklet that was included with the ticket set and picked out a restaurant that was famous reputed for tasty seafood and an outstanding interior. Located not too far from the station, Kaiwaya is a restaurant featuring tatami flooring and a traditional Japanese sunken hearth, which is used both to heat the space and cook food. We ordered a hearty meal that came with a bowl of rice covered in an assortment of fish slices, a bowl of soba noodles topped with cooked whitebait from the Shonan area, tuna cooked in three different ways, and preserved vegetables. The variety is sure to satisfy anyone's craving.
Last but not least, you can use the Leisure Facility Use or Souvenir Ticket to get a free experience or a free gift representative of the Miura area. For those interested in hot springs, why not visit Miura Maholova Hot Spring for a dip in Miura's only natural hot spring to relax the body and mind? The jam and preserved vegetables at Temiyage Iroiro Miura Store, a souvenir shop close by the station, also makes a great memory of the trip.
KEIKYU Misaki Maguro Day Trip Ticket:
Eat. Play. Ride Discount package
Explore Misaki with the KEIKYU's specially priced ticket package of three tickets as follows.
*Available at Keikyu Line Stations (excluding Sengakuji and Misakiguchi Stations)
*Valid only for date of purchase.
*Price varies depending on boarding stations.
Please note that each of the three tickets has its own use and variety of options.

B & C tickets can be used only once at designated spot.
For more information, please visit: KEIKYU WEB