As we approach the Olympic and Paralympic Games Tokyo 2020, Tokyo appears newer and newer. The Rinkai Fukutoshin or waterfront sub-city center has been undergoing significant changes, such as the rise of new buildings. Since the Edo period, Tokyo has evolved as a "water city," with the waterfront as its gateway entrance. In tourist packed Shibuya and neighbor, Harajuku, huge and modern commercial facilities are popping up, creating a new horizon for the metropolis.
WATERS Takeshiba
ウォーターズ竹芝
A City of Art and Culture on the Waters of Tokyo Bay
JR East Group has embarked on an urban redevelopment of Takeshiba as a dynamic waterfront center embodying art, culture, entertainment, retail, gourmet shops and restaurants, and hospitality. We met with Nita Souhei of the East Japan Railway Company, to discuss this colossal project.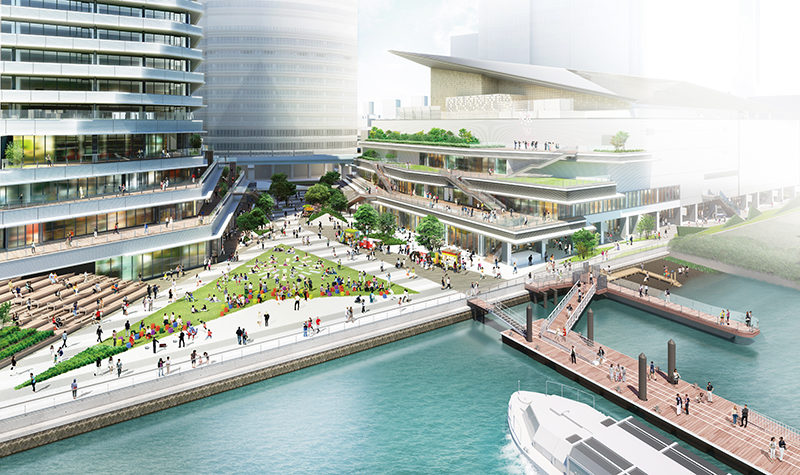 The redevelopment project, WATERS Takeshiba, will include a sprawling public space with a lawn and terrace serving universal functions. As a result, restaurants, shops, offices, and venues for art and culture have an open view of Tokyo Bay. On the lower floors, atrTakeshiba will host various stores and restaurants along with an interactive, hands-on museum.
Some stores are scheduled to open on 13 April in advance. However, the entire complex, including the Theater building, will have its grand-opening on 14 July. Combined, WATERS Takeshiba, therefore, will act as a commercial and cultural hub. After watching a play or musical, one can pass the time with a drink in one of the trendy bars while enjoying the soothing smell of Tokyo Bay. In summary, Mr. Nita remarks, "We would like to bring people and energy to this area by making WATERS Takeshiba a base for cultivating art and culture."
Tokyo from a new perspective 
The upper floors of the 26-storey building will be reserved for the new posh accommodation, mesm Tokyo Autograph Collection Hotel. It will offer the next level of hospitality with its new concept in personal "one-stop" staff service. 
From the hotel, a panoramic view of old and modern Tokyo is on display. As Mr. Nita explains, "Since there is nothing open to see nearby, the view from the higher floors of the building will be absolutely beautiful not only for the sea, but also beyond where you can see the Rainbow Bridge and other buildings. From another angle, you can see the Hama-rikyu Garden and the modern skyscrapers of Marunouchi, as if the history of Japan is laid out before you amidst the modern cityscape."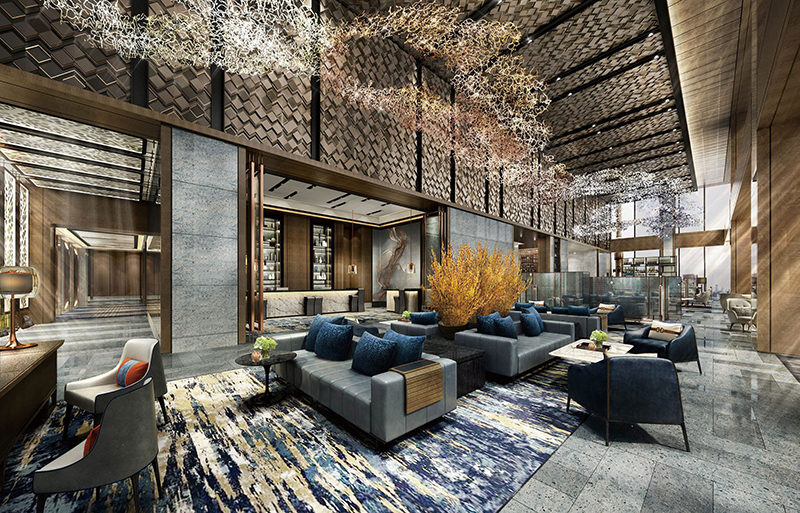 How to access WATERS Takeshiba
Conveniently, WATERS Takeshiba is just a six-minute walk from Hamamatsucho Station on JR Yamanote and Keihin Tohoku Lines. In addition, Hamamatsucho connects directly to Haneda Airport by monorail. Of course, Takeshiba station on the Yurikamome line also has great access. In fact, the walk only takes a minute.
Alternatively, it is is even possible reach Waters Takeshiba by boat and return by train. Indeed, the scenic ride over the waters of Tokyo Bay is convenient and adds to the ambiance of Takeshiba.
WATERS Takeshiba's mission
In summary, WATERS Takeshiba hopes to create a waterfront city of art, culture, business, and nature that emanates pleasure and satisfaction for tourists and residents alike. As a weekend spot and a place for daily life, the area easily shifts the mood from work to entertainment. With great access to nature right in the heart of Tokyo, WATERS Takeshiba is even a great place for relaxation.
The Rinkai Fukutoshin area, or the Tokyo waterfront sub-city center, faces Tokyo Bay and has already been immensely popular with tourists, who love it for places like the enormous Odaiba district. In addition, town development is also underway in other areas, such as Toyosu that now stations the new fish market, Haneda as an airport hub, and the port of Takeshiba that serves numerous ship departures.
TOKYO PORTCITY TAKESHIBA
東京ポートシティ竹芝
Due to open in 2020, TOKYO PORTCITY TAKESHIBA, is a brand-new facility that has plenty of shops, restaurants, and more. Additionally, has several lush terraces outside, which are laid out from the second to the sixth floor in a "step terrace" design. Moreover, there's also a huge event hall called "Port Hall," and an atrium space called "Galleria," which connects the pedestrian deck to the ground level.
Toyosu Bayside Cross
豊洲ベイサイドクロス
Toyosu Bayside Cross directly connects to Toyosu Station on the Tokyo Metro Yurakucho Line and very easy to access. Built to take advantage of the green scenery and the beautiful water, there are shops, the beautiful Cross Plaza. Additionally, for those who fancy a game of table tennis, the aptly-named "Ping-Pong Forest" welcomes you. Furthermore, if you're hoping to extend your stay, there's also a hotel with a public bath and stunning views.
Haneda Airport Garden
羽田エアポートガーデン
In preparation for the Olympics, a breathtaking commercial complex called Haneda Airport Garden is set to open in the spring of 2020. Specifically, it will have two hotels. One is an "original luxury brand" featuring guest rooms overlooking the Tamagawa River, and the other is a high-grade hotel with dedicated women's guest rooms, tatami rooms, and more. 
A huge 2000-suare-meter hot spring connected to the airport, is ready to relax tired bodies as planes fly gracefully overhead. In fact, it is the first of its kind. Also, Haneda Airport Garden will host a total of 90 shops and restaurants.
Ariake Garden will open sequentially from April 2020. With over 200 stores, it has earned its status as one of the biggest commercial facilities in the Tokyo Bay Area. Truly, it is a shopper's paradise! Moreover, for those visitors who prefer a more relaxing trip among Ariake Garden's its beautiful greenery and flowering trees, there's also a hotel in the area with five different hot springs. Of course, both hotel guests and visitors can enjoy the baths.
Situated at the famous fish market of Toyosu, Edomae Jokamachi has three separate areas for visitors to enjoy. First, there's the Toyosu Jokamachi food hall, where you can enjoy delicious seafood, as well as other Japanese food, like udon and ramen. Second, for the shopaholics among you, the Shijo Koji marketplace is the best place to buy fish products and other souvenirs. Last, there's the Edomae Hiroba square, where you can sometimes find markets selling fresh produce, and the occasional event. Also, it is a great place to relax.
HANEDA INNOVATION CITY
羽田イノベーションシティ
Haneda Airport, the gateway to Japan, has undergone an amazing transformation. With the opening of the HANEDA INNOVATION CITY complex, the airport area will no longer just usher tourists to Tokyo. Also, it will entertain them with gourmet dining, music events, hot springs, and other attractions. After a long flight, HANEDA INNOVATION CITY will surely feel like a beautiful oasis of culture and relaxation. Look forward to it during your next flight!
In the heart of Tokyo, Shibuya and Harajuku, both popular with Japanese youth and international tourists, are also making dramatic changes. New commercial facilities are opening one after another, including Shibuya's new landmark, SHIBUYA SCRAMBLE SQUARE.
SHIBUYA SCRAMBLE SQUARE becomes a New Symbol of Tokyo
渋谷スクランブルスクエア
For years, the massive scramble crossing in front of Shibuya Station has been one of the undisputed symbols of Tokyo. In fact, tourists from all over the world would, well, scramble to take pictures of themselves among a sea of people navigating the crossing. Now it seems that landmark has been overshadowed, literally, by a new addition to the area: the SHIBUYA SCRAMBLE SQUARE building.
Opening in November 2019, the SHIBUYA SCRAMBLE SQUARE was five years in the making, but the wait was more than worth it. About 230 meters and 47 storeys tall, the towering structure, overlooking the scramble crossing, definitely makes an impression. However, it's what's inside it that really matters. Staying faithful to its original concept of "Mix Together and Generate: From Shibuya to the world," the building has it all. Besides offices, you'll find an impressive selection of 213 commercial outlets, including clothing stores, cafes, and restaurants spread throughout sixteen floors of the SHIBUYA SCRAMBLE SQUARE. Then, of course, there is the observation facility.
Called the SHIBUYA SKY, the observation area is made up of three zones: SKY GATE, SKY STAGE, and the SKY GALLERY, the last one of which is an indoor observation corridor. But SKY STAGE, located on the roof, is probably the most exciting option because it's situated outdoors, offering unobstructed 360-degree views of Tokyo and its landmarks like Tokyo Tower, Roppongi Hills, TOKYO SKYTREE®, and Tokyo Bay. There are also places where visitors can take breathtaking shots of Mt. Fuji.
Also, no visit to the SHIBUYA SCRAMBLE SQUARE would be complete without a look around its souvenir store. Of course, the store sells many original Tokyo-themed goods, which would make great reminders of your walk above the busy streets of Japan's capital.
The SHIBUYA FUKURAS skyscraper, located just outside Shibuya Station, is a busy place. With a bus terminal, luggage storage services, and an innovative tourist information center crossed with an art gallery, the building seems tailor-made for international visitors. The new structure stacks over 22 floors, four of which are underground, to discover.
The driving idea behind the FUKURAS was "a collection of little stories," which is why the building also houses offices, stores, and a wide selection of restaurants. Floors 2 – 8, as well as 17 and 18, are occupied by the Tokyu Plaza retail space offering everything from cosmetics to kitchenware. Once you're done shopping and eating, head on up to the rooftop. There, SHIBU NIWA open-air garden allows you to take in the amazing views of Shibuya.
New Harajuku Station Building & WITH HARAJUKU
原宿駅&ウィズ原宿
Harajuku and Shibuya are both changing rapidly. In fact soon Harajuku station, the oldest original wooden station in Tokyo, will be replaced with a larger, contemporary structure. The remodeling will help manage the ever-growing number of pedestrians in Tokyo and make visiting Harajuku easier for everyone. It's perfectly situated if you want somewhere to relax or shop, as the new location WITH HARAJUKU is right in front of the Harajuku station building.
Set to open in April 2020, WITH HARAJUKU is designed using many natural materials. It will be created as a "hang out place of the future" that includes not only restaurants and shops, but also halls, shared spaces, and rented residences. You can also enjoy walking along "WITH HARAJUKU STREET," which connects Harajuku Station with the wildly popular shopping area of Takeshita Street. As a result, the combination forms an attractive streetside store space.