Swimming and sunbathing in Tokyo's concrete jungle
---
Now that the rainy season has come to an end, the hot and muggy summer is here to stay for the next few months. Escaping the heat by leaving Tokyo for cool summer retreats is one option, but if you will be too busy sight-seeing (or working if you are a permanent resident), we recommend you at least find some time to cool down in one of these Tokyo hotel pools that are open to the public. Keep on making those crawl strokes to burn the calories you gained savoring local cuisine, have a relaxing sunbathing session with a cocktail while gazing at the overwhelming urban landscapes, or have a romantic night swim with magnificent light-ups. It's up to you.
Tokyo Hotel Pool 1: Keio Plaza Hotel Tokyo Sky Pool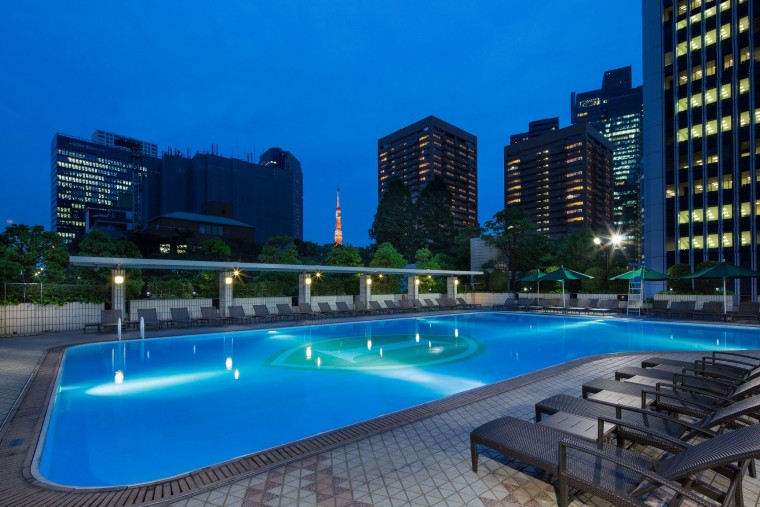 Located in the middle of Shinjuku's skyscraper district, Keio Plaza Hotel Tokyo's Sky Pool is about as urban as pools get. Enjoy a romantic evening swim bathed in the city lights. This sparkling oasis is just a 1-minute walk from Tochomae Station on the Toei Oedo Line. If you need a place to cool down after exploring Tokyo in summer, take a dip in this amazing hotel pool!
Address: Nishi-Shinjuku 2-2-1, Shinjuku, Tokyo
Access: A 1-min walk from Tochomae Station Exit B1 (Toei Oedo Line)
URL:  www.keioplaza.com/facilities/index.html
Tokyo Hotel Pool 2: Tokyo Prince Hotel Garden Pool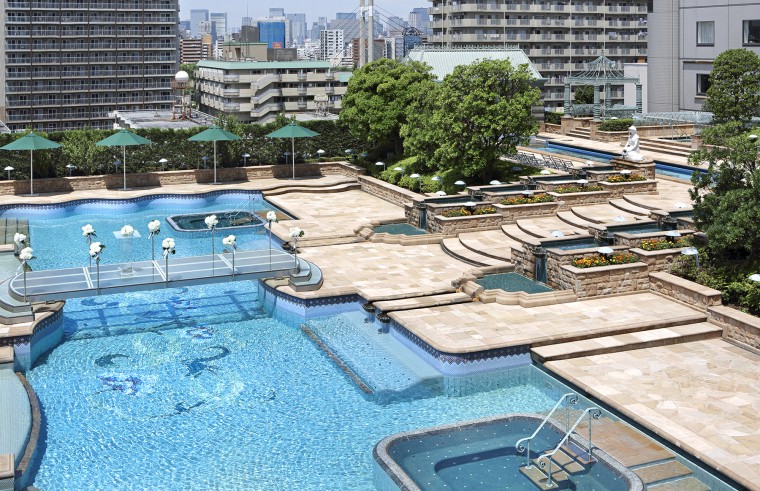 If sunbathing next to the iconic Tokyo Tower has always been on your to-do list, you should definitely visit Tokyo Prince Hotel and grab a spot by its Garden Pool. As the name suggests, there is plenty of greenery to enjoy around the pool as you splash about. In addition, the city view from the pool, including Tokyo Tower, is spectacular. That's why Tokyo Prince Hotel Garden pool is a great place to spend some time in the hot summer season in Tokyo while still appreciating the city sights.
Address: Shiba-koen 3-3-1, Minato, Tokyo
Access: A 1-min walk from Onarimon Station Exit A1 (Toei Mita Line)
URL:  www.princehotels.com/tokyo/facility/garden-pool/
Tokyo Hotel Pool 3: Hotel East 21 Tokyo Garden Pool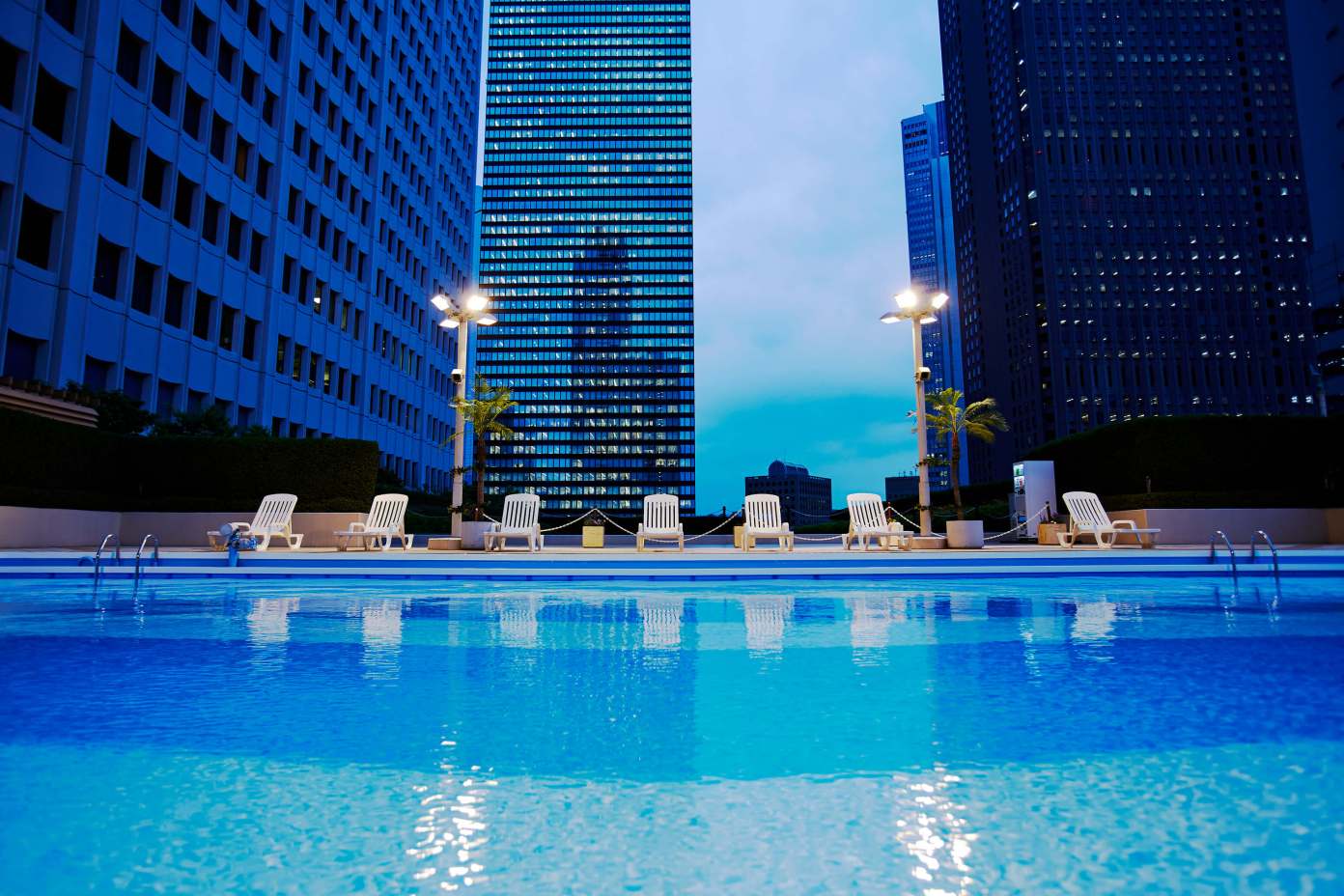 At Hotel East 21 Garden Pool, you can swim like royalty in the gorgeous facility. Adding to the relaxing atmosphere, this Tokyo pool is surround by a 19th century European style garden. The relaxing scene makes an amazing contrast to the surrounding Tokyo skyscrapers. This beautiful shelter from the Tokyo summer heat is a short walk from Toyocho Station on the way out to the Tokyo suburbs.
Address: Toyo 6-3-3, Koto, Tokyo
Access: A 7-min walk from Toyocho Station Exit 1 (Tozai Line)
URL:  www.hotel-east21.co.jp/en/fitnesspool/
Tokyo Hotel Pool 4: ANA InterContinental Garden Pool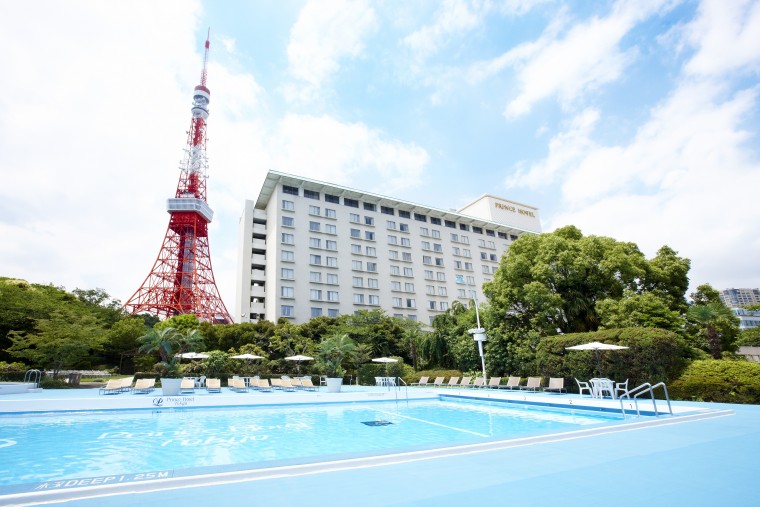 Another Tokyo hotel pool with an incredible view of Tokyo Tower if the ANA InterContinental Garden Pool. Again, this pool breaks the endless rows of towering skyscrapers with a wall of nature. Take a break from the Tokyo summer heat and enjoy some time by this soothing garden pool in the heart of Tokyo.
Address: Akasaka 1-12-33, Minato, Tokyo
Access: A 5-min walk from Roppongi-itchome Station Exit 3 (Namboku Line)
URL: anaintercontinental-tokyo.jp/facilities/garden-pool/