Trick Art: Eye deception expose!
Photographic fun with Japanese ghosts, giant monsters, ninjas and time travel, all under one roof! 
Trick art uses visual illusions, making the viewer feel like they are part of the artwork itself or tricking the mind and changing visitors' perspective on the piece. Trick Art actually originated in Japan, making a visit to this place similar to a Mecca of illusion! Anyone can meet spiritual creatures and monsters from legends and tales in Tokyo Trick Art Museum!
Located on the 4th floor of DECKS Tokyo Beach Seaside Mall at Odaiba, the museum is separated into themed areas, such as the Edo period, ninja and Japanese ghosts; famous artwork; and brain training. The Edo area offers — as you might have guessed – illusions from the Edo period such as scenes of street life, or sitting outside a traditional cafe. More active visitors can also take pictures of themselves riding a tiger that comes out of a folding screen, or leaping high in the air to avoid a ninja trap. In the monster area, many traditional and famous Japanese monsters are also waiting to meet guests.
For those of you not used to taking snapshots, the museum offers bilingual instructions on how to pose dramatically and the best angle to take the photo from. You can also download the museum's own "TRICKAR" app on your smartphone and take videos and photos with AR technology to see your portrait come to life. It may be called a museum, but it's a far cry from the average museum experience, making it a must for anyone visiting Odaiba!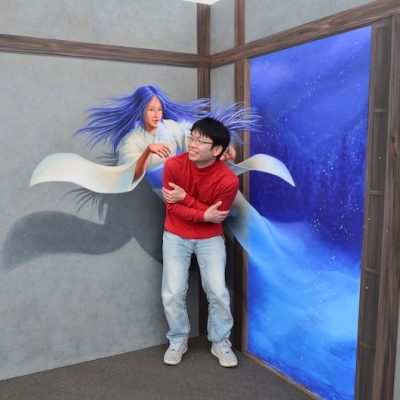 On a snowy day, the snow woman entered the farm-house. Her breath alone is enough to freeze a person.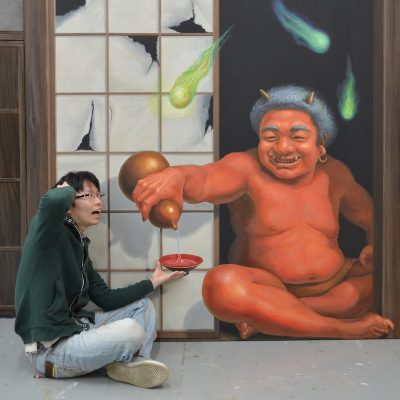 ②Aka-Oni (Red Demon) in Japanese folklore
This terrifying-looking red demon always invites people to drink sake with him. The red demon of Japanese legends may look frightening, but he's gentle and has a sense of humor.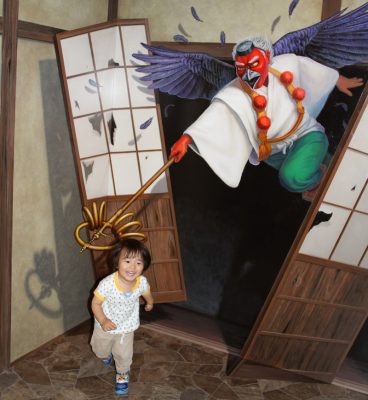 ③Karasu Tengu (Japanese goblin)
This creature has a crow 's beak and wings, and dresses like a mountain priest. The karasu tengu has broken through the sliding door! Run!
Trick Art Museum
Hours: 11am-9pm Closed irregularly (Last admission 8:30pm)
Admission: 600 JPY for children between 4 and 14, 1,000 JPY for adults
Access: 2-min walk from Odaiba-kaihinkoen Station on the Yurikamome Line
Address: 4F DECKS Tokyo Beach Seaside Mall, 1-6-1 Daiba, Minato-ku, Tokyo
Website: www.trickart.info/