Sendagaya area has mysteriously avoided attention up until now, despite being surrounded by Tokyo's hippest and liveliest neighbourhoods – Shinjuku, Shibuya and Harajuku. A 30 minute walk from Shibuya station, weaving through the cute Harajuku backstreets along the way, will take you to Sendagaya. It's also a 20 minute walk from Shinjuku, passing Shinjuku Gyoen National Garden.
Peaceful, stylish, and relaxed, this area has a bit of everything that takes you off the beaten track and shows you a very different layer of the city.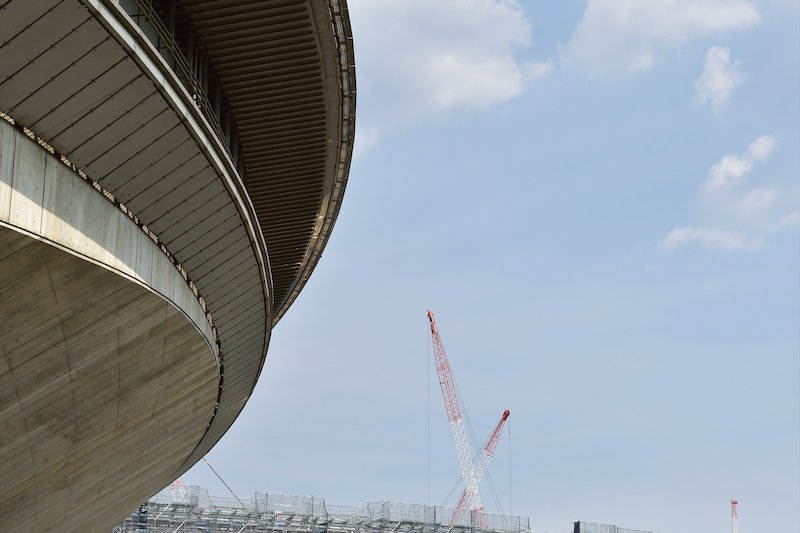 The decision to build the new National Stadium for the 2020 Olympics in Sendagaya was no coincidence, as Sendagaya also played host to the Olympics and Paralympic in 1964. In between all those years, Sendagaya kept carrying the flame for sports and many sport venues can be found in or around it, such as the Meiji Jingu Skate and Curling Rink and Futsal Courts, the Meiji Jingu Stadium used for baseball games, the Jingu Secondary Stadium, the Chichibunomiya Rugby Stadium, and the Tokyo Metropolitan Gymnasium. Some of these venues will also host matches during the Olympics and Paralympic, alongside the new National Stadium.
The New National Stadium is currently being built on the same spot where the old National Stadium (which was demolished in 2015) once stood. Technically, it's in Shinjuku ward, but it's actually closest to Sendagaya station. Slated to be the main stadium for the opening and closing ceremonies, as well as the venue for athletics, rugby and some of the football finals in the 2020 Olympics and Paralympics, it will definitely attract many visitors to the now quiet Sendagaya. Designed by the famous contemporary Japanese architect Kengo Kuma, this stadium is also continuing the streak of outstanding achievements in Japanese architecture, as the Tokyo Metropolitan Gymnasium nearby, designed by Fumihiko Maki to resemble a samurai's helmet ('kabuto'), is a beloved landmark for architecture enthusiasts.
After initial setbacks and unexpected changes to the architect and the design, it seems that the new stadium will be welcomed with excitement. Kengo Kuma's aesthetics are deeply connected to traditional Japanese architecture, and his use of natural materials such as wood is meant to foster harmony with nature. This so called 'timber temple' will incorporate overflowing greenery and organic lines, evoking images of ancient Japanese temples and blending in with the green Sendagaya that's surrounded by parks.
Sendagaya itself has a true Tokyo spirit in that it can seamlessly blend many different cultural aspects – its unbroken sport history, its residential calm, its cultural roots and its most modern offerings. Sendagaya's streets hold small charming discoveries, like temples and shrines, parks, and cozy cafes and restaurants. As such, it offers many opportunities for wandering and exploring to everyone who will visit during the 2020 Olympics and Paralympic.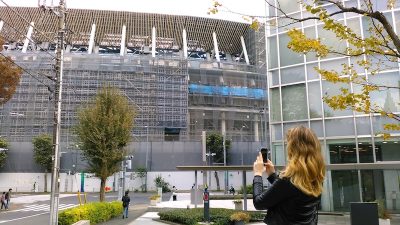 Another kind of competitive game has also found a home in Sendagaya – 'shogi', often referred to as 'Japanese chess'. The Shogi Kaikan serves both as a museum dedicated to this game and a dojo where shogi players can be seen pondering over their boards. A walk around the area leads to another significant spot of traditional Japanese culture – the National Noh Theatre Exhibition Room, where people can see a performance of this performance art recognized by UNESCO as an Intangible Cultural Property.
The path around Sendagaya will be a rewarding one, as well as walking back to nearby tourist hubs. Explore it and feel the rhythm of everyday life as a Tokyoite.
The Shogi Kaikan Museum
: Where professional players gather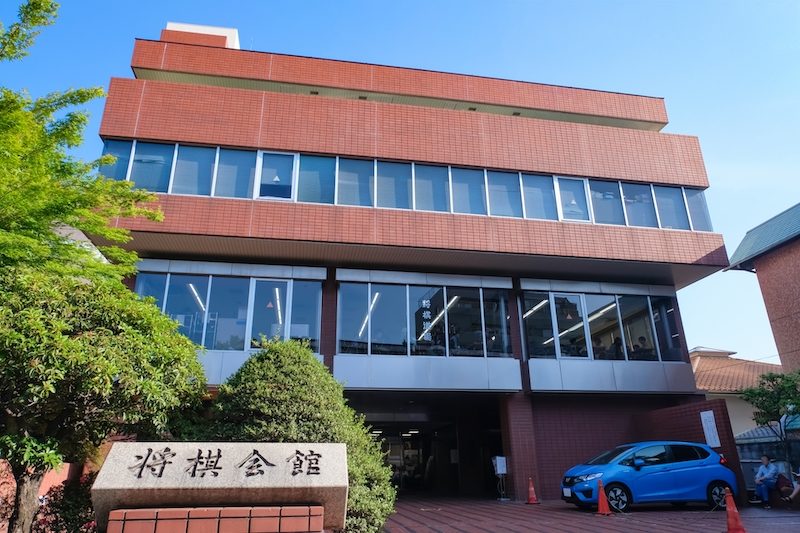 The game of Shogi is around 500 years old and you can see some of its rich heritage here. Home of the Japan Shogi Association, the Shogi Kaikan welcomes both fans of the game, and curious visitors who want to learn about it. Watch people play in the dojo, or pick up some amazing shogi souvenirs downstairs – including handcrafted shogi sets. A fascinating space full of years of dedication to the game.
Shogi Kaikan
Hours: 10am – 5pm (Shop), 10am – 9pm (Dojo), closed at the year-end, New Year holidays & irregular holidays
Entrance: free of charge
Access: 7 min walk from Sendagaya Station

Address: 2-39-9,Sendagaya,Shibuya-ku
URL: www.shogi.or.jp/about/base/tokyo/ (Japanese)
National Noh Theatre: Showcasing Intangible Cultural Heritage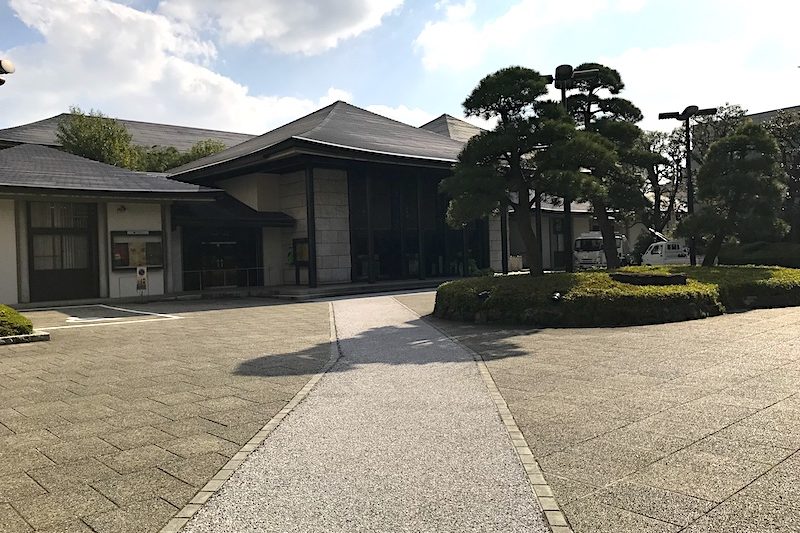 Worth visiting for the architecture alone, this beautiful building houses a restaurant and a Noh exhibition that changes seasonally. You'll also find a traditional Japanese garden within its courtyard. Stop by to see the costumes, masks, and paintings for yourself, and if you want to see this UNESCO Intangible Heritage performance live, you can pick up tickets to see the latest Noh theatre show.
National Noh Theatre
Hours: 10am – 5pm (closed on Monday or the following day if Monday is a public holiday)
Entrance: free of charge

Access: 5 min walk from Sendagaya Station
Address: 4-18-1,Sendagaya,Shibuya-ku

URL: www.ntj.jac.go.jp/english/access/facilities_03.html
Hatonomori Hachiman Shrine: Discover Mt. Fuji in the middle of the city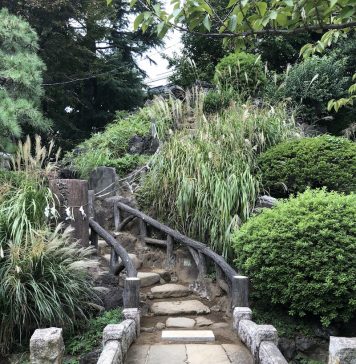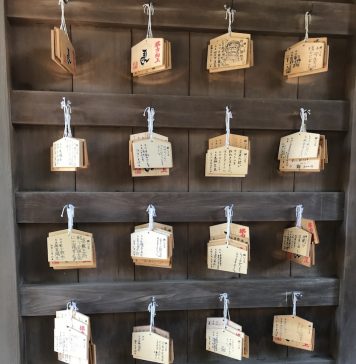 This beautiful shrine and temple with a mix of Shinto and Buddhism, dedicated to the Imperial family, is said to be more than a thousand years old. It's unique in that it houses a miniature mount Fuji (a mound built to represent and be worshiped as Mt. Fuji) and a shrine dedicated to shogi (Japanese chess). The practice of building mini mount Fuji mounds is called 'fujidzuka' in Japanese and dates back to the Edo period. These religious sites especially served people who were not able to climb the sacred mountain, even using stones brought over from Mount Fuji. The mini Mt. Fuji in Sendagaya is a surviving one from those times. Moreover, the shrine's name is associated with pigeons due to the wood pigeons that used to fly over the area. You can pick up adorable pigeon fortunes and other gifts from the shrine's shop.
Hatonomori Hachiman Shrine
Access: 5 min walk from Sendagaya Station
Address: 1-1-24,Sendagaya,Shibuya-ku
David Otto Juice: A squeeze of healthy trends in Sendagaya
A truly healthy experience, perfect for the area that boasts so many sports venues and hosts international athletes, David Otto Juice is one of the pioneers of healthy lifestyle. Hailing from California in the 70s, its owner has adopted and promoted a healthy lifestyle, and a cruelty-free vegan diet. They serve delicious cold pressed juices in a modern and open setting. Their most popular 'green' juice combines healthy vegetables with a lemon kick. They also offer vegan ice-cream with natural flavorings and clean, healthy toppings, and host yoga sessions. You can even create a custom detox juice plan at the shop.
DAVID OTTO JUICE
Hours: 10am – 7pm (Mon-Sat), 10am – 6pm (Sat & Sun), closed on first 3 days of New Year & Sunday in August
Access: 10 min walk from Sendagaya Station
Address: 2-6-3,Sendagaya, Shibuya-ku
URL: davidottojuice.com/