From Ropongi Hills's observatory deck, you can enjoy an amazing panorama of Tokyo's urban landscapes. The view of Tokyo Tower and Tokyo Skytree together, and the view at Shibuya and Shinjuku are some of the best Tokyo has to offer! This observatory deck has two floors. You have the indoor observatory at the 52nd floor, and the Sky Deck, which is located on the building's rooftop.
Tokyo Skyline Photos from Observatory Decks in Roppongi Hills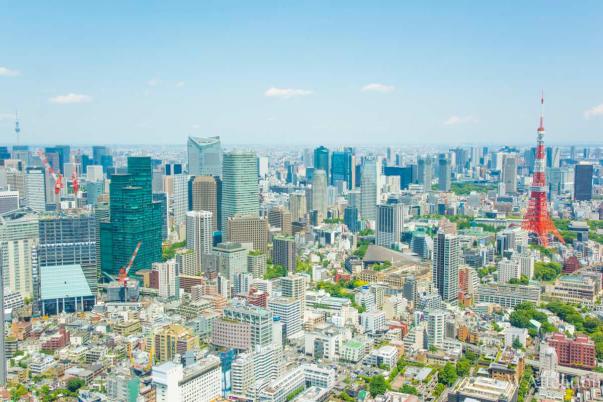 Today's first shot was taken from the 52nd floor. This angle, with Tokyo Tower in the front and Tokyo Skytree in the back can only be taken from Roppongi Hills. With large windows, the spacious 52nd floor's indoor observatory is ideal to enjoy the view at ease. Many exhibitions are held here throughout the year as well.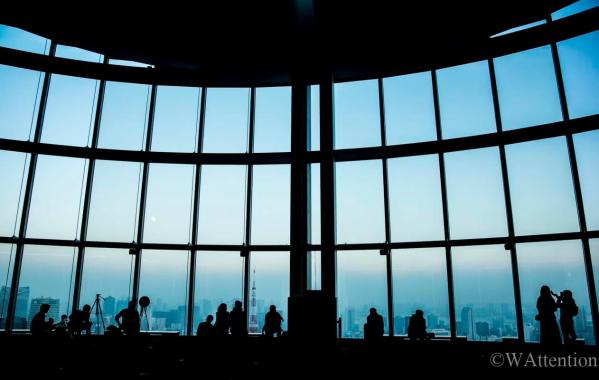 Panorama Shots from the Sky Deck in Roppongi Hills

While an additional fee of 500 yen (300 yen for children) is required to enter the Sky Deck, as you can see it is more than worth your money! The long bridge on the right sight is Tokyo's famous Rainbow Bridge, which leads to Odaiba. As Sky Deck is located on the rooftop, be sure that you're not dressed too cold or warm depending on the season. For safety reasons, you can only take your camera and mobile phone to the Sky Deck. Other belongings (including hats and caps) have to be put in the coin locker at the 52nd floor before you take the elevator up.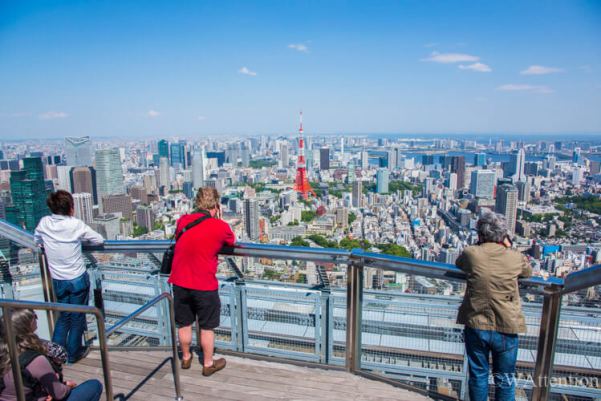 A Lover's Sanctuary Floating Above Roppongi
Did you know that Roppongi Hills was selected as a Lover's Sanctuary? The scenery would indeed make for an amazing date! On this side, you can see the skyscrapers of Shinjuku and Shibuya in the distance.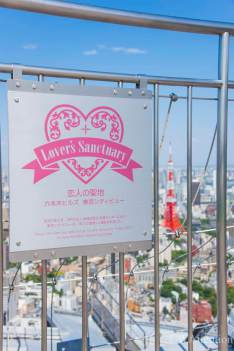 Twilight Tokyo Skyline from Roppongi Hills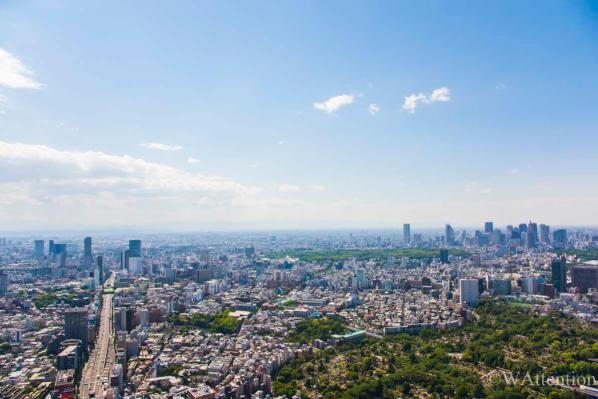 Tokyo gradually begins to light up at twilight. Tokyo Tower and Tokyo Skytree can be seen from the Sky Deck at night. Panoramic views are even more dramatic and spectacular in the evening as the Tokyo Skyline sparkles. Can you find all the Tokyo skyline landmarks? There are 2 towers, 2 ferris wheels and 2 bridges in this shot alone.
Viewing Mt. Fuji with the Tokyo Skyline from Roppongi Hills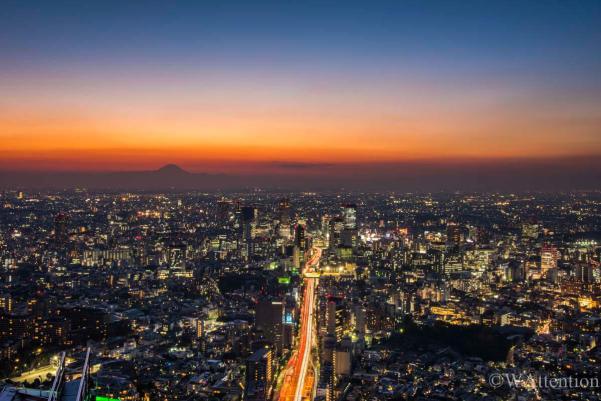 The Shibuya direction with Mt.Fuji in the backdrop taken from Sky Deck at dusk. Mt. Fuji can only be seen on clear days from November to February, let's hope you get lucky! Whenever I come to Roppongi Hills's observation deck, I can never chose which direction to watch at twilight. With two floors and literally breathtaking sights at each corner of the observatory, this is truly a spot you keep wanting to come back to!
Spot Information
Location: Minato 6-10-1 Mori Tower Roppongi Hills Tokyo, Minato
Access: Tokyo Metro Hibiya Line Roppongi Station (directly connected to Roppongi Hills), or a 6-min walk from Toei Oedo Line Roppongi Station.
Hours: 【Tokyo City View Indoor Observation Deck】10:00am–10:00pm;【Sky Deck Rooftop Observation Deck】11:00am–8:00pm (Last Admission 7:30pm)
Entrance Fees(On-Site / Online): 【Tokyo City View Indoor Observation Deck】Adults 2,200/1,900 JPY, age 65 and above 1,900/1,600 JYP, high school, college, and university students 1,600/1,300 JPY, children 4-years-old to middle school students 1,000/700 JPY; 【Additonal Fees for Sky Deck】Adults, age 65 and above, high school, college, and university students 500 JYP, children 4-years-old to middle school students 300 JPY