Nagano Prefecture is a mountainous region in the center of Japan's main island, Honshu. Best known for its exhilarating ski slopes which hosted the 1998 Winter Olympic Games, Nagano is a popular destination for outdoor enthusiasts from around the country. Aside from the many leisure activities available in Nagano's gorgeous alps, the prefecture also supports the arts and spirituality at Zenkoji Temple. One of Japan's most legendary artists and creator of some of Japan's iconic traditional woodblock paintings, Hokusai, lived out the last years of his life in Nagano. Nagano City, the prefecture's capital, continues to foster creativity and celebrate local art with Nagano's Japan Design Week.
Nagano City Illuminations During Japan Design Week
The mountainous city at the peak of its creativity.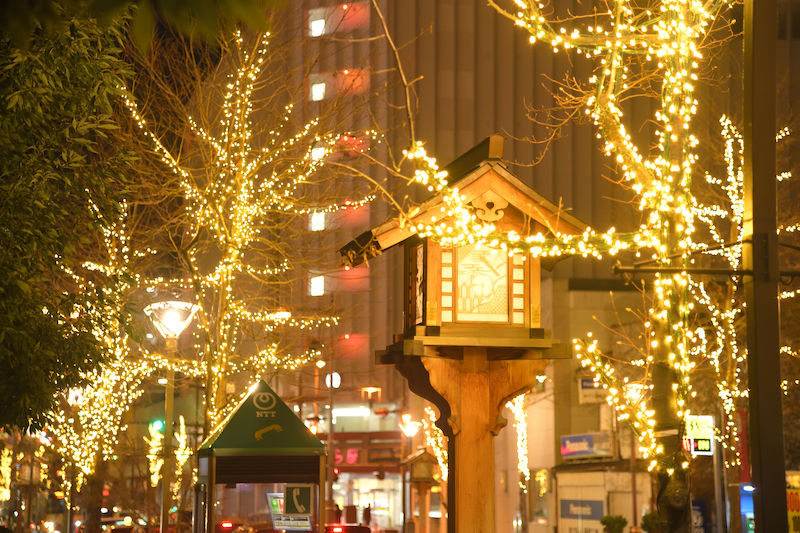 Growing from a temple town in the Nara period, Nagano's Zenkoji Temple is the city's main attraction. During Japan Design Week, the area is brilliantly lit by the Zenkoji and Omotesando lluminations. As Japan Design Week begins the streets glow from Nagano Station all the way to the gates of the famed temple with over 240,000 LED lights. Even in December, the 1.8 kilometer walk from Nagano Station up to the temple gates felt quite comfortable under the warm glow of the glimmering katsura trees lining the streets. The Zenkoji Omotesando Illuminations climax in a dazzling display of light and sound at Zenjoji Temple as the grand wooden structure is painted in colorful beams of animated characters and blooming lotus flowers, an important motif of Nagano, accompanied by beautiful music.
Crafting Memories at Nagano's Japan Design Week
Strolling through such a beautiful city just after sunset with the jagged charcoal-colored mountains outlining the edges of Nagano against the fading sky, certainly inspires some creativity. Along the journey to the temple, there are many festivities including Nagano's local art. Visitors can even participate in activities and create their personal artistic souvenirs. From pop-up books to live music to elaborate light installations, Nagano's dedication to art and culture is clear during Japan Design Week. Nagano's local artists have a great platform to show their skills and their passion each year during Japan Design Week. I look forward to seeing what they can produce in the future.
Zenkoji Temple and the Road to Enlightenment


Experience the spiritual power of Nagano's roughly 1,400-year-old Zenkoji Temple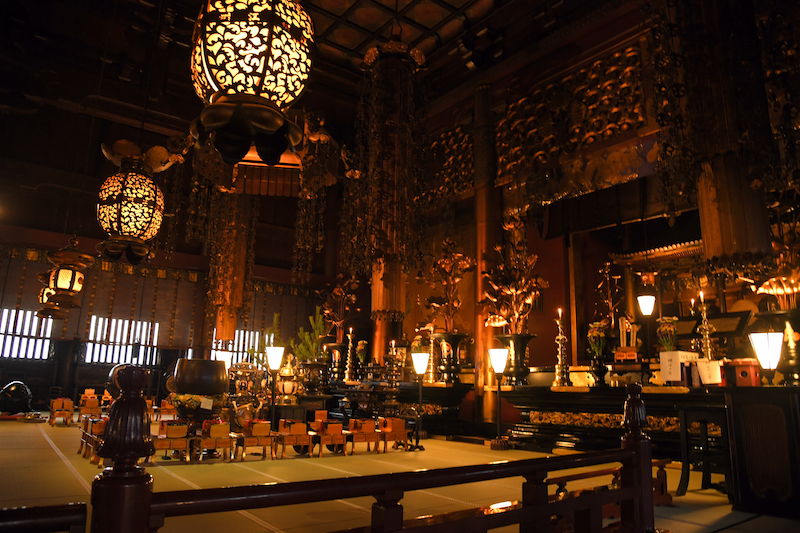 Experience the spiritual power of Nagano's roughly 1,400-year-old Zenkoji Temple by making a reservation from the Nagano SGG Bonsho-no-kai. You can join a guided tour in English led by friendly, knowledgeable volunteers. The volunteer guides have a passion for Nagano's heritage and culture. Feel free to ask any questions as they lead you through the city's iconic 7th-century Buddhist Temple which houses the first Buddhist statue. Though the original statue is hidden, a replica can be viewed for a about two months every 7 years.
Other notable statues living in the temple are figures of Zenkoji's founder Yoshimitsu Honda with his son and wife — a rare sight for a Buddhist temple as statues of women are not typically featured so prominently. Due to its acceptance of women entering temples and participating in rituals during feudal times, Zenkoji can be seen as a kind of symbol of equality and feminism in early Japanese religion. Now more than half of the roughly six million patrons who visit yearly are women.
Finding the Key to Paradise in Zenkoji Temple Tunnel of Darkness
While the temple can certainly be appreciated from a historical and architectural perspective, the spiritual benefits of the Zenkoji experience cannot be overlooked. Even foreign travelers who casually visit this historic place of worship can experience some inner awakening. One of Zenkoji's key features is its long, intensely intimidating, pitch-black tunnel which is meant to simulate the grueling, arduous path to enlightenment.
Stumbling through the winding underground passage in search of the literal "key to paradise" hanging from the wall, there is a sense of unity with humanity. Everyone feels the uneasiness from the darkness, and everyone feels the relief from the light as it emerges from the other side. The tunnel also represents the process of life, as we are all made equal before entering the world.
Zen Meditation at Zenkoji Temple
The guided tours offer even more opportunities for quiet inward reflection through many traditional activities around the temple grounds. Learn how to write a traditional Buddhist sutra in Japanese with a brush and ink, or heal our mind, body, and spirit with a zen meditation session led by a real Japanese monk. When travelling in the beautiful country Japan, it's easy to become lost in the spectacle and pack your itinerary full of as many hot destinations as time will allow, leaving little time for healthy reflection and real relaxation. The most important souvenirs you will take home from Zenkoji are knowledge and inner peace, and that is more valuable than anything you can fit into a suitcase. To commemorate my journey towards enlightenment at Zenkoji, I was offered plenty of beautiful free postcards at the end of the tour.
Information:
Access: 1 hour 40 minutes from Tokyo Station to Nagano Station by JR Hokuriku Shinkansen. About 10 minutes from Nagano Station East Exit to "Zenkoji Daimon" (about 5 minutes on foot to the Zenkoji main hall after getting off) by No.1 bus.
URL:NAGANO CITY OFFICIAL TRAVEL GUIDE