The Hirayama Ikuo Silk Road Museum is located in the highlands of Hokuto, Yamanashi overlooking Mt. Fuji and the mountains of Yatsugatake. This beautiful and serene backdrop befits the collection of works and art that is housed within the museum, comprised of drawings and paintings by esteemed artist of Nihon-ga (the traditional Japanese style of painting), Hirayama Ikuo and an assortment of art collected by him and his wife from the Silk Road.
Born on a peaceful island in the Seto Inland Sea on June 15, 1930, Hirayama loved painting since his early childhood. As fate would have it, 15-year-old Hirayama was in Hiroshima when the atomic bomb was dropped. He escaped with his life, but he would continue to suffer the after effects of the radiation. Instead of bitterness or anger, this experience led him to a lifelong mission promoting peace through art and protecting the cultural heritage of the world. His efforts in places such as China, Cambodia, North Korea, and Bamjyan (Afghanistan) was held in high regard both domestically and internationally.
In this museum, you can see pieces collected and donated by Hirayama and his wife to increase awareness about the cultural heritages and the need for their protection.

There are also numerous artworks made by Hirayama himself. The first floor houses his early sketches, paintings depicting the introduction of Buddhism to Japan, and his masterpieces depicting Japanese landscapes.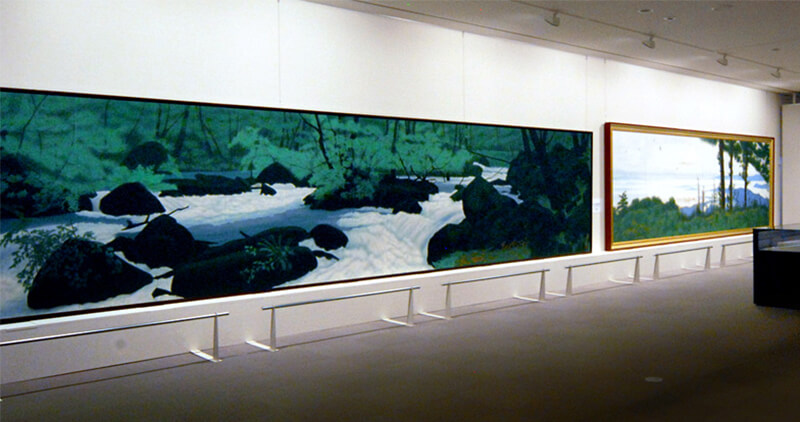 The second floor houses his most well-known work, the Grand Silk Road Series. The enormous vibrant blue and burnt sienna paintings seem to draw you into a different place and time. But look closely at this foreign landscape and you can see familiar flecks of gold leaf, a traditional Japanese technique commonly applied in Nihonga.
The pigment used in his paintings is called iwa-enogu which is made from grinding natural minerals and is used in traditional Japanese painting.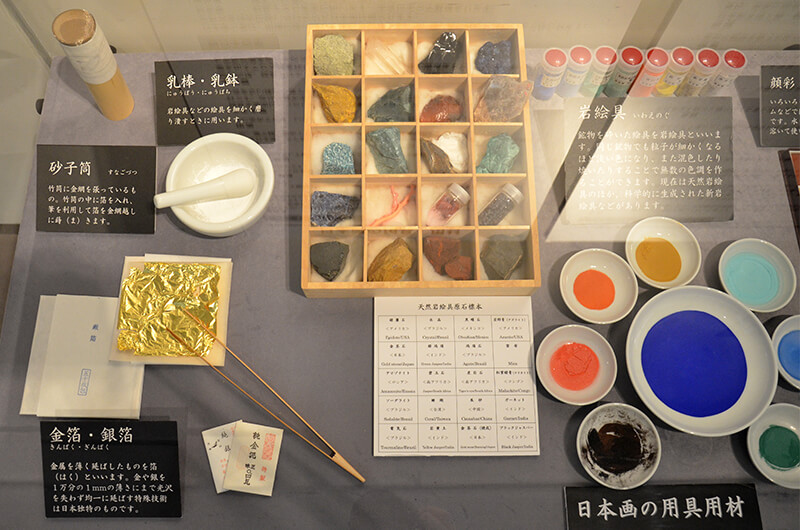 There is also a display of Hirayama's atelier, showing what would have been his final masterpiece, now left unfinished by his death in 2009.
Just like the Silk Road, Hirayama's life work strove to bring people together, linking the East to the West, and wishing peace and prosperity to all cultures.
Information
Hirayama Ikuo Silk Road Museum
Access: The museum is located right beside JR Kai-Koizumi Station
Hours: 10am – 5pm, (Last entry by 4:30pm) closed on Tuesdays (except if Tuesday falls on a national holiday) and during the new year (usually from Dec. 29 – Jan. 3)
Admission: 1,200 yen (Adult), 800 yen (University or high school students), FREE (Middle or primary school children)
URL: http://www.silkroad-museum.jp/english/
Read the rest of the series:
The Charm of Hokuto (1) : Oasis of the Highlands
The Charm of Hokuto (3) : Suntory Hakushu Distillery
The Charm of Hokuto (4) : Inn Blue in Green
The Charm of Hokuto (5): Top 5 Photogenic Nature Spots
The Charm of Hokuto (6): Moegi no Mura
Restaurant Review: Soba Restaurant Sanbuichi