Nestled in the highlands between the Yatsugatake Mountains and Minami Alps, Hokuto City in Yamanashi Prefecture is a true jewel worth exploring. Surrounded by majestic mountains from 3 sides and the view of Mt. Fuji to the south, awe-inspiring views abound no matter where you look. Only two hours by train from Tokyo, the alpine weather in Hokuto is considerably cooler, making this one of the best places to escape from the summer heat of the Kanto region.
Hokuto is blessed with some of the purest, most mineral-rich water in Japan flowing down from the mountains into their many natural springs.
This water lends to extraordinarily tasty vegetables, fruits, and produce. It is also credited for delicious soba, wines, whiskey, and sake that is loved by many connoisseurs.
Beautiful flowers grow in abundance here, evidenced by their many flower fields and gardens.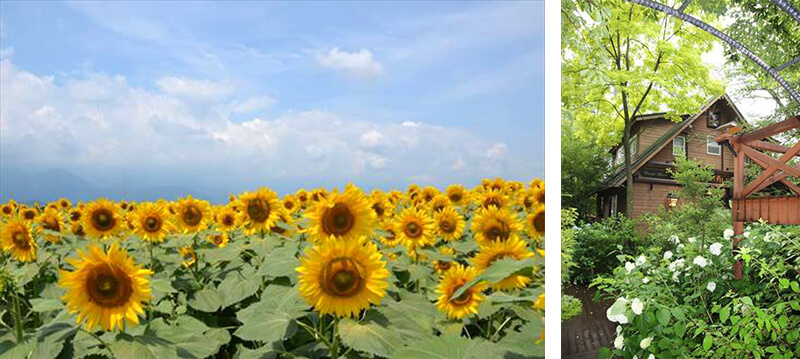 In Hokuto you can see a blend of different cultures. Yet, all those different cultures seem to be perfectly at home here, anchored down harmoniously by the sky, the mountains and the surrounding nature.
In the northeast, you will encounter many Western styled houses and facilities. Seisenryo that wouldn't be out of place in the American countryside, the Blue in Green guesthouse that is reminiscent of a French country house, and Moeginomura that looks like it was taken straight out of a German fairy-tale are all within driving distance.
A few minutes drive to the southwest will take you to a more Japanese area with expansive rice paddies and old-fashioned establishments including the Shichiken sake brewery and confectionery manufacturer, Kinseiken.
So what are you waiting for? Quench your thirst this summer with picturesque views, good food and drinks, and cultural experiences here in Hokuto.
Read the rest of the series:
The Charm of Hokuto (2) : Hirayama Ikuo Silk Road Museum
The Charm of Hokuto (3) : Suntory Hakushu Distillery
The Charm of Hokuto (4) : Inn Blue in Green
The Charm of Hokuto (5): Top 5 Photogenic Nature Spots
The Charm of Hokuto (6): Moegi no Mura
Restaurant Review: Soba Restaurant Sanbuichi