New Odaiba museum hosts art collective's first
permanent installation: Borderless
Japan's famous digital art collective teamLab has held several digital art exhibitions in Japan and around the world in recent years and their efforts have been well received. Besides the dazzling quality of the digital technology on display, teamLab tries to integrate thought and interaction into their work, making them a hit with people of all ages. As their exhibitions in the past have been widely popular and of limited runs, it has always been hard to get tickets, but that all changes with the opening of their first ever permanent exhibition on June 21 in Odaiba, Tokyo at the Mori Building Digital Art Museum titled Borderless. WAttention got a sneak peak of the exhibit, so come dive into the digital world with us!
A New Realm for Digital Art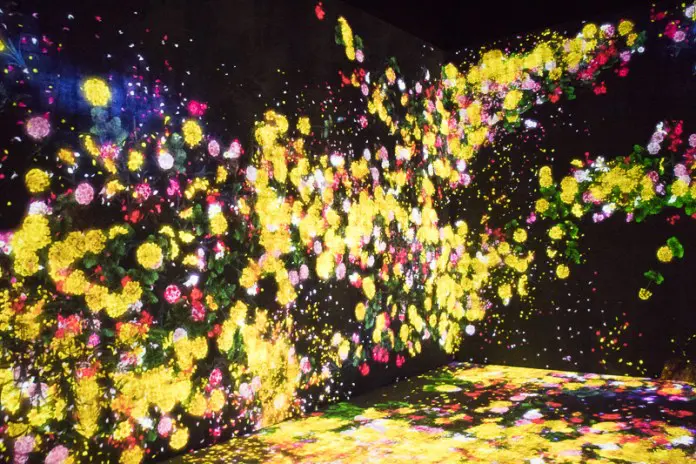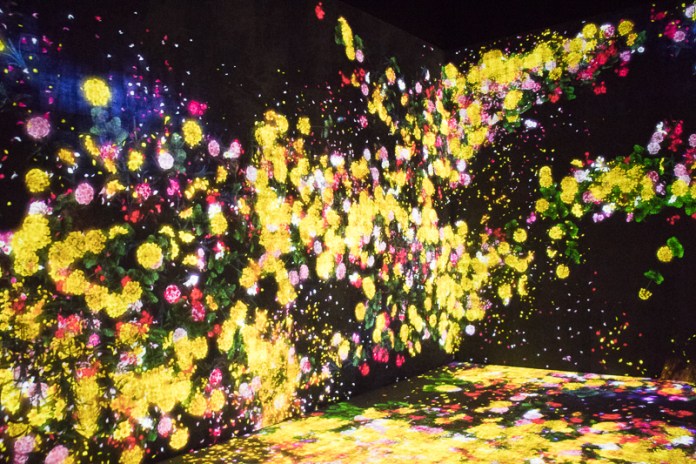 With the ever-changing colors and branching forests of flowers, teamLab's exhibit is all about interconnectivity. Located in the popular tourist destination of Odaiba, the Mori Building Digital Art Museum is huge at 33,000 square meters and uses 470 projectors and 520 computers to achieve its digital world. The exhibit is named "teamLab Borderless," meaning there are no distinctions between museum and exhibit. Everything is linked together in some manner or other, but there is a clear path to follow through the museum, which is another part of teamLab's vision: having people continue down the same path together as one and eliminating boundaries. In addition to simply admiring the sights on offer, they ask you to use all five senses to take in the spectacle.
Who are teamLab?
teamLab was founded in 2001, the first five members of the art collective all being graduates of Tokyo University and Tokyo Institute of Technology. They come from all different backgrounds, comprised of engineers, animators, mathematicians, architects and artists. More than just a digital production company, they are also artists whose medium is science and technology. Check out their YouTube channel to find out more about their past works.
Borderless' Five Themes
teamLab's past works were only able to touch on one or two different themes, but their new exhibit Borderless allows them enough room to touch on five. There are a total of 50 works in the exhibit, many on display for the first time. The five different themes of the exhibit are "Borderless World," "Athletics Forest," "Future Park," "Forest of Lamps" and "En Tea House." Let's dive right in!
Borderless World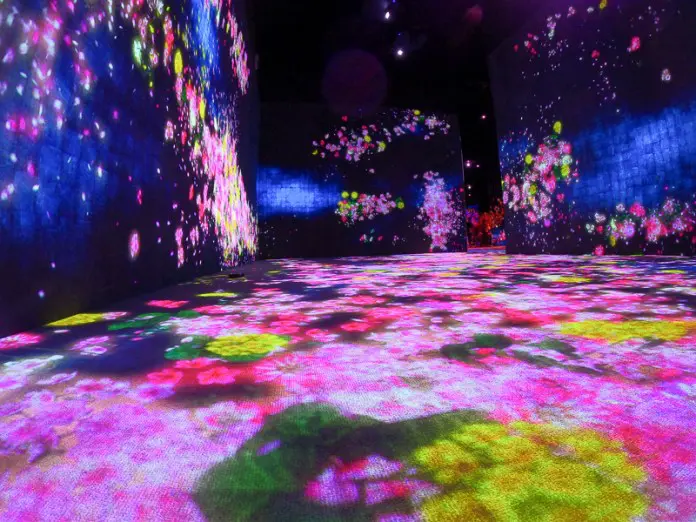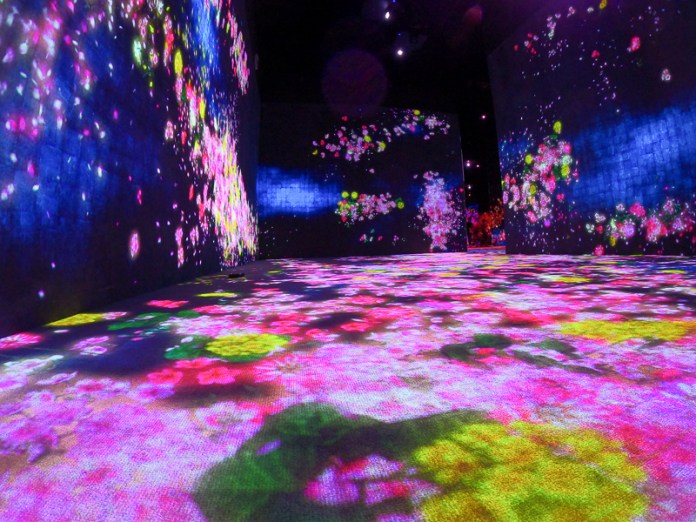 After entering the museum, you will encounter to the exhibit's first theme "Borderless World." teamLab hopes that visitors can move freely through this endless world and establish relationships with both other visitors and their own works. Since the exhibit is named Borderless, it's easy to imagine that this is the central theme of the whole museum, being the largest of the five areas.
Walking along as flowers that continuously bloom, you will find yourself trekking deeper and deeper into the most spectacular piece on display: a waterfall-based creation called Untitled. As the seasons change, so does the current of the waterfall. Pink petals of spring are covered up with the passing of the season and bright yellow sunflowers begin to bloom shortly thereafter. Sit on a rock and meditate or approach the waterfall and interact with the digital water yourself. These are pieces that ask to be appreciated over a stretch of time rather than with just a quick glance.
Athletics Forest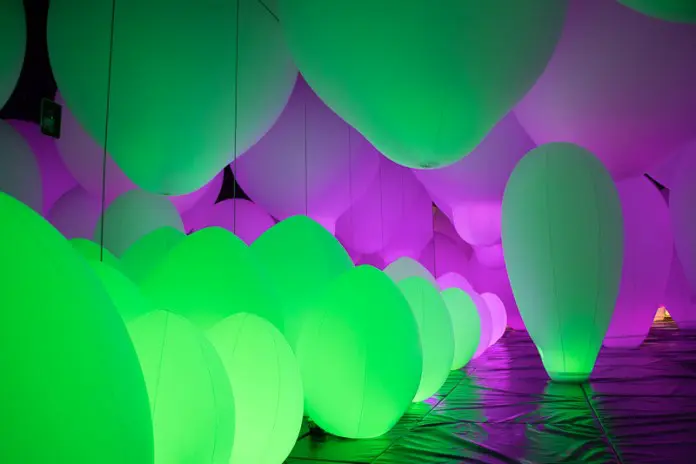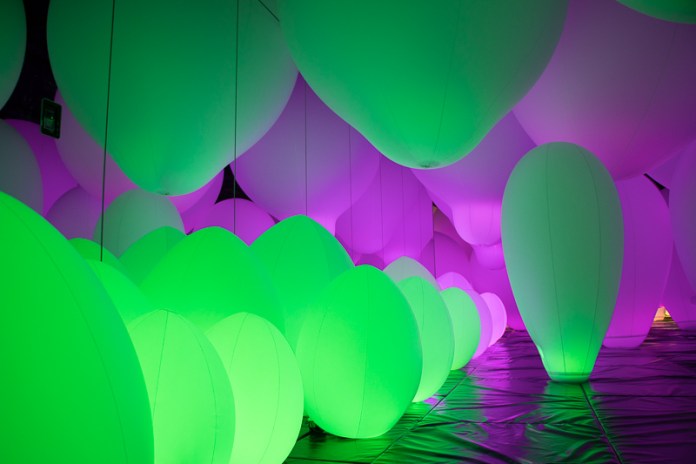 Everyone has played in the park, climbed rope ladders, jumped on trampolines or tried rock climbing, but who could imagine these activities would one day be in an actual museum!? Here, you are free to interact with the exhibits, but with the amount of fun you'll be having, maybe they shouldn't call them exhibits at all. The trampoline area becomes the gravity-less space called Multi Jumping Universe. The rope ladder becomes trees in the jungle, and the rock climbing area becomes a 3D forest of lights!
Another enormous work is that of Graffti Nature-High Mountains and Deep Valleys. Here you'll find spring water gushing from the hillside, running down into the low valley to then unexpectedly be met by a variety of animals such as crocodiles, butterflies, and doves. If you wait a moment, you just may catch a glimpse of a whale swimming past!
Future Park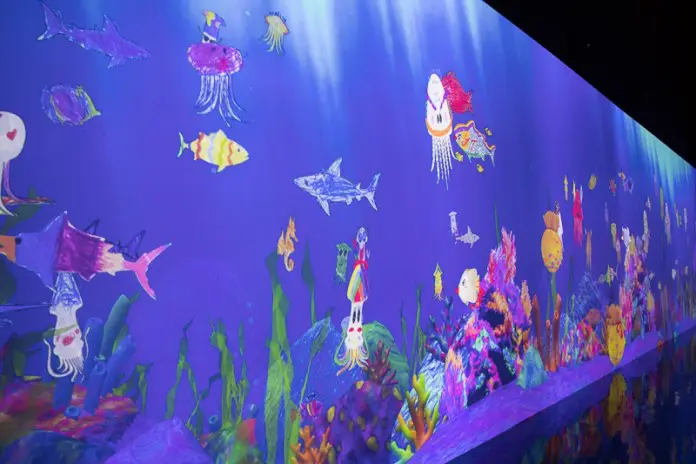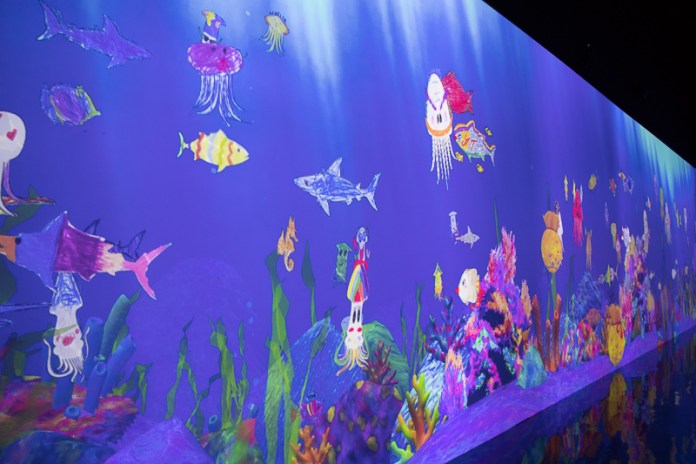 This three-sided aquarium is full of digital marine life and is one area that should be particularly popular with children. The three walls of the area are all a digital aquarium where you can draw your own sea creature and have it appear up inside the tank and come to life, chasing around and playing with the other critters on screen. I myself tried drawing a tropical fish and asked for some help scanning it in. In about 3 seconds, the fish I'd just drawn was up in the tank and I barely had enough time to take pictures of my little aquatic friend! The staff told us that on days where there aren't a large number of visitors, you should be able to hang out with your new pet practically all day.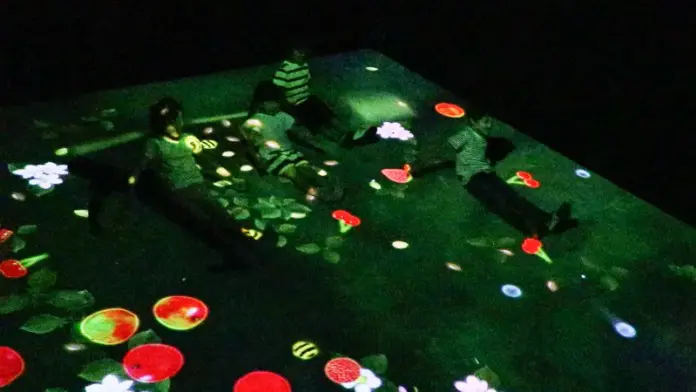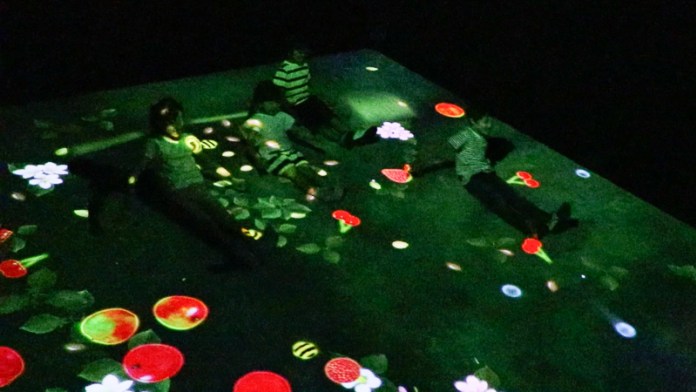 Another piece sure to be popular not just with kids but with adults too is the Fruit Garden Slide, where as you slide down, fruit and fireworks pop up every which way. The area you just slid down erupts into a burst of fireworks (accompanied with sound) that really lends a sense of presence to the work.
Forest of Lamps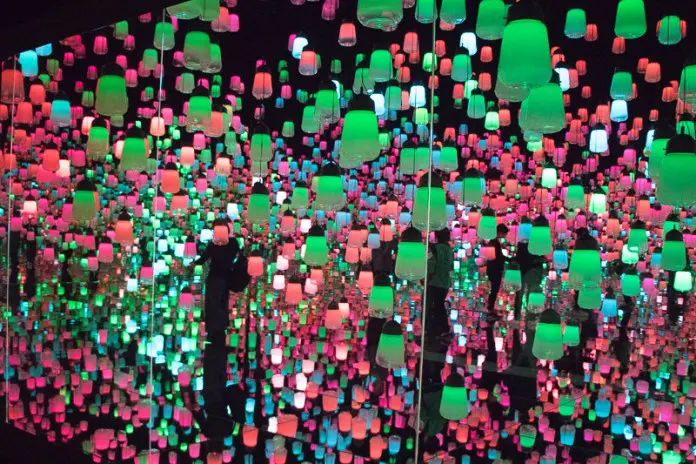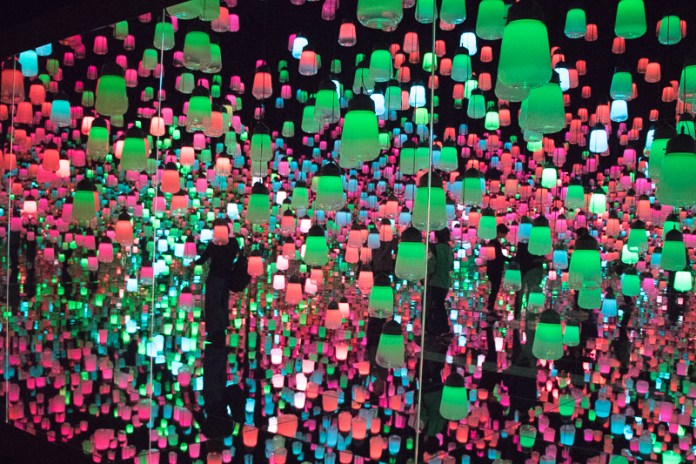 You can see the Forest of Lamps as you approach it, but once inside you can no longer see out! At first glance, it looks like the lanterns in the sky are floating in midair, but when you approach you can see that it is a forest of light bulbs. With mirrors lining the walls and the floor, the bulbs look even more spectacular, and when you approach a lamp, its light will quickly jump to the next lamp. The colors constantly change as well, making it a truly immersive experience!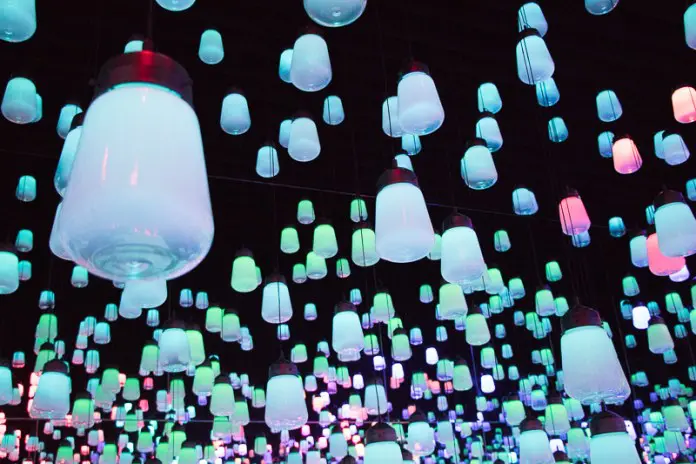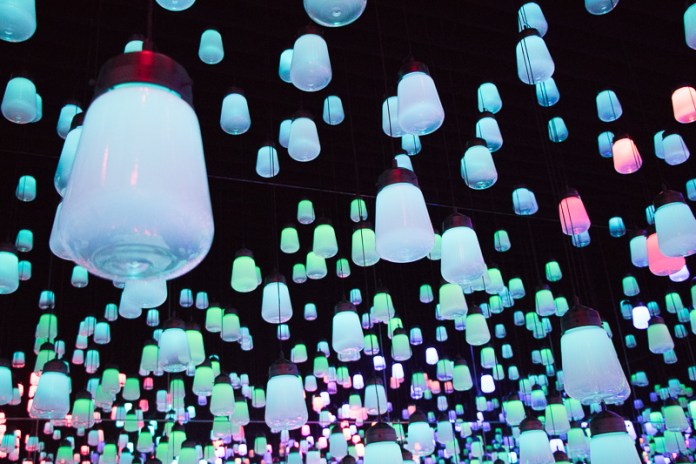 En Tea House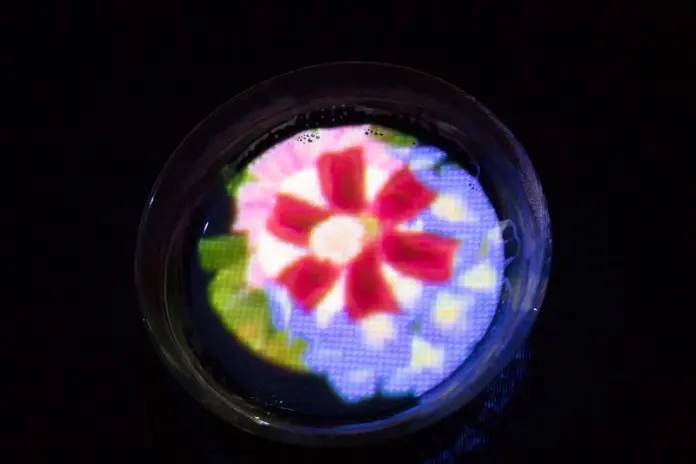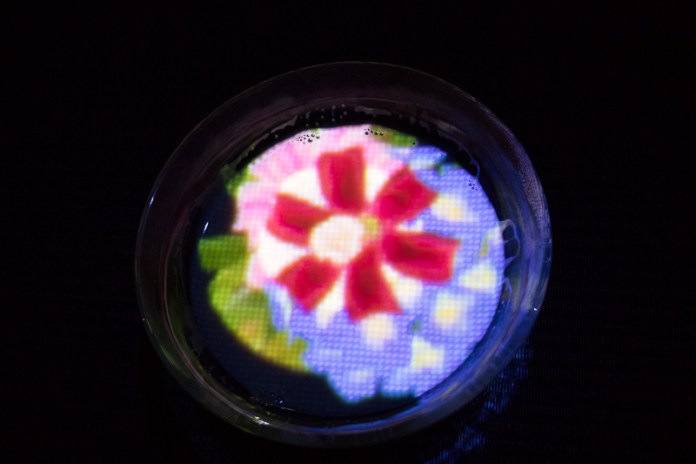 Before leaving, don't forget to go to the En Tea House area of the museum. The work pictured above, called Flowers Blooming in the Infinite Universe in a Tea Bowl is just what the name suggests. The menu of the tea house is quite straightforward: cold black tea, regular and grapefruit green teas, and the one I went with: roasted green tea latte. After ordering at the counter, the clerk will first hand you a transparent container with your tea leaves inside so you can get a quick sniff of it to perk you up. After that, you enter the tea house with your tea leaves and pass them to the clerk inside.
Soon, your hot tea is ready and brought to your table. As your tea is poured into the transparent teacup, flowers start blooming inside of it before your very eyes! The flowers remain in your teacup until you've drank the last drop. The tea house has a very quiet atmosphere, and aside from the flowers blooming on your seat, it is almost completely dark. Settle down and enjoy the tranquility of this quiet space with your delicious cup of tea as you watch the flowers change.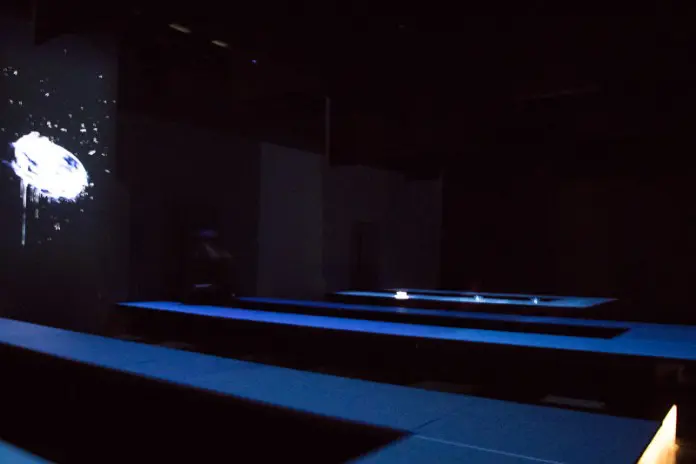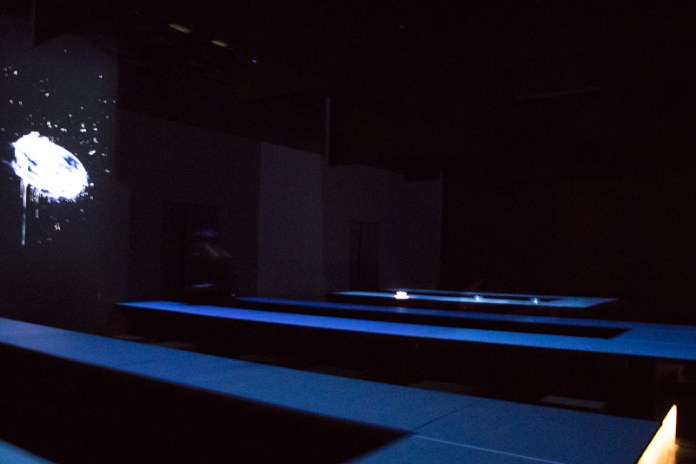 WAttention editor tip:
On the day I visited, I had been told in advance to set aside between 90 and 120 minutes to get the whole experience, but having actually visited there, I realized that two hours probably wasn't quite enough time to really enjoy everything as you'll want to take your time and experience all the exhibits, take pictures, and have fun. So, if you plan on visiting, make sure you leave yourself plenty of time to enjoy the museum.
Information
MORI Building DIGITAL ART MUSEUM: teamLab Borderless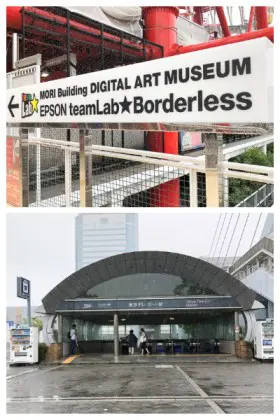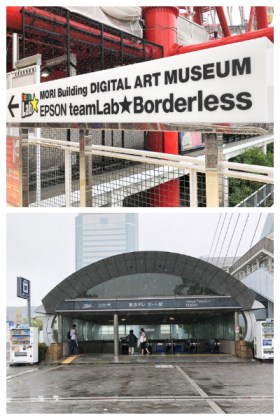 Address: Odaiba Palette Town, 1-3-8 Ome, Koto, Tokyo
Hours: Mon – Thurs: 11:00 am – 7:00 pm (9:00 pm**); Fri & day before National Holidays: 11:00 am – 9:00 pm (10:00 pm**); Sat: 10:00 am – 9:00 pm (10:00 pm**); Sun & National Holidays: 10:00 am – 7:00 pm (8:00 pm**)
**During Jun 21 – Aug 31 museum is open longer hours
*Last entry 1 hour before the museum closing time
*Hours may vary depending on the season
Price: Adults (15 and over): 3,200 JPY
Children (between 4 – 14): 1,000 JPY
Free for children 3 and under
*Price includes tax
*Visit by July 31 and get Early Bird Tickets for 2,400 JPY (Adults)
Access: Tokyo Teleport Station (Rinkai Line)
Aomi Station (Yurikamome Line)
5 mins walk toward big wheel.
Website: https://borderless.teamlab.art/
If you liked this article, you may also like:
Tokyo Bayside Story: Toyosu and Odaiba
The Dazzling Disarray of the Robot Restaurant
Tokyo Bayside Story: Kita-Shinagawa and Tennozu Isle
Tokyo Trick Art Museum