I'm sure. If I say Akita, you immediately think about the white and orange dog Hachiko.
And you think right.  Akita Prefecture is the hometown of this type of dog and of course, Hachi, the Akita dog is the mascot of this northern area of Japan.
But the highlights of the area are not limited only to these tender dogs, the North of Tohoku also holds different primates and particular local traditions.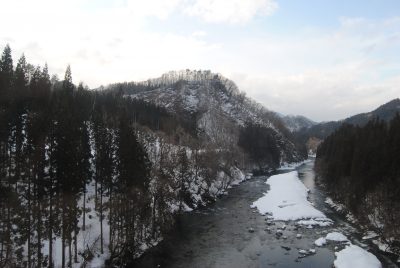 The prefectures of Iwate in the east and Akita in the west share the last piece of Japan before the extreme prefecture of Aomori and the best powder snow in Japan falls on their mountains.

Hachimantai is consider the best place for winter sports, due to its "asrpirin" powder snow and many Ski Resorts as the Hachimantai Resorts (the biggest one of Tohoku Area) offer amazing ski slopes for beginners and advanced skiers and snowboarders. During warm season instead, Hachimatai is a great starting point to hiking and trekking surrounded by nature, which could be explorer together with the resort's guide who explain you about the different plants and flower of the area.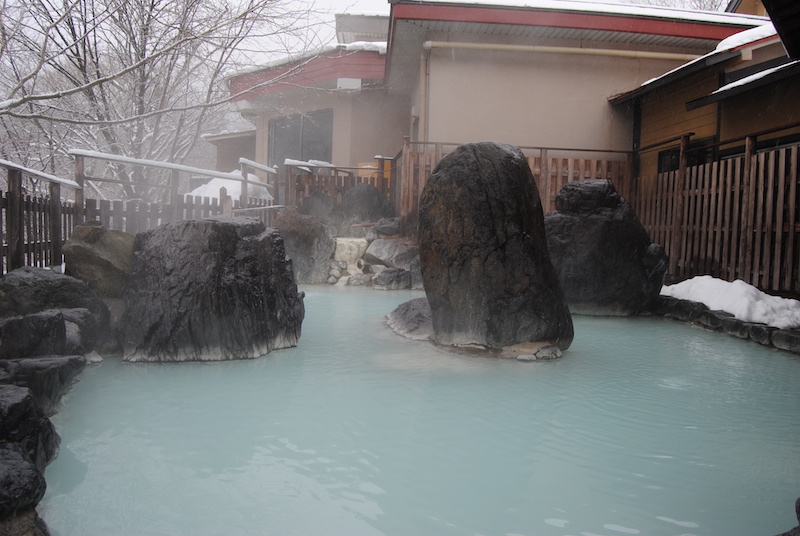 One of the most popular excursion especially around end of May is Kagami Pond, also knowed as Dragon Eye, due to the images created by the melting of the snow. After skiing or hiking, nothing is better to relax yourself into an hotspring and in this area several hotspring can be found, including one of the rare konyouku, a mixed-gendre bath, at Matsukawa Onsen Kyounso.
Mount Iwate which stands in front of Hachimantai was an active volcano until the 18 century and nowadays is possible walk on black lava trails. Thanks to the geothermal power of the area, in the area was developed the construction of geothermal plants, that stil now are older and bigger of Japan, important source of electricity power.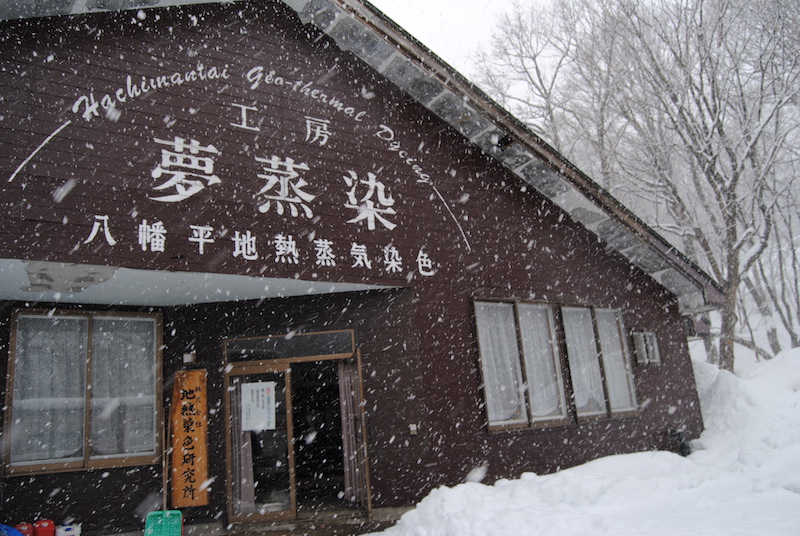 Geotermal power is used here not only to create electricity but also to dyeing. At the Geocolor Hachimantai Geothermal Dyeing, Emi Suzuki and her family create amazing and precious clothes and accessories dyeing using geothermal steam directly.

In their shops they explain about this handcraft works and also visitors can enjoy this experience and create their unique artworks. Every creation is unique in colors, design and shades: depending on weather condition, type of atmosphere, quantity of color use and shape create by sewing thread. Master this art is extremely difficult and the amazing dress designed bringing inspiration from the nature are often displayed in runaway and other exclusive events.
Moving from Iwate Prefecture to the near Akita Prefecture you'll take the Hanawa Highway, the highest expressway in Japan, from where in sunny days you can admire the Lake Towada on the East Side.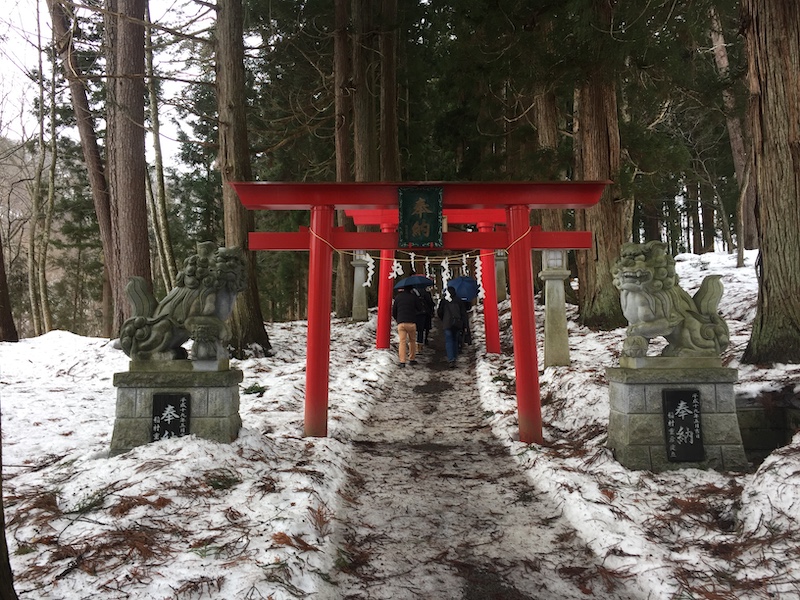 The power of the nature can be seen during the whole year in the area. An example is the famous Aspite Line, the almost 30km road knowed as "Corridor of Snow" for its about 5 meters of snow at both sides of the street, when the road open in early spring. At the same time, you can also spot the cherry blossom and this magic contrast is something really emotional I think. If you're travelling around Hachimantai in autumn season instead, you'll be able to see the first colors of Japanese autumn while in summertime amazing flower will bloom.

Snow, Onsen, nature but also one of the Japan's Best 100 Falls can be found here, the 15 mt Fudo no Taki Fall, surrounded by nature, a traditional red bridge and the Sakuramatsu Shrine.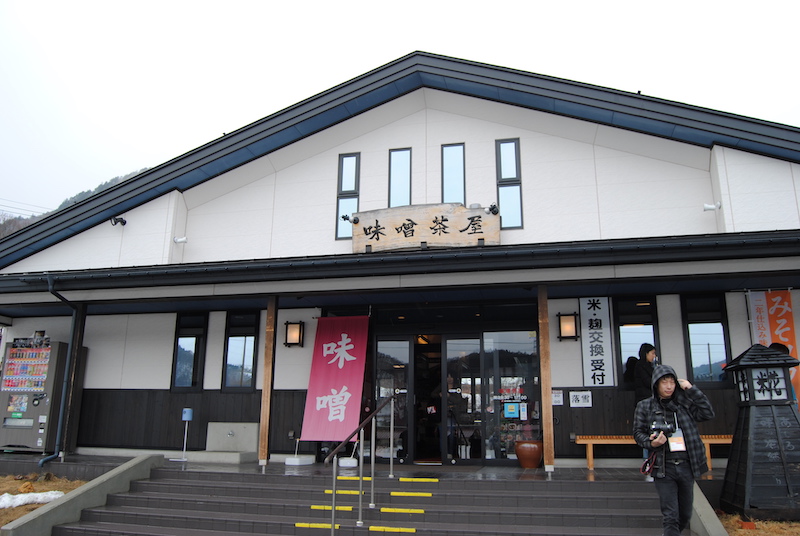 Not far from the waterfall, don't forget to have lunch at Kojiya Motomiya Misochaya, where you can taste their delicious Koji Miso, only made here. Koji Miso fermented for 2 years in a natural process, without adding any chemical products, following traditional method from 3 generations. Not only shop, but also learn more about miso and koji production: the staff is open to show visitors the production area as well as workshop creating own miso. Is also a great place to have lunch with delicious koji-based meal for only 800 yen! Several types of Miso and Koji-based product can be buyed here and you can taste a Miso soft cream that can't be found anywhere else.

The most famous food of Akita prefecture instead is Kiritampo nabe, skeweres and roasted rice in a chicken broth with seasonal vegetables. In July is held also a famous matsuri in Odate, but if you're visiting the area in another month, don't miss the chance to try it, before or after have played with some Akita Dogs at the new Akita Inu center that will open next April or at the Hurusawa Onsen where Hana and Haru will wait for you.
In Odate city you can also create an amazing souvenir of your trip: a wooden lunchbox create by you! Magewappa is a worldwide famous shop that create handmade wooden stuff, using the cedar and cherry wood typical from Akita Prefecture. They offer visitor a workshop experience that consist in assembly and refine their own lunchbox, following simple instruction. The experience is super funny and at the end I'm sure will be extremely satisfied from the results!

Not only bento box, but also several daily and traditional stuff, such an amazing tea ceremony set can be buyed here, and don't forget to take a look at their restroom: amazing use of wood!
Other than Akita dogs and Kiritampo hotpot, there is also another typical things of the area: the matagi culture. Matagi was also named a kind of "Mountain Samurai" and their lives are connected with the great Mountain Moriyoshi and the high number of bears who populate the area. They believe those bears are a present from the Mountain's God, so they are not simply bears hunter, but they use every single part of the animals for protect and feed themselves, but also to create medical stuff and so on. Life of Matagi was really hard, facing the weather condition, the difficult of the mountain and wild animals, but thanks to an ancient historical fact, they was the only group allowed to hunt everywhere and they develop their own culture and language. Nowadays, only few Matagi remains and hunting is generally not their main job, but they are searching to keep alive their corps mainly in the villages of Utto, Hitachinai and Nekko and is possible to learn more about them in the small but nice museum of Matagi No Sato, where you can also try a delicious bear meat lunch!

After enjoy an hotpot of bear meals, don't forget to visit the Matagi Museum in the same building and learn more about this population. To fully enjoy the Matagi experience, you can take the special Matagi train, that runs on Akita Nairiku Line. This Line runs through Akita countryside and offer amazing view on surrounding nature, as art on rice field or snowy river; the train also reduce the speed in some viewpoint, so be ready with your camera to shoot amazing photos! The special Matagi Train offer interior tatami and could be rented for enjoy ride privately or doing party!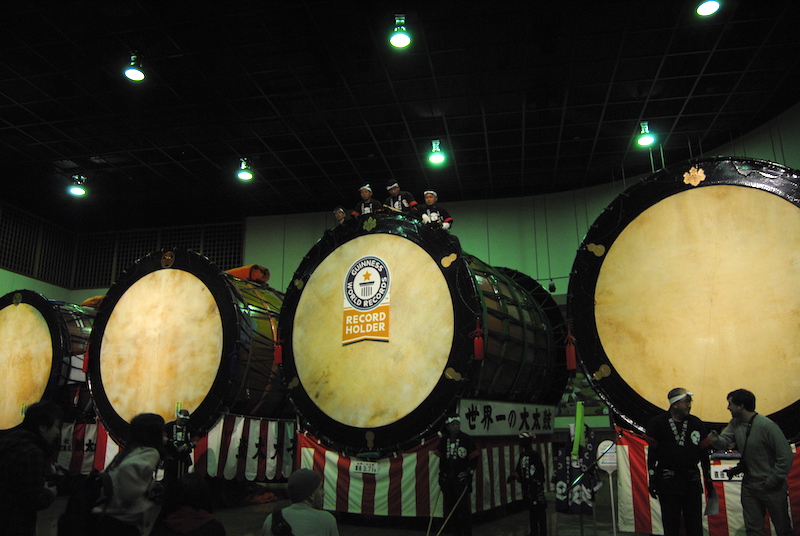 Before leaving Akita prefecture be sure to not miss the occasion to see a Guinnes World Record! In Odaiko Museum in Kitaakita you can see the world largest drum! 3.71 meters in diameter and weight of about 4 tons. Why a that large drum was built? Yep, it was a challenge. For years the two neighborhoods of Takanosu compete each other to receive the lucky from the temple, but after many fight and injuried, it was set to move the challenge into the building of biggest drum. That's how comes up the GWR of Shitamaci, even if the largest drum actually is the one made by Uemachi, with diameter of 3.8 meters……but they wasn't able to use skin of a single ox for drumskin, so they can't claim the GWR!

By the way, the museum also display several type of drums from many country around the world and in the nearest shop you can buy souvenirs and traditional food of Akita Area.
And talking about unique things, stop in Kosaka Town, born as mine town, was able to change itself in a town leader in extract precious metal such as silver and gold from modern device as personal computer and mobile phones….the medal for Olyimpic and Paralimpic Games of Tokyo 2020 will be made with recycled material, thanks to the factory in Kosaka, the only place in the world able to extract many types of metals! All those information could be learned in the museum inside the Kosaka Mine Office, a beautiful building in western style perfectly mix with traditional Japanese architecture like screening window and wooden ceiling. Just few step far the Kosaka Mine Office, there is the oldest Korakuen Theatre where nowadays are still perform Kabuki Theatre from April to September and in off-season visitors can visit the theatre, discover the secrets of the stage and wear real costumes.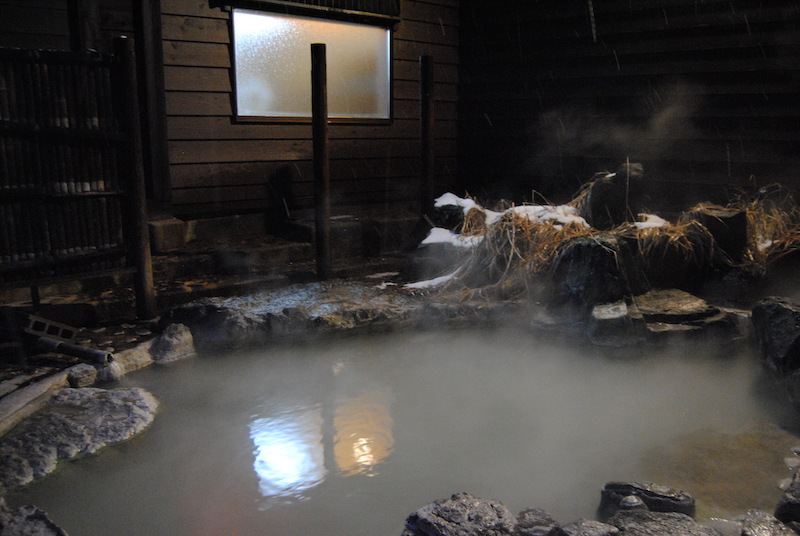 After so many emotion and sightseeing, the best way to realax mind and body is to overnight at Hikage Onsen, an amazing accommodation surrounded by nature in the middle of mountains. Hikage Onsen has a long history and due to its water rich in mineral receive also a special certificate from Emperor Hiroito that is displayed in the small museum inside the structure.

Since past times, many Japanese and especially soldiers, was hosted here to cure skin disease: the water contains an incredible high numbers of minerals and also the pipes has to be changed every one or two months, for the mineral deposit…so you can guess how miraculous could be soak yourself in this water….could be this one the secret of the beauty of Akita's women?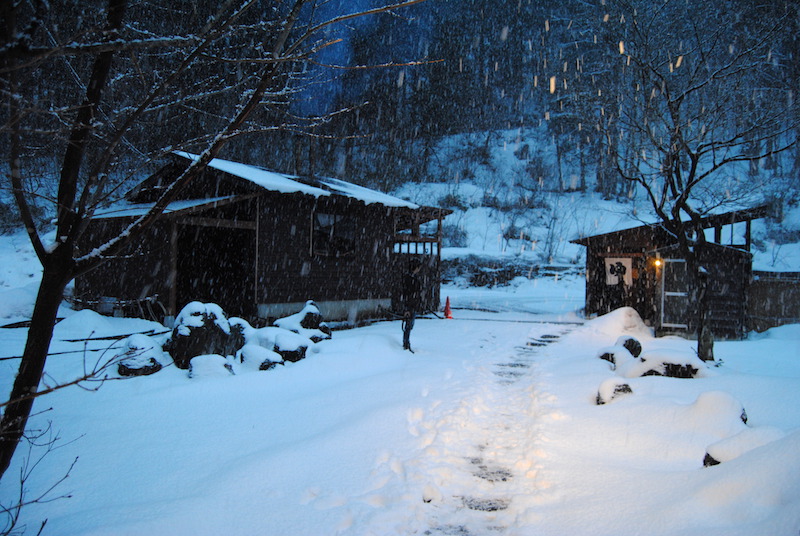 Hikage Onsen, is not only an historical structure, but is also a very large accommodation, with several rooms and tre suites, but the mainly point is the great number of onsen bath, including three private onsen and two bath outside of the main building, in the middle of the nature. One of them can also be reserved for free! Is a dream right? And if you consider the great food they serve and the welcome made by Hachi, the Akita Inu at the entrance, you'll surely come back again and again here!
Of course, the Northen Tohoku in winter is a paradise for snow lovers, but also during other season there are several attractions and things to do…is time to plan another visit no?
WATTENTION NINJA PROFILE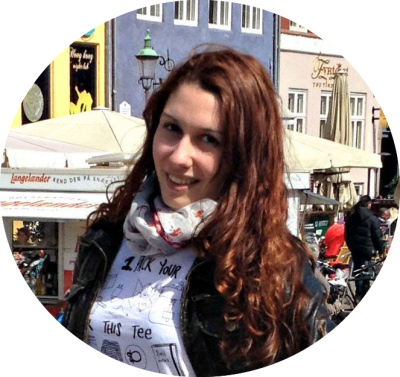 Michela Figliola
Italian travel blogger living in Tokyo for almost 2 years. In love with Japanese history and traditional culture, always searching to new place to explore. Social Media addicted with a passion for writing.
Bigger dream? Travelling as a job!"
MORE ARTICLES BY THIS WRITER |