Note: The goat at Sakuragaoka Cafe has already retired. Details may have changed since the publication of this post. For the most current information, please check the homepage of the facility, product or campaign.
Enjoy coastal drives, scenic mountain routes and get to places where the locals go in Japan with your own set of wheels. If concerns over not being able to read road signs or complicated booking procedures have been your main road blocks to planning your dream road trip, stall no more and check out the best deals at Tabirai Japan Car Rental.
Tabirai's English website allows you to search for the cheapest rental prices for your trip all over Japan, covering all the major car rental companies such as Toyota Rent-a-Lease, Orix Rent-A-Car, Nissan Rentacar etc.


Three reasons why it's great for foreigners
The Okinawan-based rent-a-car company – founded 10 years ago – provides foreigner-friendly services such as: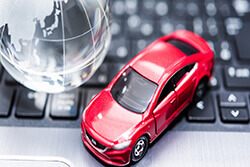 Don't worry about getting lost with cars equipped with GPS in English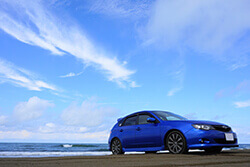 Bookings are accepted in English and via email.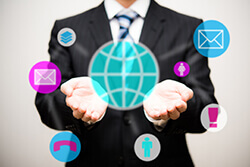 Only major rental car companies are used and published prices reflect all rental costs, basic insurance, collision damage waiver, car navigation and consumption tax.
How to book with Tabirai Car Rental
Japan's most convenient car rental service in Japan is easy to book:
Search for desired dates, vehicle model and location.

Select the area of your departure and search for a car rental office within that area.

Car types are categorized according to the car's emission and model.

Input your conditions on the search box and press 'Search'. You will then get a list of cars that match your needs.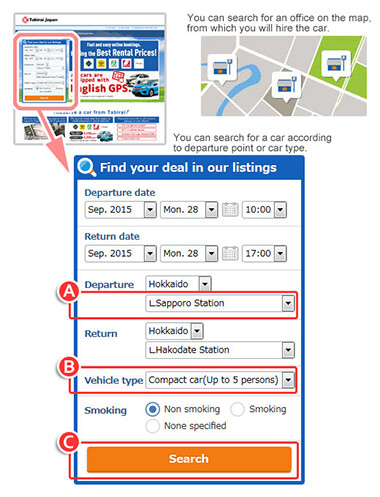 View all available options fitting your set requirements, compare prices and choose a suitable option.

This indicates the car's emission and model.

These are the option menus for each plan.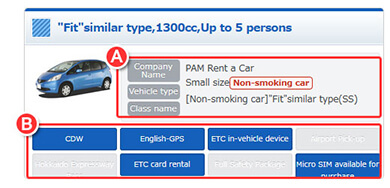 See details of desired vehicle. Cars with baby or child seats are available. Check the shop details here.

This is the plan currently selected.

These are automatic discounts applied to your plan.

Departure and returning offices mean where you hire the car from and where you return the car to.
If you return the car to an office different from where you hired it, you may be charged extra handling costs. Don't forget to confirm the final cost for your plan because different car rental companies have different rates.

These are extra options available.

Proceed to booking.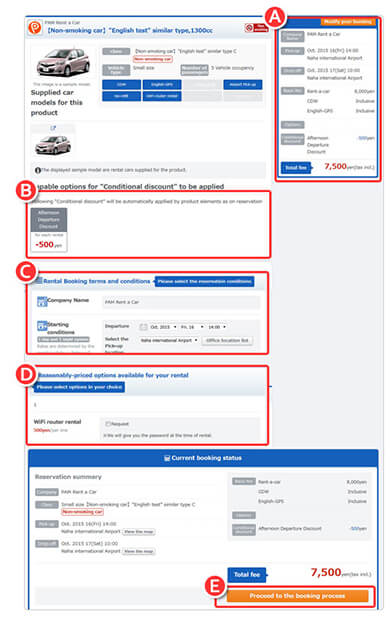 Input your contact details such as name, mail address, phone number and flight.

This is the plan currently selected.

Input a telephone number that can be used to contact you on the day of your trip and in case of emergencies.

Tick here if you would like to subscribe to Tabirai's newsletters.

After completing the information, click here to proceed to the confirmation screen.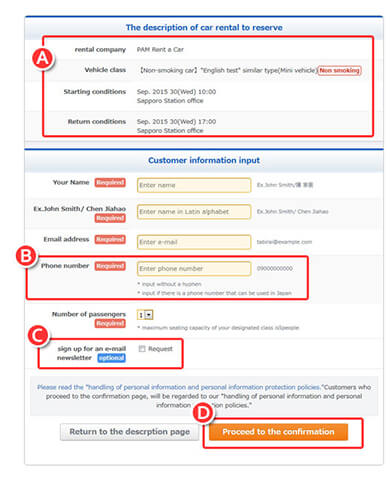 Click here if there is a mistake in the information provided, or if you would like to make any changes.

After confirming everything, click here to complete the booking.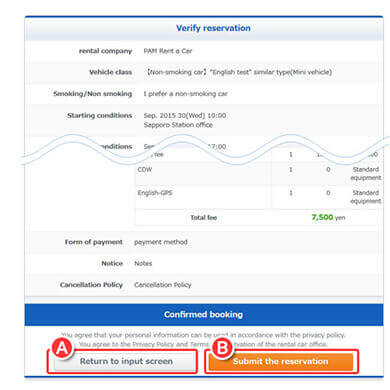 No membership registration or credit card details are required at time of booking. After the online reservation is made, reconfirmation is not necessary. A confirmation message will be sent from the rental car company.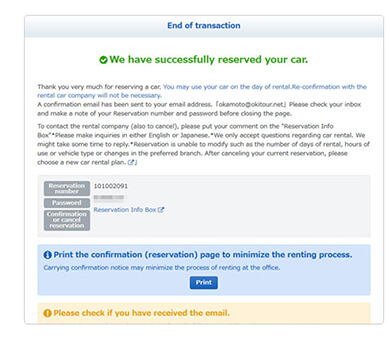 So what are you waiting for?
Original article published: March 15, 2018