Situated in Fushimi-ku, about 2km south-east of Kyoto station, the Fushimi Inari-taisha Shrine is said to originate from the Hata clan's worship of the god of rice and sake in the 8th century. As centuries went on, the god also became known as the one to ensure prosperity in business. People often call it "Oinari-san," and is the head shrine of no less than 30,000 Inari branch shrines nationwide today.
Special New Year Prayers at Fushimi Inari Shrine, Kyoto
The Fushimi Inari-taisha has drawn countless businessmen to worship here, especially at the first prayers of the New Year. After all, Oinari-san is the god of prosperity. Visitors may be overwhelmed by over 5,000 orange-colored torii gates standing on the approach that were donated and inscribed by worshippers thankful for their prosperity.
Japanese Foxes of Fushimi Inari Shrine
The shrine is also characterized by dozens of statues of foxes, which are considered to be messengers of the god. In Japanese mythology, foxes can be both a force of good and a force of evil. However, the foxes from Fushimi Inari are good-natured and divine. A fox's power is determined by how many torii gates there are on the shrine's property. It is said that messenger foxes have to jump over all their shrine's torii gates every day, thus becoming stronger. The more gates a shrine has, the more a fox has to jump. Fushimi Inari has the most gates of all the Inari shrines, making the foxes here the strongest.
Famous Gates of Fushimi Inari Shrine
The sanctuary consists of several buildings, including the Sakura-mon Gate and Go-Honden Shrine, followed by a 4km tunnel trail with thousands of torii gates that stretches to the top of Mt. Inari. These tunnel gates have become very famous as they've been featured in movies such as "Memoirs of a Geisha".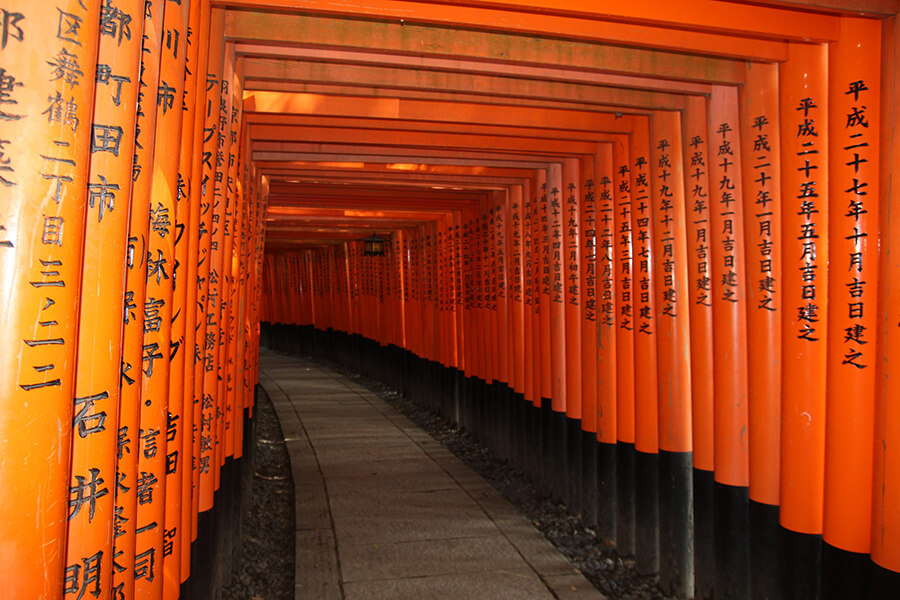 Shopping and Dining along the Streets near Fushimi Inari Shrine
Additionally, there are small restaurants and shops along the street to the shrine, where you can try the shrine related dishes such as kitsune udon (fox udon), a noodle soup topped with pieces of fried tofu that is said to be fox's favorite food, and inari sushi, fried tofu wrapped around sushi rice. Of course you cannot leave without buying a fox-themed souvenir.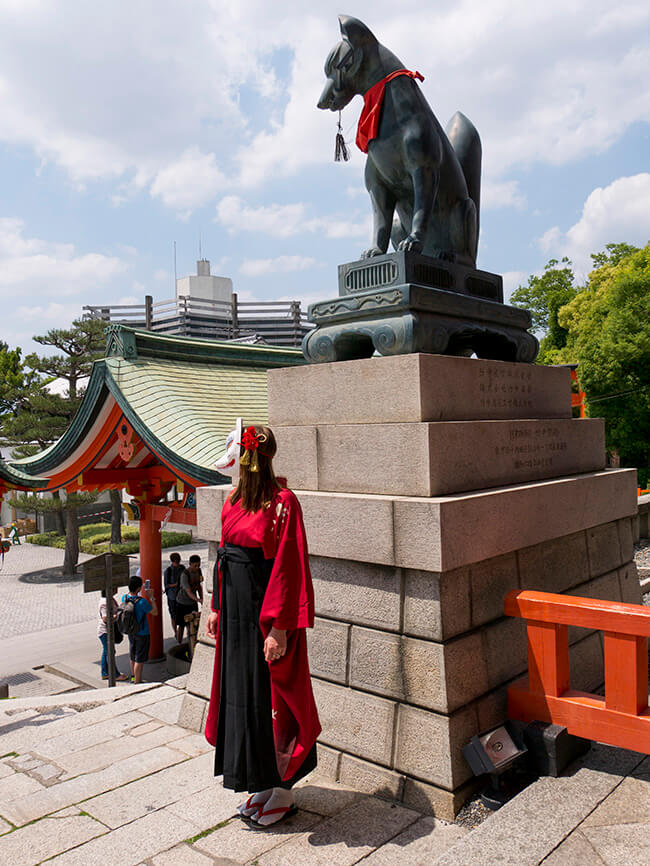 Access: A 5-minute ride from Kyoto Station to JR Nara Line Inari Station and a short walk from Keihan Electric Railway Main Line Fushimi-Inari station