It's rare that a building has as much history as the books inside it. However, that exactly the case with the historic Sanyodo book store that has stood in Omotesando, Shibuya since 1891. In fact, it is the oldest of its kind in the area. For bookworms and history buffs alike, this historic landmark has plenty of stories to tell.
Being the oldest bookstore in Shibuya, it definitely stands out among the other buildings. Not only because of its classic red brick walls but because of the charming mural painted on the side of the old book store.
The History of Omotesando's Oldest Bookstore: Sanyodo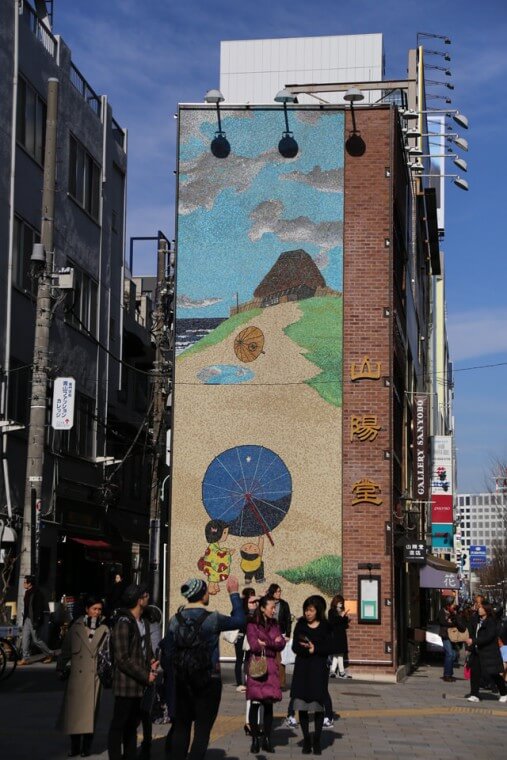 The founder of Shibuya's old book store, Manno Sonjiro,  was born in Okayama in the first year of the Meiji period. Eventually, he moved to Tokyo in 1888. After selling newspaper for a few years, he opened his bookstore in the area. This was in the Taisho period, before Omotesando or Meiji-jingu even existed. 
In 1931, the store was moved to make room for a new road, Miyuki-dori. At that time a new concrete  building reinforced with steel. Sanyodo book store's sturdy structure proved to be a good investment when the Aoyama Omotesando area was firebombed during World War II. Miraculously Sanyodo survived despite the destruction around the old book store. 
The building actually used to be bigger than it is today. When the Olympics came to Tokyo, the streets were widened. Rather than moving again, the building was trimmed.
In addition to being a bookstore, Sanyodo also added a gallery after its renewal in 2011. The concept is to provide a space where people can gather.
You can see a big mural painted on the side of the building, so the landmark is hard to miss. Next time you are in the area, be sure to stop by Sanyodo, a historic bookstore in Tokyo!
Information
Sanyodo
〒107-0061
3-5-22,North-Aoyama,Tokyo