So you have gone to the must-see Himeji Castle and you are wondering if there is anything else worth checking out. Well, hidden away in the mountains and waters of Himeji are some of Japan's most fascinating locations. Begin with the floating 1.Ieshima Islands of the Seto Inland Sea, where ancient folklore about the islands has been cultivated by over 1,300 years of history and folk customs. Some tales are of supernatural monsters called Yokai. Yokai have been popularized by Japanese anime and game sub-cultures like Pokémon and Yo-kai Watch, but on the Ieshima Islands there are towns that have been haunted by real monsters since ancient times. Explore the mountains and waters of Himeji and discover some of the most intriguing parts of Japan.
*Click any of the numbered recommended spots in red inside the text, and you will jump down to the map that contains all of them. 
Himeji: The ancient gods of the Ieshima Islands

To access the Ieshima Islands you will need to take a local boat and "island hop" from island to island. From JR Himeji Station, it is a 20-minute bus-ride to Himeji Port and from there a 30-minute boat-ride across the gentle waters of the Seto Inland Sea to Ieshima Island. The name "Ieshima," meaning "home island," was given by Japan's first emperor Emperor Jinmu over 2,600 years ago. Starting with 2.Ieshima-jinja Shrine, famous for its connection with Emperor Jinmu, there are many interesting things to see such as the legendary 3.Dongamessan, a giant stone in the shape of a turtle. Cars move about on roads circling the outer areas of the islands, but farther in roads become narrow and steep. When on the islands, be sure to enjoy some of the fresh seafood from the lively port towns.
The Yokai monsters of Fukusaki
Only 15 km (9 mi) from Himeji is the town of Fukusaki, a place where Japanese yokai monsters roam the streets. One of the most well-known ancient Yokai is the Kappa. The Kappa was first introduced in Japan by one of Fukusaki's very own, renowned folklorist Kunio Yanagida. He assembled legends of various Yokai into a book. Because of Kunio's connection to Fukusaki, the town is crawling with incredibly life-like monsters, like the grotesque Kappa that pops out of the pond in 5.Tsujikawa-yama Park. As you walk from the station to Tsujikawa-yama Park, you will come across nine benches with Yokai on them. These have become hugely popular spots to snap pictures and share on social media. What makes these monsters so shocking is that they are nothing like the usual cute-looking Japanese creatures, they are disturbingly realistic in appearance. To learn more about the amazing history and culture of Fukusaki visit the traditional thatched-roof wooden folk house of 6.Kunio Yanagida's home and the Kanzaki Country Museum of History and Folklore.

Not quite udon and not quite soba, the unique texture and taste of "mochi-mugi" noodles is a local specialty. At 7.Mochimugi-no-Yakata you can enjoy a wide variety of local Fukusaki mochi-mugi noodles.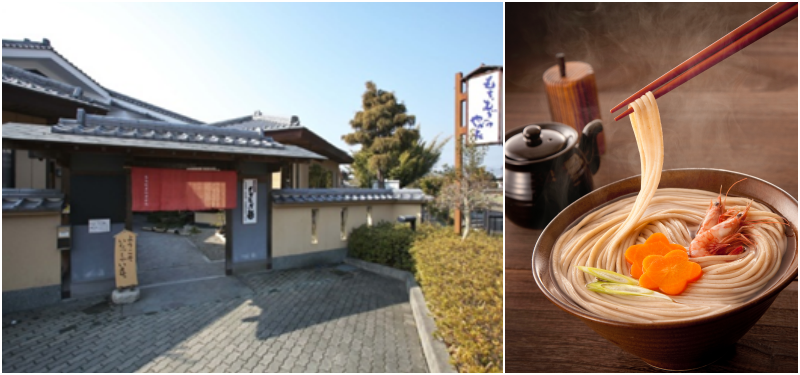 Ichikawa: Peaceful forests and spiritual mountains

In the town of Ichikawa sits 8.Mt. Kasagata, also known as "Harima Fuji." While Mt. Fuji is a very spiritual place for the Japanese, so is Mt. Kasagata. With the over 1,300 year old 9.Kasagata-jinja Shrine resting on its mountainside, it has been regarded as a spiritual area for centuries. From Kasagata-jinja Shrine's torii entrance gate to the actual shrine is a about an hour climb up a mountain path, but you will be rewarded for your efforts when you are greeted by the main shrine's spectacular decorative carvings. If you feel the intricate carved designs look familiar, it is because of their close resemblance to the gorgeous carvings found on the famous Nikko Tosho-gu Shrine. Atop a steep winding mountain path, nestled between thick clusters of Japanese cedar trees, this divine ground truly seems like a place where the gods dwell.
There are many myths about this 35 m (115 ft) waterfall. One Edo Period tale calls the waterfall the "1000-person(sennin) Waterfall" because the feudal lord of the Himeji Clan commanded 1,000 farmers to worship it for rainfall. Another much more ancient one calls it "Hermit (sennin) Fall" because people believed mountain hermits (a long-nosed god of pathfinder called tengu) dwelled nearby.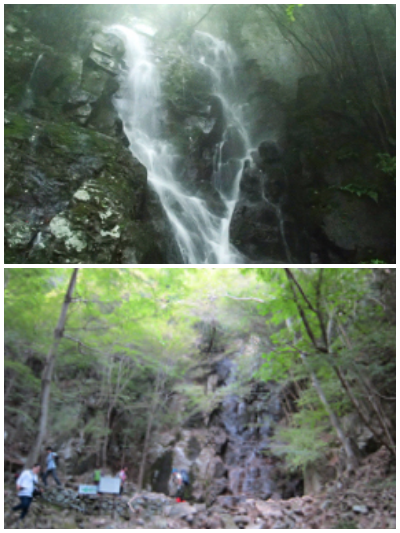 Visiting the famous waters of Kamikawa

The Kappa loves fresh clean water, and some are said to live in the Kamikawa area because of its abundance of beautiful clean water. Kamikawa, well-known for its water, is famous for five bodies of water and five waterfalls in particular. These places are rare and spectacular sights. Take for example the Henmyo Waterfall. In the middle of winter the fall freezes displaying a dazzling 65 m (213 ft) of sparkling cascading ice. The waterways are  something special as well. At the beginning of summer they are blanketed by hundreds of gorgeous bobbing ivory-colored water buttercups blooming at the surface of the waterways like tiny plum blossoms. We recommend hopping on a bicycle to explore the different famous waters of Kamikawa. From 11.Shinden Furusato Mura(village), located on a mountain at the northern edge of the town, you can enjoy a scenic bike-ride down through the area along the Ochi River Meisui Cycling Road.
*Click the left corner of the map for a pull-out sidebar that lists all recommended spots in order.
Presented by Naka-Harima District Administration Center, Hyogo Prefectural Government