The Nihombashi Mitsukoshi Main Store is preserving history while leading it at the same time. The Mitsukoshi brand itself dates back to 1673, and it became Japan's first modern-day department store in 1904. Since then, Mitsukoshi has persisted in innovating, bringing about many other firsts in Japan – the first escalator, the first messenger boys, the first fashion show, and, among many other things, the first shopping center to include a restaurant inside the store. Importantly, Mitsukoshi's underlying philosophy has always been crystal clear: Give customers even more than they would expect. To this day, Mitsukoshi does not merely sell products – it curates elements of Japanese culture carefully while blending them seamlessly with foreign-inspired concepts.
Mitsukoshi Nihombashi Main Store, ©ISETAN MITSUKOSHI LTD.
Mitsukoshi and Nihonbashi Weaved Together
The city of Edo, today's Tokyo, and its historic Nihonbashi Bridge were both founded in 1603, marking the start of the Edo Period (1603-1868). Just 70 years later, in 1673, Mitsukoshi's history began when Takatoshi Mitsui opened what was in essense Mitsukoshi's original storefront, the Echigoya kimono fabric shop. Ever since that time, Mitsukoshi and Nihonbashi have been inextricably linked.
It made sense for businesses to flourish in Nihonbashi, the heart of Edo, as it was the terminal point of Japan's Gokaido, the 5 most important roads. When in Edo, all roads lead to Nihonbashi.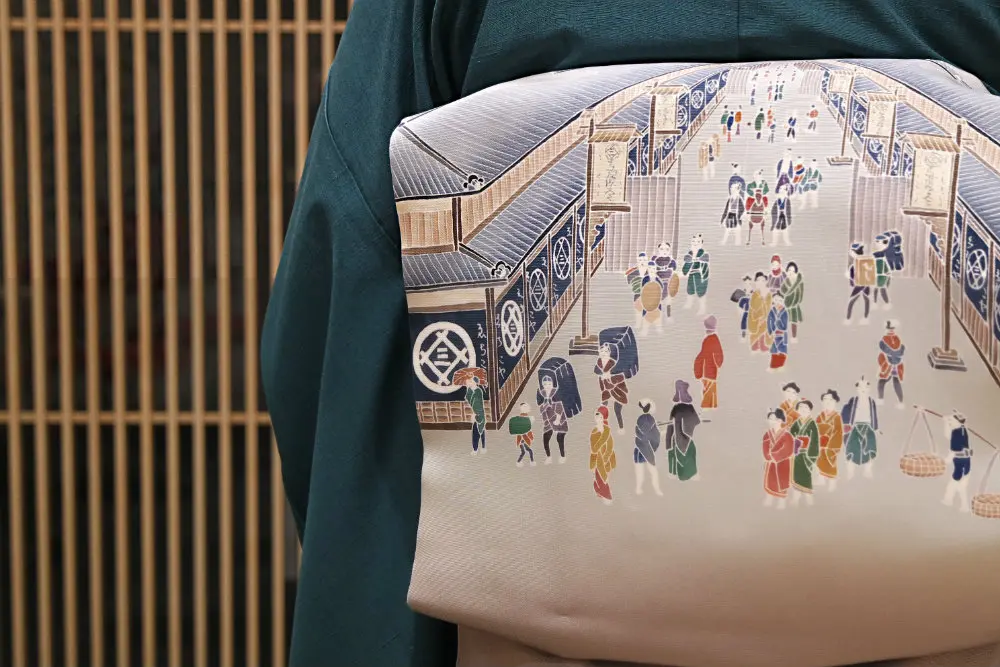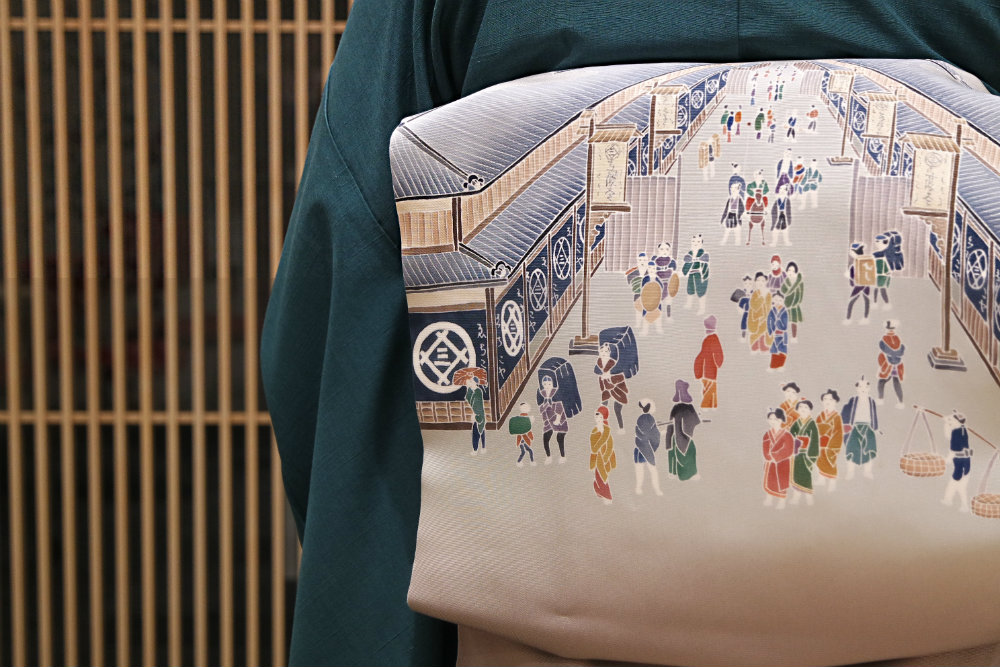 Shops at the time used to specialize in one type of product, so Echigoya, specialized in selling kimono fabric only. What made the shop stand out, however, was the staff's remarkable inventiveness and unheard-of flexibility; they sold the fabric not in pre-measured batches (as was the commercial standard), but at whatever length the customers desired. Not fearing change and standing behind a 'customer first' philosophy, in later years Mitsukoshi reinvented itself as Japan's first department store and quickly became known as "the store that has everything!" It was also a trusted brand for high-quality domestic and European products, so much so that the legendary marathon runner Shiso Kanakuri went to Mitsukoshi to be dressed from head to toe before departing for the 1912 Stockholm Olympics.
Hospitality with History
Madame Kiyoko Kondo, the okami, chief service manager, of Nihombashi Mitsukoshi, believes that taking care of the customer is a must, and "wowing" the customers is the extra step that Mitsukoshi has always taken and continues to take. Kondo embodies the principle of omotenashi, impeccable Japanese-style hospitality.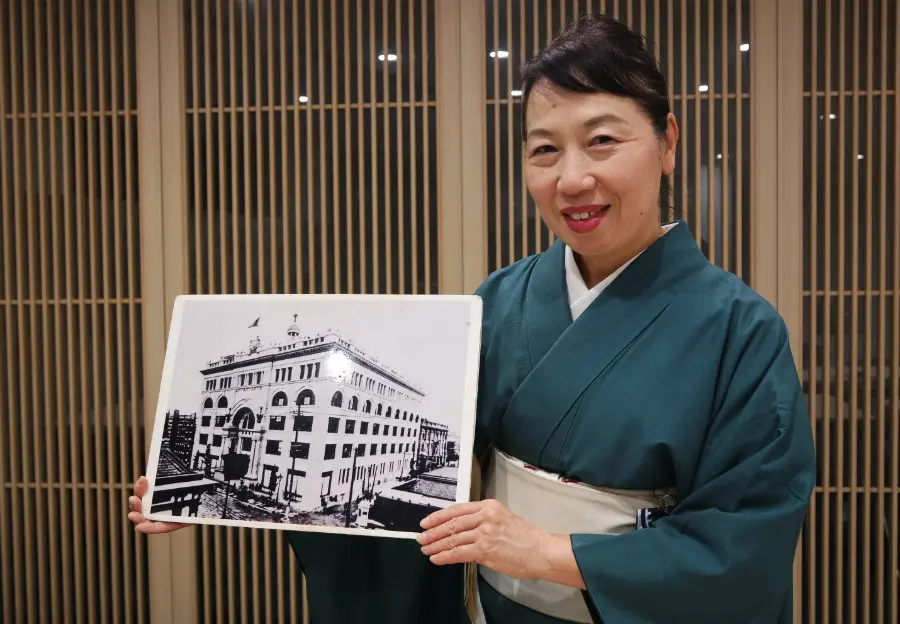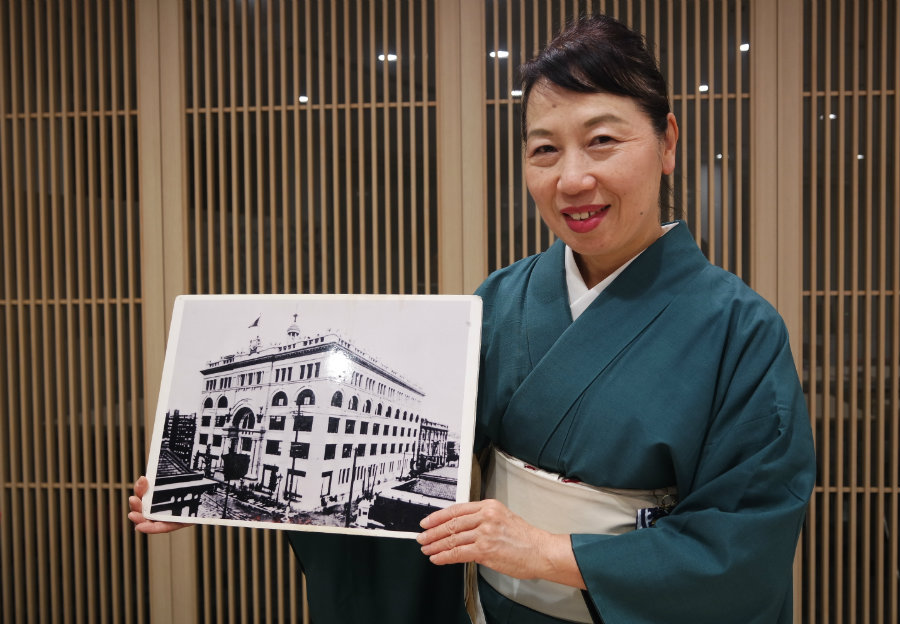 Always clad in a beautiful, traditional kimono, when we talked to her, she was wearing an exquisite obi depicting the first shape of Mitsukoshi – the Edo-era Echigoya store. In the true spirit of embracing both old and new, her smartphone was decorated with the same famous pattern found on the iconic Mitsukoshi wrapping paper. Kondo often gives historical tours of the department stores and she unraveled the marvelous Mitsukoshi story right in front of us.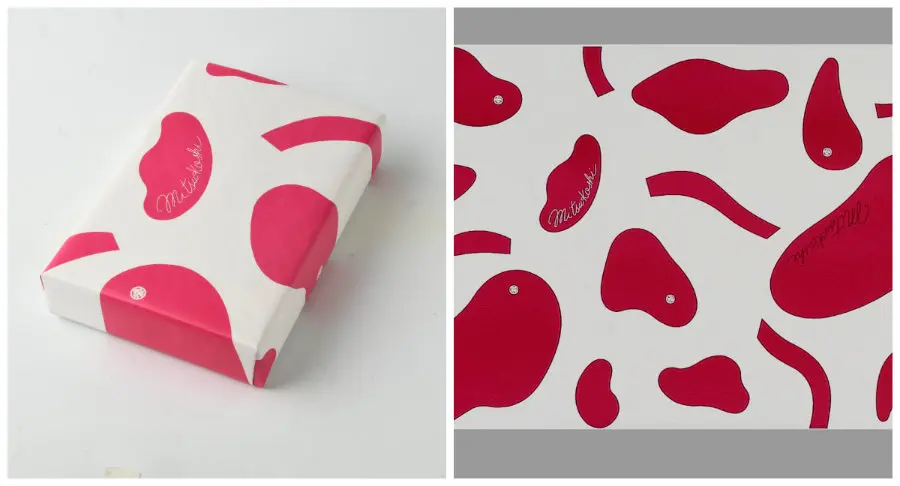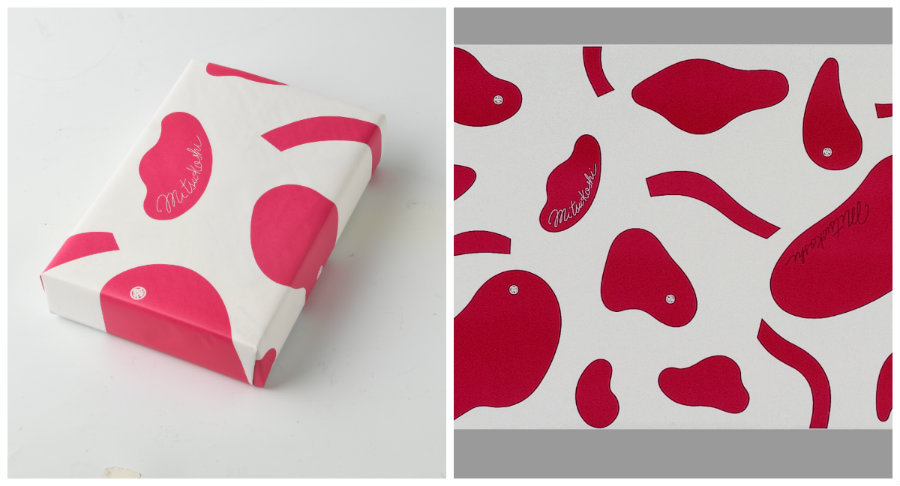 One of the first omotenashi gestures of the then-Echigoya shop may look overly simple today, but actually it was genius: sheltering customers with umbrellas whenever it rained. Ever since then, Mitsukoshi has made it a mission to make customers feel special; for example, they introduced messenger boys in the early 20th Century and even now offer delivery service to your home or hotel. Also, they continue to have a concierge on every floor in their stores, helping customers shop, select, and decide, assistance that is especially welcome for those shopping on social occasions when they are unsure of current customs or trends. Omotenashi is what set Mitsukoshi apart originally and what still carries the stores forward today; in the age of online shopping, Mitsukoshi gives that ever-more rare personal touch and dedicated attention.
The first messenger boys in front of the Nihombashi Mitsukoshi Main Store ©ISETAN MITSUKOSHI LTD.
More Than Just Shopping
Mitsukoshi has always been a pioneer of shopping novelties in Japan, being particularly inspired in this area by Harrods in London. However, even when competitors would catch up on occassion, Mitsukoshi stayed ahead of the curve by elevating average shopping experiences to unique cultural activities. If one does judge a book by its cover, then Nihombashi Mitsukoshi's main building oozes history and art, with its Renaissance style facade, lion sculptures at the entrance and a striking statue of the Goddess of Sincerity (that took 10 years to make by the sculptor, Mr. Gengen Sato!).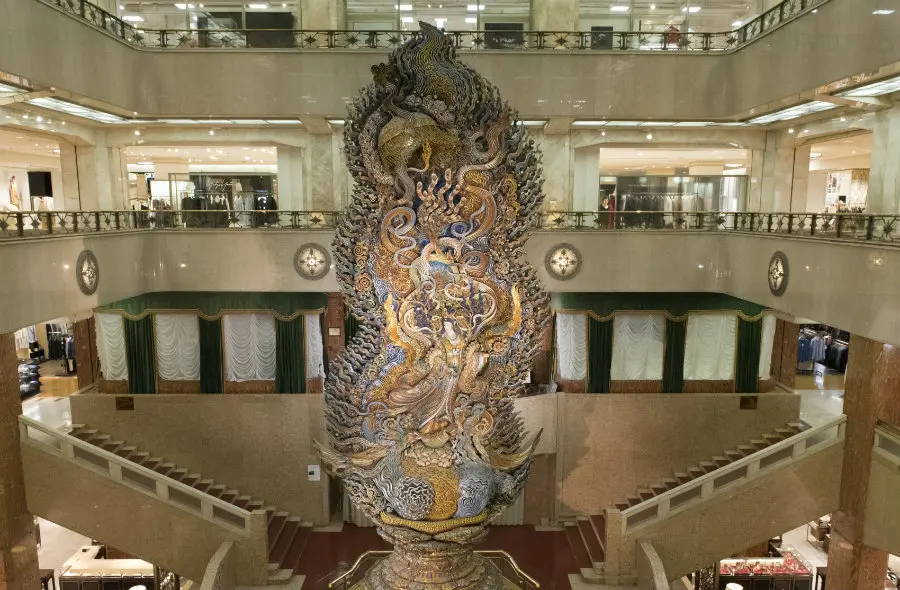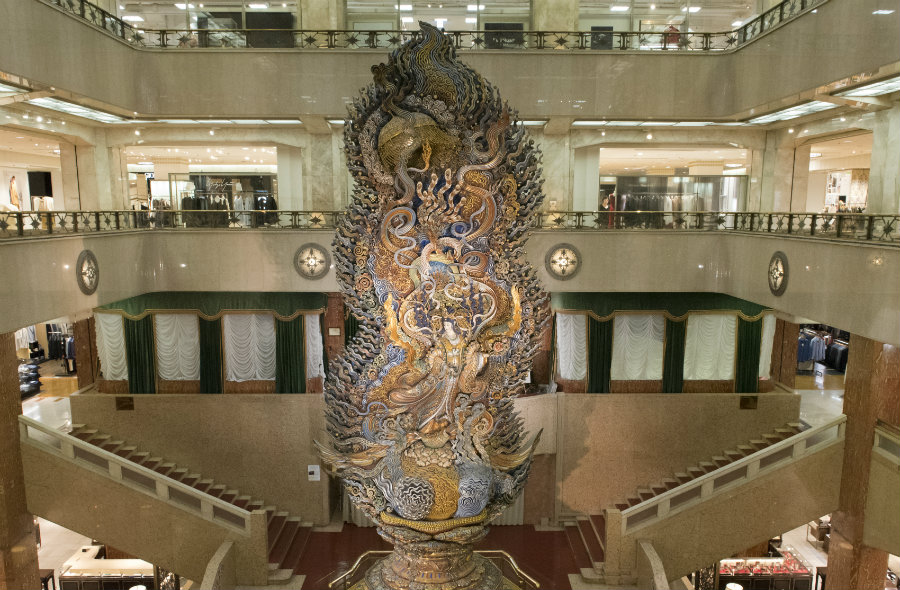 Deeper within that stunning facade, however, in Nihombashi Mitsukoshi you can find a different art exhibition every week, and a wide variety of fascinating cultural workshops. Above all, Mitsukoshi is revered in Japan for its reliability, featuring its elegant, unified style and widely respected brand throughout all their products, shops and department store branches.
(left) Illustrated by Tomitaka Matsuda, 1935. (right) illustrated by Kinshu Hahakabe, 1910. ©ISETAN MITSUKOSHI LTD.
Mitsukoshi Redesigned
Since its humble beginnings in 1673, Mitsukoshi has never been afraid of change. Recently, the management teamed up with star architect Kengo Kuma to redesign the first floor of the flagship Nihombashi Main Store, as part of a broader renovation project that will continue until 2019.
©ISETAN MITSUKOSHI LTD.
Kuma is renowned for his elegant blend of modern architecture and traditional Japanese elements – a perfect match with Mitsukoshi. The new space will shine in white with minimalistic geometric shapes, and will evoke Japanese design patterns and origami aesthetics. The LED bright-white pillars looked like branching trees to the architect, so he dubbed the design "Shiny White Forest."
NEXT PAGE: The Shopping Culture of Tokyoites
---
Address: 1-4-1, Muromachi Nihonbashi, Chuo-ku, Tokyo, Japan.
Tel: +81-3-3241-3311
Hours: 10:00 – 19:00 (Main and Annex building); 10:00-19:30 (1st floor and Basement)
Closed: January 1st, irregular holidays
Access: Tokyo Metro Ginza Line "Mitsukoshi Mae" station, 1 minute on foot.
Tokyo Metro Tozai Line "Nihombashi station" (exit B12), 5 minutes on foot.
Toei Asakusa Line, Ginza Line, "Nihombashi station", 5 minutes on foot.
URL: http://www.mitsukoshi.co.jp/int
---
Confused by the varying use of NihoMbashi and NihoNbashi? Read our explanation why the spelling differs. Nihonbashi or Nihombashi? Why we used two different spellings
---
WATTENTION WRITER PROFILE