Message from Tsukiji Outer Market, Tokyo.
The coronavirus has hit the Tsukiji Outer Market harder than anyone could've imagined. The usually bustling market crawling with shoppers has grown empty and quiet. Even still, Tsukiji is a city with proud food markets, restaurants, and shops. Many of the city's stalls and shops continue to open for business. For now, the best way to support these businesses is by buying additional items from them. When people fall on hard times, we must show compassion and help one another. The world is going through a tough period, and we all need to continue making sacrifices and supporting each other a little longer.
At the end of May, customers gradually began returning to the market. I believe, in six months to a year from now, the day will come when we'll be able to safely enjoy the Tsukiji Outer Market again.
Dinner and a show: Tsukiji Market entertainment
If you're not familiar with Tsukiji or you're thinking about coming to sightsee in the future, here are few things you should know about the city that make it so special.
Until October 2018, Tsukiji was the location of Japan's largest wholesale market, supporting Tokyo's food chain supply. Up until 10 to 15 years ago, Tsukiji was a city of wholesalers, professional cooks and retailers coming to buy goods, restaurant workers, and hungry patrons. The Tsukiji Market would open from 2 or 3am and close a little past noon. It wasn't a tourist attraction. It was a place of business.
However, the workers (unbeknownst to themselves) and the market had a certain allure that slowly began to get the attention of people overseas. Soon, the area started to draw tourists from outside of Japan. During the last several years, the number of tourists visiting the market exploded. Today, Tsukiji is an old-fashioned town where food professionals gather, but it's also transformed into a hot tourist destination.
If I were to start listing things that make Tsukiji so appealing, at the top of my list would be the Tsukiji Outer Market. It's a small, narrow area lined with old-fashioned, low-rise buildings that are home to some 400 stores all crammed next to each other.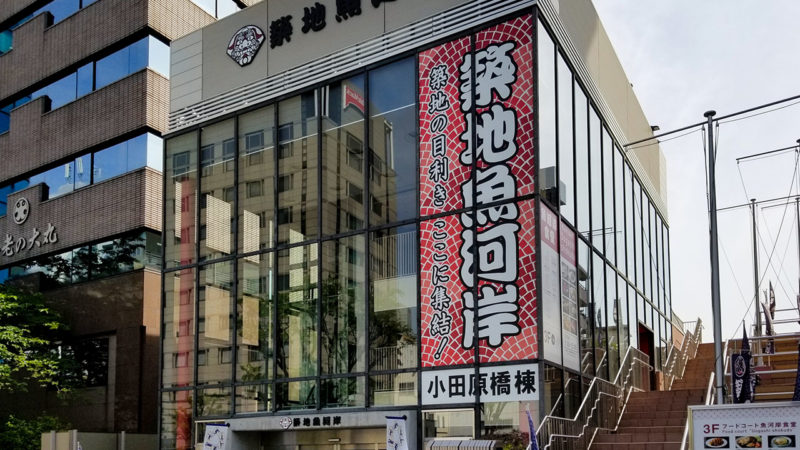 In 2016, the petite wholesale fish market Tsukiji Uogashi opened. It's a small marketplace where over 50 wholesalers have branch shops. In 2018, it moved to Toyosu. At Tsukiji Uogashi, the general public and tourists can enjoy buying fresh seafood and vegetables.
After the outbreak of the coronavirus, not as many food items are being bought, sending the prices of produce down lower than usual. You can purchase things like raw oysters, sashimi, sushi, and fruit and eat them on benches on the 3rd-floor terrace, which I highly recommend. The food is fresh, delicious, and very reasonably priced.
The first photo in this page is the Outside shop Kikuya. At "Kikuya", the friendly and energetic staff invite customers from around the world to try their delicious Tsukudani, a small seafood dish simmered in soy sauce and mirin, with boiled beans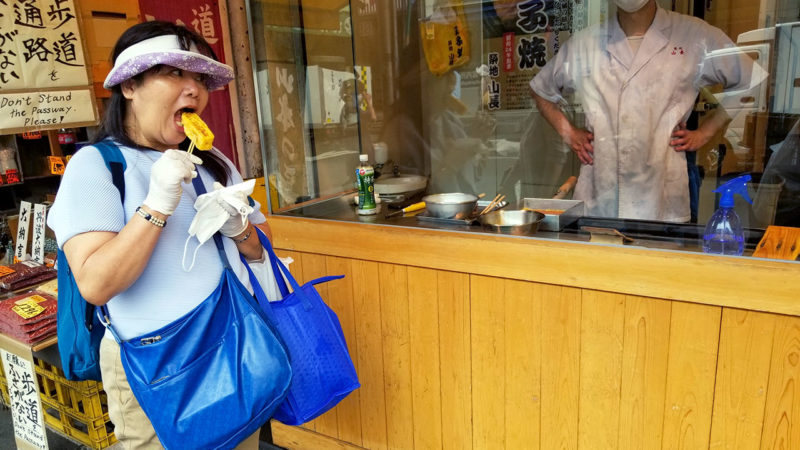 There are places at the Outer Market where you can taste the ingredients you've just bought right on the spot.
Food items include tuna sashimi, motsunabe (stewed pork tripe), raw or grilled oysters, satsuma-age (deep-fried minced fish and vegetables) as well as Japanese and Western sweets.
 The most popular, though, is tamagoyaki (a Japanese-styled omelet), and there are six specialty shops in the Tsukiji Outer Market. The shops all have slightly different flavors, attracting their own loyal fans. When visitors from the Kansai region and abroad try the sweet-flavored omelet, they often say it tastes like a sweet snack. There's also a shop with a cook that fries up 2cm-thick tamagoyaki omelets and sells them for 100 JPY. Before the coronavirus, there were always lines of tourists waiting to eat hot, freshly cooked omelets. At the storefronts, you can watch in amazement as cooks prepare the omelets.
Unique temple architecture: Tsukiji Hongan-ji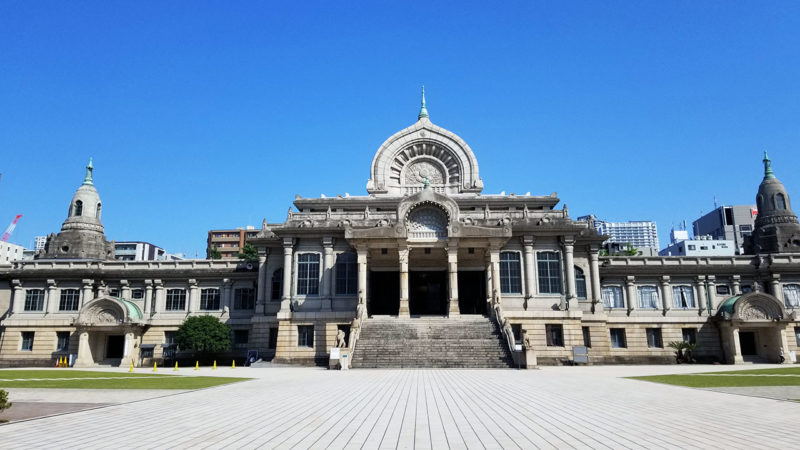 Another part of Tsukiji worthy of mentioning is the Tsukiji Hongan-ji Temple. This Buddhist temple was built at its current location about 340 years ago. It was mended after multiple fires before finally being rebuilt using concrete in 1934. The Tsukiji Hongan-ji Temple is an Important Cultural Property of Japan. The temple's Indian-style design, stained glass, and pipe organs are only a few things which set it apart from many other Japanese Buddhist temples. It's a beloved, relaxing place that watches over the city of Tsukiji.
From this spring, the number of visitors has declined, something very rare for the Tsukiji Hongan-ji Temple, but its doors are always open to everyone.
We run an information center and a guided tour service. We started operating about 10 years ago, hoping to introduce many people to the history and food culture of Tsukiji's long-standing businesses. Our tours cover areas that we're very familiar with, and these in-depth tours draw large numbers of people, both domestic and international, every year.
We're now working to overcome current safety issues, so we can begin providing enjoyable tours of Tsukiji for people from all over the world again.
When you come to Japan, please make sure to drop by Tsukiji in Tokyo.
We're looking forward to seeing you!