Japan Tour Guide (JTG) is an online portal that aims to match volunteer Japanese guides with visitors coming to Japan. Read about their tours put together for tourists by these friendly local guides in this regular column!
We received a request from a French man, Charles, who is working as an intern in Japan. He wanted to experience something that locals do. This time, we, Yuko Harayama and myself, Yuka Takada, strolled around Tokyo with Charles. We met up with him in front of Kaminari-mon Gate in Asakusa.
First, we headed to Hanayashiki, the oldest amusement park in Japan. In operation since 1853, Hanayashiki has continued to develop and promote new attractions and events over the years. We got there in five minutes from the gate and he looked excited to see that there were so many attractions in such a small area, even though I had told him about the scale of the park in advance. Hanayashiki might be completely different from what foreign tourists expect. But I assure you that you can still enjoy the taste of its old atmosphere. Unfortunately, we couldn't ride the most famous roller coaster because it was under maintenance, but we had a good time enjoying other attractions and taking pictures.
Next, we walked towards Nakamise-street. As we strolled around, we found "omikuji" or fortune-telling paper strips. Charles had never tried it yet, so we all each drew one. Charles got Kichi, which means good luck in Japanese. When you draw bad luck, it is a Japanese custom to fold up the strip of paper and attach it to a wall of metal wires alongside other bad fortunes, or a pine tree in the temple or shrine grounds. None of us got the bad fortunes, so we didn't do it, but if you get it, you should try! It is said that it will bring you a better fortune.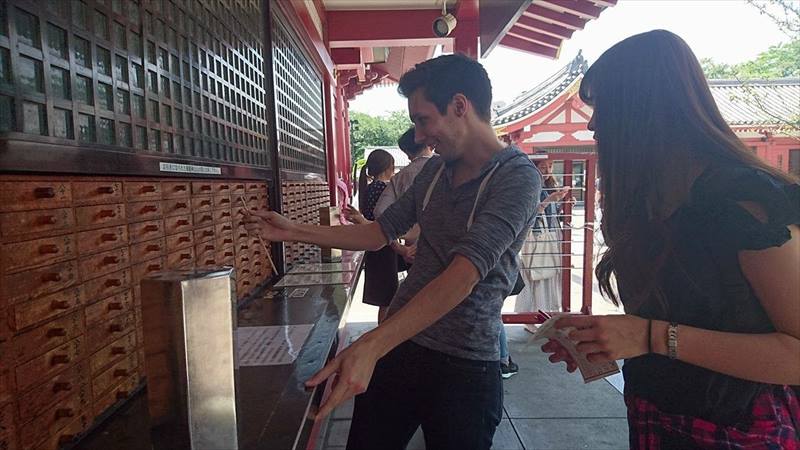 Then, we headed towards the station through Nakamise-street. We took a train to Nihonbashi to have Hiyashi-chuka for lunch. Chuka means Chinese, so people tend to think of it as a Chinese food, but in fact, it originated in Japan. We all ordered Hiyashi-chuka with sesame sauce. The name of the shop was Sapporo-ya, a ramen shop, which is known among locals. Although he seemed to have difficulty eating noodles with chopsticks, it was really tasty, and for him, as a French guy, its flavor was acceptable. I heard it was his first time to eat Hiyashi-chuka so I hope he liked it.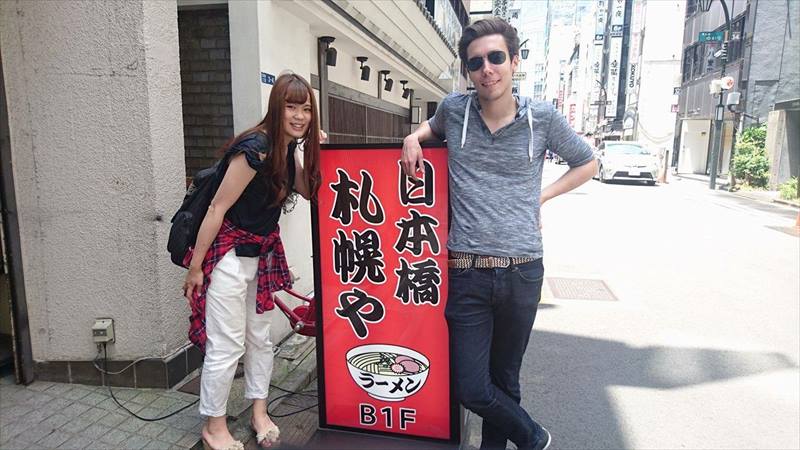 After we had lunch, we moved to Kichijo-ji station by train. There are so many things to see in Kichijo-ji. First, we went to Inogashira-park, and then, headed to one of the famous shopping arcades called Sun-road.
Inogashira-park has many attractions such as a zoo, aquarium, and place where vendors, musicians, artists and street performers gather. The park also contains a small shrine. There was a place to experience Zeniarai. Zeniarai means purifying money. It is said that if you wash your money with purified water, it will multiply! Charles looked shaken up by this conduct, but he enjoyed it and wished it would bring him much money!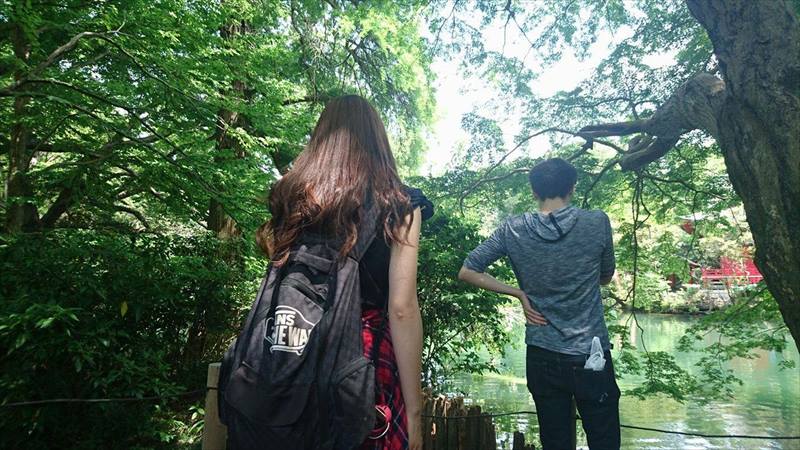 After strolling along the shopping arcade and taking a short drink break, we took one last picture together and said goodbye.
That is just a small look into one of the many adventures you can have with Japan Tour Guide.
We are looking forward to guiding you around the city and showing you the ins and outs of Japan!!