When you are in Asakusa you will notice there are many temples near the Senso-Ji area. One of them is the Denbo-in Temple, the office of Senso-Ji Temple and the residence of the head priest for generations. The garden is one of the few temple gardens from the Edo period in Tokyo.
Denbo-in was a secret garden as even the ruling lords were not easily allowed to visit. This is because Denbo-in Temple was used as Gozen-sho (place the shoguns of the Tokugawa family took a meal or rest when they came to visit). The area was opened as a public park from 1873 until 1930 but is now only open to the public for a certain period every year.
WAttention visited the garden to discover its secrets during its limited opening time. For the 300 yen entrance fee you can visit a small exhibition with ema (wooden plaques) from the Edo period. Photos are prohibited in this area but taking pictures of the garden is ok. The proceeds from this garden will be donated to support the recovery from the 2011 Tohoku Earthquake.
Typical for this period was the arrangement of ponds on the north and west side of buildings. When you enter the garden you are greeted by flowers and a temple. The ladies who attend to the temple serve free tea to all the visitors just as they would if the Shogun came to visit.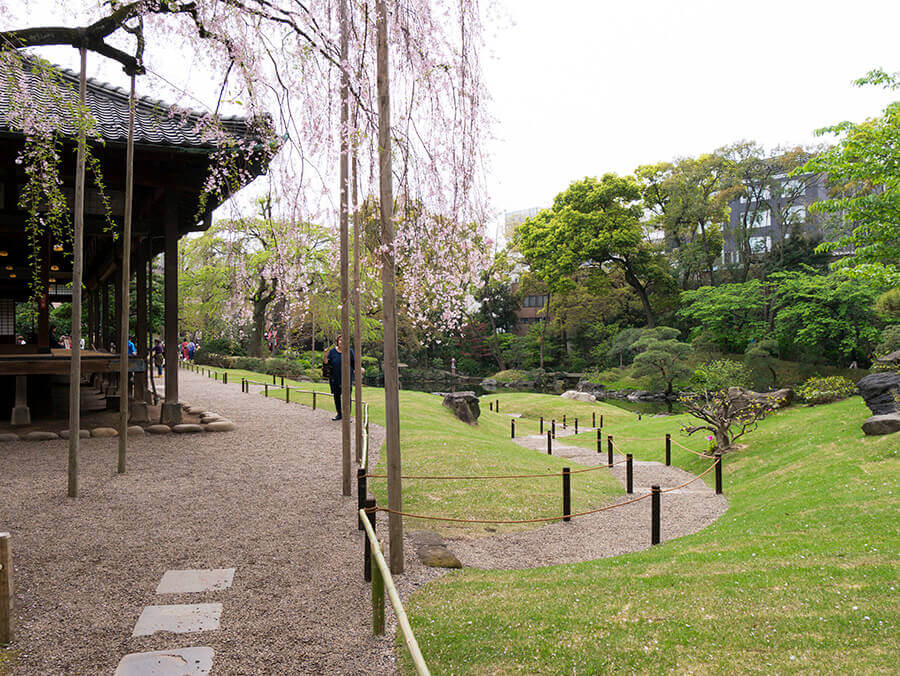 The view opposite the temple is beautiful. There is a rock beach, a pond with big Koi fish and greenery giving the area a relaxing atmosphere. Even in the center of Tokyo, you can experience this calm area as if you were in the middle of a forest. Although the illusion is broken by the silhouette of modern buildings in the background, the tranquility is amazing.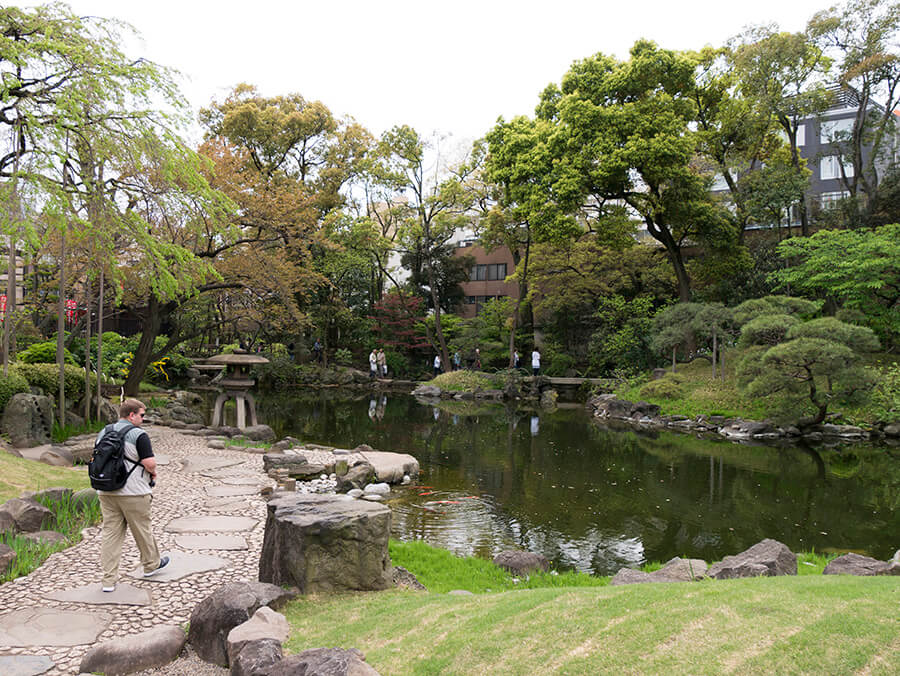 You can reach the other side of the pond by crossing a stone bridge facing a small shrine. These ladies in kimono and hakama were taking a stroll in the garden.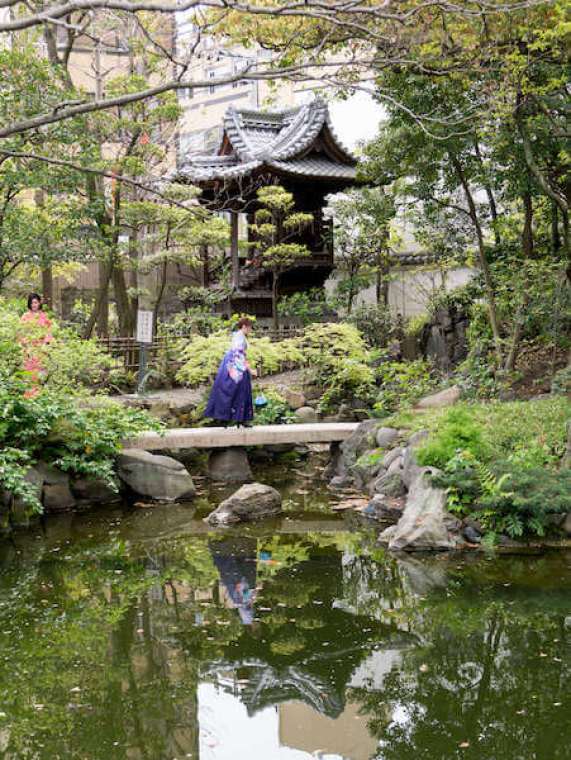 After crossing the bridge you will see a stone staircase leading to a hill from which you have a beautiful view of the garden and the Temple. But before you completely cross the bridge, admire the view of Sensoji-Temple peeking through the foilage.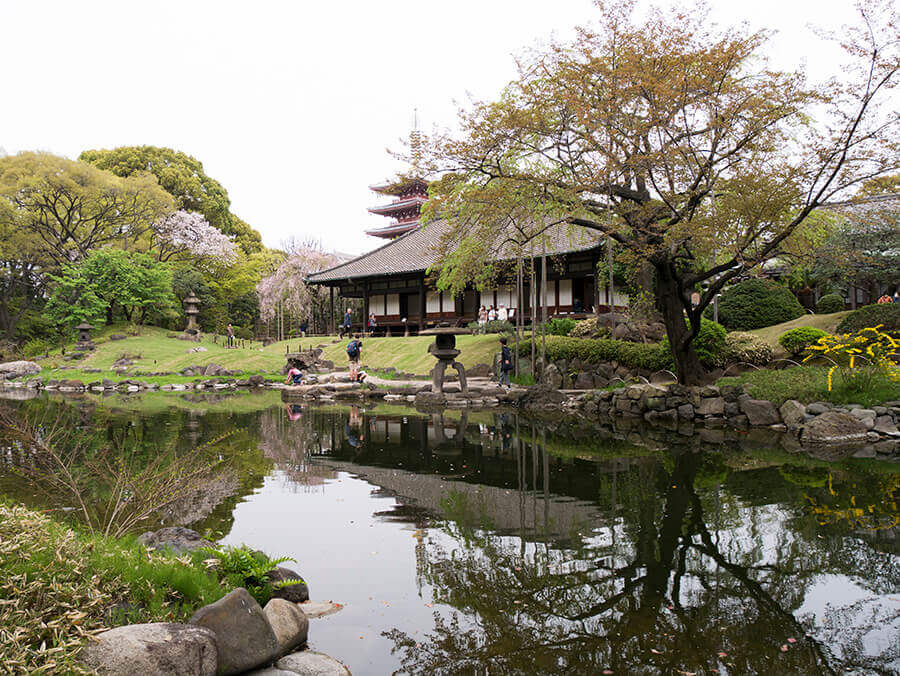 If you are in Tokyo during the limited opening period, the garden is well worth a visit, if not only for the privilege that you walked in a private garden usually only accessible for nobles. The small exhibition with Ema and original sculptures from the Edo period is an amazing bonus with the entrance fee. Two things you must see at the exhibition are the original Golden Dragon puppet from the Golden Dragon Dance performed twice a year in Asakusa and the original scroll that tells the story of how Asakusa Temple came to be.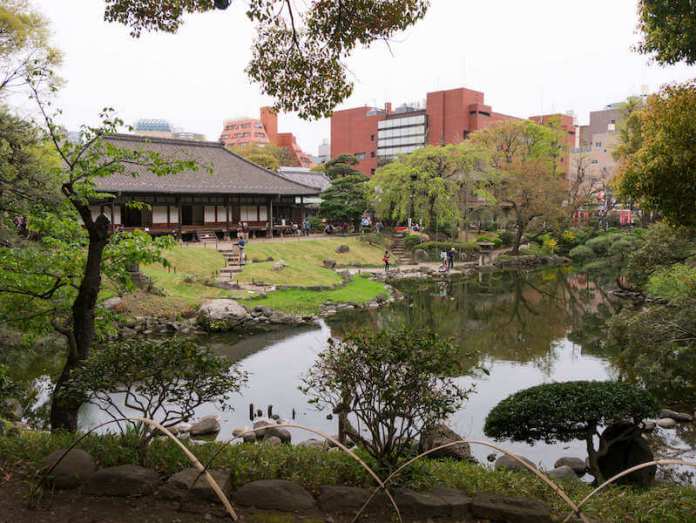 Access: 6 min walk from Asakusa station, on the temple grounds of Senso-Ji Temple.