New Year is often associated with countdown parties, midnight fireworks and endless drinking. But Saitama offers more than just that. Many valuable traditions passed down for hundreds of years are still being practiced here during the holiday season. For an authentic Japanese New Year experience, head down to Saitama where a full package of celebration and positive energy awaits you!
Saitama's New Year event calendar starts as early as December. Tokamachi, an annual open air market held on December 10, is a warm-up event of a month-long festival. At this time of the year, Musashi Ichinomiya Hikwawa Shrine and its neighboring areas are always packed with tourists and locals looking for colorfully decorated bamboo rakes called kumade to "rake in" success, wealth, fortune and happiness.
The tradition of selling and buying kumade in shrines dates back to the Edo Period (1603-1868). Kumade today comes in different sizes, price ranges and quality, but the rule remains the way it was hundreds of years ago: you have to get a kumade larger than the one you bought in the previous year for a bigger success.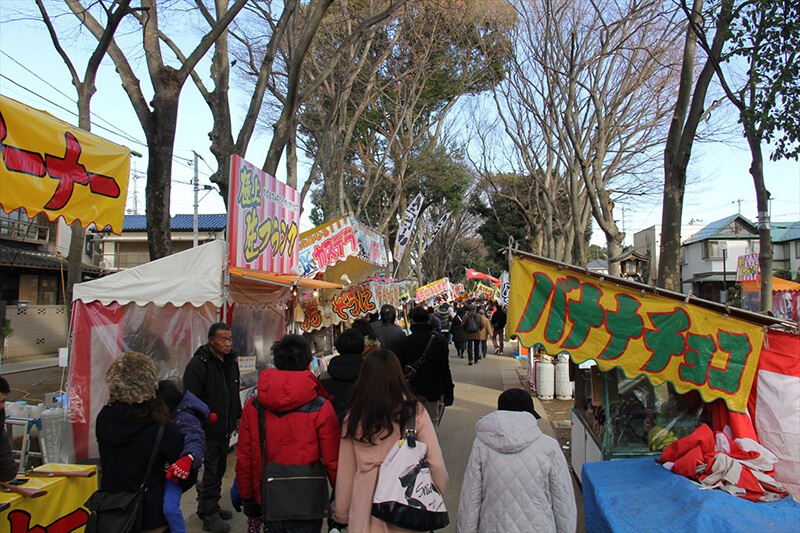 While at Tokamachi, it's a good idea to let your taste buds explore some mouthwatering dishes. A wide range of traditional Japanese street food ranging from sweet dumpling dango to grilled fish and fried noodles can be found here at reasonable price. With so many food choices, you definitely won't go hungry.