New Year is often associated with countdown parties, midnight fireworks and endless drinking. But New Year's in Saitama offers much more. Many valuable traditions passed down for hundreds of years are still being practiced here during the holiday season. For an authentic Japanese New Year experience, head down to Saitama for New Year's celebrations in Japan where plenty of excitement and positive energy awaits!
New Year's Celebrations in Saitama: Tokamachi
Saitama's New Year event calendar starts as early as December. Tokamachi, an annual open air market held on December 10, warms up the month-long festivities. At this time of the year, Musashi Ichinomiya Hikwawa Shrine and its neighboring areas are packed with tourists and locals. Visitors come here to look for colorfully decorated bamboo rakes called kumade. These traditional charms "rake in" success, wealth, fortune and happiness.
The tradition of selling and buying kumade in shrines dates back to the Edo Period (1603-1868). Kumade today comes in different sizes, price ranges and quality. However the rule remains the way it was hundreds of years ago: you have to get a kumade larger than the one you bought in the previous year for greater success.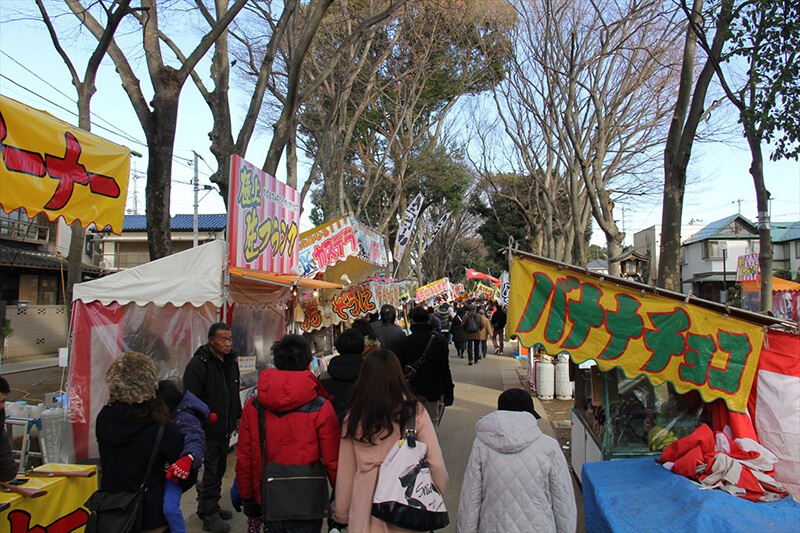 While at Tokamachi, it's a good idea to let your taste buds explore some mouthwatering dishes. A wide range of traditional Japanese street food ranging from sweet dumpling dango to grilled fish and fried noodles can be found here at reasonable price. With so many food choices, you definitely won't go hungry.
New Year's Celebrations in Saitama: Juninichimachi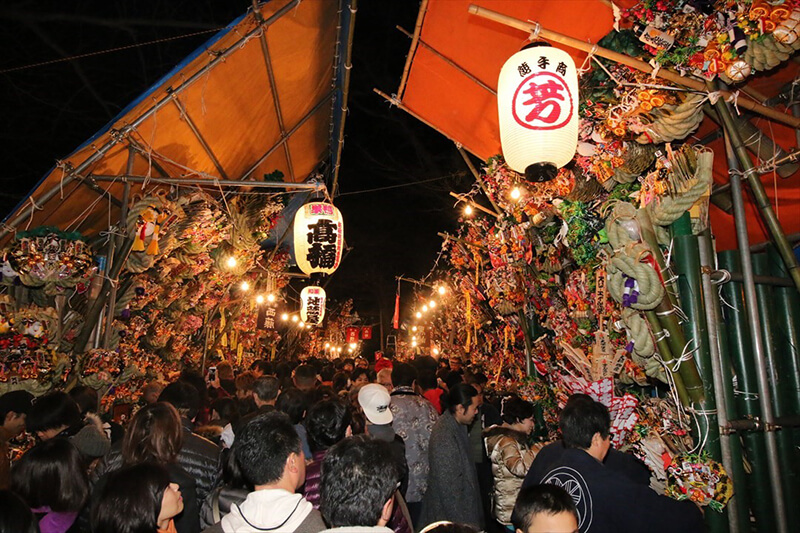 Another event that will help you get into the New Year spirit is the Juninichimachi on December 12. The one-day market has been serving the community since the Meiji Period (1868-1915). The event attracts as many as 1,000 vendors selling amulets and traditional delicacies from the morning till late in the evening.
Juninichimachi extends from Tsuki Shrine to Kyu Nakasendo, one of the five routes connecting Tokyo and Kyoto in the Edo Period. Although the path is quite developed today, you can still follow the footstep of the 17th century haiku master Matsuo Basho and immerse in the nostalgic atmosphere.
For bunny lovers across the world, Tsuki Shrine is a must visit. Since tsuki can mean both textile and moon in Japanese, the shrine is vastly decorated with paintings and sculptures of rabbits, a messenger from the moon. Even the faucet used by worshippers for washing hands as a gesture of purification is in the form of a rabbit!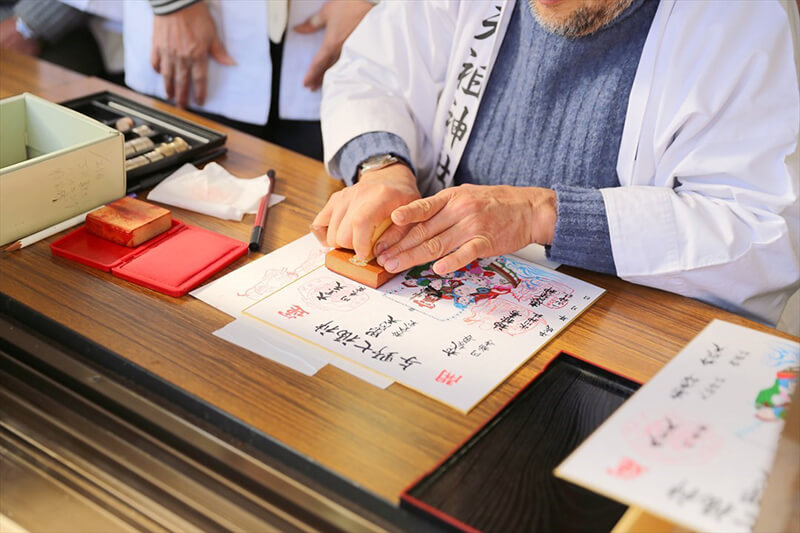 New Year's Celebrations in Saitama:

Shichifukujin Meguri
Besides getting an amulet from shrines for good luck, you can ask the deities for a year of abundance. Shichifukujin Meguri is an Edo tradition of making a short pilgrimage to seven temples and shrines during the New Year holiday. With each visit to a temple or shrine on the course, you get a red stamp. After collecting all the seven stamps on a decorative cardboard, place the cardboard in your house for happiness and prosperity in the coming year.
The pilgrimage usually proceeds on foot. But if walking in cold weather is not your thing, or if time is not on your side, then cycling might be a good choice. Along the course are a homemade soba noodle shop and a Japanese sweets shop that has been in the business since 1864. The strawberry daifuku—a large size strawberry wrapped with red bean paste inside chewy mochi rice—is really worth dropping in for.
New Year's Celebrations in Saitama: Hatsumode and the Seven Lucky Gods Parade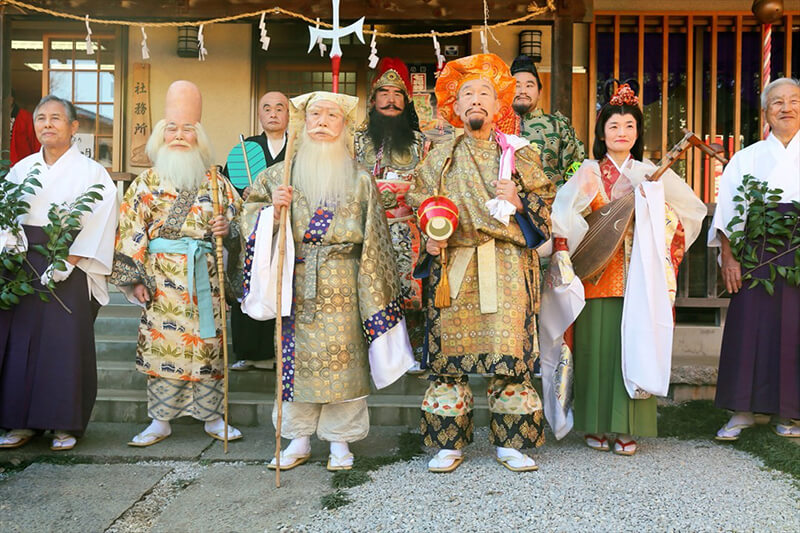 One image you may see often during the New Year's holidays is of the Seven Lucky Gods. Each of them are said to ward off evil and offer seven different kinds of fortune. On January 3 in Yono City in Saitama, the Seven Lucky Gods come to life in a special costume parade. This is an event you don't want to miss! Because the event only comes once a year, it may be your only chance to take a photo with gods and goddesses! The main shrine for this event is the  Kamimachi Hikawa Shrine. Conveniently, the shrine is just a 15-minute walk from Kita Yono station.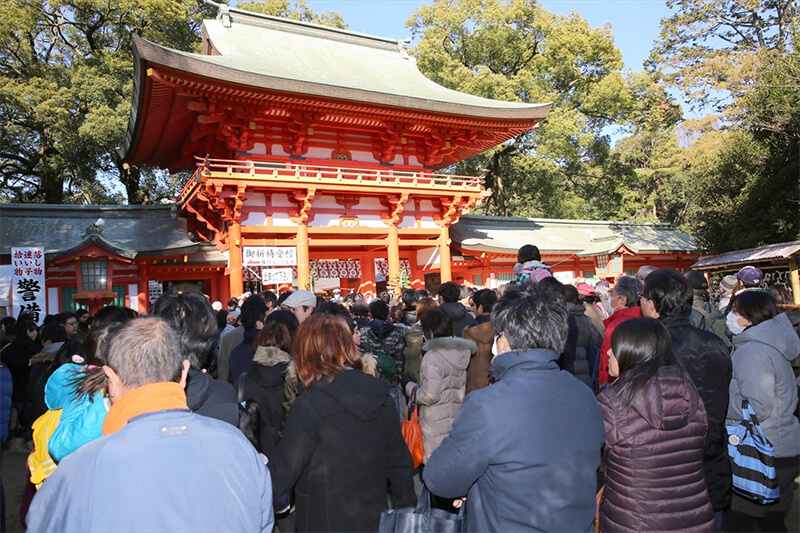 Hatsumode, the first shrine or temple visit for the year, is another great way to start the New Year in Japan. Musashi Ichinomiya Hikwawa Shrine is just a 30 minute walk away from Omiya Station and thus a popular destination for hatsumode. Many people, dressed in traditional kimono, write their wishes on wooden plaques and get their fortune told by getting a scroll of white paper called omikuji.
After making a small offering, you can randomly choose an omikuji from a box. Unroll the paper to see what 2017 has in store for you. If the prediction is bad, don't worry too much. Fold the strip of paper and tie it to a wall of metal wires to leave your bad luck behind.
The list of things to do in Saitama does not stop here. With its close proximity to Tokyo and rich history and culture, Saitama is the perfect place to spend not only the New Year holiday but weekends all year round!