Once Christmas and the New Year's holiday are over, it's time to get back to business as usual—unless you're in Japan, and especially if you're in Gunma Prefecture where most of Japan's daruma dolls are made. Early January is the time for the Daruma Market, the place to stock up on all the items you'll need for good fortune during the year.
January daruma markets in the cities of Gunma and other places in Japan originated from hatsuichi, or the first market day of the year. Nowadays stores are open for business on January 1, but in the not-so-distant past, everything was closed for the three days of the New Year's holiday1. After almost a week of visiting, fun, and eating plenty of food prepared just before the holidays, the population must have been ready to make their way to hatsuichi to fill their larders and return to their normal lives.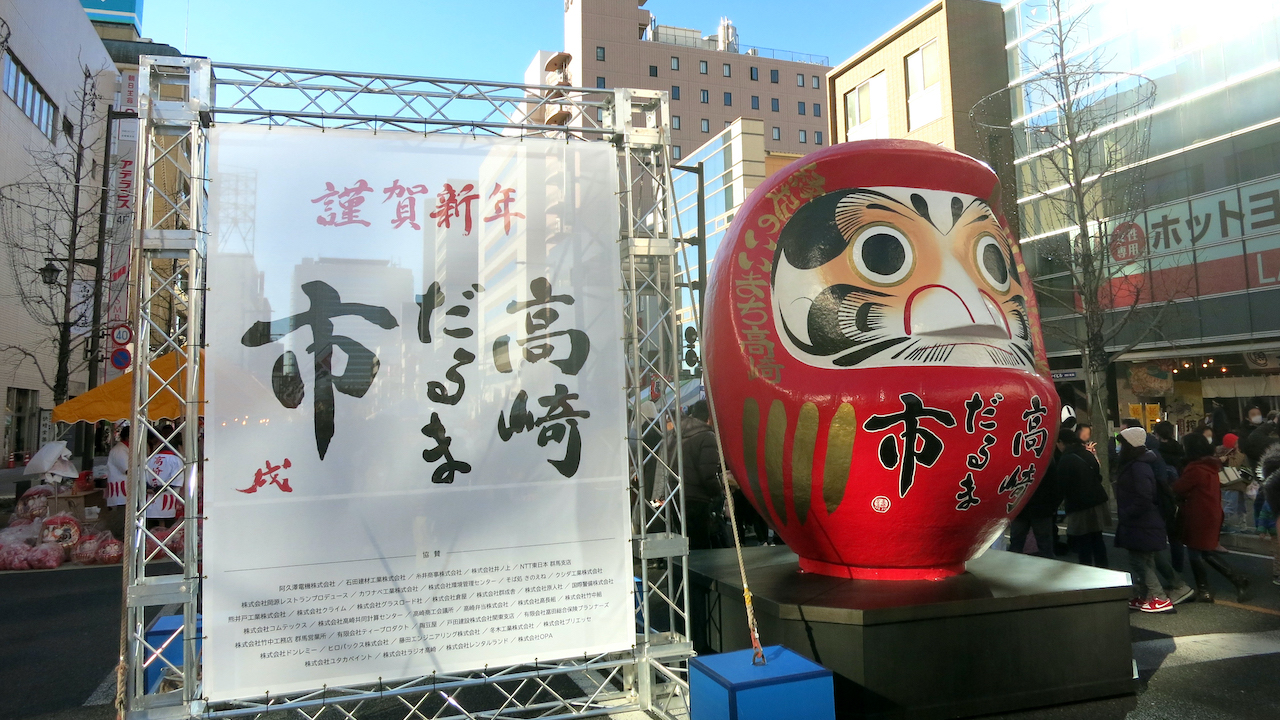 As groceries became available in shops and dependence on market days diminished, engi daruma2&3, or good luck daruma dolls, became a main draw at hatsuichi. Some towns retain the original name, while others have abandoned all pretense and changed the name to Daruma-ichi, or Daruma Market.
Main streets are lined with the booths set up by daruma artisans and filled with the ubiquitous red dolls of all sizes. Children may choose one that fits in the palm of their hand, while large companies buy daruma the size of a cask of saké, pre-ordered and inscribed with corporate names. Made out of papier mâché and surprisingly lightweight, these heralds of good fortune bear hefty prices. A little research, however, reveal the time, effort and skill that go into making each of the charmingly round figures, right down to the individually hand-painted faces. Indeed, each purchase supports this designated traditional craft.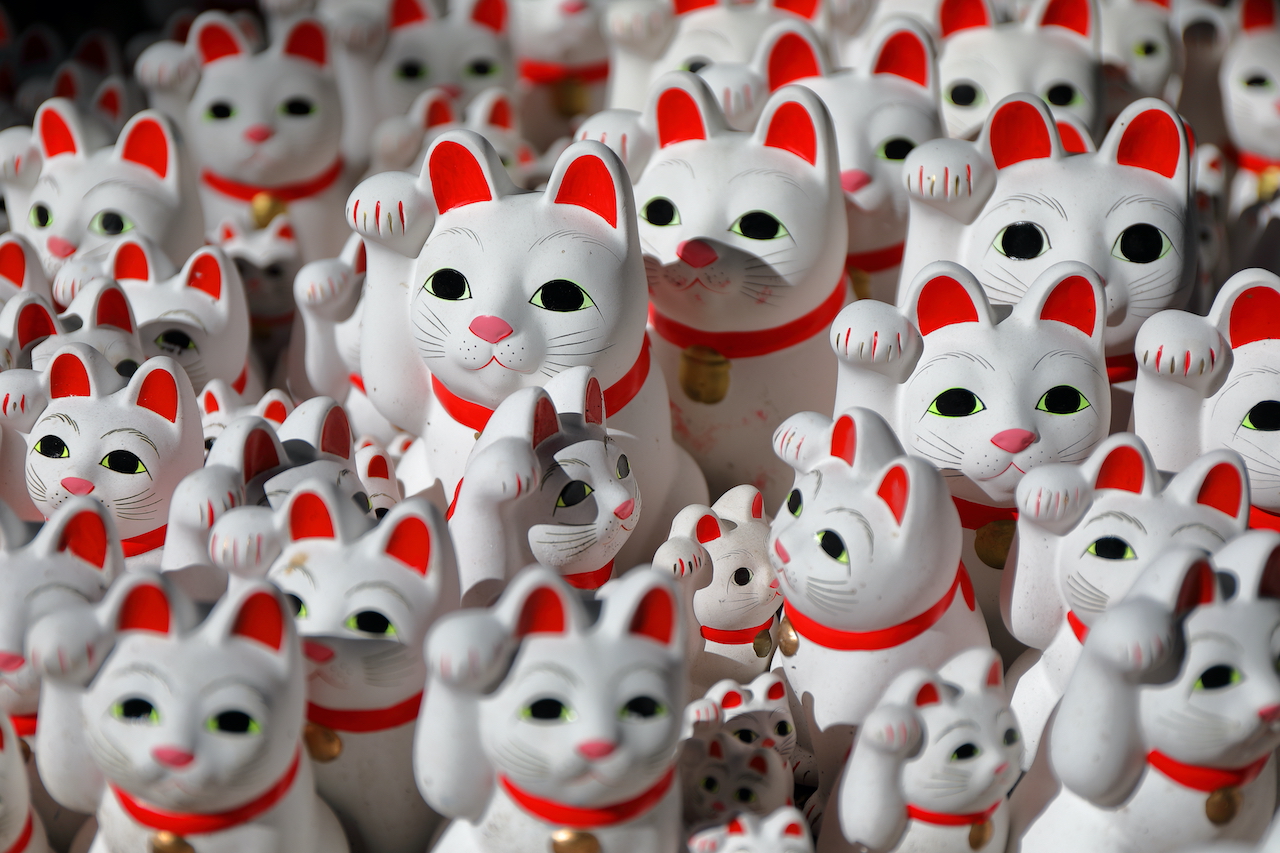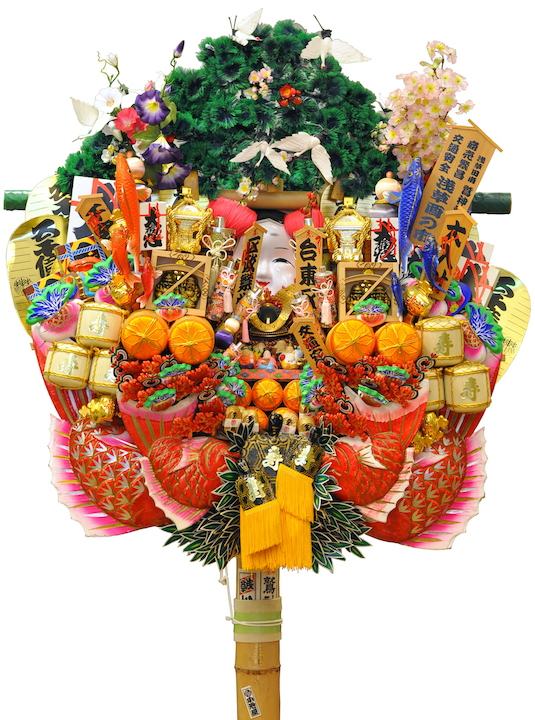 For variety, you might want a maneki-neko, a papier mâché cat with one hand up, inviting profits to walk through the door to your business. If you didn't make it to a Tori-no-ichi in November to get a kumade, an ornately decorated rake for raking in the money (of course!), you can pick one up at a Daruma Market.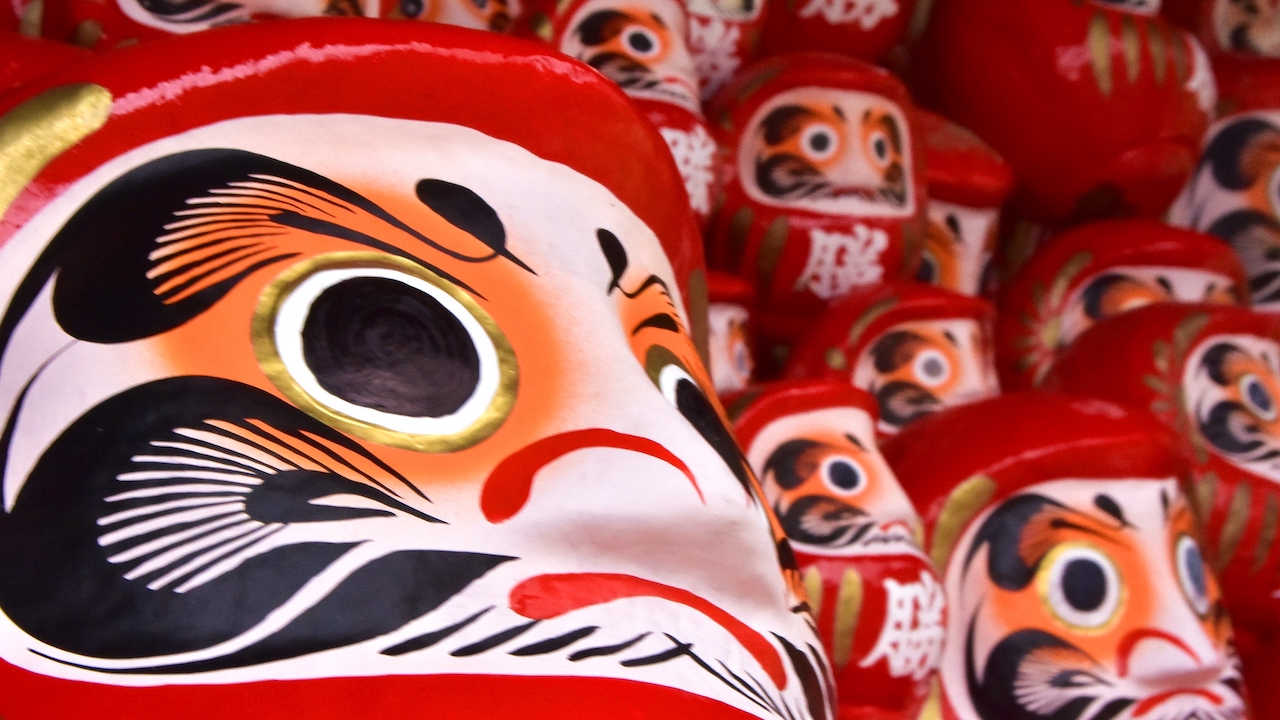 Now that you know what you need, one last issue remains. As attached as we become to our engimono (lucky items), their powers last only a year. While there is a distinct temptation to keep them around and buy new ones to do the heavy labor, where would we store them? Better to stick with tradition, here. They all have to go, but tossing them in the trash simply will not do. Before letting a daruma go, eyes need to be drawn in. The rule is to draw one at time of purchase and then add the other when our good luck comes in, or when Daruma Market rolls around. In Maebashi, the capital of Gunma, a huge bonfire is held at Hachimangu Shrine to burn and purify mementoes from the previous year. Individual neighborhoods in Takasaki, the birthplace of daruma4, hold dondoyaki bonfires made up of a large conical bamboo frame covered with straw and filled with the flammable daruma, New Year's decorations and other items deserving of a proper sending off.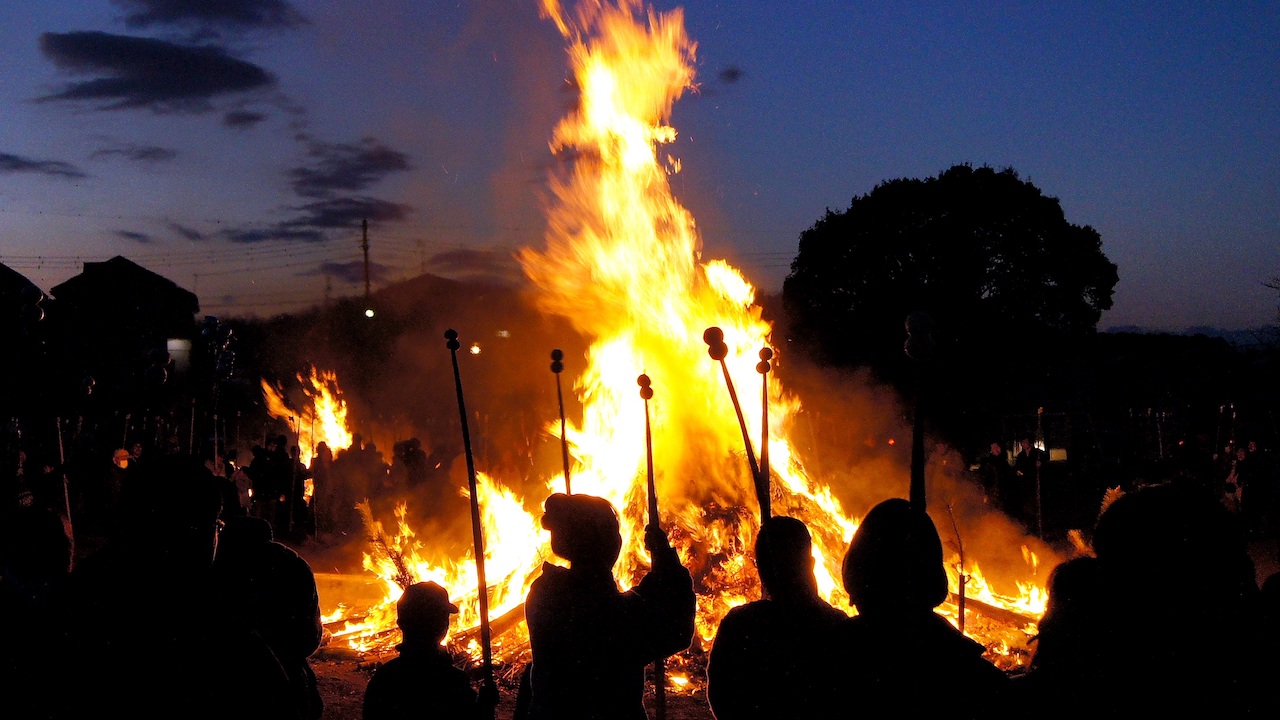 Deborah Iwabuchi , a US-born Japanese-English translator based in Gunma, Japan, runs Minamimuki Translations (minamimuki.com) and teaches at Gunma Prefectural Women's University. She works in many different fields, has translated dozens of books by Japanese writers—prominent and otherwise—and co-authored books in Japanese on learning English.