Mt. Fuji is Japan's most iconic volcano and highest mountain. While visitors can make a trip to the mountain all year round, summer is the only season when you can climb straight to the peak. Before you put on your hiking boots here are some things you need to know.
Mt. Fuji Fun Facts
Mt. Fuji is the 17th World Heritage Site in Japan. There are a total of 19 sites (as of July '15) — 15 cultural and four natural.
Mt. Fuji is one of the 3 Holy Mountains (三霊山, Sanreizan) together with Mt. Tate and Mt. Haku.
3 active volcanoes make up Mt. Fuji. They are Mt. Hakusan, Mt. Kengamine and Mt. Jojugatake.
300,000 people climb Mt. Fuji yearly, making it the most climbed mountain in the world. 70% of the climbers are Japanese while the remaining 30% are foreigners.
5 lakes surround the majestic mountain: Kawaguchiko, Yamanakako, Saiko, Motosuko and Shojiko. Kawaguchiko is a tourist favourite as it is better developed than the other lakes, and offers the most amenities and attractions.
Mt. Fuji's climbing season only lasts 2 months each year, making it one of the shortest for any mountain in the world. It starts in July and ends as August finishes.
4 trails lead up to the peak: Yoshida in Yamanashi Prefecture and Subashiri, Gotemba and Fujinomiya in Shizuoka Prefecture. Each trail has 10 stations or mountain huts which provide climbers with provisions and basic rations.
In 2013 Mt. Fuji was recognized as a World Heritage Site at the annual UNESCO conference.
Climbing Notes

by Tomoji Kato (certified guide) Japan Mountain Guides Association, Kojitsusanso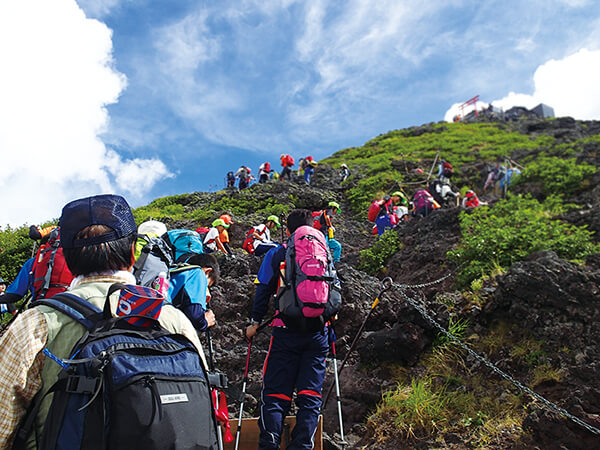 Climbing Season
Beginners are encouraged to hike during end July to early August due to the stable weather.
Getting up the Mountain
During climbing season there are car restrictions at Yamanashi Prefecture's Yoshida, Fujinomiya and Subashiri Trail so check for shuttle buses before heading up.
Which Trail to Choose
The most popular trail, Yoshida, takes about 10 hours to ascend and descend while Fujinomiya is the shortest at 8 hours and Gotemba, the hardest at 16 hours.
Physical Preparedness
It is important to prepare physically before hiking up Mt. Fuji as the atmospheric and temperature changes can be challenging for first-timers.
Enjoy the Climb
Climbing Mt. Fuji is not a competition, hike at your own comfortable pace, and take snack and water breaks while enjoying the views.
Some Things to Bring
Pack high energy, easy-to-eat snacks, plenty of water, sunscreen, sunglasses, portable oxygen, climbing shoes, cold wear, rainwear, headlamp and trekking pole.
Tips for Altitude Sickness
Try to walk slowly without raising your heart rate. Drink warm water or tea and if you get a severe headache and start your descent as fast as possible.
Cash Only
Mountain huts along the trail only accept cash. They sell snacks (starting from ¥200), water and have toilets for use (¥100-¥200).
Bring a Trash Bag
You are responsible for your own trash on Mt. Fuji; be prepared to carry your trash along your hike until you descend from the mountain.
3 Faces of Mt. Fuji
While serene Mt. Fuji seems to be an immovable, unchanging giant, it has many hidden beautiful faces that are truly a marvel of nature to behold.
Diamond Fuji
This rare phenomenon only happens around the winter solstice, during sunrise or sunset. When the sun aligns with the peak of Mt. Fuji, it causes the crown to shine like a diamond.
Aka Fuji (Red Fuji)
When the skies are clear, the rising sun shines on the eastern face of Mt. Fuji and turns it red. This is usually seen between summer and fall.

Kasa Fuji (Fuji with umbrella-shaped clouds)
The ever-changing cloud and skyscape above Mt. Fuji creates opportunities to capture once-in-a-lifetime images. Lenticular clouds over the peak are an especially unique sight.
Places with a view
Lake Saiko
One of the Fuji Five Lakes, the scenery from the western end of the Lake Saiko is one of the most sought after by photographers, campers and trekkers.

Oishi Park
This park offers a stunning view of Mt. Fuji looming above Lake Kawaguchi, especially from mid-June to mid-July when the lavender field is full bloom.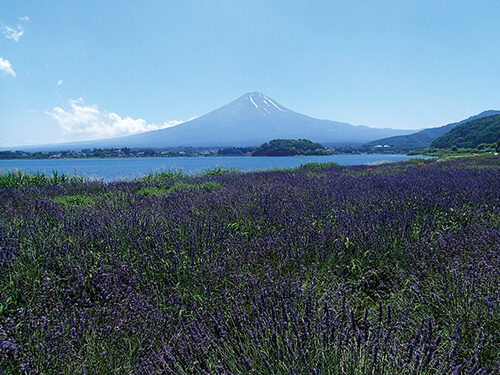 Photo credits: Visitor Use Promotion Office, National Park Division, Nature Conservation Bureau, Ministry of the Environment, Fuji-Hakone-Izu National Park