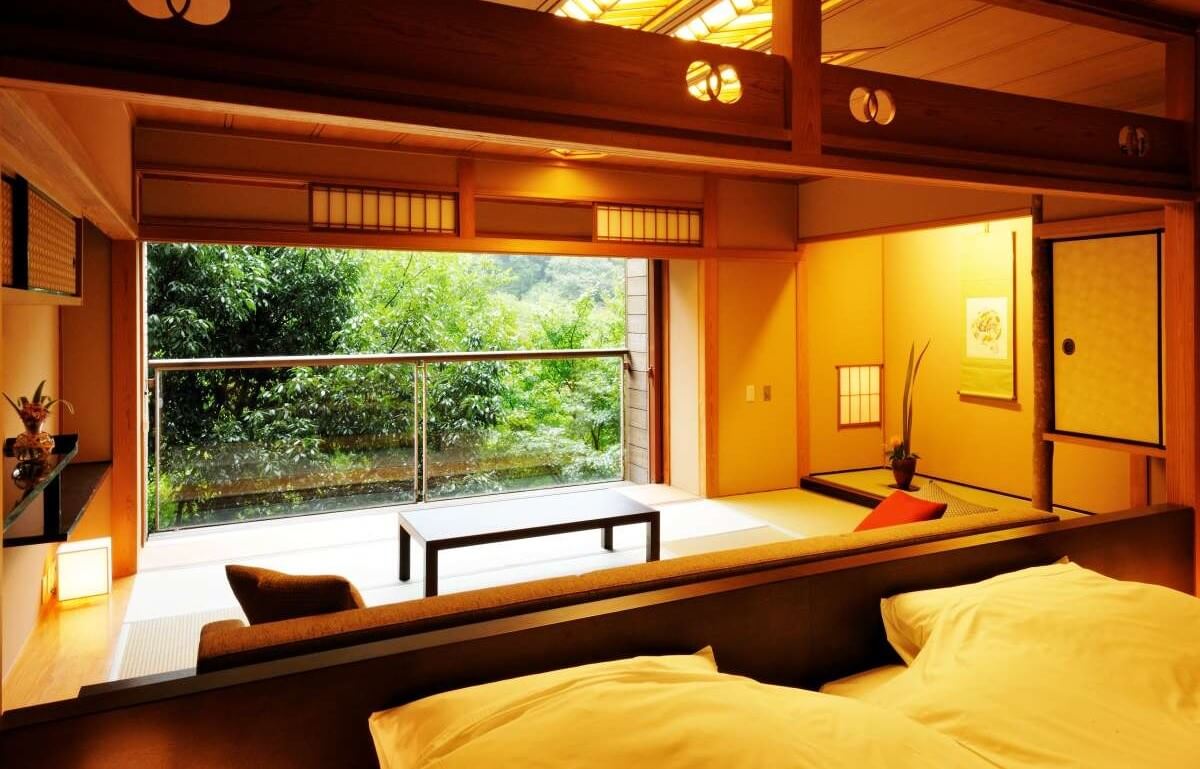 Founded as a silk business in Karuizawa, Nagano, in 1904, Hoshino opened its first hotel in 1914, taking the name Hoshino Onsen Ryokan. The simple idea was to create an experience that combined modern luxuries with more traditional and natural views and ambiance. It has since expanded to become a multi-branded operator of hotels and resorts.
1. Hoshinoya
The Hoshinoya brand of resorts and hotels includes the chain's showcase retreat in Karuizawa. Their aim is to create a sense of peace and calm within the bounds of each resort, getting customers out of their daily, busy routines and into a peaceful utopia. TVs are not allowed in any of these hotels, but they do provide amazing scenery and pictures. Interestingly, the rooms here are dimmer than at other hotel chains so as to encourage interacting with the surrounding nature.
– www.hoshinoresorts.com
2. Kai

The Kai brand places more emphasis on the onsen (hot spring) experience. Having expanded to 13 locations in Japan alone, each ryokan (traditional Japanese inn) has less than 50 rooms to provide spacious and peaceful experiences to their clients. Kai Onsen Resorts make three commitments with their customers: to pursue amenity that matches with modern times and modern expenses; hospitality according with locality and seasonality; and good staff with excellent services. Kai aims to provide local charm and the best seasonal cuisine.
– www.hoshinoresorts.com
3. Risonare

Risonare is the rarest of these chains, having expanded to just four locations. However, these hotels are located in more remote areas, and are often less accessible by train. The theme of Risonare is nature—to let customers enjoy the air of the highlands, the openness of the sea and the spaciousness of the night sky. Risonare wants customers to enjoy every part of nature through different activities and make it a part of their memory.
– www.hoshinoresorts.com
4. Overseas

Hoshino Resorts is starting to expand overseas as well. Hotel Kia Ora Resort and Spa is located on the Rangiroa atoll in French Polynesia, roughly 355 kilometers (220 miles) northeast of Tahiti. Endless white beaches, an idyllic blue lagoon and jumping dolphins are sure to both entertain you and give you the guidance to simply relax!
A further international branch is opening up in Bali, Indonesia. In keeping with the corporate image, Hoshinoya Bali will keep most of its traditional aesthetic while adding some muted Japanese tones mixed with the bright colors of traditional Indonesia.
---
Read the original article on All About Japan: Traditional Meets Modernity at Hoshino Resorts
You might also like:
Spend a Night at this Classy Japanese Prison
Japan's Top 10 Aquariums
10 Yokohama Hotels with the Best Night Views