Entering the ANA Intercontinental Hotel Lobby for the Strawberry Sensation Festival was beyond my expectations. The lobby was filled with the aroma of strawberries, probably because 150,000 strawberries were used to make all the desserts. There was a tower of 6,000 macaroons made from real strawberries standing at the center of the lobby. I enjoyed adoring all the sweets they had on display, including fresh strawberries in cute wooden crates. A woman was playing the harp while many people took pictures of what I could only describe as a small piece of heaven. After enjoying a little bit of champagne, everyone went upstairs for the actual tasting.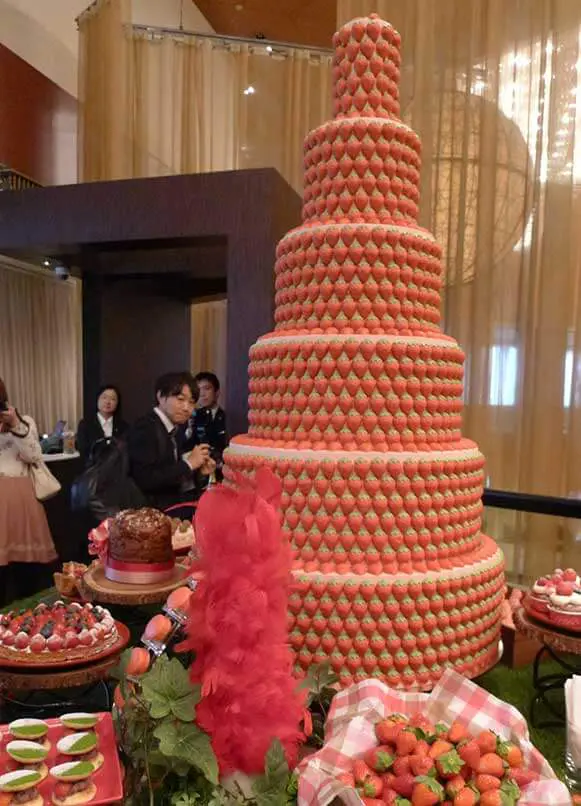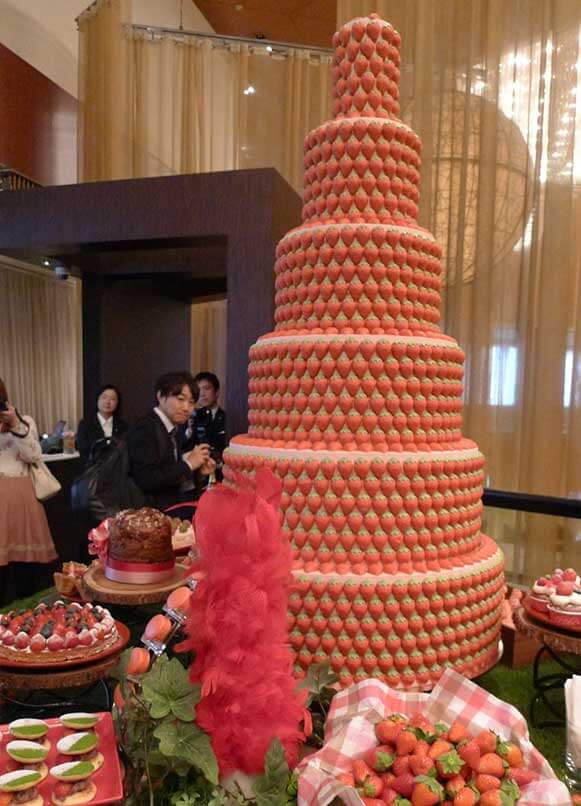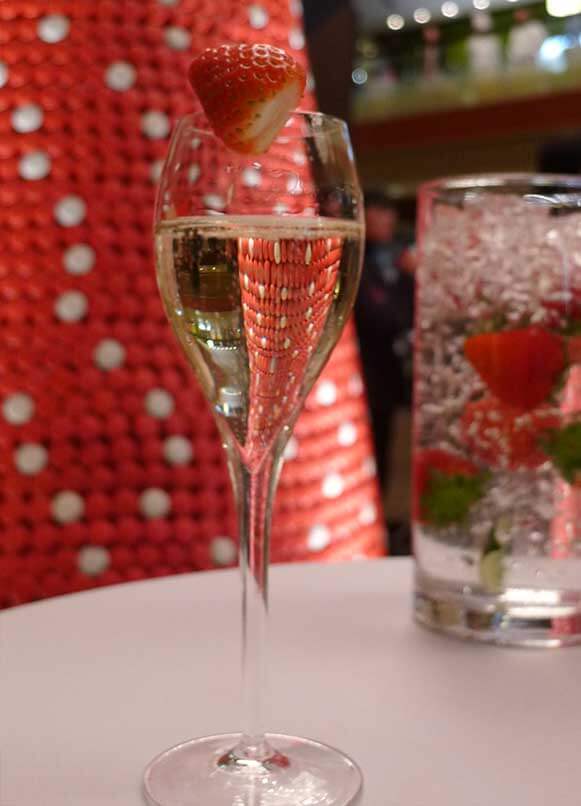 I was in immediate disbelief at what was before my eyes. There were perhaps about 100 types of desserts to choose from, all arranged so beautifully that I felt almost guilty for taking one and ruining the perfect harmony that each plate of desserts had to offer.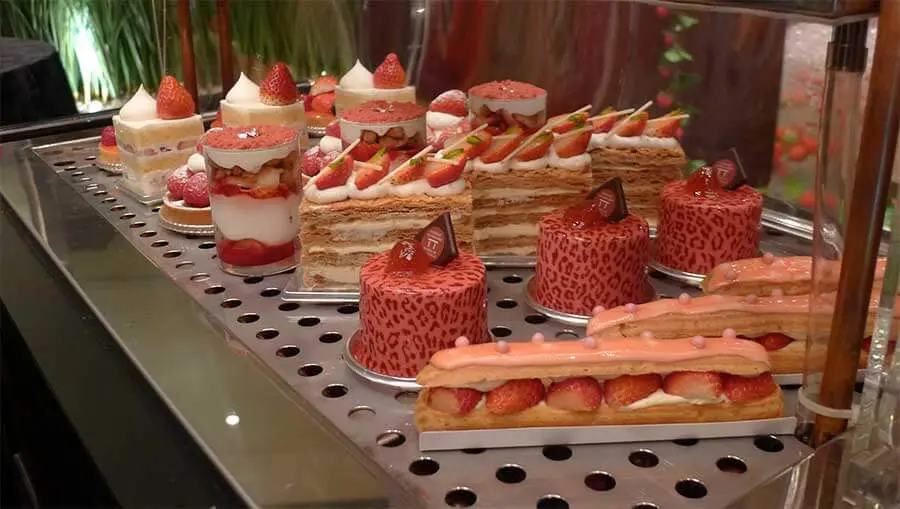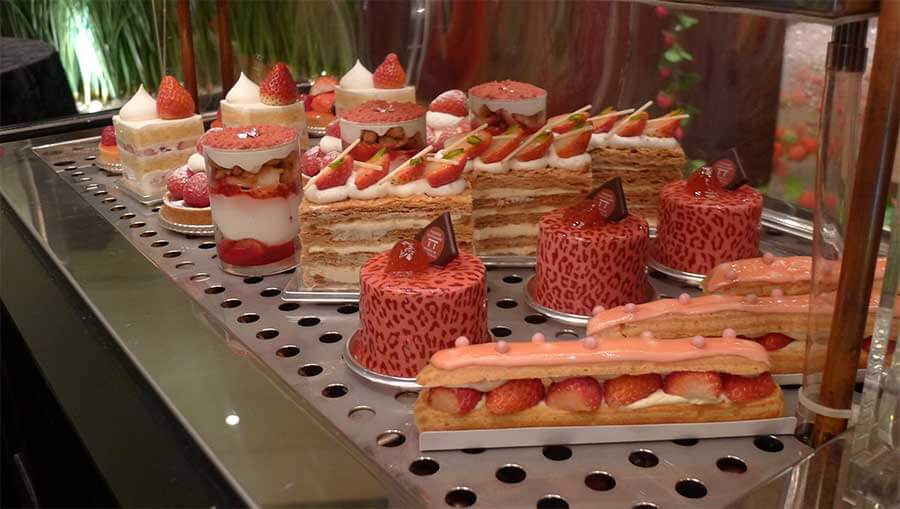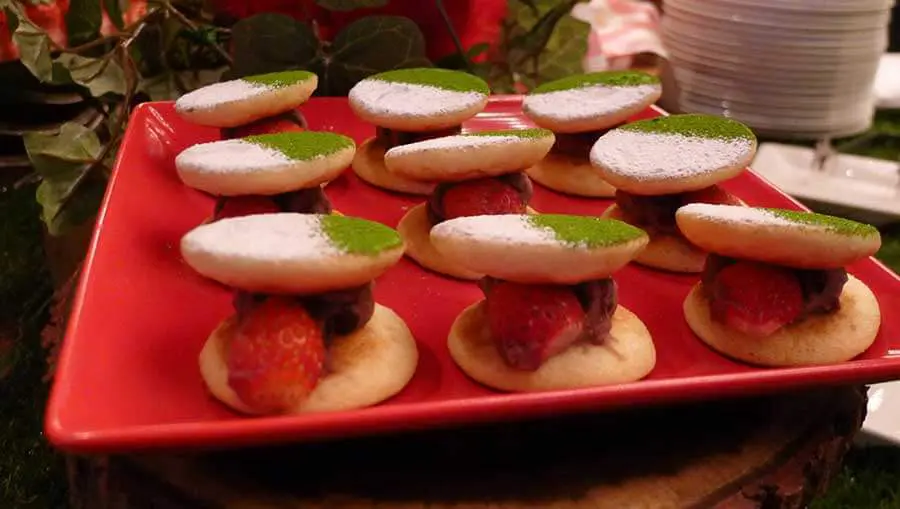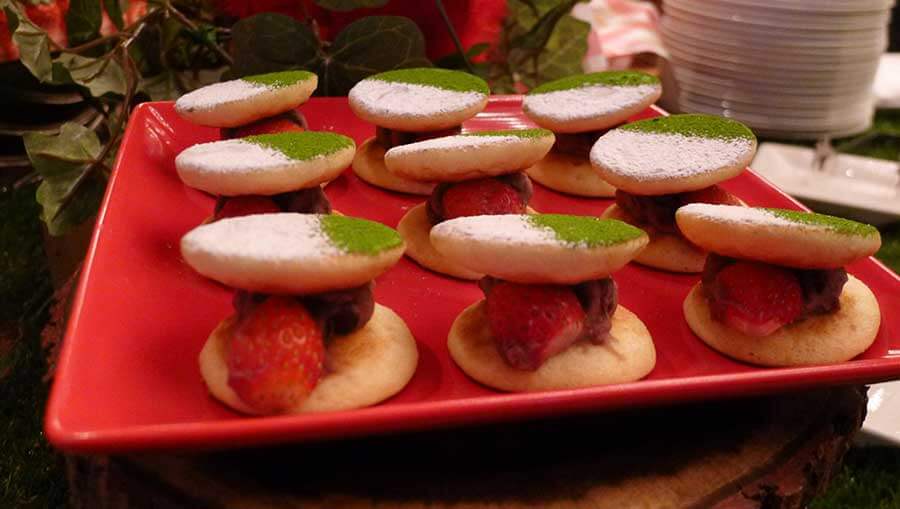 The most impressive was the strawberry macaroon. I've never been a fan of macaroons, but that may be because the ones I had eaten before were all made in America. They were always dry, artificially colored and flavored, and too sweet to enjoy. But at the Strawberry Sensations Festival, I was shocked at how soft the inside was, and how the taste of real strawberries was the main flavor.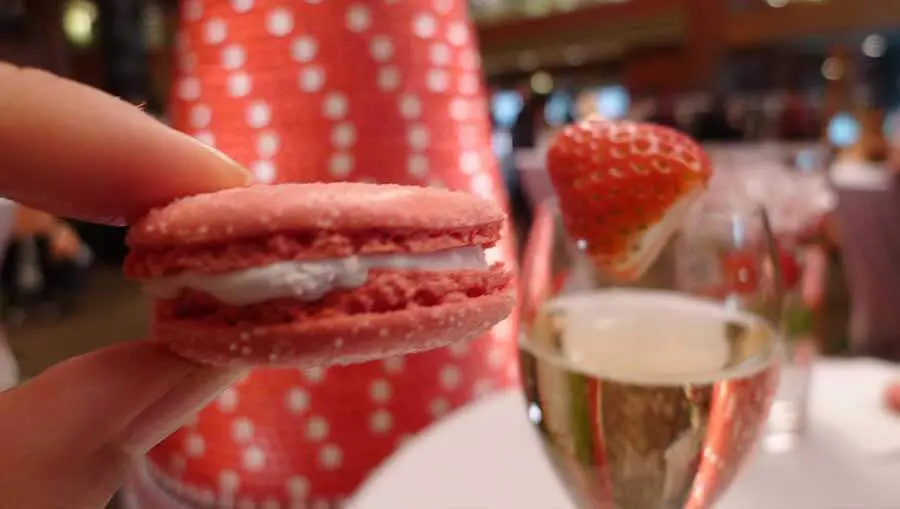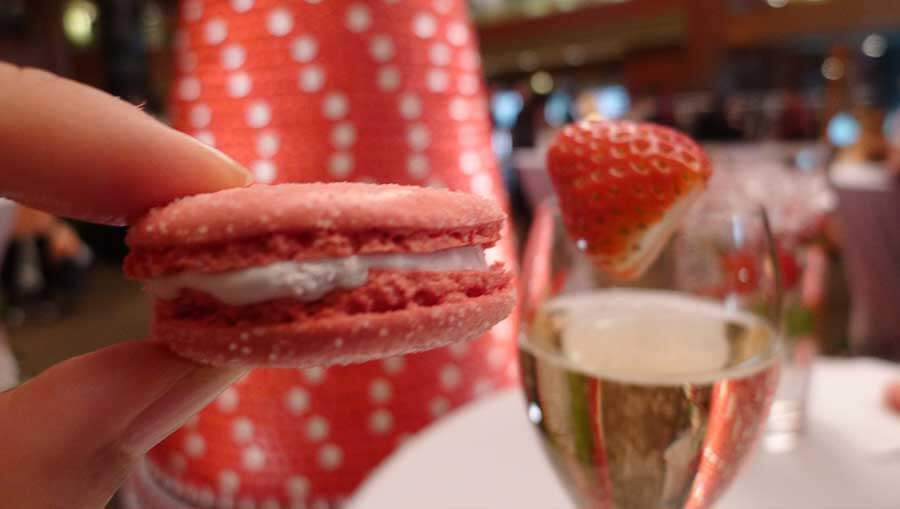 I've never had such an amazing macaroon in my life, especially one that didn't leave me thirsty. All the desserts were amazing as well, not too overpowering of strawberry-flavor, just the right amount. Many of the dishes used the strawberries as a whole (not mixed into the dough/cream) and gave a fresh taste to my palate. Some of these desserts that included whole strawberries were the dorayaki, shortcake, mont blanc, and berry tart, to name just a few.
The desserts that did mix the strawberries into the food (such as the vanilla-strawberry cream, cream puff, strawberry fondue or waffle cone) had such a light flavor of strawberry that I could taste its authenticity, as opposed to the artificial flavors I'm used to having in the States. Every single strawberry that I had was consistently sweet and never lost its flavor, even with the addition of the accompanying sugars.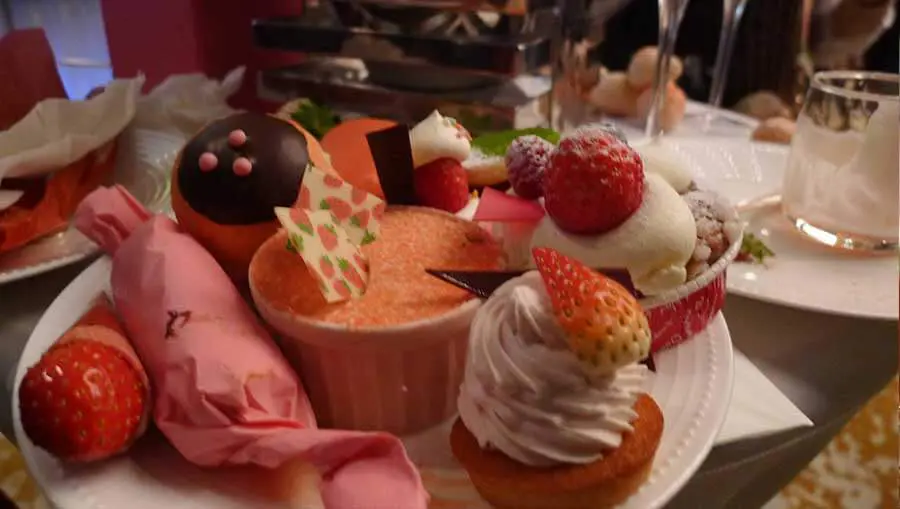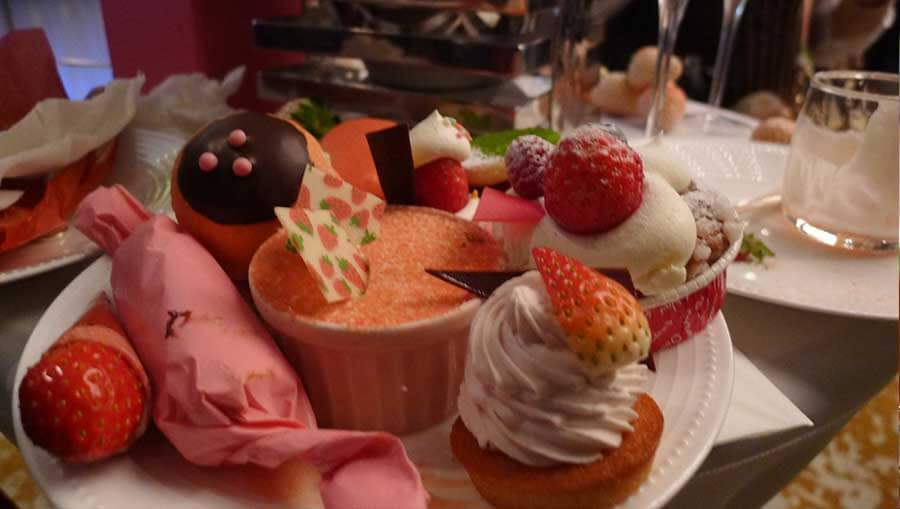 A few of the shocking dishes were still quite delectable. There was a ham and strawberry pizza that did not taste like a dessert at all because the flavor of the strawberry crust was very subtly incorporated into the whole. The other strawberry oddity was a wrap of spinach and cheese. I think the salty flavors were stronger than the strawberry bread, and so it didn't upset my taste buds. It was just shocking to see pink-colored bread and discover that it was savory instead of sweet. Perhaps this was made on purpose as a mind-game. Personally, I preferred the sweet strawberries over these salty strawberry treats but it was enjoyable nonetheless.
I especially enjoyed the white strawberries. Just the arrangement of the white strawberries in a glass bowl and on a 3-tier plate gave me the impression of elegance, luxury, and refinement. The white strawberries really looked like jewels that were on exquisite display.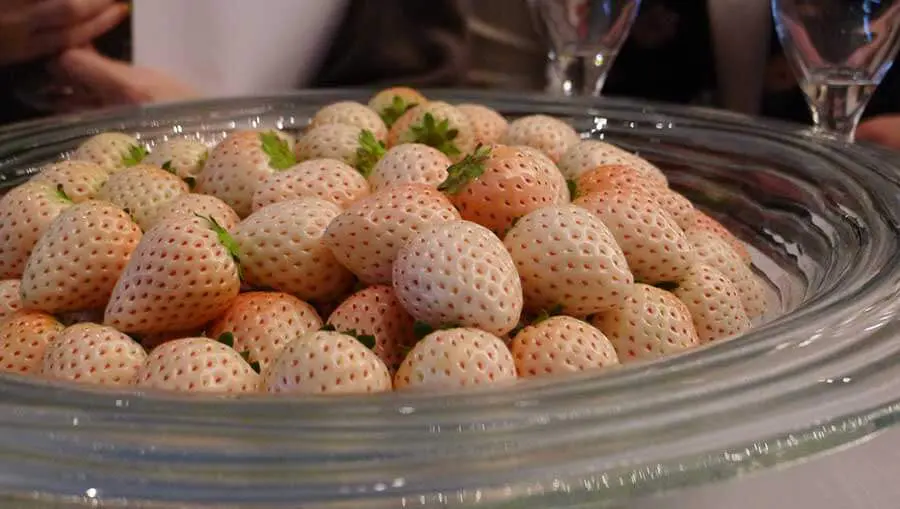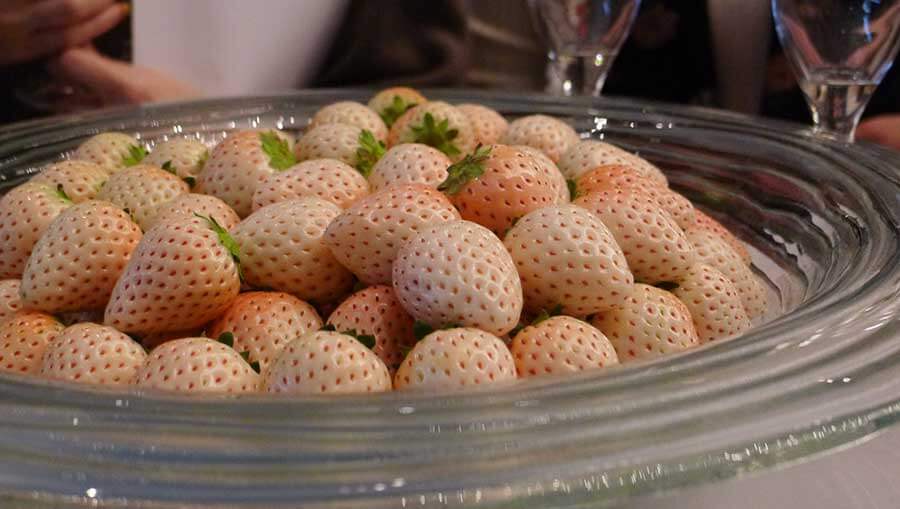 I realized for the first time that food can really be a beautiful art that people can enjoy. I had never tried a white strawberry before this day, so to have finally tried one is a complete rarity that not many outside of Japan can experience. The difference was quite extraordinary! I was expecting a subtle and sour flavor, but to my surprise, it was delicately sweet with a pinch of tartness to it. It was honestly like a magic show of flavor happening. The burst of tartness was really something that I've never experienced with fruit, let alone any food. It's an experience that I don't think I'll ever forget for the rest of my life.
Strawberry Sensations Festival
Date:
From 1 January to 31 March 2018
Place:
Restaurants and bars at the ANA Intercontinental Hotel
Cost:
Each restaurant and bar offers different desserts individually priced, there are also unique tasting courses, for example, the "Strawberry Afternoon Tea" at the Atrium Lounge features several strawberry-themed desserts for 4,500 per person if reserved online.
Address:
1-12-33 Akasaka Minato-ku Tokyo, 107-0052
Access:
One-minute walk from Tameike-sanno Station (Exit 13) on the Namboku and Ginza Subway line.
URL:
Visit the hotel's website
here.
---
WATTENTION NINJA WRITER PROFILE
Christine Nguyen
After graduating from the States, I came to Japan to teach English. I studied abroad in Yamaguchi for one year and loved it so much that I wanted to return to live here. When people ask me why I love Japan, it's very hard for me to answer with a quick response. There's so much- Where do I even begin? I love how considerate, generous and respectful the people are. I love the attention to detail Japan has to everything. I love the sound of the language, as well as the written combinations of hiragana, katakana, and kanji. I love the nature that Japan has to offer, especially the beautiful moss that grows in old places. I love the food, skill and care given to each dish. I love the feeling of cleanliness, heritage, and advancement that Tokyo encompasses. I love how Japan values quality, whether it be from a stationery set to a bag, you can easily find a good one anywhere.
But besides my love for Japan, I also have other things that I'm passionate about. I love to paint using watercolors, especially that of sweets(you can see my paintings on instagram). I also enjoy playing piano, especially Joe Hisaishi songs. I also really enjoy studying Japanese!
MORE ARTICLES BY THIS WRITER | ABOUT WATTENTION NINJA