Antenna Shops offer a glimpse into Japan's regional culture and cuisine
Ginza isn't all about flashy fashion outlets and the latest gizmos ? it's also attracted a cluster of regional retail outlets, known as antenna shops, where tourists and Tokyoites alike can get a taste of what the culture and cuisine is like from as far south as Okinawa to Hokkaido in the north, and plenty of prefectures in between.
Why not explore Japan through these antennas?
Osaka Hyakkaten
This showa-feel retro retail shop has an eat-in corner where you can try the Osaka staple of takoyaki or butaman (steamed pork bun), and sells over 600 quirky items reflecting Osaka's offbeat sense of humour.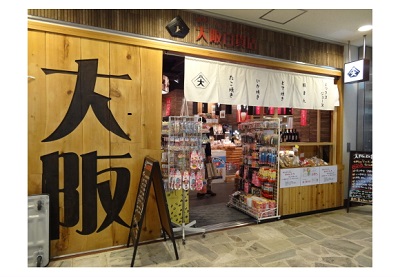 Address: Chiyoda-ku, Yurakucho 2-10-1, Tokyo Kotsu Kaikan 1F
Tel: 03-5220-1333
Hours: 10:00 – 22:00
Tokushima and Kagawa Tomoni Ichiba
This is within the Tokyo Kotsu Kaikan, which houses several antennae shops. Here you can get try authentic sanuki udon from Kagawa, Tokushima ramen and sudachi, or a local type of lime.

Address: Chiyoda-ku, Yurakucho 2-10-1, Tokyo Kotsu Kaikan 1F
Tel: 03-6269-9688
Hours: 10:30 – 19:30
Iki Iki Toyama Kan 
Even if you can't get a ticket on the Hokuriku Shinkansen to Toyama, you can get a taste of Toyama's specialties such as the white shrimp and sweet shrimp, firefly squid and honey here.
This stocks over 800 items including the region's famous masu (trout) sushi.
An on-site sushi master will whip up whatever seasonal specialty the prefecture has to offer.Nearest stn: Yurakucho. Open daily, 10am-7pm. http://toyamakan.jp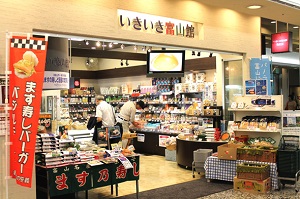 Address: Chiyoda-ku, Yurakucho 2-10-1, Tokyo Kotsu Kaikan B1
Tel: 03-3231-5032
Hours: 10:00 – 19:00
Iwate Ginza Plaza
Support Tohoku's recovery from the 2011 earthquake by shopping here. This is a relatively large scale store with over 1,500 items and even a Koiwa ice cream corner.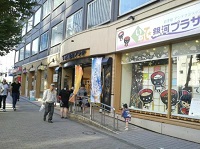 Address: Chuo-ku, Ginza 5-15-1, Nankai Tokyo Bldg. 1F
Tel: 03-3254-8282
Hours: 10:30 ? 19:00
Gunma-chan Chi
Get your hands on nutritious egoma (sesame) sauce here or local snack, yaki manjyu (roasted buns).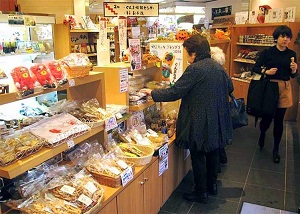 Address: Chuo-ku, Ginza 5-13-19, Duplex Ginza Tower 5/13
Tel: 03-3546-8511
Oishii Yamagata Plaza
Other than selling local sake, fruits and vegetables, this antenna shop uses Yamagata's products in an Italian restaurant San Del Delo that it operates on premise, run by star chef Masayuki Okusa.
Address: Chuo-ku, Ginza 1-5-10, Ginza First Five Bldg.
Tel: 03-5250-1752
Hours: 10:00 ? 20:00
Ginza Kumamoto Kan
Kumamoto is famous for prefectural mascot Kumamon, and you can expect to find lots of Kumamon goods here. Over 1,000 items such as fruits, vegetables, seafood and meats from Kumamoto can be found here, and you can enjoy them with Kumamoto shochu at a bar on the second floor. You can also try basashi (horsemeat) here. (Pix 8)
Address: Chuo-ku, Ginza 5-3-16
Tel: 03-3572-1261
Hours: 11:00 ? 20:00
ASOBI Bar 17:00 ? 20:00
Marugoto Kochi
Kochi is known for its sake and sake-drinking culture. Enjoy the sake with seafood from the Seto Inland Sea at a restaurant on the 2nd floor.
Address: Chuo-ku, Ginza 1-3-13, Ri-burekkusu Tower
Tel: 03-3538-4351
Hours vary (Pix 9)
Okinawa Ginza Washita Shop
This stocks an impressive array of Okinawan produce, and selection of awamori in the basement, as well as and fresh produce such as goya or bittergourd.
Address: Chuo-ku, Ginza 1-3-9, Maruito Ginza Bldg.
Tel: 03-3535-6991
Hours: 10:30 ? 20:00
(Pix 10)
Hokkaido Dosanko Plaza
This faces the Yurakucho station and sells Hokkaido's famous dairy and dry products. Indulge in an ice cream or potato croquette here.
Address: Chiyoda-ku, Yurakucho 2-10-1, Tokyo Kotsu Kaikan L1
Hours: 10am-7pm hours
(Pix 11)
Photo source: various sites